Abstract
In many countries, the performance of young people in upper secondary education helps determine whether or not they participate in higher education. One of the weaknesses in much of the literature in this area to date has been a focus on how potential determinants, such as socio-economic status, impact the conditional mean of secondary school performance. To address this, we instead examine the relationship between the distribution of upper secondary school performance and a range of individual and school-level characteristics using unconditional quantile regression methods and data from Ireland. We find that determinants such as parental occupation group, maternal unemployment, extra private tuition and working part-time have differential effects for low- and high-ability students and that important insights are lost by focussing on the conditional mean. The implication is that while certain factors can impact on whether or not a student is likely to proceed to higher education, other factors may affect where students go and what they study.
Access options
Buy single article
Instant access to the full article PDF.
US$ 39.95
Tax calculation will be finalised during checkout.
Subscribe to journal
Immediate online access to all issues from 2019. Subscription will auto renew annually.
US$ 119
Tax calculation will be finalised during checkout.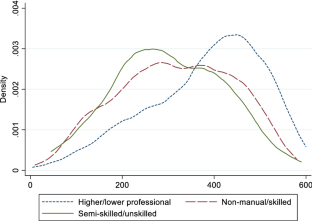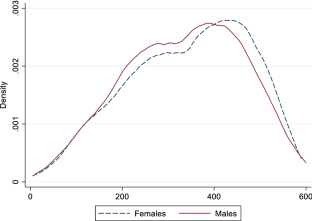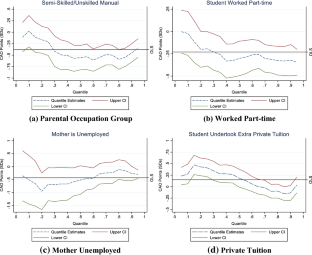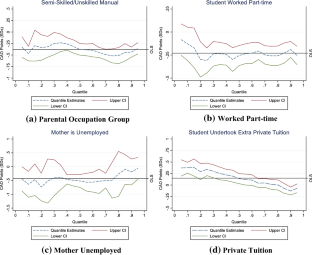 Notes
1.

This process is described in more detail in Sect. 3.

2.

3.

Since school type is to some extent a choice variable, controlling for endogeneity may be important. An analysis of performance in PISA tests for Ireland found that once selection was controlled for, the apparent benefit of fee paying schools disappeared (Pfefferman and Landesman 2011).

4.

Another study within the economics of education field to use the unconditional quantile model is Andrews et al. (2016), which examines the relationship between the distribution of earnings and college quality.

5.

See www.cao.ie for more details on the nature of the system.

6.

This represents the latest dataset available that contains comprehensive information on CAO points and other relevant variables for young people in Ireland. Unfortunately, the survey was discontinued after 2007. According to data from the CAO, the numbers of students taking the Leaving Certificate examination has remained relatively constant over the period 2005 (54,069 candidates) to 2018 (54,440 candidates).

7.

See Byrne et al. (2008) for more details on this dataset.

8.

All models in the paper are estimated using sample weights. The specific weights used are designed to compensate for biases in the distribution of characteristics in the completed survey sample compared to the population of interest, which might occur due to sampling error, from the nature of the sampling frame used, differential response rates, or attrition. For more detail on the SLS sampling process, see Byrne et al. (2008).

9.

No systematic differences between those with and without grade information was observed. Furthermore, while no national database exists to validate the representativeness of our sample on the basis of all of the variables we examine, the estimation sample was compared to a range of external data on the basis of selected variables including gender (State Examinations Commission 2019), DEIS school status (Department of Education 2019), and fee-paying school status (Department of Education 2019). Overall our data was found to be broadly representative on this basis.

10.

A standardized variable (sometimes called a z-score or a standard score) is a variable that has been rescaled to have a mean of zero and a standard deviation of one. This is calculated by subtracting the mean of the variable, and then dividing by its standard deviation, for each individual. We present models with a standardized dependent variable and thus the estimated coefficients should be interpreted as effects measured in terms of standard deviations of CAO points. This may be more useful for readers less familiar with CAO points and the Irish system.

11.

The quantile regressions of Koenker and Bassett (1978) model conditional quantiles but the interpretation of these is less straightforward than the approach here since individuals can be, for example, at a high unconditional quantile but a low conditional one, or vice versa.

12.

We have excluded mother's disability status due to multicollinearity.

13.

14.

This shows that selection on observables is sufficient to explain the apparent premium to fee paying schools. Pfefferman & Landesman (2011) compare fee paying status of schools using Irish PISA data. They find that allowing for selection on unobservables is sufficient to drive the estimated benefit of fee-paying schools to zero (or less).

15.

While there is overlap in the confidence intervals of some coefficients across the four quantiles examined, we focus our discussion in this section on effects that are statistically different across quantiles.

16.

As an extension to this analysis, we also used decomposition methods to further examine the gender gap in attainment. In particular, we applied the conventional Blinder-Oaxaca decomposition to the mean (i.e. using the OLS models) as well as across the distribution. Overall, this decomposition analysis did not reveal any particularly interesting or informative results and therefore we do not present them here. They are however available from the authors on request.
References
Agyire-Tettey F, Ackah CG, Asuman D (2017) An unconditional quantile regression based decomposition of spatial welfare inequalities in Ghana. J Dev Stud. https://doi.org/10.1080/00220388.2017.1296571

Andrews R, Jing L, Lovenheim MF (2016) Quantile treatment effects of college quality on earnings. J Hum Resour 51:200–238

Behrendt A, Eisenach J, Johnson WR (1986) Selectivity bias and the determinants of SAT scores. Econ Educ Rev 5:363–371

Bitler MP, Gelbach JP, Hoynes HW (2006) What mean impacts miss: distributional effects of welfare reform experiments. Am Econ Rev 96:988–1012

Blundell R, Dearden L, Goodman A, Reed H (2000) The returns to higher education in Britain: evidence from a British cohort. Econ J 110:82–99

Borah B, Basu A (2013) Highlighting difference between conditional and unconditional quantile regression approaches through an application to assess medication adherence. Health Econ 22:1052–1070

Bradley S, Taylor J (1998) The effect of school size on exam performance in secondary schools. Oxford Bull Econ Stat 60:291–324

Bradley J, Keane F, Crawford S (2013) School sport and academic achievement. J Sch Health 83:8–13

Byrne D, McCoy S, Watson D (2008) School Leavers' Survey Report 2007. Economic and Social Research Institute and Department of Education and Science, Dublin

Card D, Payne A (2002) School finance reform, the distribution of school spending, and the distribution of student test scores. J Public Econ 83:49–82

Chowdry H, Crawford C, Dearden L, Goodman A, Vignoles A (2013) Widening participation in higher education: analysis using linked administrative data. Ser A (Stat Soc) 176:431–457

CSO (2019) Retention rates of pupils in second level schools by sex, type of school and year. Available at https://www.cso.ie/px/pxeirestat/Statire/SelectVarVal/Define.asp?maintable=EDA14&PLanguage=0. Accessed 20 April 2019

Cullinan J, Flannery D, Walsh S, Mc Coy S (2013) Distance effects, social class and the decision to participate in higher education in Ireland. Econ Soc Rev 44:19–51

Dearden L, Ferri J, Meghir C (2002) The effect of school quality on educational attainment and wages. Rev Econ Stat 84:1–20

Dearden L, McGranahan L, Sianesi B (2004) The role of credit constraints in educational choices: evidence from the NCDS and BCS70. CEEDP 48: Centre for the Economics of Education, London School of Economics

Denny K (2010) What did abolishing university fees in Ireland do? UCD Geary Institute Discussion paper series 2010/26

Denny K (2014) The effect of abolishing university tuition costs: evidence from Ireland. Labour Economics 26:26–33

Denny K, Flannery D (2017) The economics of higher education participation. In: Cullinan J, Flannery D (eds) Economic insights on higher education policy in Ireland. Palgrave Macmillan, Cham

Denny K, Oppedisano V (2013) The surprising effect of larger class sizes. Labour Econ 23:57–65

Depalo D, Giordano R, Papapetrou E (2015) Public–private wage differentials in Euro-area countries: evidence from quantile decomposition analysis. Empir Econ 49:985–1015

Department of Education and Science (2005) Delivering equality of opportunity in schools: an action plan for educational inclusion. Department of Education and Science, Dublin

Department of Education and Skills (2017) Data on individual schools: post primary schools list. https://www.education.ie/en/Publications/Statistics/Data-on-Individual-Schools/

Department of Education and Skills (2019) DEIS School List. Available at https://www.education.ie/en/Schools-Colleges/Services/DEIS-Delivering-Equality-of-Opportunity-in-Schools-/. Accessed 17 April 2019

Dickson M, Harmon C (2011) Economic returns to education: what we know, what we don't know, and where we are going—some brief pointers. Econ Educ Rev 30:1118–1122

Dolton P, Sandi M (2017) Returning to returns: revisiting the British education evidence. Labour Economics 48:87–104

Eide E, Showalter MH (1998) The effect of school quality on student performance: a quantile regression approach. Econ Lett 58:345–350

Eyles A, Hupkau C, Machin S (2016) School reforms and pupil performance. Labour Econ 41:9–19

Firpo S, Fortin NM, Lemieux T (2009) Unconditional quantile regressions. Econometrica 77:953–973

Flannery D, Cullinan J (2014) Where they go, what they do and why it matters: the importance of geographic accessibility and social class for decisions relating to higher education institution type, degree level and field of study. Appl Econ 46:2952–2965

Flannery D, Cullinan J (2017) Economics and higher education policy. In: Cullinan J, Flannery D (eds) Economic insights on higher education policy in Ireland. Palgrave Macmillan, Cham

Flannery D, O'Donoghue C (2009) The determinants of higher education participation in Ireland: a micro analysis. Econ Soc Rev 40:73–107

Flannery D, O'Donoghue C (2017) The returns to third level education. In: Cullinan J, Flannery D (eds) Economic insights on higher education policy in Ireland. Palgrave Macmillan, Cham

Foreman-Peck J, Foreman-Peck L (2006) Should schools be smaller? The size performance relationship for Welsh schools. Econ Educ Rev 25:157–171

Fortin N, Lemieux T, Firpo S (2011) Decomposition methods in economics. In: Card D, Ashenfelter O (eds) Handbook of labor economics, vol 4. North-Holland, Amsterdam

Frölich M, Melly B (2013) Unconditional quantile treatment effects under endogeneity. J Bus Econ Stat 31:346–357

Fryer R (2010) Racial inequality in the 21st century: the declining significance of discrimination. Handb Labor Econ 4:855–971

Fuchs T, Weissman L (2007) What accounts for international differences in student performance? A re-examination using PISA data. Empir Econ 32:433–464

Galego A, Pereira J (2014) Decomposition of regional wage differences along the wage distribution in Portugal: the importance of covariates. Environ Plan A 46:2514–2532

Gorry D (2016) Heterogenous effects of sports participation on education and labor market outcomes. Educ Econ 24:622–638

Graham A, Husted T (1993) Understanding state variation in SAT scores. Econ Educ 12:197–202

Gronqvist E, Vlachos J (2016) One size fits all? The effects of teachers' cognitive and social abilities on student achievement. Labour Econ 42:138–150

Guimarães J, Sampaio B (2013) Family background and students' achievement on a university entrance exam in Brazil. Educ Econ 21:38–59

Haile GA, Nguyen AN (2008) Determinants of academic attainment in the United States: a quantile regression analysis of test scores. Educ Econ 16:29–57

HEA (2018) Progress review of national access plan and priorities to 2021. Higher Education Authority, Dublin

Heckman JJ, Carneiro P (2002) The evidence on credit constraints in post-secondary schooling. Econ J 112:705–734

Hinnerich BJ, Vlachos J (2017) The impact of upper-secondary voucher school attendance on student achievement. Swedish evidence using external and internal evaluations. Labour Econ 47:1–14

Humlum MK, Smith N (2015) Long-term effects of school size on students' outcomes. Econ Educ Rev 45:28–43

Jeffers G (2002) Transition year programme and educational disadvantage. Irish Educ Stud 21:47–64

Jepsen C (2015) Class size: does it matter for student achievement? IZA World of Labor 2015:190. https://doi.org/10.15185/izawol.190

Kelly E, O'Connell PJ, Smyth E (2010) The economic returns to field of study and competencies among higher education graduates in Ireland. Econ Educ Rev 29:650–657

Koenker R, Bassett G (1978) Regression quantiles. Econometrica 46:33–50

Krassel K, Heinesen E (2014) Class-size effects in secondary school. Educ Econ 22:412–426

Leithwood K, Jantzi D (2009) A review of empirical evidence about school size effects: a policy perspective. Rev Educ Res 79:464–490

Lounkaew K (2013) Explaining urban–rural differences in educational achievement in Thailand: evidence from PISA literacy data. Econ Educ Rev 37:213–225

Lunn P, Kelly E, Fitzpatrick N (2013) Keeping them in the game: taking up and dropping out of sport and exercise in Ireland. ESRI Research Series 33. ESRI, Dublin

McCoy S, Smyth E (2011) Higher education expansion and differentiation in the Republic of Ireland. High Educ 61:243–260

McGuinness S, Bergin A, Kelly E, McCoy S, Smyth E, Watson D, Whelan A (2018) Evaluation of PLC Programme Provision. Dublin: ESRI Research Series No. 61

O'Connell PJ, Clancy D, McCoy S (2006) Who went to college in 2004? A national survey of new entrants to higher education. Higher Education Authority, Dublin

Oreopoulos P, Salvanes KG (2011) Priceless: the non-pecuniary benefits of schooling. J Econ Inq 25:159–184

Pfefferman D, Landesman V (2011) Are private schools better than public schools? Appraisal for Ireland by methods for observational studies. Ann Appl Stat 5:1726–1751

Pfeifer C, Corneliẞen T (2010) The impact of participation in sports on educational attainment—new evidence from Germany. Econ Educ Rev 29:94–103

Porter S (2015) Quantile regression: analyzing changes in distributions instead of means. In: Paulsen MB (ed) Higher education: handbook of theory and research, vol 30. Springer, Berlin, pp 335–381

Reeves R, Halikias D (2017) Race gaps in SAT scores highlight inequality and hinder social mobility. Brooking Papers on Social Mobility. Brooking Institute, Washington, DC

Rothstein J (2005) College performance predictions and SAT scores. J Econom 121:297

Schindler-Rangvid (2007) School composition effects in Denmark: quantile regression evidence from PISA 2000. Empir Econ 32:359–388

Smyth E (1999) Do schools differ?. Oak Tree Press/ESRI, Dublin

Smyth E (2009) Buying your way into college? Private tuition and the transition to higher education in Ireland. Oxf Rev Educ 35:1–22

Smyth E, Hannon C (2007) School processes and the transition to higher education. Oxf Rev Educ 33:175–194

Smyth E, McCoy S (2013) Learning from the evidence: Using educational research to inform policy. In: Lunn P, Ruanne F (eds) Using evidence to inform policy. Gill & Macmillan, Dublin

State Examinations Commission (2019) Leaving certificate sits by county and gender. https://www.examinations.ie/statistics/. Accesssed 17 April 2019

Sullivan A, Heath A (2003) Intakes and examination results at state and private schools. In: Walford G (ed) British private schools: research on policy and practice. Woburn Press, London

Sullivan A, Parsons S, Wiggins R, Heath A, Green F (2014) Social origins, school type and higher education destinations. Oxf Rev Educ 40:739–763

Sylwester K (2002) Can education expenditures reduce income inequality? Econ Educ Rev 21:43–52

Weissman L (2016) The importance of school systems: evidence from international differences in student achievement. J Econ Perspect 30:3–32
Ethics declarations
Conflict of interest
All authors declare that they have no conflict of interest.
Ethical approval
This article does not contain any studies with human participants performed by any of the authors.
Additional information
Publisher's Note
Springer Nature remains neutral with regard to jurisdictional claims in published maps and institutional affiliations.
Appendix
Appendix
See Fig. 4 and Tables 4, 5, 6 and 7.
About this article
Cite this article
Cullinan, J., Denny, K. & Flannery, D. A distributional analysis of upper secondary school performance. Empir Econ 60, 1085–1113 (2021). https://doi.org/10.1007/s00181-019-01756-8
Received:

Accepted:

Published:

Issue Date:
Keywords
Secondary school performance

Distribution

Unconditional quantile regression

Ireland
JEL Classification