Abstract
The casing is a basal body part for assembling other parts in an aeroengine, but its weak rigidity seriously affects machining accuracy and production efficiency. Therefore, it is very important to improve this rigidity of the part during processing. An aeroengine combustor casing is used to study the vibration law and suppression method of a casing milling process through a combination of simulations and physical experiments in this paper. First, the milling vibration law of a Rolls-Royce aeroengine combustor casing is analysed through mechanical analysis and machining vibration detection, and then a simulation experiment environment based on physical experiment verification is established. Second, based on a virtual experimental platform, the free mode and constraint mode of the casing without auxiliary support, multipoint rigid auxiliary support, and flexible surface auxiliary support schemes are analysed. Subsequently, to determine the optimal support pressure for different types of casing parts produced on-site, after analysing the common size range of the casing, 34 and 43 full-factor simulation experiments are performed, and the influence of each factor on the change in vibration is summarised. Finally, a static load experiment is used to verify that the clamping scheme of the flexible surface auxiliary support can improve the radial rigidity of the casing. Through the experimental research in this paper, the results show that the error between the simulation experiment results and the physical experiment is basically kept within 20%, and the established virtual experiment is reliable. At the same time, based on the simulation data in this paper, the function expressions of vibration deformation and support pressure, milling force, case thickness, and casing diameter are fitted, and the R-square reaches 91.2%. This empirical formula provides theoretical support for the selection of optimal support air pressure and the prediction of vibration and deformation.
Access options
Buy single article
Instant access to the full article PDF.
US$ 39.95
Tax calculation will be finalised during checkout.
Subscribe to journal
Immediate online access to all issues from 2019. Subscription will auto renew annually.
US$ 119
Tax calculation will be finalised during checkout.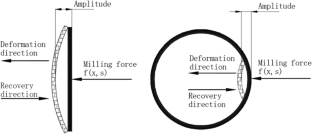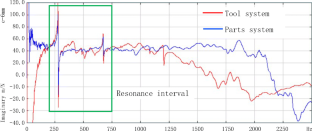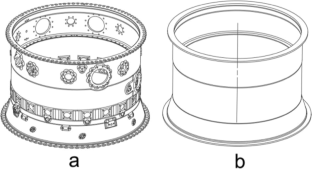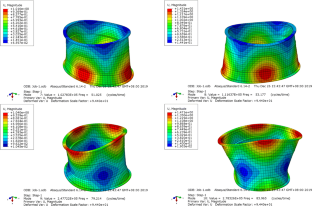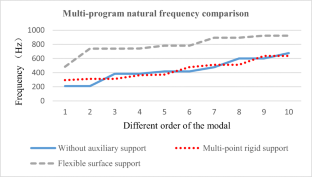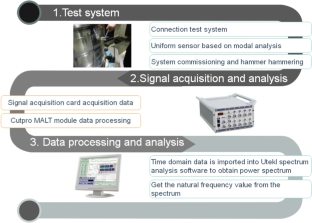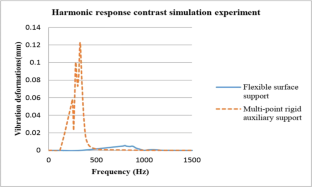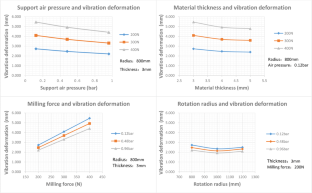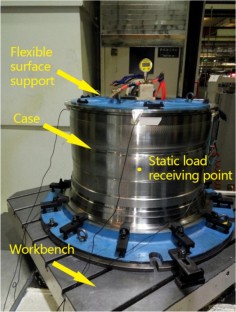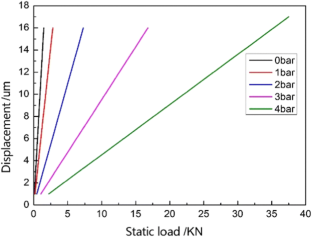 Data availability
The datasets used or analysed during the current study are available from the corresponding author on reasonable request.
References
1.

Wan M, Gao T, Feng J, Zhang W (2019) On improving chatter stability of thin-wall milling by prestressing. J Mater Process Technol 264:32–44. https://doi.org/10.1016/j.jmatprotec.2018.08.042

2.

Wan S, Li X, Su W, Yuan J, Hong J, Jin X (2019) Active damping of milling chatter vibration via a novel spindle system with an integrated electromagnetic actuator. Precis Eng 57:203–210. https://doi.org/10.1016/j.precisioneng.2019.04.007

3.

YUE C, GAO H, LIU X, LIANG SY, WANG L (2019) A review of chatter vibration research in milling. Chin J Aeronaut 32:215–242. https://doi.org/10.1016/j.cja.2018.11.007

4.

Wenxi L, Qidou Z (2019) Vibration characteristics of cylindrical shells with unevenly arranged ribs. Ship Mech 23:68–77

5.

Bolar G, Das A, Joshi SN (2018) Measurement and analysis of cutting force and product surface quality during end-milling of thin-wall components. Measurement 121:190–204. https://doi.org/10.1016/j.measurement.2018.02.015

6.

Min F, Zhu X, Tianyun L, Hu X (2018) An analytical method for free vibration analysis of ring-ribbed elliptic cylindrical shells. Vib Shock 37:138–146

7.

Wang S, Jia Z, Lu X, Zhang H, Zhang C, Liang SY (2018) Simultaneous optimization of fixture and cutting parameters of thin-walled workpieces based on particle swarm optimization algorithm. Simul Trans Soc Model Simul Int 94. https://doi.org/10.1177/0037549717713850

8.

Wang M, Zhaobo C, Yinghou J, Lu W (2017) Vibration characteristics of thin-walled cylindrical shells with constrained damping. J Harbin Inst Technol 49:72–79

9.

Zhang FP, Yan Y, Butt SI (2016) Integrated model based thin-walled part machining precision control for the workpiece-fixture system. Int J Adv Manuf Technol 85:1745–1758. https://doi.org/10.1007/s00170-015-8036-8

10.

Lu T, Gang J, Qidou Z, Weikang Z, Wenxi L (2017) Effect of equidistant arrangement of structures on the vibration performance of cylindrical shell structures. J Vib Eng 30:603–609

11.

Munoa J, Beudaert X, Dombovari Z, Altintas Y, Budak E, Brecher C, Stepan G (2016) Chatter suppression techniques in metal cutting. CIRP Ann 65:785–808. https://doi.org/10.1016/j.cirp.2016.06.004

12.

Yu W, Luo Z (2015) Research on the response characteristics of thin-walled cylindrical shell members subjected to forced vibration. Vib Shock 34:103–108

13.

Kolluru K, Axinte D (2013) Coupled interaction of dynamic responses of tool and workpiece in thin wall milling. J Mater Process Technol 213:1565–1574. https://doi.org/10.1016/j.jmatprotec.2013.03.018

14.

By Tang ATA, Liu ZLZ (2008) Deformations of thin-walled plate due to static end milling force. J Mater Process Technol:345–351. https://doi.org/10.1016/j.jmatprotec.2007.12.089

15.

Siebenaler SP, Melkote SN (2006) Prediction of workpiece deformation in a fixture system using the finite element method. Int J Mach Tools Manuf 46:51–58. https://doi.org/10.1016/j.ijmachtools.2005.04.007

16.

Fei J, Lin B, Xiao J, Ding M, Yan S, Zhang X, Zhang J (2018) Investigation of moving fixture on deformation suppression during milling process of thin-walled structures. J Manuf Process 32:403–411. https://doi.org/10.1016/j.jmapro.2018.03.011

17.

Do MD, Son Y, Choi H (2018) Optimal workpiece positioning in flexible fixtures for thin-walled components. Comput Aided Des 95:14–23. https://doi.org/10.1016/j.cad.2017.09.002

18.

Sallese L, Innocenti G, Grossi N, Scippa A, Flores R, Basso M, Campatelli G (2017) Mitigation of chatter instabilities in milling using an active fixture with a novel control strategy. Int J Adv Manuf Technol:2771–2787. https://doi.org/10.1007/s00170-016-9831-6

19.

Qin G, Wang Z, Rong Y, Li Q (2017) A unified approach to multi-fixturing layout planning for thin-walled workpiece. Proc Inst Mech Eng B J Eng Manuf 231:454–469. https://doi.org/10.1177/0954405415585240

20.

Ma J, Zhang D, Wu B, Luo M, Liu Y (2017) Stability improvement and vibration suppression of the thin-walled workpiece in milling process via magnetorheological fluid flexible fixture. Int J Adv Manuf Technol 88:1231–1242. https://doi.org/10.1007/s00170-016-8833-8

21.

Ma J, Zhang D, Wu B, Luo M, Chen B (2016) Vibration suppression of thin-walled workpiece machining considering external damping properties based on magnetorheological fluids flexible fixture. Chin J Aeronaut 29:1074–1083. https://doi.org/10.1016/j.cja.2016.04.017

22.

Wang T, Zha J, Jia Q, Chen Y (2016) Application of low-melting alloy in the fixture for machining aeronautical thin-walled component. Int J Adv Manuf Technol 87:2797–2807. https://doi.org/10.1007/s00170-016-8654-9

23.

Wan X, Zhang Y, Huang X (2013) Investigation of influence of fixture layout on dynamic response of thin-wall multi-framed work-piece in machining. Int J Mach Tool Manu 75:87–99. https://doi.org/10.1016/j.ijmachtools.2013.09.008

24.

Jiang X, Zhao G, Lu W (2020) Vibration suppression of complex thin-walled workpiece based on magnetorheological fixture. Int J Adv Manuf Technol 106:1043–1055. https://doi.org/10.1007/s00170-019-04612-2

25.

Yang Y, Xu D, Liu Q (2014) Vibration Suppression of Thin-Walled Workpiece Machining Based on Electromagnetic Induction. Mater Manuf Process 30:829–835. https://doi.org/10.1080/10426914.2014.962042

26.

Kolluru K, Axinte D (2014) Novel ancillary device for minimising machining vibrations in thin wall assemblies. Int J Mach Tools Manuf 85:79–86. https://doi.org/10.1016/j.ijmachtools.2014.05.007

27.

Kolluru KV, Axinte DA, Raffles MH, Becker AA (2014) Vibration suppression and coupled interaction study in milling of thin wall casings in the presence of tuned mass dampers. Proc Inst Mech Eng B J Eng Manuf 228:826–836. https://doi.org/10.1177/0954405413508769

28.

Kolluru K, Axinte D, Becker A (2013) A solution for minimising vibrations in milling of thin walled casings by applying dampers to workpiece surface. CIRP Ann 62:415–418. https://doi.org/10.1016/j.cirp.2013.03.136

29.

Zeng S, Wan X, Li W, Yin Z, Xiong Y (2012) A novel approach to fixture design on suppressing machining vibration of flexible workpiece(Article). Int J Mach Tools Manuf:29–43. https://doi.org/10.1016/j.ijmachtools.2012.02.008

30.

Wang X, Song Z, Xiujie J (2011) Optimization of aero-engine integral casing milling-turning composite machining process. Comput Integr Manuf Syst 17:1460–1465
Funding
This work was supported by the Youth Science Foundation of National Natural Science Foundation, China(No.51705438); the Young Science and Technology Innovation Team of Aero Engine Intelligent Manufacturing, SWPU(No.2019CXTD02); Independent Innovation Special Fund Project, AECC(No.ZZCX-2017-039) and the Sichuan Science and technology project, China (No.2018JY0366); Chengdu International Science and Technology Cooperation Project (No:2020-GH02-00040-HZ).
Ethics declarations
Ethical approval
Not applicable
Consent to participate
Yes
Consent to publish
Yes
Conflict of interest
The authors declare that they have no conflict of interest.
Additional information
Publisher's note
Springer Nature remains neutral with regard to jurisdictional claims in published maps and institutional affiliations.
About this article
Cite this article
Guo, L., Yang, F., Li, T. et al. Vibration suppression of aeroengine casing during milling. Int J Adv Manuf Technol 113, 295–307 (2021). https://doi.org/10.1007/s00170-020-06582-2
Received:

Accepted:

Published:

Issue Date:
Keywords
Milling vibration

Vibration suppression

Aeroengine

Casing

Finite element analysis