Abstract
In recent years, the nations of the world have presented the development strategy of manufacturing. Manufacturing is the foundation of a country. However, with the increasing global resource constraints and market heterogeneity, the variety of individual demands, and the long-term goals of sustainable development, with the support of emerging information and communication technologies such as Internet, cyber-physical system, Internet of Things, cloud computing, and big data, industrial value creation is causing a paradigm shift in manufacturing. This paper studies a range of new manufacturing paradigms and presents a state-of-the-art survey of published works. It explores the corresponding current manufacturing concepts, technologies, framework features, application effects, resource optimization, and future challenges in these new paradigms. The integration of various manufacturing paradigms is also analyzed. Through this survey, the developments of these new manufacturing paradigms are explained and the future prospects are also discussed.
This is a preview of subscription content, log in to check access.
Access options
Buy single article
Instant access to the full article PDF.
US$ 39.95
Price includes VAT for USA
Subscribe to journal
Immediate online access to all issues from 2019. Subscription will auto renew annually.
US$ 199
This is the net price. Taxes to be calculated in checkout.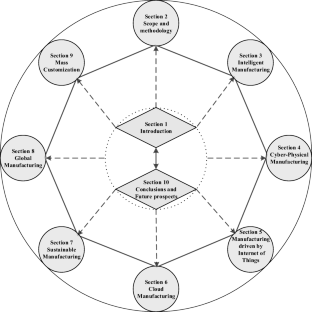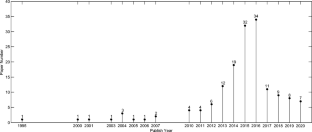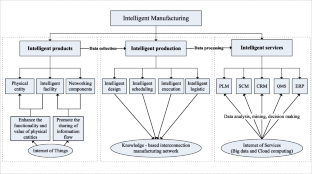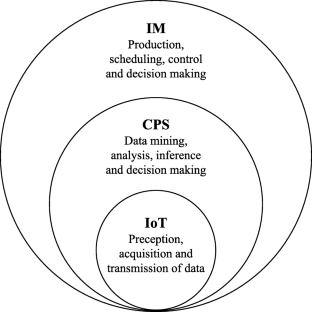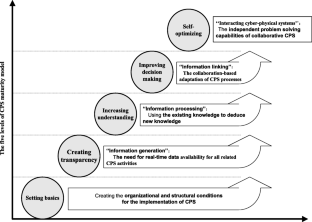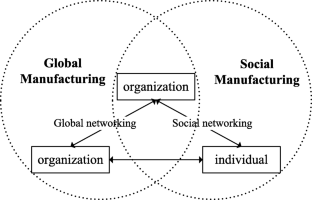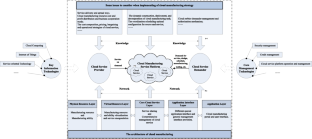 References
1.

Obama (2012) Remarks by the President on manufacturing and the economy., https://obamawhitehouse.archives.gov/the-press-office/2012/03/09/remarks-president-manufacturing-and-economy https://obamawhitehouse.archives.gov/the-press-office/2012/03/09/remarks-president-manufacturing-and-economy. Accessed 12 July 2016

2.

European Commission (2017) Germany: Industrie 4.0, https://ec.europa.eu/growth/tools-databases/dem/monitor/sites/default/files/DTM_Industrie%204.0.pdf. Accessed 3 May 2017

3.

China's State Council (2015) Made in China 2025, http://www.gov.cn/zhuanti/2016/MadeinChina2025-plan/. Accessed 10 December 2018

4.

Haraguchi N, Cheng CFC, Smeets E (2017) The importance of manufacturing in economic development: has this changed? World Dev 93:293–315

5.

Marconi N, Reis CFDB, Araújo E C D (2016) Manufacturing and economic development: the actuality of Kaldor's first and second laws. Struct Change and Econ Dyn 37:75–89

6.

Chen D, Heyer S, Ibbotson S, Salonitis K, Steingrímsson JG, Thiede S (2015) Direct digital manufacturing: definition, evolution, and sustainability implications. J Clean Prod 107:615–625

7.

Chu S, Majumdar A (2012) Opportunities and challenges for a sustainable energy future. Nature 488 (7411):294

8.

Fuchs ER (2014) Global manufacturing and the future of technology. Science 345(6196):519–520

9.

Li Y, Tao F, Cheng Y, Zhang X, Nee AYC (2017) Complex networks in advanced manufacturing systems. J Manuf Syst 43:409–421

10.

Mikusz M (2014) Towards an understanding of cyber-physical systems as industrial software-product-service systems. Procedia CIRP 16:385–389

11.

Guo S, Du B, Peng Z, Huang X, Li Y (2015) Manufacturing resource combinatorial optimization for large complex equipment in group manufacturing: a cluster-based genetic algorithm. Mechatronics 31:101–115

12.

Bonvillian WB (2013) Advanced manufacturing policies and paradigms for innovation. Science 342 (6163):1173–1175

13.

Siemieniuch CE, Sinclair MA, Henshaw MJD (2015) Global drivers, sustainable manufacturing and systems ergonomics. Appl Ergon 51:104–119

14.

Gahm C, Denz F, Dirr M, Tuma A (2016) Energy-efficient scheduling in manufacturing companies: a review and research framework. Eur J Oper Res 248(3):744–757

15.

Oztemel E, Gursev S (2020) Literature review of industry 4.0 and related technologies. J Intell Manuf 31 (1):127–182

16.

Davis J, Edgar T, Porter J, Bernaden J, Sarli M (2012) Smart manufacturing, manufacturing intelligence and demand-dynamic performance. Comput Chem Eng 47(12):145– 156

17.

Kusiak A (2018) Smart manufacturing. Int J Prod Res 56(1-2):508–517

18.

Dumitrache I, Caramihai S (2010) Intelligent manufacturing: a new paradigm. IFAC Proceedings 43 (22):1–7

19.

Zhou J, Li P, Zhou Y, Wang B, Zang J, Meng L (2018) Toward new-generation intelligent manufacturing. Engineering 4(1):11–20

20.

Shen W, Hao Q, Yoon HJ, Norrie DH (2006) Applications of agent-based systems in intelligent manufacturing: an updated review. Adv Eng Inform 20(4):415–431

21.

Guo QL, Zhang M (2010) An agent-oriented approach to resolve scheduling optimization in intelligent manufacturing. Robot Cim-Int Manuf 26(1):39–45

22.

Dutra D, Oliveira VCD, Silva JR (2013) Manufacturing as service: the challenge of intelligent manufacturing. IFAC Proceedings 46(7):281–287

23.

Giret A, Garcia E, Botti V (2016) An engineering framework for service-oriented intelligent manufacturing systems. Comput Ind 81:116–127

24.

Tao F, Qi Q, Liu A, Kusiak A (2018) Data-driven smart manufacturing. J Manuf Syst 48:157–169

25.

Sprock T, McGinnis LF (2015) A conceptual model for operational control in smart manufacturing systems. IFAC-PapersOnLine 48(3):1865–1869

26.

Dumitrache I, Stanescu AM, Caramihai SI (2007) Next generation of intelligent manufacturing systems: a survey. IFAC Proceedings 40(18):181–186

27.

Jardim-Goncalves R, Romero D, Grilo A (2017) Factories of the future: challenges and leading innovations in intelligent manufacturing. Int J Comput Integ M 30(1):4–14

28.

Egger J, Masood T (2020) Augmented reality in support of intelligent manufacturing–a systematic literature review. Comput Ind Eng 140:106195

29.

Lee J, Bagheri B, Jin C (2016) Introduction to cyber manufacturing. Manuf Lett 8:11–15

30.

Herterich MM, Uebernickel F, Brenner W (2015) The impact of cyber-physical systems on industrial services in manufacturing. Procedia CIRP 30:323–328

31.

Monostori L, Kádár B, Bauernhansl T, Kondoh S, Kumara S, Reinhart G, Sauer O, Schuh G, Sihn W, Ueda K (2016) Cyber-physical systems in manufacturing. CIRP Ann-Manuf Techn 65 (2):621–641

32.

Park S, Kim JH, Fox G (2014) Effective real-time scheduling algorithm for cyber physical systems society. Future Gener Comp Sy 32:253–259

33.

Wang L, Törngren M, Onori M (2015) Current status and advancement of cyber-physical systems in manufacturing. J Manuf Syst 37:517–527

34.

Yu C, Xu X, Lu Y (2015) Computer-integrated manufacturing, cyber-physical systems and cloud manufacturing–concepts and relationships. Manuf lett 6:5–9

35.

Rahatulain A, Onori M (2018) Viewpoints and views for the architecture description of cyber-physical manufacturing systems. Procedia CIRP 72:450–455

36.

Lee J, Bagheri B, Kao HA (2015) A cyber-physical systems architecture for industry 4.0-based manufacturing systems. Manuf Lett 3:18–23

37.

Chen D, Maffei A, Ferreirar J, Akillioglu H, Khabazzi MR, Zhang X (2015) A virtual environment for the management and development of cyber-physical manufacturing systems. IFAC-PapersOnLine 48(7):29–36

38.

Frazzon EM, Hartmann J, Makuschewitz T, Scholz-Reiter B (2013) Towards socio-cyber-physical systems in production networks. Procedia CIRP 7(5):49–54

39.

Ball GL, Runge C, Peoble L (2015) An information-centric approach to engineering and manufacturing cyber physical systems in the defense industry. Procedia Comput Sci 61:128–132

40.

Wright P (2014) Cyber-physical product manufacturing. Manuf Lett 2(2):49–53

41.

Yu C, Jiang X, Yu S, Yang C (2020) Blockchain-based shared manufacturing in support of cyber physical systems: concept, framework, and operation. Robot Cim-Int Manuf 64:101931

42.

Ding K, Chan FT, Zhang X, Zhou G, Zhang F (2019) Defining a digital twin-based cyber-physical production system for autonomous manufacturing in smart shop floors. Int J Prod Res 57(20):6315–6334

43.

Park KT, Lee J, Kim H, Do Noh S (2020) Digital twin-based cyber physical production system architectural framework for personalized production. Int J Adv Manuf Technol 106:1787–1810

44.

Lu Y, Xu X (2018) Resource virtualization: a core technology for developing cyber-physical production systems. J Manuf Syst 47:128–140

45.

Wells LJ, Camelio JA, Williams CB, White J (2014) Cyber-physical security challenges in manufacturing systems. Manuf Lett 2(2):74–77

46.

Vincent H, Wells L, Tarazaga P, Camelio J (2015) Trojan detection and side-channel analyses for cyber-security in cyber-physical manufacturing systems. Procedia Manuf 1:77–85

47.

Morgan J, O\(\prime \)donnell GE (2015) The cyber physical implementation of cloud manufactuirng monitoring systems. Procedia CIRP 33:29–34

48.

Babiceanu RF, Seker R (2016) Big data and virtualization for manufacturing cyber-physical systems: a survey of the current status and future outlook. Comput Ind 81:128–137

49.

Borgia E (2014) The internet of things vision: Key features, applications and open issues. Comput Commun 54:1–31

50.

Gama K, Touseau L, Donsez D (2012) Combining heterogeneous service technologies for building an internet of things middleware. Comput Commun 35(4):405–417

51.

Tao F, Wang Y, Zuo Y, Yang H, Zhang M (2016) Internet of things in product life-cycle energy management. J Ind Inform Integr 1:26–39

52.

Miorandi D, Sicari S, De Pellegrini F, Chlamtac I (2012) Internet of things: Vision, applications and research challenges. Ad Hoc Netw 10(7):1497–1516

53.

Caron X, Bosua R, Maynard SB, Ahmad A (2016) The internet of things (IoT) and its impact on individual privacy: An australian perspective. Comput Law Secur Rev 32(1):4–15

54.

Dijkman RM, Sprenkels B, Peeters T, Janssen A (2015) Business models for the internet of things. Int J Inform Manage 35(6):672–678

55.

Nascimento NMD, de Lucena CJP (2017) Fiot: an agent-based framework for self-adaptive and self-organizing applications based on the internet of things. Inform Sci 378:161–176

56.

Mourtzis D, Vlachou E, Milas N (2016) Industrial big data as a result of IoT adoption in manufacturing. Procedia CIRP 55:290–295

57.

Khan W, Rehman M, Zangoti H, Afzal M, Armi N, Salah K (2020) Industrial Internet of Things: recent advances, enabling technologies and open challenges. Comput Electr Eng 81:106522

58.

Bello O, Zeadally S, Badra M (2017) Network layer inter-operation of device-to-device communication technologies in internet of things (IoT). Ad Hoc Netw 57:52–62

59.

Ganzha M, Paprzycki M, Pawłowski W, Szmeja P, Wasielewska K (2017) Semantic interoperability in the Internet of Things: an overview from the inter-IoT perspective. J Netw Comput Appl 81:111–124

60.

Park H, Kim H, Joo H, Song J (2016) Recent advancements in the Internet-of-Things related standards: a onem2m perspective. ICT Express 2(3):126–129

61.

Fersi G (2015) A distributed and flexible architecture for Internet of Things. Procedia Comput Sci 73:130–137

62.

Huang X (2019) Quality of service optimization in wireless transmission of industrial Internet of Things for intelligent manufacturing. Int J Adv Manuf Technol 107:1007–1016

63.

Lee I, Lee K (2015) The Internet of Things (IoT): applications, investments, and challenges for enterprises. Bus Horizons 58(4):431–440

64.

Kong L, Ma B (2020) Intelligent manufacturing model of construction industry based on Internet of things technology. Int J Adv Manuf Technol 107:1025–1037

65.

Ben-Daya M, Hassini E, Bahroun Z (2019) Internet of Things and supply chain management: a literature review. Int J Prod Res 57(15-16):4719–4742

66.

Reaidy PJ, Gunasekaran A, Spalanzani A (2015) Bottom-up approach based on Internet of Things for order fulfillment in a collaborative warehousing environment. Int J Prod Econ 159:29–40

67.

Zambrano AM, Perez I, Palau C, Esteve M (2017) Technologies of Internet of Things applied to an earthquake early warning system. Future Gener Comp Sy 75:206–215

68.

Rong K, Hu G, Lin Y, Shi Y, Guo L (2015) Understanding business ecosystem using a 6c framework in Internet-of-Things-based sectors. Int J Prod Econ 159:41–55

69.

Sisinni E, Saifullah A, Han S, Jennehag U, Gidlund M (2018) Industrial Internet of Things: challenges, opportunities, and directions. IEEE T Ind Inform 14(11):4724–4734

70.

Li B, Yu J (2011) Research and application on the smart home based on component technologies and Internet of Things. Procedia Eng 15(4):2087–2092

71.

Veltri L, Cirani S, Busanelli S, Ferrari G (2013) A novel batch-based group key management protocol applied to the Internet of Things. Ad Hoc Netw 11(8):2724–2737

72.

Al-Ali AR (2016) Internet of Things role in the renewable energy resources. Energ Procedia 100:34–38

73.

Botta A, De Donato W, Persico V, Pescapé A (2016) Integration of cloud computing and Internet of Things: a survey. Future Gener Comput Sy 56:684–700

74.

Díaz M, Martín C, Rubio B (2016) State-of-the-art, challenges, and open issues in the integration of Internet of Things and cloud computing. J Netw Comput Appl 67:99–117

75.

Mital M, Chang V, Choudhary P, Pani A, Sun Z (2016) Adoption of cloud based internet of Things in India: a multiple theory perspective. Int J Inform Manage

76.

Karkouch A, Mousannif H, Al Moatassime H, Noel T (2016) Data quality in Internet of Things: a state-of-the-art survey. J Netw Comput Appl 73:57–81

77.

Conti M, Dehghantanha A, Franke K, Watson S (2018) Internet of Things security and forensics: challenges and opportunities. Future Gener Comp Sy 78:544–546

78.

Ashraf QM, Habaebi MH (2015) Autonomic schemes for threat mitigation in Internet of Things. J Netw Comput Appl 49:112–127

79.

Raza S, Wallgren L, Voigt T (2013) Svelte: real-time intrusion detection in the Internet of Things. Ad hoc Netw 11(8):2661–2674

80.

Saied YB, Olivereau A, Zeghlache D, Laurent M (2013) Trust management system design for the Internet of Things: a context-aware and multi-service approach. Comput Secur 39:351– 365

81.

Li BH, Zhang L, Wang SL, Tao F, Cao JW, Jiang XD, Song X, Chai XD (2010) Cloud manufacturing: a new service-oriented networked manufacturing model. Comput Integr Manuf syst 16(1):1–7

82.

Mell P, Grance T (2011) The nist definition of cloud computing Computer Security Division, Information Technology Laboratory, National Institute of Standards and Technology Gaithersburg

83.

Li BH, Zhang L, Ren L, Chai XD, Tao F, Luo YL, Wang YZ, Yin C, Huang G, Zhao X (2011) Further discussion on cloud manufacturing. Comput Integr Manuf syst 17(3):449–457

84.

Zhang L, Luo Y, Tao F, Li BH, Ren L, Zhang X, Guo H, Cheng Y, Hu A, Liu Y (2014) Cloud manufacturing: a new manufacturing paradigm. Enterp Inform Syst 8(2):167–187

85.

Thames L, Schaefer D (2016) Software-defined cloud manufacturing for industry 4.0. Procedia CIRP 52:12–17

86.

Xu X (2012) From cloud computing to cloud manufacturing. Robot Cim-Int Manuf 28(1):75–86

87.

Wang XV, Xu XW (2013) ICMs: a cloud-based manufacturing system. In: Cloud Manufacturing, Springer, pp 1–22

88.

Singh A, Juneja D, Malhotra M (2017) A novel agent based autonomous and service composition framework for cost optimization of resource provisioning in cloud computing. Journal of King Saud University-Comput Inform Sci 29(1):19–28

89.

Helo P, Suorsa M, Hao Y, Anussornnitisarn P (2014) Toward a cloud-based manufacturing execution system for distributed manufacturing. Comput Ind 65(4):646–656

90.

Chen F, Dou R, Li M, Wu H (2016) A flexible QoS-aware Web service composition method by multi-objective optimization in cloud manufacturing. Comput Ind Eng 99:423–431

91.

Chen T, Wang YC (2016) Estimating simulation workload in cloud manufacturing using a classifying artificial neural network ensemble approach. Robot Cim-Int Manuf 38:42–51

92.

Luo Y, Zhang L, Tao F, Ren L, Liu Y, Zhang Z (2013) A modeling and description method of multidimensional information for manufacturing capability in cloud manufacturing system. Int J Adv Manuf Technol 69(5-8):961–975

93.

Chen J, Huang GQ, Wang JQ, Chen Y (2019) A cooperative approach to service booking and scheduling in cloud manufacturing. Eur J Oper Res 273(3):861–873

94.

Suo D, Gao J (2013) A strategy of building cloud manufacturing service platform based on cloud analyst. In: Proceedings 2013 International Conference on Mechatronic Sciences, Mechatronic Sciences, Electric Engineering and Computer (MEC). IEEE, pp 2143–2147

95.

Li Z, Barenji AV, Huang GQ (2018) Toward a blockchain cloud manufacturing system as a peer to peer distributed network platform. Robot Cim-Int Manuf 54:133–144

96.

Wu D, Greer MJ, Rosen DW, Schaefer D (2013) Cloud manufacturing: strategic vision and state-of-the-art. J Manuf Syst 32(4):564–579

97.

Adamson G, Wang L, Holm M, Moore P (2017) Cloud manufacturing–a critical review of recent development and future trends. Int J Comput Integ M 30(4-5):347–380

98.

Lee HT, Song JH, Min SH, Lee HS, Song KY, Chu CN, Ahn SH (2019) Research trends in sustainable manufacturing: a review and future perspective based on research databases. Int J Pr Eng Man-GT 6:809–819

99.

Moldavska A, Welo T (2017) The concept of sustainable manufacturing and its definitions: a content-analysis based literature review. J Clean Prod 166:744–755

100.

Machado CG, Winroth MP, Ribeiro da Silva EHD (2020) Sustainable manufacturing in industry 4.0: an emerging research agenda. Int J Prod Res 58(5):1462–1484

101.

Wang Z, Subramanian N, Gunasekaran A, Abdulrahman MD, Liu C (2015) Composite sustainable manufacturing practice and performance framework: Chinese auto-parts suppliers'perspective. Int J Prod Econ 170:219–233

102.

Stock T, Seliger G (2016) Opportunities of sustainable manufacturing in industry 4.0. Procedia CIRP 40:536–541

103.

Severengiz M, Seidel J, Steingrímsson J, Seliger G (2015) Enhancing technological innovation with the implementation of a sustainable manufacturing community. Procedia CIRP 26:52–57

104.

Rauch E, Dallasega P, Matt DT (2016) Sustainable production in emerging markets through distributed manufacturing systems (DMS). J Clean Prod 135:127–138

105.

Roberts SJF, Ball PD (2014) Developing a library of sustainable manufacturing practices. Procedia CIRP 15:159–164

106.

Zhang H, Zhu B, Li Y, Yaman O, Roy U (2015) Development and utilization of a process-oriented information model for sustainable manufacturing. J Manuf Syst 37:459–466

107.

Mansouri SA, Aktas E, Besikci U (2016) Green scheduling of a two-machine flowshop: trade-off between makespan and energy consumption. Eur J Oper Res 248(3):772–788

108.

Xu W, Shao L, Yao B, Zhou Z, Pham DT (2016) Perception data-driven optimization of manufacturing equipment service scheduling in sustainable manufacturing. J Manuf Syst 41:86–101

109.

Nujoom R, Wang Q, Mohammed A (2018) Optimisation of a sustainable manufacturing system design using the multi-objective approach. Int J Adv Manuf Technol 96(5-8):2539–2558

110.

Paul ID, Bhole GP, Chaudhari JR (2014) A review on green manufacturing: it's important, methodology and its application. Procedia Mater Sci 6:1644–1649

111.

Trentesaux D, Giret A (2015) Go-green manufacturing holons: a step towards sustainable manufacturing operations control. Manuf Lett 5:29–33

112.

Zhu W, He Y (2017) Green product design in supply chains under competition. Eur J Oper Res 258 (1):165–180

113.

Xu B (2011) Development status and prospect of green remanufacturing engineering. Eng Sci 13(1):4–10

114.

Oliveira PSGd, Silva Dd, Silva LFd, Lopes MdS, Helleno A (2016) Factors that influence product life cycle management to develop greener products in the mechanical industry. Int J Prod Res 54(15):4547–4567

115.

Nouira I, Frein Y, Hadj-Alouane AB (2014) Optimization of manufacturing systems under environmental considerations for a greenness-dependent demand. Int J Prod Econ 150(6):188–198

116.

Li K, Zhang X, Leung JYT, Yang SL (2016) Parallel machine scheduling problems in green manufacturing industry. J Manuf Syst 38:98–106

117.

Luo H, Du B, Huang GQ, Chen H, Li X (2013) Hybrid flow shop scheduling considering machine electricity consumption cost. Int J Prod Econ 146(2):423–439

118.

Luo Z, Chen X, Wang X (2016) The role of co-opetition in low carbon manufacturing. Eur J Oper Res 253(2):392–403

119.

Ameknassi L, Aït-Kadi D, Rezg N (2016) Integration of logistics outsourcing decisions in a green supply chain design: a stochastic multi-objective multi-period multi-product programming model. Int J Prod Econ 182:165–184

120.

Nurjanni KP, Carvalho MS, Costa L (2017) Green supply chain design: a mathematical modeling approach based on a multi-objective optimization model. Int J Prod Econ 183:421–432

121.

Alinovi A, Bottani E, Montanari R (2012) Reverse logistics: a stochastic EOQ-based inventory control model for mixed manufacturing/remanufacturing systems with return policies. Int J Prod Res 50(5):1243–1264

122.

Mahadevan B, Pyke DF, Fleischmann M (2003) Periodic review, push inventory policies for remanufacturing. Eur J Oper Res 151(3):536–551

123.

Cai X, Lai M, Li X, Li Y, Wu X (2014) Optimal acquisition and production policy in a hybrid manufacturing/remanufacturing system with core acquisition at different quality levels. Eur J Oper Res 233 (2):374–382

124.

Polotski V, Kenne JP, Gharbi A, et al. (2017) Production and setup policy optimization for hybrid manufacturing–remanufacturing systems. Int J Prod Econ 183(PB):322–333

125.

Rohrmus D, Döricht V, Weinert N (2015) Green factory supported by advanced carbon-based manufacturing. Procedia CIRP 29:28–33

126.

Mittal VK, Sangwan KS (2014) Prioritizing barriers to green manufacturing: environmental, social and economic perspectives. Procedia CIRP 17:559–564

127.

Jiang P, Ding K, Leng J (2016) Towards a cyber-physical-social-connected and service-oriented manufacturing paradigm: social manufacturing. Manuf Lett 7:15–21

128.

Leng J, Jiang P (2016) A deep learning approach for relationship extraction from interaction context in social manufacturing paradigm. Knowl-Based Syst 100:188–199

129.

Xue X, Wang S, Lj Zhang, Zy Feng (2019) Evaluating of dynamic service matching strategy for social manufacturing in cloud environment. Future Gener Comp Sy 91:311–326

130.

Basmer S, Buxbaum-Conradi S, Krenz P, Redlich T, Wulfsberg JP, Bruhns FL (2015) Open production: chances for social sustainability in manufacturing. Procedia CIRP 26:46–51

131.

Mourtzis D, Doukas M, Milas N (2016) A knowledge-based social networking app for collaborative problem-solving in manufacturing. Manuf Lett 10:1–5

132.

Hirscher AL, Niinimäki K, Armstrong CMJ (2018) Social manufacturing in the fashion sector: new value creation through alternative design strategies? J Clean Prod 172:4544–4554

133.

Rebensdorf A, Gergert A, Oosthuizen G, Böhm S (2015) Open community manufacturing–development challenge as a concept for value creation for sustainable manufacturing in south africa. Procedia CIRP 26:167–172

134.

Kristianto Y, Gunasekaran A (2018) A global optimization for sustainable multi-domain global manufacturing. Comput Oper Res 89:307–323

135.

Kristianto Y, Gunasekaran A, Helo P (2017) Building the "triple r" in global manufacturing. Int J Prod Econ 183:607–619

136.

Gölzer P, Simon L, Cato P, Amberg M (2015) Designing global manufacturing networks using big data. Procedia CIRP 33:191–196

137.

Lanza G, Moser R (2014) Multi-objective optimization of global manufacturing networks taking into account multi-dimensional uncertainty. CIRP Ann-Manuf Techn 63(1):397–400

138.

Steger-Jensen K, Svensson C (2004) Issues of mass customisation and supporting it-solutions. Comput Ind 54(1):83–103

139.

Hart CWL (1995) Mass customization: conceptual underpinnings, opportunities and limits. Int J Serv Ind Manage 6(2):36–45

140.

Wang Z, Zhang M, Sun H, Zhu G (2016) Effects of standardization and innovation on mass customization: an empirical investigation. Technovation 48:79–86

141.

Purnomo MRA, Sufa MF (2015) Simulation-based performance improvement towards mass customization in make to order repetitive company. Procedia Manuf 2:408–412

142.

Bonev M, Hvam L, Clarkson J, Maier A (2015) Formal computer-aided product family architecture design for mass customization. Comput Ind 74:58–70

143.

Mourtzis D, Doukas M (2014) Design and planning of manufacturing networks for mass customisation and personalisation: challenges and outlook. Procedia CIRP 19:1–13

144.

Mourtzis D, Doukas M, Psarommatis F (2013) Design and operation of manufacturing networks for mass customisation. CIRP Ann-Manuf Techn 62(1):467–470

145.

Wang Y, Ma HS, Yang JH, Wang KS (2017) Industry 4.0: a way from mass customization to mass personalization production. Adv Manuf 5(4):311–320

146.

Mourtzis D, Doukas M, Psarommatis F, Giannoulis C, Michalos G (2014) A Web-based platform for mass customisation and personalisation. CIRP-JMST 7(2):112–128

147.

Heradio R, Perez-Morago H, Alférez M, Fernandez-Amoros D, Alférez G H (2016) Augmenting measure sensitivity to detect essential, dispensable and highly incompatible features in mass customization. Eur J Oper Res 248(3):1066– 1077

148.

Verdouw CN, Beulens AJM, Trienekens JH, Verwaart T (2010) Towards dynamic reference information models: readiness for ICT mass customisation. Comput Ind 61(9):833– 844

149.

Ng I, Scharf K, Pogrebna G, Maull R (2015) Contextual variety, Internet-of-Things and the choice of tailoring over platform: mass customisation strategy in supply chain management. Int J Prod Econ 159:76–87

150.

Silveira GD, Borenstein D, Fogliatto FS (2001) Mass customization: literature review and research directions. Int J Prod Econ 72(1):1–13

151.

Vrechopoulos AP (2004) Mass customisation challenges in Internet retailing through information management. Int J Inform Manage 24(1):59–71

152.

Yoo J, Park M (2016) The effects of e-mass customization on consumer perceived value, satisfaction, and loyalty toward luxury brands. J Bus Res 69(12):5775–5784

153.

Jost PJ, Süsser T (2020) Company-customer interaction in mass customization. Int J Prod Econ 220:107454

154.

Papathanassiou EA (2004) Mass customisation: management approaches and Internet opportunities in the financial sector in the uk. Int J Inform Manage 24(5):387–399

155.

Alford D, Sackett P, Nelder G (2000) Mass customisation<a̱an automotive perspective. Int J Prod Econ 65(1):99–110

156.

Chang YYC, Jones P (2007) Flight catering: an investigation of the adoption of mass customisation. J Hosp Tour Manag 14(1):47–56

157.

Denkena B, Scherger S (2005) A concept for shoe last manufacturing in mass customisation. CIRP Ann-Manuf Techn 54(1):341–344

158.

Kaiser C, Fischer TV, Schmeltzpfenning T, Stöhr M, Artschwager A (2014) Case study: mass customisation of individualized orthotics–the fashion-able virtual development and production framework. Procedia CIRP 21:105–110

159.

Trentin A, Forza C, Perin E (2015) Embeddedness and path dependence of organizational capabilities for mass customization and green management: a longitudinal case study in the machinery industry. Int J Prod Econ 169:253–276
Funding
This work was supported by the fund from National Natural Science Foundation of China under grant nos. 71690235, 71521001, and 71471052.
Ethics declarations
We certify that this manuscript has not been submitted to more than one journal for simultaneous consideration while being considered by The International Journal of Advanced Manufacturing Technology. This work is original and has not been published elsewhere in any form or language. And the study is not split up into several parts to increase the quantity of submissions and submitted to various journals or to one journal over time. The results are presented clearly, honestly, and without fabrication, falsication or inappropriate data manipulation. We adhere to discipline- specic rules for acquiring, selecting and processing data. No data, text, or theories by others are presented as if they were the author's own. The submission has been received explicitly from all co-authors. And authors whose names appear on the submission have contributed suciently to the scientic work and therefore share collective responsibility and accountability for the results.
Conflict of interest
The authors declare that they have no conflict of interest.
Additional information
Ethical approval
This article does not contain any studies with human participants or animals performed by any of the authors. Informed consent Informed consent was obtained from all individual participants included in the study.
Publisher's note
Springer Nature remains neutral with regard to jurisdictional claims in published maps and institutional affiliations.
About this article
Cite this article
Li, K., Zhou, T. & Liu, B. Internet-based intelligent and sustainable manufacturing: developments and challenges. Int J Adv Manuf Technol 108, 1767–1791 (2020). https://doi.org/10.1007/s00170-020-05445-0
Received:

Accepted:

Published:

Issue Date:
Keywords
Internet

Intelligent manufacturing

Sustainable manufacturing

Resource optimization