Abstract
This paper compares and discusses the results of the research on mental maps of entrepreneurs conducted in three countries: Italy, Germany and the Netherlands. The stated locational preferences of Italian, German and Dutch entrepreneurs and their underlying explanatory factors are analysed and compared, using both qualitative and quantitative methods. The analysis points out that the three countries have some common characteristics regarding the patterns and the explanatory factors of the mental maps of their entrepreneurs. Examples are the centre–periphery dichotomy and the relevance of accessibility. One of the differences between the countries is the preference for large agglomerations that appears in the map image for Germany, a pattern that is less clear in the map image for Italy and the Netherlands. In some important respects, the results for Italy are different from those for the other two countries, as the North–South divide and organised crime apparently play an important role in the mental maps of entrepreneurs in this country.
This is a preview of subscription content, log in to check access.
Access options
Buy single article
Instant access to the full article PDF.
US$ 39.95
Price includes VAT for USA
Subscribe to journal
Immediate online access to all issues from 2019. Subscription will auto renew annually.
US$ 99
This is the net price. Taxes to be calculated in checkout.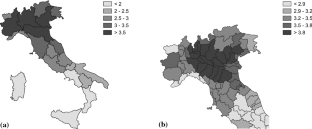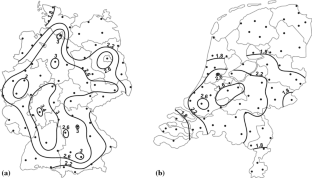 Notes
1.

2.

The arguments used in this paper are based on Musolino (2015).

3.

Bounded rationality has become an important concept in behavioural economics (see e.g. Kahneman 2003).

4.

The second and the third type are overlapping, as individuals may be asked to draw their knowledge of 'objective' conditions freehand. This problem is solved by the proposition of Székely and Kotosz (2018), who offer a typology of mental maps of existing geographical objects drawn on paper ('strict mental maps', 'Lynch type', 'free sketch maps'). The 'interpretative maps' (Didelon et al. 2011), where the respondents are asked to draw regions, or rather the limits of these regions, on a map provided by the researcher, might be regarded as an example of the overlap mentioned above.

5.

In the Netherlands, surveys at the national scale were conducted in 1983, 1993, 2003 and 2012.

6.

'very unfavourable', 'unfavourable', 'neutral', 'favourable', 'very favourable'.

7.

The choice of the spatial elements to be rated, in terms of type and number, is an important methodological step in this type of research. The spatial elements should be homogeneous, representative and recognisable. Their number should not be too small, in order to be able to derive a sufficiently detailed image of the locational preferences, and not too large, because that would decrease the response rate, and the capability of the respondents to evaluate all elements would be under too much pressure. In Italy, the number of regions (NUTS2) is too small (20), and they do not offer a sufficiently disaggregated image of the Italian geography. Provinces offer a highly detailed picture of Italy, but their number is too large (110). Therefore, a method was designed in which, for every single region, the choice between rating only the region or also the provinces within it, was left to the respondents.

8.

The same procedure has been followed for the Netherlands, where also four areas are distinguished. The calculation of the average ratings for each of the three areas in Italy (North, Centre, South) is based on regions (NUTS2).

9.

For the principal component analysis presented in this section, the results of the survey in 1983 have been chosen for the Netherlands because of their clarity. The results for that survey are based on 388 usable forms.
References
Badri MA, Davis DL, Davis D (1995) Decision support models for the location of firms in industrial sites. Int J Oper Prod Manag 15:50–62. https://doi.org/10.1108/01443579510077205

Banfield EC (1958) The moral basis of a backward society. Free Press, Glencoe

Becattini G (ed) (1975) Lo sviluppo economico della Toscana: con particolare riguardo all'industrializzazione leggera. IRPET, Florence

Becattini G (1989) Sectors and/or districts: some remarks on the conceptual foundations of industrial economics. In: Goodman E, Bamford J, Saynor P (eds) Small firms and industrial districts in Italy. Routledge, London, pp 123–135

Beria P, Debernardi A, Ferrara E (2017) Measuring the long-distance accessibility of Italian cities. J Transp Geogr 62:66–79. https://doi.org/10.1016/j.jtrangeo.2017.05.006

Colombo E, Michelangeli A, Stanca L (2014) La dolce vita: hedonic estimates of quality of life in Italian cities. Reg Stud 48:1404–1418. https://doi.org/10.1080/00343404.2012.712206

Cooter RD, Schäfer HB (2012) Solomon's knot: how law can end the poverty of nations. Princeton University Press, Princeton

Daniele V, Marani U (2011) Organized crime, the quality of local institutions and FDI in Italy: a panel data analysis. Eur J Polit Econ 27:132–142

Didelon C, De Ruffray S, Boquet M, Lambert N (2011) A world of interstices: a fuzzy logic approach to the analysis of interpretative maps. Cartogr J 48:100–107. https://doi.org/10.1179/1743277411Y.0000000009

Dietvorst AGJ, Van Ginkel JA, Kouwenhoven AO, De Pater BC, Van den Bremen WJ (1984) Algemene sociale geografie: ontwikkelingslijnen en standpunten. Romen, Weesp

Garofoli G (1981) Lo sviluppo delle aree periferiche nell'economia italiana degli anni settanta. L'industria 2:391–404

Gigerenzer G, Goldstein DG (1996) Reasoning the fast and frugal way: models of bounded rationality. Psychol Rev 103:650–669. https://doi.org/10.1037/0033-295X.103.4.650

Gould PR (1966) On mental maps. Michigan Inter-University Community of Mathematical Geographers (Discussion paper 9), Ann Arbor. Reprint In: Downs RM, Stea D (eds) (1973) Image and environment: cognitive mapping and spatial behavior. Aldine, Chicago, pp 182–220

Gould P, White R (1974) Mental maps. Penguin, Harmondsworth

Granovetter M (1985) Economic action and social structure: the problem of embeddedness. Am J Sociol 91:481–510. https://doi.org/10.1086/228311

Hargreaves-Heap S (1989) Rationality in economics. Blackwell, Oxford

Heida H, Gordijn H (1978) Regionale woonvoorkeuren: verslag van een onderzoek naar de regionale woonvoorkeuren van de huishoudens in Nederland, alsmede naar de faktoren die aan deze woonvoorkeuren ten grondslag liggen. Planologisch Studiecentrum TNO, Delft

Hidalgo CA, Hausmann R (2009) The building blocks of economic complexity. Proc Natl Acad Sci USA 106:10570–10575. https://doi.org/10.1073/pnas.0900943106

Hoover EM (1948) The location of economic activity. McGraw-Hill, New York

II Sole 24 Ore (2015) Qualità della vita del Sole 24 Ore: Bolzano prima, Milano seconda a sorpresa, Reggio Calabria ultima. http://www.ilsole24ore.com/art/notizie/2015-12-20/qualita-vita-sole-24-ore-bolzano-prima-milano-seconda-sorpresa-reggio-calabria-ultima-201038.shtml?uuid=ACDibAxB. Accessed 29 July 2016

Kahneman D (2003) Maps of bounded rationality: psychology for behavioral economics. Am Econ Rev 93:1449–1475. https://doi.org/10.1257/000282803322655392

Kozma G (2000) Spatial preferences of enterprises in Hungary. In: Kovács Z (ed) Hungary towards the 21st century: the human geography of transition. Studies in geography in Hungary, vol 31. Geographical Research Institute. Hungarian Academy of Sciences, Budapest, pp 189–205

Krugman P (1991a) Geography and trade. MIT Press, Cambridge

Krugman P (1991b) Increasing returns and economic geography. J Polit Econ 99:483–499. https://doi.org/10.1086/261763

Lee Y, Schmidt CG (1985) Residential preferences in China: influences and implications. Asian Geogr 4:83–98

Lee Y, Schmidt CG (1988) Residential preference in China: the perception threshold and geographic information. Asian Geogr 7:29–39

Lösch A (1940) Die räumliche Ordnung der Wirtschaft: eine Untersuchung über Standort, Wirtschaftsgebiete und internationalen Handel. Fischer, Jena

Mack RP (1971) Planning on uncertainty: decision making in business and government administration. Wiley, New York

Malczewski J (1992) Site selection problem and a quasi-satisficing decision rule. Geogr Anal 24:299–316. https://doi.org/10.1111/j.1538-4632.1992.tb00269.x

Manzocchi S, Quintieri B, Santoni G (eds) (2013) Le cento Italie della competitività: la dimensione territoriale della produttività delle imprese. Rubbettino, Soveria Mannelli

Meester WJ (2004) Locational preferences of entrepreneurs: stated preferences in the Netherlands and Germany. Physica, Heidelberg

Meester WJ, Pellenbarg PH (1986) Subjectieve waardering van bedrijfsvestigingsmilieus in Nederland. Sociaal-geografische reeks, vol 39. Geografisch Instituut, Rijksuniversiteit Groningen, Groningen

Meester WJ, Pellenbarg PH (2006) The spatial preference map of Dutch entrepreneurs: subjective rating of locations, 1983, 1993 and 2003. Tijdschr Econ Soc Geogr 97:364–376. https://doi.org/10.1111/j.1467-9663.2006.00349.x

Monheim H (1972) Zur Attraktivität deutscher Städte: Einflüsse von Ortspräferenzen auf die Standortwahl von Bürobetrieben. WGI-Berichte zur Regionalforschung, vol 8. Wirtschaftsgeographisches Institut der Universität München, Munich

Musolino D (2015) Stated locational preferences of entrepreneurs in Italy: the patterns, the characteristics and the explanatory factors of the Italian entrepreneurs' mental maps. Dissertation, University of Groningen

Musolino D, Senn L (2013) Regions, places and cities in the mental maps of Italian entrepreneurs: the territorial attractiveness of Italy. In: Van Dijk MP, Van der Meer J, Van der Borg J (eds) From urban systems to sustainable competitive metropolitan regions: essays in honour of Leo van den Berg. Institute for Housing and Urban Development Studies, Erasmus Universiteit Rotterdam, Rotterdam, pp 144–169

Musolino D (2018) The mental maps of Italian entrepreneurs: a quali-quantitative approach. J Cult Geogr 35:251–273. https://doi.org/10.1080/08873631.2017.1401836

Nifo A, Vecchione G (2014) Do institutions play a role in skilled migration? The case of Italy. Reg Stud 48:1628–1649. https://doi.org/10.1080/00343404.2013.835799

Pellenbarg PH (1985) Bedrijfsrelokatie en ruimtelijke kognitie: onderzoekingen naar bedrijfsverplaatsingsprocessen en de subjektieve waardering van vestigingsplaatsen door ondernemers in Nederland. Sociaal-geografische reeks, vol 33. Geografisch Instituut, Rijksuniversiteit Groningen, Groningen

Pellenbarg PH (2012) De mental map van de Nederlandse ondernemer: 1983–1993–2003–2012. Faculteit Ruimtelijke Wetenschappen, Rijksuniversiteit Groningen, Groningen

Pisano GP, Shih WC (2009) Restoring American competitiveness. Harv Bus Rev 87(7/8):114–125

Porter ME (1990) The competitive advantage of nations. Free Press, New York

Porter ME (2000) Location, competition, and economic development: local clusters in a global economy. Econ Dev Q 14:15–34. https://doi.org/10.1177/089124240001400105

Pred A (1967) Behavior and location: foundations for a geographic and dynamic location theory, part I. Lund studies in geography B, vol 27. Department of Geography, University of Lund, Lund

Putnam RD, Leonardi R, Nanetti RY (1993) Making democracy work: civic traditions in modern Italy. Princeton University Press, Princeton

Pyke F, Becattini G, Sengenberger W (eds) (1990) Industrial districts and inter-firm co-operation in Italy. International Institute for Labour Studies, Geneva

Saarinen TF (1995) Classics in human geography revisited: commentary 2. Prog Hum Geogr 19:107–108

Simon HA (1957) Models of man: social and rational: mathematical essays on rational human behavior in a social setting. Wiley, New York

Spencer C, Dixon J (1983) Mapping the development of feelings about the city: a longitudinal study of new residents' affective maps. Trans Inst Br Geogr 8:373–383. https://doi.org/10.2307/622051

Spilková J (2007) Foreign firms and the perception of regions in the Czech Republic: a statistical examination. Tijdschr Econ Soc Geogr 98:260–275. https://doi.org/10.1111/j.1467-9663.2007.00395.x

Stern E, Krakover S (1993) The formation of a composite urban image. Geogr Anal 25:130–146. https://doi.org/10.1111/j.1538-4632.1993.tb00285.x

Storper M, Salais R (1997) Worlds of production: the action frameworks of the economy. Harvard University Press, Cambridge

Székely A, Kotosz B (2018) From fence to wall? Changes in the mental space of border zones in Eastern Europe. Reg Sci Policy Pract 10:269–282. https://doi.org/10.1111/rsp3.12120

Tuan YF (1975) Images and mental maps. Ann Assoc Am Geogr 65:205–213

Van den Bosch HJM (1977) Het subjektieve moment in het ruimtelijk gedrag: poging tot inventarisatie en evaluatie van de 'perceptiebenadering' binnen de geografie. Geogr Tijdschr 11:77–97

Von Thünen JH (1842) Der isolierte Staat in Beziehung auf Landwirtschaft und Nationalőkonomie, 2nd edn. Leopold, Rostock

Weber A (1909) Über den Standort der Industrien, 1. Teil: reine Theorie des Standorts. Mohr, Tübingen
Additional information
Publisher's Note
Springer Nature remains neutral with regard to jurisdictional claims in published maps and institutional affiliations.
About this article
Cite this article
Musolino, D., Meester, W. & Pellenbarg, P. The mental maps of Italian, German and Dutch entrepreneurs: a comparative perspective. Ann Reg Sci 64, 595–613 (2020). https://doi.org/10.1007/s00168-019-00912-3
Received:

Accepted:

Published:

Issue Date:
JEL Classification