Abstract
Purpose
The purpose of this systematic review and meta-analysis was to investigate the variability in femoral geometric ratios among knees of different sexes and races, and to appreciate whether the observed variability is accommodated by commonly implanted total knee arthroplasty (TKA) components. The hypothesis was that the anthropometric studies report considerable variability of femoral geometric ratios among sexes and races.
Methods
This systematic review and meta-analysis was performed according to the Preferred Reporting Items for Systematic reviews and Meta-analyses (PRISMA) criteria. Two authors independently conducted an electronic search using MEDLINE® and Embase® on 6 July 2020 for clinical studies reporting on femoral geometric ratios among sexes and races. Femoral geometric ratios were graphically represented as means and 2 standard deviations, and compared to those of 13 commonly implanted femoral components.
Results
A total of 15 studies were identified that reported on a combined total of 2627 knees; all reported the aspect ratio, and 2 also reported the asymmetry ratio and trapezoidicity ratio. Men had wider knees than women, and compared to Caucasian knees, Arabian and Indian knees were wider, while East Asian were narrower. There were no differences in asymmetry ratio between men and women, nor among Caucasian and East Asian knees. Men had more trapezoidal knees than women, and East Asian knees were more trapezoidal than Caucasian knees. The commonly implanted femoral components accommodated less than a quarter of the geometric variability observed among sexes and races.
Conclusion
Anthropometric studies reported considerable sexual dimorphism and racial diversity of femoral geometric ratios. Since a surgeon generally only uses one or a few TKA brands, bone–implant mismatch remains unavoidable in a large proportion of knees. These findings support the drive towards personalized medicine, and accurate bone–implant fit may only be achievable through customisation of implants, though the clinical benefits of custom TKA remain to be confirmed.
Level of evidence
IV.
Access options
Buy single article
Instant access to the full article PDF.
US$ 39.95
Tax calculation will be finalised during checkout.
Subscribe to journal
Immediate online access to all issues from 2019. Subscription will auto renew annually.
US$ 119
Tax calculation will be finalised during checkout.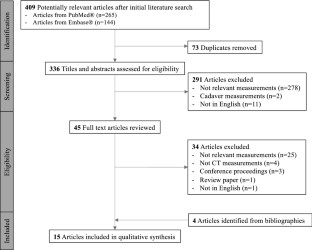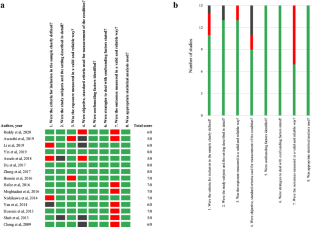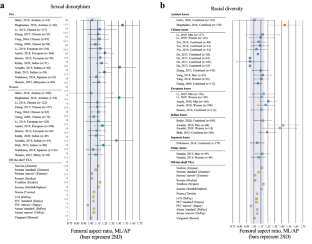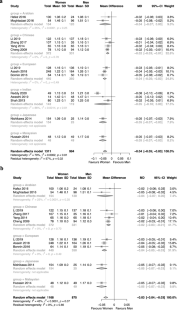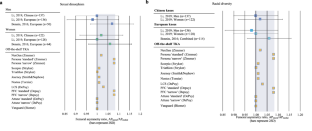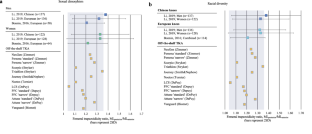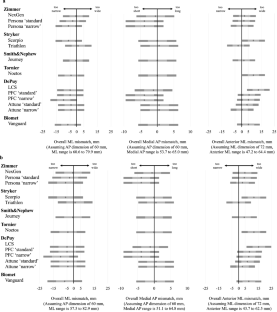 References
1.

Hess S, Moser LB, Amsler F, Behrend H, Hirschmann MT (2019) Highly variable coronal tibial and femoral alignment in osteoarthritic knees: a systematic review. Knee Surg Sports Traumatol Arthrosc 27(5):1368–1377

2.

Gunaratne R, Pratt DN, Banda J, Fick DP, Khan RJK, Robertson BW (2017) Patient dissatisfaction following total knee arthroplasty: a systematic review of the literature. J Arthropl 32(12):3854–3860

3.

Li K, Saffarini M, Valluy J, Desseroit MC, Morvan Y, Telmon N, Cavaignac E (2019) Sexual and ethnic polymorphism render prosthetic overhang and under-coverage inevitable using off-the shelf TKA implants. Knee Surg Sports Traumatol Arthrosc 27(7):2130–2139

4.

Bonnin MP, de Kok A, Verstraete M, Van Hoof T, Van Der Straten C, Saffarini M, Victor J (2017) Popliteus impingement after TKA may occur with well-sized prostheses. Knee Surg Sports Traumatol Arthrosc 25(6):1720–1730

5.

Mihalko W, Fishkin Z, Krackow K (2006) Patellofemoral overstuff and its relationship to flexion after total knee arthroplasty. Clin Orthop 449:283–287

6.

Gustke KA, Golladay GJ, Roche MW, Elson LC, Anderson CR (2017) A targeted approach to ligament balancing using kinetic sensors. J Arthropl 32(7):2127–2132

7.

Tanaka Y, Nakamura S, Kuriyama S, Nishitani K, Ito H, Lyman S, Matsuda S (2020) Intraoperative physiological lateral laxity in extension and flexion for varus knees did not affect short-term clinical outcomes and patient satisfaction. Knee Surg Sports Traumatol Arthrosc. https://doi.org/10.1007/s00167-020-05862-4

8.

Dargel J, Michael JW, Feiser J, Ivo R, Koebke J (2011) Human knee joint anatomy revisited: morphometry in the light of sex-specific total knee arthroplasty. J Arthropl 26(3):346–353

9.

Guy SP, Farndon MA, Sidhom S, Al-Lami M, Bennett C, London NJ (2012) Gender differences in distal femoral morphology and the role of gender specific implants in total knee replacement: a prospective clinical study. Knee 19(1):28–31

10.

Hitt K, Shurman JR 2nd, Greene K, McCarthy J, Moskal J, Hoeman T, Mont MA (2003) Anthropometric measurements of the human knee: correlation to the sizing of current knee arthroplasty systems. J Bone Joint Surg Am 85-A(Suppl 4):115–122

11.

Cavaignac E, Li K, Faruch M, Savall F, Chiron P, Huang W, Telmon N (2017) Three-dimensional geometric morphometric analysis reveals ethnic dimorphism in the shape of the femur. J Exp Orthop 4(1):13

12.

Kim TK, Phillips M, Bhandari M, Watson J, Malhotra R (2017) What differences in morphologic features of the knee exist among patients of various races? A systematic review. Clin Orthop 475(1):170–182

13.

Mahfouz M, Abdel Fatah EE, Bowers LS, Scuderi G (2012) Three-dimensional morphology of the knee reveals ethnic differences. Clin Orthop 470(1):172–185

14.

Sappey-Marinier E, Swan J, Batailler C, Servien E, Lustig S (2020) No clinical benefit from gender-specific total knee replacement implants: a systematic review. SICOT J 6:25

15.

Bonnin MP, Schmidt A, Basiglini L, Bossard N, Dantony E (2013) Mediolateral oversizing influences pain, function, and flexion after TKA. Knee Surg Sports Traumatol Arthrosc 21(10):2314–2324

16.

Moola S, Munn Z, Tufanaru C, Aromataris E, Sears K, Sfetcu R, Currie M, Qureshi R, Mattis P, Lisy K, Mu P-F (2020) Chapter 7: Systematic reviews of etiology and risk. In: Aromataris E, Munn Z (eds) JBI manual for evidence synthesis. JBI, Adelaide

17.

Asseln M, Hänisch C, Schick F, Radermacher K (2018) Gender differences in knee morphology and the prospects for implant design in total knee replacement. Knee 25(4):545–558

18.

Awasthi B, Raina SK, Negi V, Chauhan NS, Kalia S (2019) Morphometric study of lower end femur by using helical computed tomography. Indian J Orthop 53(2):304–308

19.

Bonnin MP, Saffarini M, Bossard N, Dantony E, Victor J (2016) Morphometric analysis of the distal femur in total knee arthroplasty and native knees. Bone Joint J 98-b(1):49–57

20.

Nishikawa M, Owaki H, Kaneshiro S, Fuji T (2014) Preoperative morphometric differences in the distal femur are based on skeletal size in Japanese patients undergoing total knee arthroplasty. Knee Surg Sports Traumatol Arthrosc 22(12):2962–2968

21.

Reddy AVG, Sankineani SR, Agrawal R, Thayi C (2020) Comparative study of existing knee prosthesis with anthropometry of Indian patients and other races, a computer tomography 3D reconstruction-based study. J Clin Orthop Trauma 11(Suppl 2):S228–S233

22.

Shah D, Ghyar R, Ravi B, Shetty V (2013) 3D morphological study of the Indian arthritic knee: comparison with other ethnic groups and conformity of current TKA implant. Open J Rheumatol Autoimmune Dis 3(4):263–269

23.

Yin X, Yang D, Zhou Y, Shao H, Huang Y, Huang X (2019) Different femoral origins of valgus deformity affect aspect ratios of resected distal femurs in total knee arthroplasty. Knee 26(5):1073–1079

24.

Higgins JP, Thompson SG, Deeks JJ, Altman DG (2003) Measuring inconsistency in meta-analyses. BMJ 327(7414):557–560

25.

Akbari Shandiz M, Boulos P, Saevarsson SK, Ramm H, Fu CKJ, Miller S, Zachow S, Anglin C (2018) Changes in knee shape and geometry resulting from total knee arthroplasty. Proc Inst Mech Eng H 232(1):67–79

26.

Asada S, Mori S, Matsushita T, Hashimoto K, Inoue S, Akagi M (2013) Influence of the sagittal reference axis on the femoral component size. J Arthropl 28(6):943–949

27.

Bansal V, Mishra A, Verma T, Maini D, Karkhur Y, Maini L (2018) Anthropometric assessment of tibial resection surface morphology in total knee arthroplasty for tibial component design in Indian population. JAJS 5(1):24–28

28.

Barnes CL, Iwaki H, Minoda Y, Green JM 2nd, Obert RM (2010) Analysis of sex and race and the size and shape of the distal femur using virtual surgery and archived computed tomography images. J Surg Orthop Adv 19(4):200–208

29.

Bonnin MP, Saffarini M, Mercier PE, Laurent JR, Carrillon Y (2011) Is the anterior tibial tuberosity a reliable rotational landmark for the tibial component in total knee arthroplasty? J Arthropl 26(2):260–267 (e261–262)

30.

Bonnin MP, Saffarini M, Nover L, van der Maas J, Haeberle C, Hannink G, Victor J (2017) External rotation of the femoral component increases asymmetry of the posterior condyles. Bone Joint J 99-b(7):894–903

31.

Bonnin MP, Saffarini M, Shepherd D, Bossard N, Dantony E (2016) Oversizing the tibial component in TKAs: incidence, consequences and risk factors. Knee Surg Sports Traumatol Arthrosc 24(8):2532–2540

32.

Huijs S, Huysmans T, De Jong A, Arnout N, Sijbers J, Bellemans J (2018) Principal component analysis as a tool for determining optimal tibial baseplate geometry in modern TKA design. Acta Orthop Belg 84(4):452–460

33.

Ishimaru M, Hino K, Onishi Y, Iseki Y, Mashima N, Miura H (2014) A three-dimensional computed tomography study of distal femoral morphology in Japanese patients: gender differences and component fit. Knee 21(6):1221–1224

34.

Li K, Cavaignac E, Xu W, Cheng Q, Telmon N, Huang W (2018) Morphometric evaluation of the knee in Chinese population reveals sexual dimorphism and age-related differences. Int Orthop 42(10):2349–2356

35.

Li P, Tsai TY, Li JS, Wang S, Zhang Y, Kwon YM, Rubash HE, Li G (2014) Gender analysis of the anterior femoral condyle geometry of the knee. Knee 21(2):529–533

36.

Liu Z, Yuan G, Zhang W, Shen Y, Deng L (2013) Anthropometry of the proximal tibia of patients with knee arthritis in Shanghai. J Arthropl 28(5):778–783

37.

Moghtadaei M, Moghimi J, Farahini H, Jahansouz A (2015) Morphology of proximal tibia in Iranian population and its correlation with available prostheses. Med J Islam Repub Iran 29:225

38.

Nakamura S, Morita Y, Ito H, Kuriyama S, Furu M, Matsuda S (2015) Morphology of the proximal tibia at different levels of bone resection in Japanese knees. J Arthropl 30(12):2323–2327

39.

Peeters W, Van Haver A, Van den Wyngaert S, Verdonk P (2019) A landmark-based 3D analysis reveals a narrower tibial plateau and patella in trochlear dysplastic knees. Knee Surg Sports Traumatol Arthrosc. https://doi.org/10.1007/s00167-019-05802-x

40.

Shao H, Chen C, Scholl D, Faizan A, Chen AF (2018) Tibial shaft anatomy differs between Caucasians and East Asian individuals. Knee Surg Sports Traumatol Arthrosc 26(9):2758–2765

41.

Thienpont E, Bernardoni M, Goldberg T (2016) Anthropometric measurements of the femur change with component positioning in total knee arthroplasty. Knee 23(5):796–800

42.

Uehara K, Kadoya Y, Kobayashi A, Ohashi H, Yamano Y (2002) Anthropometry of the proximal tibia to design a total knee prosthesis for the Japanese population. J Arthropl 17(8):1028–1032

43.

Urabe K, Miura H, Kuwano T, Matsuda S, Nagamine R, Sakai S, Masuda K, Iwamoto Y (2003) Comparison between the shape of resected femoral sections and femoral prostheses used in total knee arthroplasty in Japanese patients: simulation using three-dimensional computed tomography. J Knee Surg 16(1):27–33

44.

Ushio T, Mizu-Uchi H, Okazaki K, Ma Y, Kuwashima U, Iwamoto Y (2017) The anteroposterior axis of the proximal tibia can change after tibial resection in total knee arthroplasty: computer simulation using Asian osteoarthritis knees. J Arthropl 32(3):1006–1012

45.

Xu B-X, Wang W, Zhang L (2012) Three-dimensional digital reconstruction for the morphological research of proximal tibia of Chinese population. Chin J Tissue Eng Res 16(44):8218–8222

46.

Yan M, Wang J, Wang Y, Zhang J, Yue B, Zeng Y (2014) Gender-based differences in the dimensions of the femoral trochlea and condyles in the Chinese population: correlation to the risk of femoral component overhang. Knee 21(1):252–256

47.

Yang B, Yu JK, Zheng ZZ, Lu ZH, Zhang JY, Cheng JH (2013) Computed tomography morphometric study of gender differences in osteoarthritis proximal tibias. J Arthropl 28(7):1117–1120

48.

Yue B, Varadarajan KM, Ai S, Tang T, Rubash HE, Li G (2011) Differences of knee anthropometry between Chinese and white men and women. J Arthropl 26(1):124–130

49.

Zhang K, Han Q, Wang H, Yang K, Chen B, Zhang Y, Zhang S, Wang J, Chu H (2019) Measurement of proximal tibial morphology in northeast Chinese population based on three-dimensional reconstruction computer tomography. Medicine (Baltimore) 98(45):e17508

50.

Bellemans J, Carpentier K, Vandenneucker H, Vanlauwe J, Victor J (2010) The John Insall Award: both morphotype and gender influence the shape of the knee in patients undergoing TKA. Clin Orthop 468(1):29–36

51.

Ma Q-L, Lipman JD, Cheng C-K, Wang X-N, Zhang Y-Y, You B (2017) A comparison between chinese and caucasian 3-dimensional bony morphometry in presimulated and postsimulated osteotomy for total knee arthroplasty. J Arthropl 32(9):2878–2886

52.

Vaidya SV, Aroojis A, Suralkar S (1997) Total knee replacement in Indians: are adequate sizes available? J Orthop Res 5(1):65–72

53.

Vaidya SV, Ranawat CS, Aroojis A, Laud NS (2000) Anthropometric measurements to design total knee prostheses for the Indian population. J Arthropl 15(1):79–85

54.

Arno SL, Ehlert R (2017) Verification of CT based anthropometric measurements of human femora. Orthopaedic Research Society, 2017 Annual Meeting, Poster No. 1974

55.

Van Schalkwyk EP, Scheffer C, Dillon EM, Erasmus PJ (2007) Goodness-of-fit determination of femoral knee prosthesis using computer segmentation. Conf Proc IEEE Eng Med Biol Soc 2007:2744–2747

56.

Yue W, Theobald M, Deckx J, Lawrenchuk M, Angibaud L (2016) Evaluation of a western originated total knee arthroplasty design on the fit of small sized femora. Orthopaedic Research Society, 2016 Annual Meeting, Poster No. 0942

57.

Conley S, Rosenberg A, Crowninshield R (2007) The female knee: anatomic variations. J Am Acad Orthop Surg 15(Suppl 1):S31-36

58.

Nowakowski AM, Müller-Gerbl M, Valderrabano V (2013) Morphometric analysis of the proximal tibia in design development of bi-cruciate retaining total knee arthoplasty. Sports Orthop Traumatol 29(2):112–117

59.

Hussain F, Abdul Kadir MR, Zulkifly AH, Sa'at A, Aziz AA, Hossain G, Kamarul T, Syahrom A (2013) Anthropometric measurements of the human distal femur: a study of the adult Malay population. Biomed Res Int 2013:175056

60.

Yang B, Yu JK, Zheng ZZ, Lu ZH, Zhang JY (2014) Comparative study of sex differences in distal femur morphology in osteoarthritic knees in a Chinese population. PLoS ONE 9(2):e89394

61.

Cheng FB, Ji XF, Lai Y, Feng JC, Zheng WX, Sun YF, Fu YW, Li YQ (2009) Three dimensional morphometry of the knee to design the total knee arthroplasty for Chinese population. Knee 16(5):341–347

62.

Du Z, Chen S, Yan M, Yue B, Zeng Y, Wang Y (2017) Do size, shape, and alignment parameters of the femoral condyle affect the trochlear groove tracking? A morphometric study based on 3D-computed tomography models in Chinese people. BMC Musculoskelet Disord 18(1):4

63.

Hafez MA, Sheikhedrees SM, Saweeres ES (2016) Anthropometry of Arabian arthritic knees: comparison to other ethnic groups and implant dimensions. J Arthropl 31(5):1109–1116

64.

Moghtadaei M, Moghimi J, Shahhoseini G (2016) Distal femur morphology of Iranian population and correlation with current prostheses. Iran Red Crescent Med J 18(2):e21818

65.

Zhang Y, Wang X, Wu Z, Xia Q, Shao Y (2017) Highly variable femoral morphology in osteoarthritic Chinese: are prostheses today sufficiently suitable? J Knee Surg 30(9):936–942

66.

Lonner JH, Jasko JG, Thomas BS (2008) Anthropomorphic differences between the distal femora of men and women. Clin Orthop 466(11):2724–2729

67.

Mahoney OM, Kinsey T (2010) Overhang of the femoral component in total knee arthroplasty: risk factors and clinical consequences. J Bone Joint Surg Am 92(5):1115–1121

68.

Antinolfi P, Manfreda F, Placella G, Teodori J, Cerulli G, Caraffa A (2018) The challenge of managing the "Third-Space" in total knee arthroplasty: review of current concepts. Joints 6(3):204–210

69.

Victor J (2009) Rotational alignment of the distal femur: a literature review. Orthop Traumatol Surg Res 95(5):365–372

70.

Berend ME, Small SR, Ritter MA, Buckley CA, Merk JC, Dierking WK (2010) Effects of femoral component size on proximal tibial strain with anatomic graduated components total knee arthroplasty. J Arthropl 25(1):58–63
Funding
The authors are grateful to Ramsay Santé for funding the statistical analysis and manuscript preparation for this study.
Ethics declarations
Conflict of interest
LB, JHM, JD, and MS declare no conflict of interest. TASS reports personal fees from Symbios and DePuy-Synthes outside the submitted work. MPB reports personal fees from Symbios, Wright Medical, Integra, and DePuy Synthesis outside the submitted work.
Additional information
Publisher's Note
Springer Nature remains neutral with regard to jurisdictional claims in published maps and institutional affiliations.
About this article
Cite this article
Beckers, L., Müller, J.H., Daxhelet, J. et al. Sexual dimorphism and racial diversity render bone–implant mismatch inevitable after off-the-shelf total knee arthroplasty: a systematic review and meta-analysis. Knee Surg Sports Traumatol Arthrosc (2021). https://doi.org/10.1007/s00167-021-06447-5
Received:

Accepted:

Published:
Keywords
Knee

Femur

Total knee arthroplasty

Total knee replacement

Off-the-shelf

Morphology

Morphometry

Geometry