Abstract
Purpose
Preoperatively planned correction for tibial osteotomy surgery is usually based on weightbearing long-leg Xrays, while the surgery is performed in a supine non-weightbearing position. The purpose of this study was to assess the differences in lower limb alignment in three different weightbearing conditions: supine position, double-leg (DL) stance and single-sleg (SL) stance prior to performing a medial opening wedge high tibial osteotomy (MOWHTO) for varus malalignment. The hypothesis of this study was that progressive limb-loading would lead to an increased preoperative varus deformity.
Material and methods
This retrospective study included 89 patients (96 knees) with isolated medial knee osteoarthritis (Ahlbäck grade I or II) and significant metaphyseal tibial vara (> 6°). The differences between supine position, DL stance and SL stance were analysed for the hip-knee-ankle angle (HKA), lateral distal femoral angle (LDFA), medial proximal tibial angle (MPTA), weight-bearing line ratio (WBL) and joint line convergence angle (JLCA).
Results
From a supine position to DL stance, the HKA angle slightly increased from 175.5° ± 1.1° to 176.3° ± 1.1° and JLCA changed from 2.0° ± 0.3° to 1.8° ± 0.3° without a statistically significant difference. From DL to SL stances, the HKA angle decreased from 176.3° ± 1.1° to 174.4° ± 1.1° (p < 0.05) and the JLCA increased from 1.8° ± 0.3° to 2.6° ± 0.3° (p < 0.05). A significant correlation was found between ΔHKA and ΔJLCA between the DL and the SL stances (R2 = 0.46; p = 0.01).
Conclusion
Varus malalignment increases with weight-bearing loading from double-leg to single-leg stances with an associated JLCA increase. Thus, single-leg stance radiographs may be useful to correct preoperative planning considering patient-specific changes in JLCA.
Level of clinical evidence
III, retrospective comparative study.
Access options
Buy single article
Instant access to the full article PDF.
US$ 39.95
Tax calculation will be finalised during checkout.
Subscribe to journal
Immediate online access to all issues from 2019. Subscription will auto renew annually.
US$ 119
Tax calculation will be finalised during checkout.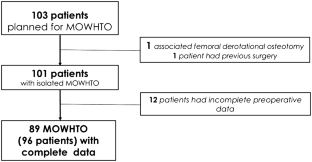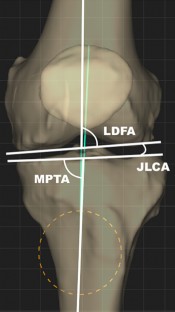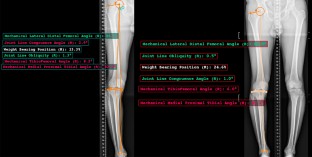 References
1.

Akamatsu Y, Mitsugi N, Mochida Y, Taki N, Kobayashi H, Takeuchi R, Saito T (2012) Navigated opening wedge high tibial osteotomy improves intraoperative correction angle compared with conventional method. Knee Surg Sports TraumatolArthrosc 20:586–593

2.

Akizuki S, Shibakawa A, Takizawa T, Yamazaki I, Horiuchi H (2008) The long-term outcome of high tibial osteotomy: A TEN- TO 20-YEAR FOLLOW-UP. J Bone Jt Surg Br 90-B:592–596

3.

Babazadeh S, Dowsey MM, Bingham RJ, Ek ET, Stoney JD, Choong PFM (2013) The long leg radiograph is a reliable method of assessing alignment when compared to computer-assisted navigation and computer tomography. Knee 20:242–249

4.

Billings A, Scott DF, Camargo MP, Hofmann AA (2000) High Tibial Osteotomy with a Calibrated Osteotomy Guide, Rigid Internal Fixation, and Early Motion: Long-Term Follow-up*. J Bone JtSurg Am 82:70–79

5.

Jacquet C, Sharma A, Fabre M, Ehlinger M, Argenson J-N, Parratte S, Ollivier M (2019) Patient-specific high-tibial osteotomy's 'cutting-guides' decrease operating time and the number of fluoroscopic images taken after a Brief Learning Curve. Knee Surg Sports Traumatol Arthrosc

6.

Ji W, Luo C, Zhan Y, Xie X, He Q, Zhang B (2019) A residual intra-articular varus after medial opening wedge high tibial osteotomy (HTO) for varus osteoarthritis of the knee. Arch Orthop Trauma Surg 139:743–750

7.

Jud L, Roth T, Fürnstahl P, Vlachopoulos L, Sutter R, Fucentese SF (2020) The impact of limb loading and the measurement modality (2D versus 3D) on the measurement of the limb loading dependent lower extremity parameters. BMC MusculoskeletDisord 21:418

8.

Jud L, Trache T, Tondelli T, Fürnstahl P, Fucentese SF, Vlachopoulos L (2019) Rotation or flexion alters mechanical leg axis measurements comparably in patients with different coronal alignment. Knee Surg Sports Traumatol Arthrosc

9.

Kim MS, Son JM, Koh IJ, Bahk JH, In Y (2017) Intraoperative adjustment of alignment under valgus stress reduces outliers in patients undergoing medial opening-wedge high tibial osteotomy. Arch Orthop Trauma Surg 137:1035–1045

10.

Kumagai K, Yamada S, Akamatsu T, Nejima S, Ogino T, Sotozawa M, Inaba Y (2020) Intraoperatively accurate limb alignment after opening wedge high tibial osteotomy can be lost by large knee joint line convergence angle during surgery. Arch Orthop Trauma Surg

11.

Kyung BS, Kim JG, Jang K-M, Chang M, Moon Y-W, Ahn JH, Wang JH (2013) Are Navigation Systems Accurate Enough to Predict the Correction Angle During High Tibial Osteotomy?: Comparison of Navigation Systems With 3-Dimensional Computed Tomography and Standing Radiographs. Am J Sports Med 41:2368–2374

12.

Lee D, kyung, Wang JH, Won Y, Min YK, Jaiswal S, Lee BH, Kim J-Y, (2020) Preoperative latent medial laxity and correction angle are crucial factors for overcorrection in medial open-wedge high tibial osteotomy. Knee Surg Sports TraumatolArthrosc 28:1411–1418

13.

Lee D-H, Park S-C, Park H-J, Han S-B (2016) Effect of soft tissue laxity of the knee joint on limb alignment correction in open-wedge high tibial osteotomy. Knee Surg Sports TraumatolArthrosc 24:3704–3712

14.

Micicoi G, Khakha R, Kley K, Wilson A, Cerciello S, Ollivier M (2020) Managing intra-articular deformity in high Tibial osteotomy: a narrative review. J ExpOrthop 7:65

15.

Miniaci A, Ballmer FT, Ballmer PM, Jakob RP (1989) Proximal tibial osteotomy. A new fixation device. Clin Orthop Relat Res 250–259

16.

Mohanlal P, Jain S (2009) Assessment and validation of CT scanogram to compare per-operative and post-operative mechanical axis after navigated total knee replacement. IntOrthop 33:437–439

17.

Ogawa H, Matsumoto K, Ogawa T, Takeuchi K, Akiyama H (2016) Preoperative varus laxity correlates with overcorrection in medial opening wedge high tibial osteotomy. Arch Orthop Trauma Surg 136:1337–1342

18.

Park J-G, Kim J-M, Lee B-S, Lee S-M, Kwon O-J, Bin S-I (2019) Increased preoperative medial and lateral laxity is a predictor of overcorrection in open wedge high tibial osteotomy. Knee Surg Sports Traumatol Arthrosc

19.

Paternostre F, Schwab P-E, Thienpont E (2014) The difference between weight-bearing and non-weight-bearing alignment in patient-specific instrumentation planning. Knee Surg Sports TraumatolArthrosc 22:674–679

20.

Sabzevari S, Ebrahimpour A, Roudi MK, Kachooei AR (2016) High Tibial Osteotomy: A Systematic Review and Current Concept. Arch Bone JtSurg 4:204–212

21.

So S-Y, Lee S-S, Jung EY, Kim JH, Wang JH (2020) Difference in joint line convergence angle between the supine and standing positions is the most important predictive factor of coronal correction error after medial opening wedge high tibial osteotomy. Knee Surg Sports TraumatolArthrosc 28:1516–1525

22.

Specogna AV, Birmingham TB, Hunt MA, Jones IC, Jenkyn TR, Fowler PJ, Giffin JR (2007) Radiographic Measures of Knee Alignment in Patients with varusGonarthrosis: Effect of Weightbearing Status and Associations with Dynamic Joint Load. Am J Sports Med 35:65–70

23.

Takeuchi R, Aratake M, Bito H, Saito I, Kumagai K, Hayashi R, Sasaki Y, Akamatsu Y, Ishikawa H, Amakado E, Aota Y, Saito T (2009) Clinical results and radiographical evaluation of opening wedge high tibial osteotomy for spontaneous osteonecrosis of the knee. KneeSurg Sports TraumatolArthrosc 17:361–368

24.

Wang JH, Shin JM, Kim HH, Kang S-H, Lee BH (2017) Discrepancy of alignment in different weight bearing conditions before and after high tibial osteotomy. IntOrthop 41:85–92

25.

Yazdanpanah O, Mobarakeh MK, Nakhaei M, Baneshi MR (2017) Comparison of Double and Single Leg Weight-Bearing Radiography in Determining Knee Alignment. Arch Bone JtSurg 5:174–180

26.

Yoon S-D, Zhang G, Kim H-J, Lee B-J, Kyung H-S (2016) Comparison of Cable Method and Miniaci Method Using Picture Archiving and Communication System in Preoperative Planning for Open Wedge High Tibial Osteotomy. Knee SurgRelat Res 28:283–288
Funding
No funding was needed for this study.
Ethics declarations
Conflict of interest
LB, GM, RK have nothing to disclose. MO is educational consultant for Stryker, AO-Recon and Newclip-Technics. ME is educational consultant for Amplitude, Groupe Lépine and Newclip-Technics.
Ethical approval
The local ethics committee approved our study protocol prior to investigation.
Informed consent
NA.
Additional information
Publisher's Note
Springer Nature remains neutral with regard to jurisdictional claims in published maps and institutional affiliations.
About this article
Cite this article
Bardot, LP., Micicoi, G., Favreau, H. et al. Global varus malalignment increase from double-leg to single-leg stance due to intra-articular changes. Knee Surg Sports Traumatol Arthrosc (2021). https://doi.org/10.1007/s00167-021-06446-6
Received:

Accepted:

Published:
Keywords
Knee

Osteotomy

Weight-bearing

Genu varum

Weight-bearing radiographs

Joint line convergence