Abstract
Purpose
The aim of this review was to compare clinical and radiological outcome of acromio-clavicular joint reconstruction with allografts versus autografts.
Methods
The PubMed, MEDLINE, The Cochrane Library and WEB OF SCIENCE databases were searched in accordance with the PRISMA guidelines until February 2020 using the terms: 'coracoclavicular' OR 'coraco-clavicular' OR 'acromioclavicular' OR 'acromio-clavicular joint', AND 'reconstruction'. All studies reporting on clinical and radiological outcome as well as complications after ACJ reconstruction using allo- and/or autografts were included.
Results
A total of 29 articles, including 2 prospective and 27 retrospective studies, involving 622 patients, reconstructed with either allo- (n = 360) or auto-grafts (n = 262), for acromio-clavicular joint instability were identified and included in this review. The majority of studies had low sample sizes (66.7% below n = 20), were retrospective (93.3%), with short-term follow-ups (average 26.2 ± 12.6 months; range 6–186). The study with the largest sample size (n = 128) did not report clinical outcome. A comparison between allo- and auto-graft showed no significant differences regarding age, gender, and follow-up times. Clinical outcome was comparable in both groups, loss of reduction (LOR) and complication rates were higher in the allograft group. Overall a reduction of LOR was shown if additional horizontal stabilization was performed. Also a higher LOR and revision rate was documented in allografts without suture or suture-tape augmentation. The use of more clavicular drill-holes correlated with a higher frequency of fracture.
Conclusions
A systematic review of the available peer-reviewed literature addressing allograft and autograft reconstruction of unstable coracoclavicular ligaments shows that the published studies are generally of low quality with low levels of evidence. The published literature shows no significant difference in clinical outcomes between the use of autografts or allografts in ACJ reconstruction surgery. Surgical techniques utilizing additional horizontal stabilization may contribute to lower rates of LOR. In cases where allograft tissue is used for ACJ reconstruction the use of suture/tape augmentation may reduce LOR rates as well as revision rates.
Level of evidence
III.
Access options
Buy single article
Instant access to the full article PDF.
US$ 39.95
Tax calculation will be finalised during checkout.
Subscribe to journal
Immediate online access to all issues from 2019. Subscription will auto renew annually.
US$ 119
Tax calculation will be finalised during checkout.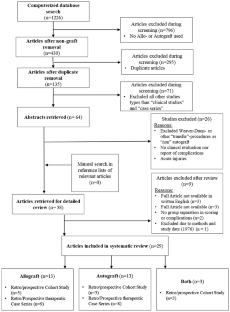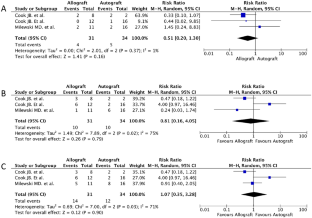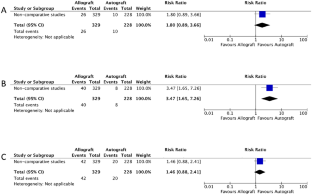 References
1.

Beitzel K, Cote MP, Apostolakos J et al (2013) Current concepts in the treatment of acromioclavicular joint dislocations. Arthroscopy 29:387–397

2.

Beitzel K, Obopilwe E, Apostolakos J, Cote MP, Russell RP, Charette R, Singh H, Arciero RA, Imhoff AB, Mazzocca AD (2014) Rotational and translational stability of different methods for direct acromioclavicular ligament repair in anatomic acromioclavicular joint reconstruction. Am J Sports Med 42(9):2141–2148

3.

Beitzel K, Mazzocca AD (2014) Open anatomic reconstruction of chronic acromioclavicular instability. Oper Orthop Traumatol 26(3):237–244

4.

Carofino BC, Mazzocca AD (2010) The anatomic coracoclavicular ligament reconstruction: surgical technique and indications. J Shoulder Elbow Surg 19:37–46

5.

Choi NH, Lim SM, Lee SY, Lim TK (2017) Loss of reduction and complications of coracoclavicular ligament reconstruction with autogenous tendon graft in acute acromioclavicular dislocations. J Shoulder Elbow Surg 26(4):692–698

6.

Conrad BP, Rappé M, Horodyski M, Farmer KW, Indelicato PA (2013) The effect of sterilization on mechanical properties of soft tissue allografts. Cell Tissue Bank 14(3):359–366

7.

Constant CR, Murley AH (1987) A clinical method of functional assessment of the shoulder. Clin Orthop Relat Res 214:160–164

8.

Cook JB, Shaha JS, Rowles DJ, Bottoni CR, Shaha SH, Tokish JM (2012) Early failures with single clavicular transosseous coracoclavicular ligament reconstruction. J Shoulder Elbow Surg 21(12):1746–1752

9.

Cook JB, Shaha JS, Rowles DJ, Bottoni CR, Shaha SH, Tokish JM (2013) Clavicular bone tunnel malposition leads to early failures in coracoclavicular ligament reconstructions. Am J Sports Med 41(1):142–148

10.

Dawson PA, Adamson GJ, Pink MM, Kornswiet M, Lin S, Shankwiler JA, Lee TQ (2009) Relative contribution of acromioclavicular joint capsule and coracoclavicular ligaments to acromioclavicular stability. J Shoulder Elbow Surg 18:237–244

11.

Detsky AS, Naylor CD, O'Rourke K, McGeer AJ, L'Abbé KA (1992) Incorporating variations in the quality of individual randomized trials into meta-analysis. J Clin Epidemiol 45(3):255–265

12.

Deveci A, Firat A, Yilmaz S, Yildirim AO, Acar HI, Unal KO, Bozkurt M (2013) Acromioclavicular reconstruction using hook plate and anterior tibial tendon allograft with triple tunnel: The early results of revision surgery using a novel surgical technique. Int J Shoulder Surg 7(4):132–138

13.

Eagan MJ, McAllister DR (2009) Biology of allograft incorporation. Clin Sports Med 28(2):203–214

14.

Garofalo R, Ceccarelli E, Castagna A, Calvisi V, Flanagin B, Conti M, Krishnan SG (2017) Open capsular and ligament reconstruction with semitendinosus hamstring autograft successfully controls superior and posterior translation for type V acromioclavicular joint dislocation. Knee Surg Sports Traumatol Arthrosc 25(7):1989–1994

15.

Geaney LE, Beitzel K, Chowaniec DM, Cote MP, Apostolakos J, Arciero RA, Mazzocca AD (2013) Graft fixation is highest with anatomic tunnel positioning in acromioclavicular reconstruction. Arthroscopy 29(3):434–439

16.

George MS, Jorgensen JR (2010) Method of subcoracoid graft passage in acromioclavicular joint reconstruction. Orthopedics 33(11):812

17.

Gogna P, Mukhopadhyay R, Singh A, Singla R, Batra A, Magu NK, Nara R (2015) Mini incision acromio-clavicular joint reconstruction using palmaris longus tendon graft. Musculoskelet Surg 99(1):33–37

18.

Grassi A, Nitri M, Moulton SG, Marcheggiani Muccioli GM, Bondi A, Romagnoli M, Zaffagnini S (2017) Does the type of graft affect the outcome of revision anterior cruciate ligament reconstruction? a meta-analysis of 32 studies. Bone Jt J 99-B(6):714–723

19.

Harris RI, Wallace AL, Harper GD, Goldberg JA, Sonnabend DH, Walsh WR (2000) Structural properties of the intact and the reconstructed coracoclavicular ligament complex. Am J Sports Med 28:103–108

20.

Hegazy G, Safwat H, Seddik M, Al-Shal EA, Al-Sebai I, Negm M (2016) Modified Weaver-Dunn procedure versus the use of semitendinosus autogenous tendon graft for acromioclavicular joint reconstruction. Open Orthop 10:166–178

21.

Higgins JP, Altman DG, Gøtzsche PC, Jüni P, Moher D, Oxman AD, Savovic J, Schulz KF, Weeks L, Sterne JA, Cochrane Bias Methods Group; Cochrane Statistical Methods Group (2011) The Cochrane Collaboration's tool for assessing risk of bias in randomised trials. BMJ 343:d5928

22.

Jensen G, Katthagen JC, Alvarado L, Lill H, Voigt C (2013) Arthroscopically assisted stabilization of chronic AC-joint instabilities in GraftRope TM technique with an additive horizontal tendon augmentation. Arch Orthop Trauma Surg 133(6):841–851

23.

Jones HP, Lemos MJ, Schepsis AA (2001) Salvage of failed acromioclavicular joint reconstruction using autogenous semitendinosus tendon from the knee. Surgical technique and case report. Am J Sports Med 29:234–237

24.

Kibler WB, Sciascia AD, Morris BJ, Dome DC (2017) Treatment of symptomatic acromioclavicular joint instability by a docking technique: clinical indications, surgical technique, and outcomes. Arthroscopy 33(4):696-708.e2

25.

Kocaoglu B, Ulku TK, Gereli A, Karahan M, Türkmen M (2017) Palmaris longus tendon graft versus modified Weaver-Dunn procedure via dynamic button system for acromioclavicular joint reconstruction in chronic cases. J Shoulder Elbow Surg 26(9):1546–1552

26.

Law KY, Yung SH, Ho PY, Chang HT, Chan KM (2007) Coracoclavicular ligament reconstruction using a gracilis tendon graft for acute type-III acromioclavicular dislocation. J Orthop Surg (Hong Kong) 15(3):315–318

27.

Lee SJ, Nicholas SJ, Akizuki KH, McHugh MP, Kremenic IJ, Ben-Avi S (2003) Reconstruction of the coracoclavicular ligaments with tendon grafts a comparative biomechanical study. Am J Sports Med 31:648–655

28.

Li X, Ma R, Bedi A, Dines DM, Altchek DW, Dines JS (2014) Management of acromioclavicular joint injuries. J Bone Jt Surg Am 96:73–84

29.

Mardani-Kivi M, Mirbolook A, Salariyeh M, Hashemi-Motlagh K, Saheb-Ekhtiari K (2013) The comparison of Ethibond sutures and semitendinosus autograft in the surgical treatment of acromioclavicular dislocation. Acta Orthop Traumatol Turc 47(5):307–310

30.

Martetschläger F, Horan MP, Warth RJ, Millett PJ (2013) Complications after anatomic fixation and reconstruction of the coracoclavicular ligaments. Am J Sports Med 41(12):2896–2903

31.

Mazzocca AD, Santangelo SA, Johnson ST, Rios CG, Dumonski ML, Arciero RA (2006) A biomechanical evaluation of an anatomical coracoclavicular ligament reconstruction. Am J Sports Med 34:236–246

32.

Michlitsch MG, Adamson GJ, Pink M, Estess A, Shankwiler JA, Lee TQ (2010) Biomechanical comparison of a modified weaver-Dunn and a free-tissue graft reconstruction of the acromioclavicular joint complex. Am J Sports Med 38:1196–1203

33.

Michener LA, McClure PW, Sennett BJ (2002) American shoulder and elbow surgeons standardized shoulder assessment form, patient self-report section: reliability, validity, and responsiveness. J Shoulder Elbow Surg 11:587–594

34.

Milewski MD, Tompkins M, Giugale JM, Carson EW, Miller MD, Diduch DR (2012) Complications related to anatomic reconstruction of the coracoclavicular ligaments. Am J Sports Med 40(7):1628–1634

35.

Millett PJ, Horan MP, Warth RJ (2015) Two-year outcomes after primary anatomic coracoclavicular ligament reconstruction. Arthroscopy 31(10):1962–1973

36.

Moher D, Liberati A, Tetzlaff J, Altman DG (2009) Preferred reporting items for systematic reviews and meta-analyses: the PRISMA statement. J Clin Epidemiol 62(10):1006–1012

37.

Muench LN, Kia C, Mazzocca AD (2019) Functional and radiographic outcomes after anatomic coracoclavicular ligament reconstruction for type III/V acromioclavicular joint injuries. Orthop J Sports Med 7(11):2325967119884539

38.

Nicholas SJ, Lee SJ, Mullaney MJ, Tyler TF, McHugh MP (2007) Clinical outcomes of coracoclavicular ligament reconstructions using tendon grafts. Am J Sports Med 35(11):1912–1917

39.

Oswald I, Rickert M, Brüggemann GP, Niehoff A, Fonseca Ulloa CA, Jahnke A (2017) The influence of cryopreservation and quick-freezing on the mechanical properties of tendons. J Biomech 64:226–230

40.

Pallis M, Cameron KL, Svoboda SJ, Owens BD (2012) Epidemiology of acromioclavicular joint injury in young athletes. Am J Sports Med 40:2072–2077

41.

Parnes N, Friedman D, Phillips C, Carey P (2015) Outcome after arthroscopic reconstruction of the coracoclavicular ligaments using a double-bundle coracoid cerclage technique. Arthroscopy 31(10):1933–1940

42.

Rockwood CA (1984) Injuries to the acromioclavicular joint. In: Rockwood CA, Green DP (eds) (1984) Fractures in adults. Lippincott, Philadelphia, pp 860–910

43.

Rush LN, Lake N, Stiefel EC, Hobgood ER, Ramsey JR, O'Brien MJ, Field LD, Savoie FH 3rd (2016) Comparison of short-term complications between 2 methods of coracoclavicular ligament reconstruction: a multicenter study. Orthop J Sports Med 4(7):2325967116658419

44.

Scheibel M, Droschel S, Gerhardt C, Kraus N (2011) Arthroscopically assisted stabilization of acute high-grade acromioclavicular joint separations. Am J Sports Med 39(7):1507–1516

45.

Slim K, Nini E, Forestier D, Kwiatkowski F, Panis Y, Chipponi J (2003) Methodological index for non-randomized studies (minors): development and validation of a new instrument. ANZ J Surg 73(9):712–716

46.

Spencer HT, Hsu L, Sodl J, Arianjam A, Yian EH (2016) Radiographic failure and rates of re-operation after acromioclavicular joint reconstruction: a comparison of surgical techniques. Bone Joint J 98-B(4):512–518

47.

Tauber M, Eppel M, Resch H (2007) Acromioclavicular reconstruction using autogenous semitendinosus tendon graft: results of revision surgery in chronic cases. J Shoulder Elbow Surg 16(4):429–433

48.

Tauber M, Gordon K, Koller H, Fox M, Resch H (2009) Semitendinosus tendon graft versus a modified Weaver-Dunn procedure for acromioclavicular joint reconstruction in chronic cases: a prospective comparative study. Am J Sports Med 37(1):181–190

49.

Tauber M, Valler D, Lichtenberg S, Magosch P, Moroder P, Habermeyer P (2016) Arthroscopic stabilization of chronic acromioclavicular joint dislocations: triple- versus single-bundle reconstruction. Am J Sports Med 44(2):482–489

50.

Vascellari A, Schiavetti S, Battistella G, Rebuzzi E, Coletti N (2015) Clinical and radiological results after coracoclavicular ligament reconstruction for type III acromioclavicular joint dislocation using three different techniques. A retrospective study. Joints 3(2):54–61

51.

Virtanen KJ, Savolainen V, Tulikoura I, Remes V, Haapamäki V, Pajarinen J, Björkenheim JM, Paavola M (2014) Surgical treatment of chronic acromioclavicular joint dislocation with autogenous tendon grafts. Springerplus 10(3):420

52.

Wang HD, Zhang H, Wang TR, Zhang WF, Wang FS, Zhang YZ (2018) Comparison of clinical outcomes after anterior cruciate ligament reconstruction with hamstring tendon autograft versus soft-tissue allograft: a meta-analysis of randomised controlled trials. Int J Surg 56:174–183

53.

von Heideken J, Bostrom Windhamre H, Une-Larsson V, Ekelund A (2003) Acute surgical treatment of acromioclavicular dislocation type V with a hook plate: superiority to late reconstruction. J Shoulder Elbow Surg 22:9–17

54.

Weaver JK, Dunn HK (1972) Treatment of acromioclavicular injuries, especially complete acromioclavicular separation. J Bone Jt Surg Am 54:1187–1194

55.

Weinstein DM, McCann PD, McIlveen SJ, Flatow EL, Bigliani LU (1995) Surgical treatment of complete acromioclavicular dislocations. Am J Sports Med 23:324–331

56.

Wellmann M, da Silva G, Lichtenberg S, Magosch P, Habermeyer P (2013) Instability pattern of acromioclavicular joint dislocations type Rockwood III: relevance of horizontal instability. Orthopade 42:271–277

57.

Yoo JC, Ahn JH, Yoon JR, Yang JH (2010) Clinical results of single-tunnel coracoclavicular ligament reconstruction using autogenous semitendinosus tendon. Am J Sports Med 38(5):950–957

58.

Yoo YS, Seo YJ, Noh KC, Patro BP, Kim DY (2011) Arthroscopically assisted anatomical coracoclavicular ligament reconstruction using tendon graft. Int Orthop 35(7):1025–1030

59.

Zanca P (1971) Shoulder pain: involvement of the acromioclavicular joint (Analysis of 1,000 cases). Am J Roentgenol Radium Ther Nucl Med 112(3):493–506
Ethics declarations
Conflict of interest
The authors declare that they have no competing interest.
Funding
No funding was optained as checked on the submission page.
Ethical approval
Ethical approval was not needed.
Additional information
Publisher's Note
Springer Nature remains neutral with regard to jurisdictional claims in published maps and institutional affiliations.
Supplementary Information
Below is the link to the electronic supplementary material.
About this article
Cite this article
Eigenschink, M., Heuberer, P.R., Pauzenberger, L. et al. Allo- and autografts show comparable outcomes in chronic acromioclavicular joint reconstruction: a systematic review. Knee Surg Sports Traumatol Arthrosc (2021). https://doi.org/10.1007/s00167-021-06445-7
Received:

Accepted:

Published:
Keywords
Acromioclavicular

Joint instability

Coracoclavicular

Allograft

Autograft