Abstract
Purpose
Commonly used patient-reported outcome measurement (PROM) tools for knee joint have a ceiling effect and may not be able to differentiate between patients achieving outcomes better than the upper limit of the score. Forgotten joint score-12 (FJS-12) is said to be free of this limitation. FJS-12 has been translated and validated in different languages. This study aims to translate and validate FJS-12 in Hindi (Hindi FJS-12).
Methods
Hindi FJS-12 was tested for comprehensibility in a pilot study in 20 patients. This was followed by a prospective cohort study including 140 patients of bilateral total knee arthroplasty, with a minimum follow-up of 12 months. The mean age of the patients was 62.0 ± 14.5 years. There were 77 (55.2%) males and remaining were females. All patients were asked to fill up questionnaires of Hindi FJS-12, WOMAC, KSS and OKS. Hindi FJS-12 was tested for validity, reliability, responsiveness, floor effect and ceiling effect. Construct validity was expressed as the Pearson correlation coefficient. Internal consistency was expressed as Cronbach's alpha and test–retest reliability as the intra-class correlation coefficient (ICC).
Results
In the pilot study, it was seen that all the questions were well answered by most of the participants. The main study showed good construct validity with Hindi FJS-12 showing moderate correlation with WOMAC, KSS and OKS (Pearson coefficients 0.45, 0.32, 0.37, respectively). Hindi FJS-12 had excellent internal consistency with Cronbach's alpha of 0.93 (95% CI 0.90, 0.97). ICC was 0.95 (95% CI 0.90, 0.99). No floor or ceiling effect was observed.
Conclusion
Hindi FJS-12 has high validity, reliability and reproducibility for knee function after TKA. It is devoid of floor or ceiling effect. Thus, it can be successfully used for studying knee function in the Indian population.
Level of evidence
Prospective cohort study, Level II.
This is a preview of subscription content, log in to check access.
Access options
Buy single article
Instant access to the full article PDF.
US$ 39.95
Price includes VAT for USA
Subscribe to journal
Immediate online access to all issues from 2019. Subscription will auto renew annually.
US$ 199
This is the net price. Taxes to be calculated in checkout.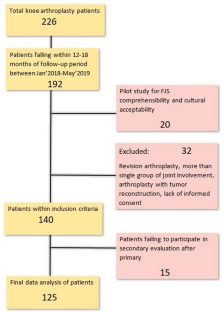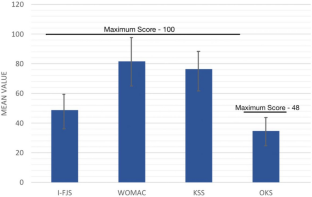 References
1.

Baumann F, Ernstberger T, Loibl M, Zeman F, Nerlich M, Tibesku C et al (2016) Validation of the German Forgotten Joint Score (G-FJS-12) according to the COSMIN checklist: does a reduction in joint awareness indicate clinical improvement after arthroplasty of the knee? Arch Orthop Trauma Surg 136(2):257–264

2.

Beaton DE, Bombardier C, Guillemin F, Ferraz MB (2000) Guidelines for the process of cross-cultural adaptation of self-report measures. Spine 25(24):3186–3191

3.

Behrend H, Giesinger K, Giesinger JM, Kuster MS (2012) The "forgotten joint" as the ultimate goal in joint arthroplasty: validation of a new patient-reported outcome measure. J Arthroplasty 27(3):430–436

4.

Bullinger M, Alonso J, Apolone G, Leplège A, Sullivan M, Wood-Dauphinee S et al (1998) Translating health status questionnaires and evaluating their quality: the IQOLA project approach. J Clin Epidemiol 51(11):913–923

5.

Cao S, Liu N, Han W, Zi Y, Peng F, Li L et al (2017) Simplified Chinese version of the Forgotten Joint Score (FJS-12) for patients who underwent joint arthroplasty: cross-cultural adaptation and validation. J Orthop Surg Res 12(1):6

6.

Carlson VR, Post ZD, Orozco FR, Davis DM, Lutz RW, Ong AC (2018) When does the knee feel normal again: a cross-sectional study assessing the forgotten joint score in patients after total knee arthroplasty. J Arthroplasty 33(3):700–703

7.

Clement ND, Weir D, Holland JP, Gerrand CH, Deehan DJ (2019) An overview and predictors of achieving the postoperative ceiling effect of the WOMAC Score following total knee arthroplasty. J Arthroplasty 34(2):273–280

8.

Eichler D, Beaulieu Y, Barry J, Massé V, Vendittoli PA (2020) Perception of a Natural Joint after total knee arthroplasty. J Arthroplasty 35(2):358–363

9.

Fleiss JL, Levin B, Paik MC (2003) Statistical methods for rates and proportions. Wiley, Hoboken

10.

Gandek B (2015) Measurement properties of the Western Ontario and McMaster Universities Osteoarthritis Index: a systematic review. Arthritis Care Res (Hoboken) 67(2):216–229

11.

Giesinger K, Hamilton DF, Jost B, Holzner B, Giesinger JM (2014) Comparative responsiveness of outcome measures for total knee arthroplasty. Osteoarthr Cartil 22:184–189

12.

Hamilton DF, Loth FL, Giesinger JM, Giesinger K, MacDonald DJ, Patton JT et al (2017) Validation of the English language Forgotten Joint Score-12 as an outcome measure for total hip and knee arthroplasty in a British population. Bone Jt J 99(2):218–224

13.

Heijbel S, Naili JE, Hedin A, Dahl WA, Nilsson KG, Hedström M (2020) The forgotten joint score-12 in Swedish patients undergoing knee arthroplasty: a validation study with the Knee Injury and Osteoarthritis Outcome Score (KOOS) as comparator. Acta Orthop. 91(1):88–93

14.

Ingelsrud LH, Roos EM, Terluin B, Gromov K, Husted H, Troelsen A (2009) Minimal important change values for the Oxford Knee Score and the Forgotten Joint Score at 1 year after total knee replacement. Acta Orthop 89(5):541–547

15.

Klouche S, Giesinger JM, Sariali EH (2018) Translation, cross-cultural adaption and validation of the French version of the Forgotten Joint Score in total hip arthroplasty. Orthop Traumatol Surg Res 104(5):657–661

16.

Shadid MB, Vinken NS, Marting LN, Wolterbeek N (2016) The Dutch version of the forgotten joint score: test-retesting reliability and validation. Acta Orthop Belg 82(1):112–118

17.

Marx RG, Jones EC, Atwan NC, Closkey RF, Salvati EA, Sculco TP (2005) Measuring improvement following total hip and knee arthroplasty using patient-based measures of outcome. J Bone Jt Surg Am 87(9):1999–2005

18.

McHorney CA, Tarlov AR (1995) Individual-patient monitoring in clinical practice: are available health status surveys adequate? Qual Life Res 4(4):293–307

19.

Mokkink LB, Terwee CB, Knol DL, Stratford PW, Alonso J, Patrick DL et al (2006) Protocol of the COSMIN study: COnsensus-based standards for the selection of health Measurement INstruments. BMC Med Res Methodol 6:2

20.

Na SE, Ha CW, Lee CH (2012) A new high-flexion knee scoring system to eliminate the ceiling effect. Clin Orthop 470(2):584–593

21.

Norman GR, Wyrwich KW, Patrick DL (2007) The mathematical relationship among different forms of responsiveness coefficients. Qual Life Res 16(5):815–822

22.

Sansone V, Fennema P, Applefield RC, Marchina S, Ronco R, Pascale W et al (2020) Translation, cross-cultural adaptation, and validation of the Italian language Forgotten Joint Score-12 (FJS-12) as an outcome measure for total knee arthroplasty in an Italian population. BMC Musculoskelet Disord 21(1):23

23.

Shadid MB, Vinken NS, Marting LN, Wolterbeek N (2016) The Dutch version of the Forgotten Joint Score: test–retesting reliability and validation. Acta Orthop Belg 82(1):112–118

24.

Terwee CB, Bot SD, de Boer MR, van der Windt DA, Knol DL, Dekker J et al (2007) Quality criteria were proposed for measurement properties of health status questionnaires. J Clin Epidemiol 60(1):34–42

25.

Thienpont E, Opsomer G, Koninckx A, Houssiau F (2014) Joint awareness in different types of knee arthroplasty evaluated with the Forgotten Joint score. J Arthroplasty 29(1):48–51

26.

Thomsen MG, Latifi R, Kallemose T, Barfod KW, Husted H, Troelsen A (2016) Good validity and reliability of the forgotten joint score in evaluating the outcome of total knee arthroplasty. Acta Orthop 87(3):280–285
Funding
There was no funding source.
Ethics declarations
Conflict of interest statement
The author(s) declared no potential conflicts of interest with respect to the research, authorship, and/or publication of this article.
Ethical review committee statement
The institutional ethics committee approved the study (AIIMS/IEC/18/146). Each author certifies that he or she has no commercial associations (eg, consultancies, stock ownership, equity interest, patent/licensing arrangements, etc.) that might pose a conflict of interest in connection with the submitted article. The study was conducted in All India Institute of Medical Sciences, Rishikesh, India.
Informed consent
Informed consent was obtained from all individual participants included in the study.
Additional information
Publisher's Note
Springer Nature remains neutral with regard to jurisdictional claims in published maps and institutional affiliations.
About this article
Cite this article
Goyal, T., Sethy, S.S., Paul, S. et al. Good validity and reliability of forgotten joint score-12 in total knee arthroplasty in Hindi language for Indian population. Knee Surg Sports Traumatol Arthrosc (2020). https://doi.org/10.1007/s00167-020-06124-z
Received:

Accepted:

Published:
Keywords
WOMAC

Forgotten joint score

Patient-reported outcome

Total knee arthroplasty

Functional outcomes; FJS-12