Abstract
Purpose
The patellofemoral (PF) joint may be adversely affected by medial open-wedge high tibial osteotomy (OWHTO). This study aimed to evaluate the PF compartmental changes using combined single-photon emission computed tomography (SPECT) and conventional computed tomography (CT) after OWHTO to provide clinical guidance regarding the PF joint pressure and force.
Methods
Patients with medial osteoarthritis and varus malalignment > 5° were treated using OWHTO. Patients with a minimum 2-year follow-up were included in the study. The patellar positions were evaluated based on the radiographic parameters. The changes in chondral lesions during second-look arthroscopic examination were evaluated, and the PF joint arthritis grade was recorded on patellar Merchant radiographs using Kellgren–Lawrence classification. The PF compartmental changes according to SPECT/CT analysis after OWHTO were evaluated in all patients. The scintigraphic uptake was graded on four scales. Patients were divided into improved and unimproved groups according to the PF compartmental grade using the SPECT/CT uptake grading system.
Results
At a mean follow-up period of 47.0 months (range 25–74 months), the mean mechanical femorotibial angle changed significantly from varus 6.3° (range 5–12°) to valgus 2.6° (range 0–8°); p < 0.001) postoperatively. The radiological parameters presenting patellar positions, including the tibial slope, patellar convergence angle, and lateral tilt angle, did not change significantly between the preoperative values and the 2-year follow-up values. The mean patellar height significantly decreased (0.07 ± 0.14, p = 0.001 according to the Blackburn–Peel index and 0.32 ± 0.23, p < 0.001 using the modified Insall–Salvati ratio). The average tibial tubercle to trochlear groove (TT–TG) distance significantly decreased from 14.1 to 12.2 mm (p < 0.001). The Q angle also significantly decreased from 9.8o to 7.7o (p = 0.008). Chondral lesions of the patella and trochlear groove revealed significant deterioration; at 2 years after OWHTO, the arthritic grades of the PF joints worsened significantly, as determined by radiography (p = 0.007). Scintigraphic uptake in the PF joint was significantly lower (from 2 to 1) at 2 years postoperatively compared to that immediately after the index operation (p < 0.001). Only 4 of 56 (7.1%) patients showed increased uptake. Comparison between the improved and unimproved groups according to scintigraphic uptake changes revealed that the changes in the cartilage status on the patellar undersurface and TT–TG distance were the most significant predictive factors of increased scintigraphic uptake in the PF joint after OWHTO.
Conclusion
Alignment correction by OWHTO result in PF compartment offloading and should be considered when identifying the surgical indications for OWHTO.
Level of evidence
Therapeutic, Level IV.
This is a preview of subscription content, log in to check access.
Access options
Buy single article
Instant access to the full article PDF.
US$ 39.95
Price includes VAT for USA
Subscribe to journal
Immediate online access to all issues from 2019. Subscription will auto renew annually.
US$ 199
This is the net price. Taxes to be calculated in checkout.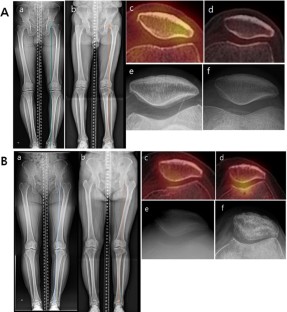 References
1.

Chae DJ, Shetty GM, Lee DB, Choi HW, Han SB, Nha KW (2008) Tibial slope and patellar height after opening wedge high tibia osteotomy using autologous tricortical iliac bone graft. Knee 15:128–133

2.

Dordevic M, Hirschmann MT, Rechsteiner J, Falkowski A, Testa E, Hirschmann A (2016) Do chondral lesions of the knee correlate with bone tracer uptake by using SPECT/CT? Radiology 278:223–231

3.

Ducat A, Sariali E, Lebel B, Mertl P, Hernigou P, Flecher X et al (2012) Posterior tibial slope changes after opening- and closing-wedge high tibial osteotomy: a comparative prospective multicenter study. Orthop Traumatol Surg Res 98:68–74

4.

El-Azab H, Glabgly P, Paul J, Imhoff AB, Hinterwimmer S (2010) Patellar height and posterior tibial slope after open- and closed-wedge high tibial osteotomy: a radiological study on 100 patients. Am J Sports Med 38:323–329

5.

Elahi S, Cahue S, Felson DT, Engelman L, Sharma L (2000) The association between varus-valgus alignment and patellofemoral osteoarthritis. Arthritis Rheum 43:1874–1880

6.

Elias JJ, Kilambi S, Goerke DR, Cosgarea AJ (2009) Improving vastus medialis obliquus function reduces pressure applied to lateral patellofemoral cartilage. J Orthop Res 27:578–583

7.

Felli L, Formica M, Lovisolo S, Capello AG, Alessio-Mazzola M (2018) Clinical Outcome of Arthroscopic Lateral Retinacular Release for Symptomatic Bipartite Patella in Athletes. Arthroscopy 34:1550–1558

8.

Fujisawa Y, Masuhara K, Shiomi S (1979) The effect of high tibial osteotomy on osteoarthritis of the knee. An arthroscopic study of 54 knee joints. Orthop Clin North Am 10:585–608

9.

Gaasbeek R, Welsing R, Barink M, Verdonschot N, van Kampen A (2007) The influence of open and closed high tibial osteotomy on dynamic patellar tracking: a biomechanical study. Knee Surg Sports Traumatol Arthrosc 15:978–984

10.

Goshima K, Sawaguchi T, Shigemoto K, Iwai S, Nakanishi A, Ueoka K (2017) Patellofemoral osteoarthritis progression and alignment changes after open-wedge high tibial osteotomy do not affect clinical outcomes at mid-term follow-up. Arthroscopy 33:1832–1839

11.

Hinterwimmer S, Feucht MJ, Paul J, Kirchhoff C, Sauerschnig M, Imhoff AB et al (2016) Analysis of the effects of high tibial osteotomy on tibial rotation. Int Orthop 40:1849–1854

12.

Hirschmann MT, Iranpour F, Davda K, Rasch H, Hugli R, Friederich NF (2010) Combined single-photon emission computerized tomography and conventional computerized tomography (SPECT/CT): clinical value for the knee surgeons? Knee Surg Sports Traumatol Arthrosc 18:341–345

13.

Hudson Z, Darthuy E (2009) Iliotibial band tightness and patellofemoral pain syndrome: a case-control study. Man Ther 14:147–151

14.

Hurley MV, Scott DL, Rees J, Newham DJ (1997) Sensorimotor changes and functional performance in patients with knee osteoarthritis. Ann Rheum Dis 56:641–648

15.

Javidan P, Adamson GJ, Miller JR, Durand P Jr, Dawson PA, Pink MM et al (2013) The effect of medial opening wedge proximal tibial osteotomy on patellofemoral contact. Am J Sports Med 41:80–86

16.

Jingbo C, Mingli F, Guanglei C, Zheng L, Shuai A, Jiang H (2019) Patellar height is not altered when the knee axis correction is less than 15 degrees and has good short-term clinical outcome. J Knee Surg. https://doi.org/10.1055/s-0039-1681051

17.

Kan H, Arai Y, Kobayashi M, Nakagawa S, Inoue H, Hino M et al (2017) Radiographic measurement of joint space width using the fixed flexion view in 1,102 knees of japanese patients with osteoarthritis in comparison with the standing extended view. Knee Surg Relat Res 29:63–68

18.

Kaper BP, Bourne RB, Rorabeck CH, Macdonald SJ (2001) Patellar infera after high tibial osteotomy. J Arthroplasty 16:168–173

19.

Kijowski R, Blankenbaker D, Stanton P, Fine J, De Smet A (2006) Correlation between radiographic findings of osteoarthritis and arthroscopic findings of articular cartilage degeneration within the patellofemoral joint. Skeletal Radiol 35:895–902

20.

Kim KI, Kim DK, Song SJ, Lee SH, Bae DK (2017) Medial open-wedge high tibial osteotomy may adversely affect the patellofemoral joint. Arthroscopy 33:811–816

21.

Kujala UM, Jaakkola LH, Koskinen SK, Taimela S, Hurme M, Nelimarkka O (1993) Scoring of patellofemoral disorders. Arthroscopy 9:159–163

22.

Lee TQ, Sandusky MD, Adeli A, McMahon PJ (2002) Effects of simulated vastus medialis strength variation on patellofemoral joint biomechanics in human cadaver knees. J Rehabil Res Dev 39:429–438

23.

Lee YS, Lee SB, Oh WS, Kwon YE, Lee BK (2016) Changes in patellofemoral alignment do not cause clinical impact after open-wedge high tibial osteotomy. Knee Surg Sports Traumatol Arthrosc 24:129–133

24.

Leitch KM, Birmingham TB, Dunning CE, Giffin JR (2015) Medial opening wedge high tibial osteotomy alters knee moments in multiple planes during walking and stair ascent. Gait Posture 42:165–171

25.

Lorberboym M, Ami DB, Zin D, Nikolov G, Adar E (2003) Incremental diagnostic value of 99mTc methylene diphosphonate bone SPECT in patients with patellofemoral pain disorders. Nucl Med Commun 24:403–410

26.

Mainil-Varlet P, Aigner T, Brittberg M, Bullough P, Hollander A, Hunziker E et al (2003) Histological assessment of cartilage repair: a report by the Histology Endpoint Committee of the International Cartilage Repair Society (ICRS). J Bone Joint Surg Am 85:45–57

27.

Mikesky AE, Meyer A, Thompson KL (2000) Relationship between quadriceps strength and rate of loading during gait in women. J Orthop Res 18:171–175

28.

Mucha A, Dordevic M, Hirschmann A, Rasch H, Amsler F, Arnold MP et al (2015) Effect of high tibial osteotomy on joint loading in symptomatic patients with varus aligned knees: a study using SPECT/CT. Knee Surg Sports Traumatol Arthrosc 23:2315–2323

29.

Mucha A, Dordevic M, Testa EA, Rasch H, Hirschmann MT (2013) Assessment of the loading history of patients after high tibial osteotomy using SPECT/CT–a new diagnostic tool and algorithm. J Orthop Surg Res 8:46

30.

Murayama K, Nakayama H, Murakami T, Yoshiya S, Otsuki S, Tachibana T (2018) The effect of concomitant arthroscopic lateral retinacular release on postoperative patellar position and orientation in open wedge high tibial osteotomy. Knee Surg Relat Res 30:241–246

31.

Nha KW, Shin YS, Kwon HM, Sim JA, Na YG (2019) Navigated versus conventional technique in high tibial osteotomy: a meta-analysis focusing on weight bearing effect. Knee Surg Relat Res. https://doi.org/10.5792/ksrr.17.090

32.

Prakash J, Seon JK, Woo SH, Jin C, Song EK (2016) Comparison of radiological parameters between normal and patellar dislocation groups in korean population: a rotational profile CT-based study. Knee Surg Relat Res 28:302–311

33.

du Ro H, Lee HY, Chang CB, Kang SB (2015) Value of SPECT-CT imaging for middle-aged patients with chronic anterior knee pain. BMC Musculoskelet Disord 16:169

34.

Samim M, Smitaman E, Lawrence D, Moukaddam H (2014) MRI of anterior knee pain. Skeletal Radiol 43:875–893

35.

Schön SN, Afifi FK, Rasch H, Amsler F, Friederich NF, Arnold MP et al (2014) Assessment of in vivo loading history of the patellofemoral joint: a study combining patellar position, tilt, alignment and bone SPECT/CT. Knee Surg Sports Traumatol Arthrosc 22:3039–3046

36.

Singerman R, Davy DT, Goldberg VM (1994) Effects of patella alta and patella infera on patellofemoral contact forces. J Biomech 27:1059–1065

37.

Slevin O, Schmid FA, Schiapparelli F, Rasch H, Hirschmann MT (2018) Increased in vivo patellofemoral loading after total knee arthroplasty in resurfaced patellae. Knee Surg Sports Traumatol Arthrosc 26:1805–1810

38.

van Baar ME, Assendelft WJ, Dekker J, Oostendorp RA, Bijlsma JW (1999) Effectiveness of exercise therapy in patients with osteoarthritis of the hip or knee: a systematic review of randomized clinical trials. Arthritis Rheum 42:1361–1369
Acknowledgments
The authors would like to thank Oh YJ for his illustration.
Funding
There is no funding source.
Ethics declarations
Conflict of interest
The authors declare that they have no competing interests.
Ethical approval
All procedures performed in studies involving human participants were in accordance with the ethical standards of the institutional and/or national research committee and with the 1964 Helsinki declaration and its later amendments or comparable ethical standards.
Informed consent
No informed consent was necessary for the study.
Additional information
Publisher's Note
Springer Nature remains neutral with regard to jurisdictional claims in published maps and institutional affiliations.
Electronic supplementary material
Below is the link to the electronic supplementary material.
About this article
Cite this article
Sim, J.A., Na, Y.G., Lee, B.K. et al. Alignment changes after open-wedge high tibial osteotomy result in offloading in the patellofemoral joint: a SPECT/CT analysis. Knee Surg Sports Traumatol Arthrosc (2020). https://doi.org/10.1007/s00167-020-06115-0
Received:

Accepted:

Published:
Keywords
Alignment

Knee

Osteotomy

Patellofemoral joint

SPECT/CT