Abstract
Purpose
Total knee arthroplasty (TKA) is usually effective, although not all patients have satisfactory outcomes. This assumes distinct recovery patterns might exist. Little attention has been paid to determine which patients have worse outcomes. This study attempts to distinguish specific recovery patterns using the Oxford knee score (OKS) during the first postoperative year. The secondary aim was to explore predictors of less favourable recovery patterns.
Methods
Analysis of patients in the Dutch Arthroplasty Register (LROI) with unilateral primary TKA. Data collected up to one year postoperative was used. To identify subgroups of patients based on OKS, latent class growth modeling (LCGM) was used. Moreover, multivariable multinomial logistic regression analysis was used to explore predictors of class membership.
Results
809 Patients completed three OKS during the first year postoperative and were included. LCGM identified 3 groups of patients; 'high risers' (most improvement during first 6-months, good 12-month scores 77%), 'gradual progressors' (continuous improvement during the first year 13%) and 'non responders' (initial improvement and subsequent deterioration to baseline score 10%). Predictors of least favourable class membership (OR, 95%CI) are EQ-5D items: VAS health score (0.83, 0.73–0.95), selfcare (2.22, 1.09–4.54) and anxiety/depression (2.45, 1.33–4.52).
Conclusion
Three recovery patterns after TKA were distinguished; 'high risers', 'gradual progressors' and 'non responders'. Worse score on EQ-5D items VAS health, selfcare, and anxiety/depression were correlated with the least favourable 'non responders' recovery pattern.
Access options
Buy single article
Instant access to the full article PDF.
US$ 39.95
Tax calculation will be finalised during checkout.
Subscribe to journal
Immediate online access to all issues from 2019. Subscription will auto renew annually.
US$ 119
Tax calculation will be finalised during checkout.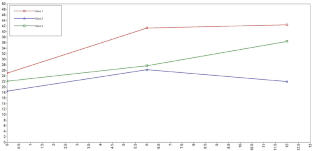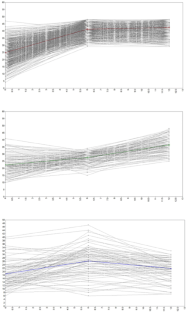 References
1.

Baker P, Petheram T, Jameson S, Reed M, Gregg P, Deehan D (2012) The association between body mass index and the outcomes of total knee arthroplasty. J Bone Joint Surg Am 94:1501–1508

2.

Baker PN, van der Meulen JH, Lewsey J, Gregg PJ, National Joint Registry for E, Wales (2007) The role of pain and function in determining patient satisfaction after total knee replacement. Data from the National Joint Registry for England and Wales. J Bone Joint Surg Br 89:893–900

3.

Berlin KS, Parra GR, Williams NA (2014) An introduction to latent variable mixture modeling (part 2): longitudinal latent class growth analysis and growth mixture models. J Pediatr Psychol 39:188–203

4.

Bourne RB, Chesworth BM, Davis AM, Mahomed NN, Charron KD (2010) Patient satisfaction after total knee arthroplasty: who is satisfied and who is not? Clin Orthop Relat Res 468:57–63

5.

Dawson J, Fitzpatrick R, Murray D, Carr A (1998) Questionnaire on the perceptions of patients about total knee replacement. J Bone Joint Surg Br 80:63–69

6.

Dowsey MM, Smith AJ, Choong PFM (2015) Latent Class Growth Analysis predicts long term pain and function trajectories in total knee arthroplasty: a study of 689 patients. Osteoarthritis Cartil 23:2141–2149

7.

Dumenci L, Perera RA, Keefe FJ, Ang DC, Slover J, Jensen MP et al (2019) Model-based pain and function outcome trajectory types for patients undergoing knee arthroplasty: a secondary analysis from a randomized clinical trial. Osteoarthritis Cartil. https://doi.org/10.1016/j.joca.2019.01.004

8.

Dutch Arthroplasty Register (in Dutch: LROI). Online LROI-Rapportage 2016: Blik op uitkomsten. https://www.lroi-rapportage.nl/media/pdf/PDF%20Online%20LROI-Rapportage%202016.pdf. Accessed 9 Jan 2020

9.

Dutch Arthroplasty Register (in Dutch: LROI). Online LROI annual report 2017. https://www.lroi-rapportage.nl/media/pdf/PDF%20LROI%20annual%20report%202017.pdf. Accessed 11 Nov 2019

10.

EuroQol G (1990) EuroQol–a new facility for the measurement of health-related quality of life. Health Policy 16:199–208

11.

Halawi MJ, Allen DA, Baron S, Savoy L, Williams VJ, Cote MP (2018) Tobacco smoking independently predicts lower patient-reported outcomes: new insights on a forgotten epidemic. J Arthroplast. https://doi.org/10.1016/j.arth.2018.10.036

12.

Jung T, Wickrama K (2008) An introduction to latent class growth analysis and growth mixture modeling. Soc Personal Psychol Compass 2:302–317

13.

Kuperman EF, Schweizer M, Joy P, Gu X, Fang MM (2016) The effects of advanced age on primary total knee arthroplasty: a meta-analysis and systematic review. BMC Geriatr 16:41

14.

Lindberg MF, Miaskowski C, RustoEn T, Rosseland LA, Cooper BA, Lerdal A (2016) Factors that can predict pain with walking, 12 months after total knee arthroplasty. Acta Orthop 87:600–606

15.

Nagin DS (2005) Group-based modeling of development. Harvard University Press, Harvard

16.

Nagin DS, Odgers CL (2010) Group-based trajectory modeling in clinical research. Annu Rev Clin Psychol 6:109–138

17.

Page MG, Katz J, Romero Escobar EM, Lutzky-Cohen N, Curtis K, Fuss S et al (2015) Distinguishing problematic from nonproblematic postsurgical pain: a pain trajectory analysis after total knee arthroplasty. Pain 156:460–468

18.

Rabin R, de Charro F (2001) EQ-5D: a measure of health status from the EuroQol Group. Ann Med 33:337–343

19.

Ram N, Grimm KJ (2009) Growth mixture modeling: a method for identifying differences in longitudinal change among unobserved groups. Int J Behav Dev 33:565–576

20.

Singh JA, Lewallen DG (2013) Medical and psychological comorbidity predicts poor pain outcomes after total knee arthroplasty. Rheumatol (Oxford) 52:916–923

21.

Singh JA, O'Byrne M, Harmsen S, Lewallen D (2010) Predictors of moderate-severe functional limitation after primary total knee arthroplasty (TKA): 4701 TKAs at 2-years and 2935 TKAs at 5-years. Osteoarthritis Cartil 18:515–521

22.

Tristaino V, Lantieri F, Tornago S, Gramazio M, Carriere E, Camera A (2016) Effectiveness of psychological support in patients undergoing primary total hip or knee arthroplasty: a controlled cohort study. J Orthop Traumatol 17:137–147

23.

van de Schoot R, Sijbrandij M, Depaoli S, Vermunt JK (2017) The GRoLTS-checklist: guidelines for reporting on latent trajectory studies. Struct Equ Model Multidiscip J 451–467

24.

van Steenbergen LN, Denissen GA, Spooren A, van Rooden SM, van Oosterhout FJ, Morrenhof JW et al (2015) More than 95% completeness of reported procedures in the population-based Dutch Arthroplasty Register. Acta Orthop 86:498–505

25.

Vissers MM, Bussmann JB, Verhaar JA, Busschbach JJ, Bierma-Zeinstra SM, Reijman M (2012) Psychological factors affecting the outcome of total hip and knee arthroplasty: a systematic review. Semin Arthritis Rheum 41:576–588

26.

Wickrama KAS, Lee TK (2016) Higher-order growth curves and mixture modeling with mplus: a practical guide.

27.

Zale EL, Ring D, Vranceanu AM (2018) The future of orthopaedic care: promoting psychosocial resiliency in orthopaedic surgical practices. J Bone Joint Surg Am 100:e89

28.

Zhao S, Chen F, Wang D, Wang H, Han W, Zhang Y (2019) Effect of preoperative smoking cessation on postoperative pain outcomes in elderly patients with high nicotine dependence. Medicine (Baltimore) 98:e14209
Acknowledgements
The authors would like to thank LROI for using the data. Moreover, we would like to thank the Van Rens Fonds for financially supporting this study.
Funding
This study was funded by the Van Rens Fonds Foundation (VRF2017-005), The Netherlands.
Ethics declarations
Conflict of interest
S.B.W. Vehmeijer has a consultancy contract with Zimmer Biomet.
Ethical approval
Not applicable.
Informed consent
Not applicable.
Additional information
Publisher's Note
Springer Nature remains neutral with regard to jurisdictional claims in published maps and institutional affiliations.
Electronic supplementary material
Below is the link to the electronic supplementary material.
About this article
Cite this article
van Egmond, J.C., Hesseling, B., Melles, M. et al. Three distinct recovery patterns following primary total knee arthroplasty: dutch arthroplasty register study of 809 patients. Knee Surg Sports Traumatol Arthrosc 29, 529–539 (2021). https://doi.org/10.1007/s00167-020-05969-8
Received:

Accepted:

Published:

Issue Date:
Keywords
Total knee arthroplasty

Latent class growth modeling

Trajectories

Patient-reported outcome measurements