Abstract
Purpose
To investigate whether arthroscopic lateral acromion resection can sufficiently reduce the critical shoulder angle (CSA) without damaging deltoid muscle insertion.
Methods
Ninety patients who underwent arthroscopic rotator cuff (RC) repair were retrospectively analysed. According to the preoperative CSA, patients were categorized as Group I (CSA < 35°) and Group II (CSA ≥ 35°). Additional arthroscopic lateral acromion resection was performed in Group II. The CSA was measured 1 week postoperatively, while RC integrity and the deltoid attachment were assessed at 3, 6 and 12 months via ultrasound. Deltoid function was evaluated using the Akimbo test, in which patients place their hands on the iliac crest with abduction in the coronal plane and internal rotation of the shoulder joint while simultaneously flexing the elbow joint and pronating the forearm.
Results
Large and massive RC tears were more prevalent in Group II (p = 0.017). In both groups, the CSA reduction was statistically significant (Group I = 1°: range 0°–3°, Group II = 3.7°: range 1°–8°; p < 0.001). When the preoperative CSA was > 40°, the respective postoperative CSA remained > 35° in 83.3% of cases (p < 0.001). Final shoulder strength was correlated with the amount of CSA reduction (rho = 0.41, p = 0.002). The postoperative CSA was higher, but not significantly different (n.s.), in patients with re-torn (36°, range 32°–40°) than with healed RC (33°, range 26°–38°). No clinical detachment or hypotrophy of the deltoid was observed with the Akimbo test and ultrasound evaluation.
Conclusions
Arthroscopic lateral acromion resection is a safe procedure without affecting deltoid muscle origin or function, and it is effective in significantly reducing the CSA. However, the CSA cannot always be reduced to < 35°, especially in patients with preoperative CSA values > 40°.
Level of evidence
III.
Access options
Buy single article
Instant access to the full article PDF.
US$ 39.95
Tax calculation will be finalised during checkout.
Subscribe to journal
Immediate online access to all issues from 2019. Subscription will auto renew annually.
US$ 119
Tax calculation will be finalised during checkout.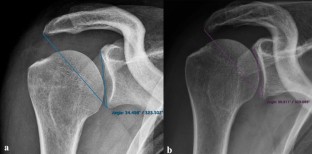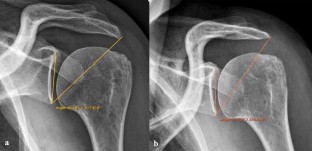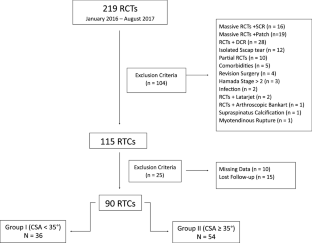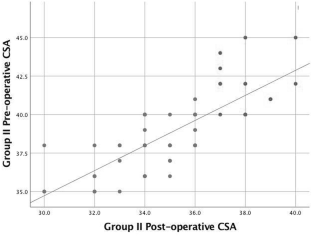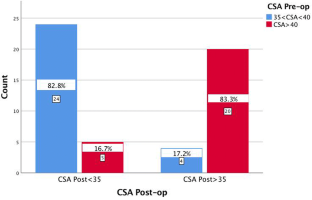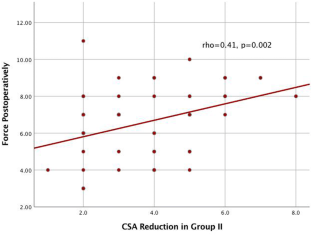 Abbreviations
CSA:

Critical shoulder angle

ALAR:

Arthroscopic lateral acromioplasty

RC:

Rotator cuff

RCT:

Rotator cuff tear

SSP:

Supraspinatus

Sscap:

Subscapularis

DCR:

Distal clavicle resection

BMI:

Body mass index

ROM:

Range of motion

VAS:

Visual analogue scale

SST:

Simple shoulder test

SSV:

Subjective shoulder value

ASES:

American Shoulder and Elbow Score

CS:

Constant Score

US:

Ultrasound

CAP:

Critical acromial point
References
1.

Altintas B, Kääb M, Greiner S (2016) Arthroscopic lateral acromion resection (ALAR) optimizes rotator cuff tear relevant scapula parameters. Arch Orthop Trauma Surg 136:799–804

2.

Banas MP, Miller RJ, Totterman S (1995) Relationship between the lateral acromion angle and rotator cuff disease. J Shoulder Elbow Surg 4:454–461

3.

Barth J, Fotiadis E, Barthelemy R, Genna S, Saffarini M (2015) Ultrasonic evaluation of the repair integrity can predict functional outcomes after arthroscopic double-row rotator cuff repair. Knee Surg Sports Traumatol Arthrosc 23:376–385

4.

Bonnevialle N, Colombi R, Girard M, Azoulay V, Martel M, Mansat P (2018) L'acromioplastie diminue-t-elle le critical shoulder angle? Revue Chir Orthop Traumatol 104:S96

5.

Burkhart SS, Brady PC (2006) Arthroscopic subscapularis repair: surgical tips and pearls A to Z. Arthroscopy 22:1014–1027

6.

Cofield RH (1985) Rotator cuff disease of the shoulder. J Bone Joint Surg Am 67:974–979

7.

Collin P, Abdullah A, Kherad O, Gain S, Denard PJ, Lädermann A (2015) Prospective evaluation of clinical and radiologic factors predicting return to activity within 6 months after arthroscopic rotator cuff repair. J Shoulder Elbow Surg 24:439–445

8.

Collin P, Matsumura N, Lädermann A, Denard PJ, Walch G (2014) Relationship between massive chronic rotator cuff tear pattern and loss of active shoulder range of motion. J Shoulder Elbow Surg 23:1195–1202

9.

Daggett M, Werner B, Collin P, Gauci M-O, Chaoui J, Walch G (2015) Correlation between glenoid inclination and critical shoulder angle: a radiographic and computed tomography study. J Shoulder Elbow Surg 24:1948–1953

10.

Engelhardt C, Farron A, Becce F, Place N, Pioletti DP, Terrier A (2017) Effects of glenoid inclination and acromion index on humeral head translation and glenoid articular cartilage strain. J Shoulder Elbow Surg 26:157–164

11.

Fehringer EV, Sun J, VanOeveren LS, Keller BK, Matsen FA (2008) Full-thickness rotator cuff tear prevalence and correlation with function and co-morbidities in patients sixty-five years and older. J Shoulder Elbow Surg 17:881–885

12.

Fujihara Y, Doi K, Dodakundi C, Hattori Y, Sakamoto S, Takagi T (2012) Simple clinical test to detect deltoid muscle dysfunction causing weakness of abduction—"Akimbo" test. J Reconstr Microsurg 28:375–379

13.

Gagey O, Hue E (2000) Mechanics of the deltoid muscle. A new approach. Clin Orthop Relat Res 375:250–257

14.

Garcia GH, Liu JN, Degen RM, Johnson CC, Wong AC, Dines DM, Gulotta LV, Dines JS (2017) Higher critical shoulder angle increases the risk of retear after rotator cuff repair. J Shoulder Elbow Surg 26:241–245

15.

Gerber C, Catanzaro S, Betz M, Ernstbrunner L (2018) Arthroscopic correction of the critical shoulder angle through lateral acromioplasty: a safe adjunct to rotator cuff repair. Arthroscopy 34:771–780

16.

Gerber C, Snedeker JG, Baumgartner D, Viehöfer AF (2014) Supraspinatus tendon load during abduction is dependent on the size of the critical shoulder angle: a biomechanical analysis. J Orthop Res 32:952–957

17.

Goutallier D, Postel JM, Bernageau J, Lavau L, Voisin MC (1994) Fatty muscle degeneration in cuff ruptures. Pre- and postoperative evaluation by CT scan. Clin Orthop Relat Res 304:78–83

18.

Hamada K, Fukuda H, Mikasa M, Kobayashi Y (1990) Roentgenographic findings in massive rotator cuff tears. A long-term observation. Clin Orthop Relat Res 254:92–96

19.

Hashimoto T, Nobuhara K, Hamada T (2003) Pathologic evidence of degeneration as a primary cause of rotator cuff tear. Clin Orthop Relat Res 415:111–120

20.

Hughes RE, Bryant CR, Hall JM, Wening J, Huston LJ, Kuhn JE, Carpenter JE, Blasier RB (2003) Glenoid inclination is associated with full-thickness rotator cuff tears. Clin Orthop Relat Res 407:86–91

21.

Kaiser D, Bachmann E, Gerber C, Meyer DC (2018) Influence of the site of acromioplasty on reduction of the critical shoulder angle (CSA)—an anatomical study. BMC Musculoskelet 19:371

22.

Karns MR, Jacxsens M, Uffmann WJ, Todd DC, Henninger HB, Burks RT (2018) The critical acromial point: the anatomic location of the lateral acromion in the critical shoulder angle. J Shoulder Elbow Surg 27:151–159

23.

Katthagen JC, Marchetti DC, Tahal DS, Turnbull TL, Millett PJ (2016) The effects of arthroscopic lateral acromioplasty on the critical shoulder angle and the anterolateral deltoid origin: an anatomic cadaveric study. Arthroscopy 32:569–575

24.

Kukkonen J, Kauko T, Vahlberg T, Joukainen A, Äärimaa V (2013) Investigating minimal clinically important difference for Constant score in patients undergoing rotator cuff surgery. J Shoulder Elbow Surg 22:1650–1655

25.

Li H, Chen Y, Chen J, Hua Y, Chen S (2018) Large critical shoulder angle has higher risk of tendon retear after arthroscopic rotator cuff repair. Am J Sports Med 46:1892–1900

26.

Marchetti DC, Katthagen JC, Mikula JD, Montgomery SR, Tahal DS, Dahl KD, Turnbull TL, Millett PJ (2017) Impact of arthroscopic lateral acromioplasty on the mechanical and structural integrity of the lateral deltoid origin: a cadaveric study. Arthroscopy 33:511–517

27.

Minagawa H, Yamamoto N, Abe H, Fukuda M, Seki N, Kikuchi K, Kijima H, Itoi E (2013) Prevalence of symptomatic and asymptomatic rotator cuff tears in the general population: from mass-screening in one village. J Orthop 10:8–12

28.

Moor BK, Bouaicha S, Rothenfluh DA, Sukthankar A, Gerber C (2013) Is there an association between the individual anatomy of the scapula and the development of rotator cuff tears or osteoarthritis of the glenohumeral joint? A radiological study of the critical shoulder angle. Bone Joint J 95-B:935–941

29.

Moor BK, Kuster R, Osterhoff G, Baumgartner D, Werner CML, Zumstein MA, Bouaicha S (2016) Inclination-dependent changes of the critical shoulder angle significantly influence superior glenohumeral joint stability. Clin Biomech (Bristol Avon) 32:268–273

30.

Moor BK, Röthlisberger M, Müller DA, Zumstein MA, Bouaicha S, Ehlinger M, Gerber C (2014) Age, trauma and the critical shoulder angle accurately predict supraspinatus tendon tears. Orthop Traumatol Surg Res 100:489–494

31.

Neer CS (1972) Anterior acromioplasty for the chronic impingement syndrome in the shoulder: a preliminary report. J Bone Joint Surg Am 54:41–50

32.

Nyffeler RW, Werner CML, Sukthankar A, Schmid MR, Gerber C (2006) Association of a large lateral extension of the acromion with rotator cuff tears. J Bone Joint Surg Am 88:800–805

33.

Ozaki J, Fujimoto S, Nakagawa Y, Masuhara K, Tamai S (1988) Tears of the rotator cuff of the shoulder associated with pathological changes in the acromion. A study in cadavera. J Bone Joint Surg Am 70:1224–1230

34.

Park TS, Park DW, Kim SI, Kweon TH (2001) Roentgenographic assessment of acromial morphology using supraspinatus outlet radiographs. Arthroscopy 17:496–501

35.

Patte D (1990) Classification of rotator cuff lesions. Clin Orthop Relat Res 254:81–86

36.

Sano H, Ishii H, Yeadon A, Backman DS, Brunet JA, Uhthoff HK (1997) Degeneration at the insertion weakens the tensile strength of the supraspinatus tendon: a comparative mechanical and histologic study of the bone-tendon complex. J Orthop Res 15:719–726

37.

Sonnabend DH, Yu Y, Howlett CR, Harper GD, Walsh WR (2001) Laminated tears of the human rotator cuff: a histologic and immunochemical study. J Shoulder Elbow Surg 10:109–115

38.

Soslowsky LJ, Thomopoulos S, Esmail A, Flanagan CL, Iannotti JP, Williamson JD, Carpenter JE (2002) Rotator cuff tendinosis in an animal model: role of extrinsic and overuse factors. Ann Biomed Eng 30:1057–1063

39.

Spiegl UJ, Horan MP, Smith SW, Ho CP, Millett PJ (2016) The critical shoulder angle is associated with rotator cuff tears and shoulder osteoarthritis and is better assessed with radiographs over MRI. Knee Surg Sports Traumatol Arthrosc 24:2244–2251

40.

Tempelhof S, Rupp S, Seil R (1999) Age-related prevalence of rotator cuff tears in asymptomatic shoulders. J Shoulder Elbow Surg 8:296–299

41.

Tétreault P, Krueger A, Zurakowski D, Gerber C (2004) Glenoid version and rotator cuff tears. J Orthop Res 22:202–207

42.

Tonotsuka H, Sugaya H, Takahashi N, Kawai N, Sugiyama H, Marumo K (2017) Target range of motion at 3 months after arthroscopic rotator cuff repair and its effect on the final outcome. J Orthop Surg 25:230949901773042

43.

Viehöfer AF, Gerber C, Favre P, Bachmann E, Snedeker JG (2016) A larger critical shoulder angle requires more rotator cuff activity to preserve joint stability. J Orthop Res 34:961–968

44.

Yamamoto A, Takagishi K, Osawa T, Yanagawa T, Nakajima D, Shitara H, Kobayashi T (2010) Prevalence and risk factors of a rotator cuff tear in the general population. J Shoulder Elbow Surg 19:116–120
Funding
No benefits and no funds in any form have been received or will be received from a commercial party related directly or indirectly to the subject of the article.
Ethics declarations
Conflict of interest
The authors declare that they have no conflict of interest.
Ethical approval
The Scientific Council of our clinic "Clinique des Cèdres, Grenoble, France" has approved the above project and its publication (COAC IRB #2018-05).
Additional information
Publisher's Note
Springer Nature remains neutral with regard to jurisdictional claims in published maps and institutional affiliations.
About this article
Cite this article
Olmos, M.I., Boutsiadis, A., Swan, J. et al. Lateral acromioplasty cannot sufficiently reduce the critical shoulder angle if preoperatively measured over 40°. Knee Surg Sports Traumatol Arthrosc 29, 240–249 (2021). https://doi.org/10.1007/s00167-020-05951-4
Received:

Accepted:

Published:

Issue Date:
Keywords
Shoulder

Critical shoulder angle

Rotator cuff

Rotator cuff retear

Lateral acromioplasty

Deltoid insertion