Abstract
Purpose
The purpose of this study was to evaluate the clinical and radiological outcomes of acute posterior cruciate ligament (PCL) lesions in multiple injured knees that were surgically treated with internal bracing.
Methods
Acute complete PCL lesions in multiple injured knees with subsequent internal-bracing treatment within 21 days between 2014 and 2016 were eligible for inclusion. At final follow-up, patients were assessed with Tegner, Lysholm, and IKDC scores. PCL stability and healing were verified with KT-2000, stress radiography and magnetic resonance imaging (MRI).
Results
Fourteen patients [mean age 37.4 (± 17.8; SD) years] were evaluated after a mean follow-up of 19.9 (± 7.7; SD) months. Thirteen patients suffered complete lesions of the PCL with concomitant ligamentous injuries (Schenck I: six cases, Schenck III M: five cases, Schenck IV N: one case, Schenck V: one case). Median Tegner, mean Lysholm and mean IKDC scores at follow-up were 4 (2–7; interquartile range), 69.1 (± 16.6; SD) and 68.9 (± 18.1; SD) respectively. Posterior translation averaged 5.8 (± 2.2; SD) mm with the KT 2000 and stress radiography showed a mean posterior tibial translation of 5.5 (± 4.1; SD) mm in the side to side comparison. MRI showed adequate PCL healing.
Conclusions
Internal bracing as treatment for acute PCL ruptures in multiple injured knees showed adequate restoration of posterior tibial translation in a single-centre study including 14 cases.
Level of evidence
IV.
Access options
Buy single article
Instant access to the full article PDF.
US$ 39.95
Tax calculation will be finalised during checkout.
Subscribe to journal
Immediate online access to all issues from 2019. Subscription will auto renew annually.
US$ 119
Tax calculation will be finalised during checkout.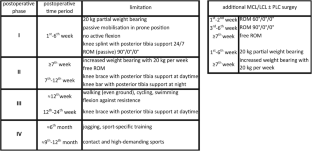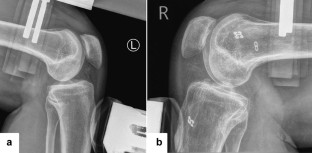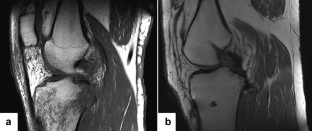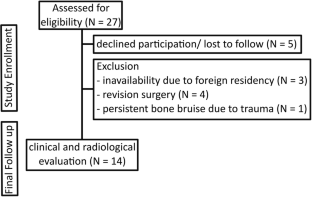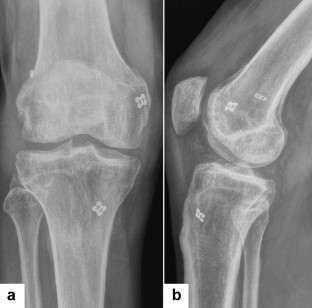 References
1.

Achtnich A, Imhoff AB, Schmitt A, Beitzel K (2017) Ligament-Bracing des hinteren Kreuzbands. Arthroskopie 30:138–141

2.

Ateschrang A, Dobele S, Freude T, Stockle U, Schroter S, Kraus TM (2016) Acute MCL and ACL injuries: first results of minimal-invasive MCL ligament bracing with combined ACL single-bundle reconstruction. Arch Orthop Trauma Surg 136(9):1265–1272

3.

Azar FM, Brandt JC, Miller RH 3rd, Phillips BB (2011) Ultra-low-velocity knee dislocations. Am J Sports Med 39:2170–2174

4.

Belk JW, Kraeutler MJ, Purcell JM, McCarty EC (2018) Autograft versus allograft for posterior cruciate ligament reconstruction: an updated systematic review and meta-analysis. Am J Sports Med 46:1752–1757

5.

Eggli S, Kohlhof H, Zumstein M, Henle P, Hartel M, Evangelopoulos DS et al (2015) Dynamic intraligamentary stabilization: novel technique for preserving the ruptured ACL. Knee Surg Sports Traumatol Arthrosc 23:1215–1221

6.

Fanelli GC, Edson CJ (2012) Surgical treatment of combined PCL-ACL medial and lateral side injuries (global laxity): surgical technique and 2- to 18-year results. J Knee Surg 25:307–316

7.

Fanelli GC, Orcutt DR, Edson CJ (2005) The multiple-ligament injured knee: evaluation, treatment, and results. Arthroscopy 21:471–486

8.

Forkel P, Mehl J, Petersen W, Imhoff AB (2017) Anatomische Refixation der akuten medialen Kniegelenkinstabilität. Arthroskopie 30:28–31

9.

Forkel P, Seppel G, Imhoff A, Petersen W (2015) Suturing and refixation of the medial collateral ligament in severe acute medial instability of the knee. Oper Orthop Traumatol 27:155–171

10.

Frosch K, Proksch N, Preiss A, Giannakos A (2012) Treatment of bony avulsions of the posterior cruciate ligament (PCL) by a minimally invasive dorsal approach. Oper Orthop Traumatol 24:348–353

11.

Frosch KH, Preiss A, Heider S, Stengel D, Wohlmuth P, Hoffmann MF et al (2013) Primary ligament sutures as a treatment option of knee dislocations: a meta-analysis. Knee Surg Sports Traumatol Arthrosc 21:1502–1509

12.

Gross ML, Grover JS, Bassett LW, Seeger LL, Finerman GA (1992) Magnetic resonance imaging of the posterior cruciate ligament. Clinical use to improve diagnostic accuracy. Am J Sports Med 20:732–737

13.

Hefti F, Muller W, Jakob RP, Staubli HU (1993) Evaluation of knee ligament injuries with the IKDC form. Knee Surg Sports Traumatol Arthrosc 1:226–234

14.

Heitmann M, Akoto R, Krause M, Hepp P, Schopp C, Gensior TJ et al (2019) Management of acute knee dislocations: anatomic repair and ligament bracing as a new treatment option-results of a multicentre study. Knee Surg Sports Traumatol Arthrosc 27:2710–2718

15.

Heitmann M, Gerau M, Hotzel J, Giannakos A, Frosch KH, Preiss A (2014) Ligament bracing–augmented primary suture repair in multiligamentous knee injuries. Oper Orthop Traumatol 26:19–29

16.

Hewett TE, Noyes FR, Lee MD (1997) Diagnosis of complete and partial posterior cruciate ligament ruptures. Stress radiography compared with KT-1000 arthrometer and posterior drawer testing. Am J Sports Med 25:648–655

17.

Howell SM, Clark JA, Farley TE (1992) Serial magnetic resonance study assessing the effects of impingement on the MR image of the patellar tendon graft. Arthroscopy 8:350–358

18.

Jung TM, Reinhardt C, Scheffler SU, Weiler A (2006) Stress radiography to measure posterior cruciate ligament insufficiency: a comparison of five different techniques. Knee Surg Sports Traumatol Arthrosc 14:1116–1121

19.

Klose M, Diermeier T, Beitzel K, Imhoff AB, Achtnich A (2017) Rehabilitation nach multiligamentären Rekonstruktionen. Arthroskopie 30:60–66

20.

Larson RV (2001) Isometry of the lateral collateral and popliteofibular ligaments and techniques for reconstruction using a free semitendinosus tendon graft. Oper Tech Sports Med 9:84–90

21.

Lee YS, Han SH, Jo J, Kwak KS, Nha KW, Kim JH (2011) Comparison of 5 different methods for measuring stress radiographs to improve reproducibility during the evaluation of knee instability. Am J Sports Med 39:1275–1281

22.

Levy BA, Fanelli GC, Whelan DB, Stannard JP, MacDonald PA, Boyd JL et al. (2009) Controversies in the treatment of knee dislocations and multiligament reconstruction. J Am Acad Orthop Surg 17(4):197–206

23.

Levy BA, Stuart MJ (2012) Treatment of PCL, ACL, and lateral-side knee injuries: acute and chronic. J Knee Surg 25:295–305

24.

Lubowitz JH, MacKay G, Gilmer B (2014) Knee medial collateral ligament and posteromedial corner anatomic repair with internal bracing. Arthrosc Tech 3:e505–508

25.

Mariani PP, Margheritini F, Christel P, Bellelli A (2005) Evaluation of posterior cruciate ligament healing: a study using magnetic resonance imaging and stress radiography. Arthroscopy 21:1354–1361

26.

Owens BD, Neault M, Benson E, Busconi BD (2007) Primary repair of knee dislocations: results in 25 patients (28 knees) at a mean follow-up of four years. J Orthop Trauma 21:92–96

27.

Petersen W, Tillmann B (1999) Structure and vascularization of the cruciate ligaments of the human knee joint. Anat Embryol (Berl) 200:325–334

28.

Queale WS, Snyder-Mackler L, Handling KA, Richards JG (1994) Instrumented examination of knee laxity in patients with anterior cruciate deficiency: a comparison of the KT-2000, Knee Signature System, and Genucom. J Orthop Sports Phys Ther 19:345–351

29.

Ranger P, Senay A, Gratton GR, Lacelle M, Delisle J (2018) LARS synthetic ligaments for the acute management of 111 acute knee dislocations: effective surgical treatment for most ligaments. Knee Surg Sports Traumatol Arthrosc 26:3673–3681

30.

Richter M, Bosch U, Wippermann B, Hofmann A, Krettek C (2002) Comparison of surgical repair or reconstruction of the cruciate ligaments versus nonsurgical treatment in patients with traumatic knee dislocations. Am J Sports Med 30:718–727

31.

Schenck RC Jr, Richter DL, Wascher DC (2014) Knee dislocations: lessons learned from 20-year follow-up. Orthop J Sports Med 2:2325967114534387

32.

Seroyer ST, Musahl V, Harner CD (2008) Management of the acute knee dislocation: the Pittsburgh experience. Injury 39:710–718

33.

Shelbourne KD, Clark M, Gray T (2013) Minimum 10-year follow-up of patients after an acute, isolated posterior cruciate ligament injury treated nonoperatively. Am J Sports Med 41:1526–1533

34.

Talbot M, Berry G, Fernandes J, Ranger P (2004) Knee dislocations: experience at the Hôpital du Sacré-Coeur de Montréal. Can J Surg 47:20–24

35.

Tegner Y, Lysholm J (1985) Rating systems in the evaluation of knee ligament injuries. Clin Orthop Relat Res 198:43–49

36.

Vaquero-Picado A, Rodriguez-Merchan EC (2017) Isolated posterior cruciate ligament tears: an update of management. EFORT Open Rev 2:89–96

37.

Werner BC, Gwathmey FW Jr, Higgins ST, Hart JM, Miller MD (2014) Ultra-low velocity knee dislocations: patient characteristics, complications, and outcomes. Am J Sports Med 42:358–363
Funding
No funding was received for this study.
Ethics declarations
Conflict of interest
A.B. Imhoff reports personal fees outside the submitted work from Arthrex, Naples, FL, USA, personal fees from Medi, Bayreuth, GER, and personal fees from Arthrosurface, Franklin, MA, USA. The remaining authors declare that they have no conflict of interest.
Ethical approval
This study has been approved by the institutional review board of the Technical University of Munich, Germany (IRB no. 455/16 S).
Additional information
Publisher's Note
Springer Nature remains neutral with regard to jurisdictional claims in published maps and institutional affiliations.
About this article
Cite this article
Otto, A., Helal, A., Imhoff, F.B. et al. Promising clinical and magnetic resonance imaging results after internal bracing of acute posterior cruciate ligament lesions in multiple injured knees. Knee Surg Sports Traumatol Arthrosc 28, 2543–2550 (2020). https://doi.org/10.1007/s00167-020-05852-6
Received:

Accepted:

Published:

Issue Date:
Keywords
Internal bracing

Multi-ligament injuries

Knee dislocation

PCL bracing

Posterior cruciate ligament

Acute PCL lesion