Abstract
Purpose
The objective of this study was to determine the correlation between quantitative T2 mapping-based tendon healing and clinical outcomes during the first year after arthroscopic rotator cuff repair.
Methods
Twenty-two patients with rotator cuff tear were prospectively recruited. Serial clinical and MRI follow-up assessments were carried out at 1 month, 6 months and 12 months after surgery. Twenty healthy volunteers were involved and were examined with clinical and MRI assessments. Clinical assessments included Constant Score (CS), the American Shoulder and Elbow Surgeons (ASES), the modified University of California, Los Angles (UCLA) scores and Visual Analog Scale (VAS). The region of interest of tendon healing was defined directly over the medial suture anchor on T2 mapping. Spearman correlation coefficient was used to analyze the correlations between MRI measurements and clinical outcomes.
Results
All clinical scores indicated significant improvements over the postoperative observation period compared with the initial preoperative values (all P < 0.001). At 12 months, all of the patients returned to their daily life activities. The T2 values of the healing site significantly decreased over time (P < 0.001) and were comparable to those of healthy tendons at 12 months (n.s.). Additionally, the T2 values were negatively correlated with CS (r = − 0.5, P < 0.001), ASES (r = − 0.5, P < 0.001), and UCLA (r = − 0.5, P < 0.001); and positively correlated with VAS score (r = 0.4, P < 0.001). No significant correlations were found between Sugaya classification and clinical scores (all n.s.).
Conclusions
With regard to tendon healing during the first follow-up year, the T2 values of the healing site decreased with the improvement of clinical outcomes over time.
Level of evidence
II
Access options
Buy single article
Instant access to the full article PDF.
US$ 39.95
Tax calculation will be finalised during checkout.
Subscribe to journal
Immediate online access to all issues from 2019. Subscription will auto renew annually.
US$ 119
Tax calculation will be finalised during checkout.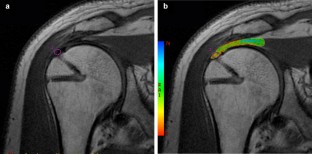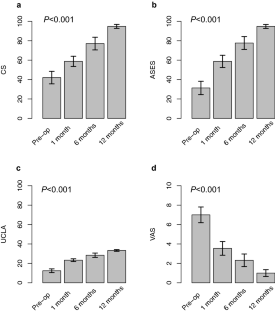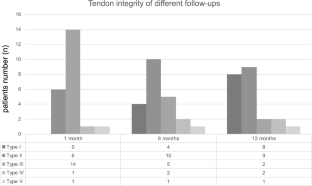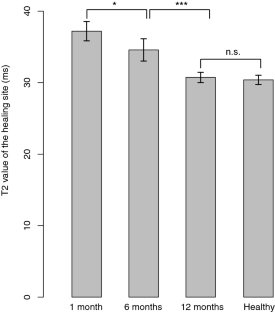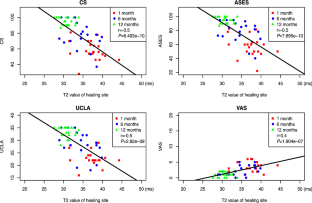 References
1.

Baum T, Joseph GB, Karampinos DC, Jungmann PM, Link TM, Bauer JS (2013) Cartilage and meniscal T2 relaxation time as non-invasive biomarker for knee osteoarthritis and cartilage repair procedures. Osteoarthritis Cartilage 21:1474–1484

2.

Bayle X, Pham TT, Faruch M, Gobet A, Mansat P, Bonnevialle N (2017) No difference in outcome for open versus arthroscopic rotator cuff repair: a prospective comparative trial. Arch Orthop Trauma Surg 137:1707–1712

3.

Chen Y, Li H, Qiao Y, Ge Y, Li Y, Hua Y et al (2019) Double-row rotator cuff repairs lead to more intensive pain during the early postoperative period but have a lower risk of residual pain than single-row repairs. Knee Surg Sports Traumatol Arthrosc. https://doi.org/10.1007/s00167-019-05346-0

4.

Constant CR, Murley AH (1987) A clinical method of functional assessment of the shoulder. Clin Orthop Relat Res 124:160–164

5.

Czegley C, Gillmann C, Schauer C, Seyler L, Reinwald C, Hahn M et al (2018) A model of chronic enthesitis and new bone formation characterized by multimodal imaging. Dis Model Mech 11:dmm035071

6.

DeOrio JK, Cofield RH (1984) Results of a second attempt at surgical repair of a failed initial rotator-cuff repair. J Bone Joint Surg Am 66:563–567

7.

Elliott RSJ, Lim YJ, Coghlan J, Troupis J, Bell S (2019) Structural integrity of rotator cuff at 16 years following repair: good long-term outcomes despite recurrent tears. J Shoulder Elbow Surg 11:26–34

8.

Ellman H, Hanker G, Bayer M (1986) Repair of the rotator cuff. End-result study of factors influencing reconstruction. J Bone Joint Surg Am 68:1136–1144

9.

Fukawa T, Yamaguchi S, Watanabe A, Sasho T, Akagi R, Muramatsu Y et al (2015) Quantitative assessment of tendon healing by using MR T2 mapping in a rabbit achilles tendon transection model treated with platelet-rich plasma. Radiology 276:748–755

10.

Iannotti JP, Deutsch A, Green A, Rudicel S, Christensen J, Marraffino S et al (2013) Time to failure after rotator cuff repair: a prospective imaging study. J Bone Joint Surg Am 95:965–971

11.

Iijima Y, Matsuki K, Hoshika S, Ueda Y, Onishi K, Tokai M et al (2017) Differences in fatty degeneration of rotator cuff muscles at different sites, as quantified by T2 mapping. J Orthop Sci 22:281–284

12.

Jo CH, Shin JS (2013) Cross-sectional area of the supraspinatus muscle after rotator cuff repair: an anatomic measure of outcome. J Bone Joint Surg Am 95:1785–1791

13.

Kanazawa T, Gotoh M, Ohta K, Honda H, Ohzono H, Shimokobe H et al (2016) Histomorphometric and ultrastructural analysis of the tendon-bone interface after rotator cuff repair in a rat model. Sci Rep 6:33800

14.

Khazzam M, Kuhn JE, Mulligan E, Abboud JA, Baumgarten KM, Brophy RH et al (2012) Magnetic resonance imaging identification of rotator cuff retears after repair: interobserver and intraobserver agreement. Am J Sports Med 40:1722–1727

15.

Kim JH, Hong IT, Ryu KJ, Bong ST, Lee YS, Kim JH (2014) Retear rate in the late postoperative period after arthroscopic rotator cuff repair. Am J Sports Med 42:2606–2613

16.

Koh KH, Laddha MS, Lim TK, Park JH, Yoo JC (2012) Serial structural and functional assessments of rotator cuff repairs: do they differ at 6 and 19 months postoperatively? J Shoulder Elbow Surg 21:859–866

17.

Kwon J, Kim SH, Lee YH, Kim TI, Oh JH (2019) The rotator cuff healing index: a new scoring system to predict rotator cuff healing after surgical repair. Am J Sports Med 47:173–180

18.

Lee SH, Kim JW, Kim TK, Kweon SH, Kang HJ, Kim SJ et al (2017) Is the arthroscopic suture bridge technique suitable for full-thickness rotator cuff tears of any size? Knee Surg Sports Traumatol Arthrosc 25:2138–2146

19.

Li H, Chen Y, Chen J, Hua Y, Chen S (2018) Large critical shoulder angle has higher risk of tendon retear after arthroscopic rotator cuff repair. Am J Sports Med 46:1892–1900

20.

Malavolta EA, Assuncao JH, Ramos FF, Ferreira TC, Gracitelli ME, Bordalo-Rodrigues M et al (2016) Serial structural MRI evaluation of arthroscopy rotator cuff repair: does Sugaya's classification correlate with the postoperative clinical outcomes? Arch Orthop Trauma Surg 136:791–797

21.

Matsuki K, Watanabe A, Ochiai S, Kenmoku T, Ochiai N, Obata T et al (2014) Quantitative evaluation of fatty degeneration of the supraspinatus and infraspinatus muscles using T2 mapping. J Shoulder Elbow Surg 23:636–641

22.

Michener LA, McClure PW, Sennett BJ (2002) American shoulder and elbow surgeons standardized shoulder assessment Form, patient self-report section: reliability, validity, and responsiveness. J Shoulder Elbow Surg 11:587–594

23.

Mihata T, Watanabe C, Fukunishi K, Ohue M, Tsujimura T, Fujiwara K et al (2011) Functional and structural outcomes of single-row versus double-row versus combined double-row and suture-bridge repair for rotator cuff tears. Am J Sports Med 39:2091–2098

24.

Park SY, Lee SH, Lee MH, Chung HW, Shin MJ (2017) Changes in the T2 value of cartilage after meniscus transplantation over 1 year. Eur Radiol 27:1496–1504

25.

Pfalzer F, Huth J, Sturmer E, Endele D, Kniesel B, Mauch F (2017) Serial clinical and MRI examinations after arthroscopic rotator cuff reconstruction using double-row technique. Knee Surg Sports Traumatol Arthrosc 25:2174–2181

26.

Sano H, Ishii H, Trudel G, Uhthoff HK (1999) Histologic evidence of degeneration at the insertion of 3 rotator cuff tendons: a comparative study with human cadaveric shoulders. J Shoulder Elbow Surg 8:574–579

27.

Sugaya H, Maeda K, Matsuki K, Moriishi J (2007) Repair integrity and functional outcome after arthroscopic double-row rotator cuff repair. A prospective outcome study. J Bone Joint Surg Am 89:953–960

28.

Tao H, Qiao Y, Hu Y, Xie Y, Lu R, Yan X et al (2018) Quantitative T2-mapping and T2()-mapping evaluation of changes in Cartilage Matrix after acute anterior cruciate ligament rupture and the correlation between the results of both methods. Biomed Res Int 2018:7985672

29.

Tashjian RZ, Granger EK, Chalmers PN (2018) Healing Rates and Functional Outcomes After Triple-Loaded Single-Row Versus Transosseous-Equivalent Double-Row Rotator Cuff Tendon Repair. Orthop J Sports Med 6:2325967118805365

30.

Thomopoulos S, Genin GM, Galatz LM (2010) The development and morphogenesis of the tendon-to-bone insertion - what development can teach us about healing. J Musculoskelet Neuronal Interact 10:35–45

31.

Trudel G, Melkus G, Cron GO, Louati H, Sheikh A, Larson PEZ et al (2017) Imaging of the rabbit supraspinatus enthesis at 7 Tesla: a 4-week time course after repair surgery and effect of channeling. J Magn Reson Imaging 46:461–467

32.

Weinreb JH, Sheth C, Apostolakos J, McCarthy MB, Barden B, Cote MP et al (2014) Tendon structure, disease, and imaging. Muscles Ligaments Tendons J 4:66–73

33.

Xu C, Zhao J, Li D (2014) Meta-analysis comparing single-row and double-row repair techniques in the arthroscopic treatment of rotator cuff tears. J Shoulder Elbow Surg 23:182–188

34.

Zumstein MA, Ladermann A, Raniga S, Schar MO (2017) The biology of rotator cuff healing. Orthop Traumatol Surg Res 103:S1–S10
Funding
This study was funded by the National Natural Science Foundation of China (81671652).
Ethics declarations
Conflict of interest
The authors declare that they have no conflict of interest.
Ethical approval
This study was approved by the Health Sciences Institutional Review Board of our hospital (Huashan Hospital Fudan University HIRB, 2015M-010).
Additional information
Publisher's Note
Springer Nature remains neutral with regard to jurisdictional claims in published maps and institutional affiliations.
About this article
Cite this article
Xie, Y., Liu, S., qiao, Y. et al. Quantitative T2 mapping-based tendon healing is related to the clinical outcomes during the first year after arthroscopic rotator cuff repair. Knee Surg Sports Traumatol Arthrosc 29, 127–135 (2021). https://doi.org/10.1007/s00167-019-05811-w
Received:

Accepted:

Published:

Issue Date:
Keywords
Rotator cuff tear

Double-row

Rotator cuff repair

Serial

Functional MRI

Tendon healing