Abstract
Purpose
To investigate the clinical outcome of autologous matrix-induced chondrogenesis (AMIC) implementation for mid-sized chondral lesions of the acetabulum in young active patients, and assess their potential to resume an active lifestyle including return to recreational athletic activities.
Methods
Sixty-two patients with full-thickness mid-sized acetabular chondral lesions were studied. All patients who underwent an arthroscopic AMIC procedure for reconstruction of chondral defects were assessed pre-operatively and at least 2 years post-operatively using the Hip disability and Osteoarthritis Outcome Score (HOOS), modified Harris Hip Score (mHHS) and Visual Analog Scale (VAS) for pain.
Results
A significant improvement in all three scores at the time of follow-up was found. The mean HOOS improved from 58.8 ± 7.4 pre-operatively to 90.6 ± 7.1 at follow-up (p < 0.001) while the mean mHHS improved from 53.4 ± 6.6 to 82.4 ± 8.2 (p < 0.001). There was a significant decrease from 4.9 ± 1.1 pre-operatively to 1.1 ± 0.8 post-operatively (p < 0.001) in the VAS pain evaluation, indicating that the patients were satisfied with their relief of pain.
Conclusions
The AMIC procedure is an effective single-stage technique for the reconstruction of mid-size chondral defects of acetabulum in amateur athletes. This intervention enhanced the potential for patients to resume recreational athletic activities and the 2-year clinical outcome as evaluated by the HOOS, mHHS and VAS showed significant improvement over the pre-operative evaluations.
Access options
Buy single article
Instant access to the full article PDF.
US$ 39.95
Tax calculation will be finalised during checkout.
Subscribe to journal
Immediate online access to all issues from 2019. Subscription will auto renew annually.
US$ 119
Tax calculation will be finalised during checkout.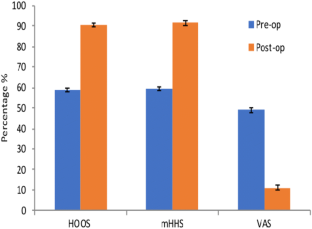 References
1.

Bardakos NV, Vasconcelos JC, Villar RN (2008) Early outcome of hip arthroscopy for femoroacetabular impingement: the role of a femoral osteoplasty in symptomatic improvement. J Bone Joint Surg Br 90:1570–1575

2.

Benthien JP, Behrens P (2010) Autologous matrix-induced chondrogenesis (AMIC). A one-step procedure for retropatellar articular resurfacing. Acta Orthop Belg 76:260–263

3.

Bretschneider H, Trattnig S, Landgraeber S et al (2019) Arthroscopic matrix-associated, injectable autologous chondrocyte transplantation of the hip: significant improvement in patient-related outcome and good transplant quality in MRI assessment. Knee Surg Sports Traumatol Arthrosc. https://doi.org/10.1007/s00167-019-05466-7

4.

Chahla J, LaPrade RF, Mardones R, et al. (2016) Biological therapies for cartilage lesions in the hip: a new horizon. Orthopedics 1;39(4):15–23.

5.

Cherubino P, Grassi FA, Bulgheroni P, Ronga M (2003) Autologous chondrocyte implantation using a bilayer collagen membrane: a preliminary report. J Orthop Surg (Hong Kong) 11:10–15

6.

Crawford K, Philippon MJ, Sekiya JK, Rodkey WG, Steadman JR (2006) Microfracture of the hip in athletes. Clin Sports Med 25:327–335

7.

de Girolamo L, Jannelli E, Fioruzzi A, Fontana A (2018) Acetabular chondral lesions associated with femoroacetabular impingement treated by autologous matrix-induced chondrogenesis or microfracture: a comparative study at 8-year follow-up. Arthroscopy 34(11):3012–3023

8.

Erggelet C, Endres M, Neumann K et al (2009) Formation of cartilage repair tissue in articular cartilage defects pretreated with microfracture and covered with cell-free polymer-based implants. J Orthop Res 27:1353–1360

9.

Fontana A (2012) A novel technique for treating cartilage defects in the hip: a fully arthroscopic approach to using autologous matrix-induced chondrogenesis. Arthrosc Tech 21(1):e63–68

10.

Fontana A, Bistolfi A, Crova M, Rosso F, Massazza G (2012) Arthroscopic treatment of hip chondral defects: autologous chondrocyte transplantation versus simple debridement-a pilot study. Arthroscopy 28(3):322–329

11.

Fontana A, de Girolamo L (2015) Sustained five-year benefit of autologous matrix-induced chondrogenesis for femoral acetabular impingement-induced chondral lesions compared with microfracture treatment. Bone Joint J 97(5):628–635

12.

Jannelli E, Fontana A (2017) Arthroscopic treatment of chondral defects in the hip: AMIC, MACI, microfragmented adipose tissue transplantation (MATT) and other options. SICOT J 3:43

13.

Jerosch J, Schunck J, Khoja A (2006) Arthroscopic treatment of the hip in early and midstage degenerative joint disease. Knee Surg Sports Traumatol Arthrosc 14:641–645

14.

Jordan MA, Van Thiel GS, Chahal J, Nho SJ (2012) Operative treatment of chondral defects in the hip joint: a systematic review. Curr Rev Musculoskelet Med 5(3):244–253

15.

Kemp JL, Collins NJ, Roos EM, Crossley KM (2013) Psychometric properties of patient-reported outcome measures for hip arthroscopic surgery. Am J Sports Med. 41(9):2065–2073

16.

Klässbo M, Larsson E, Mannevik E (2003) Hip disability and osteoarthritis outcome score. An extension of the Western Ontario and McMaster Universities Osteoarthritis Index. Scand J Rheumatol 32(1):46–51

17.

Körsmeier K, Claßen T, Kamminga M, Rekowski J, Jäger M, Landgraeber S (2016) Arthroscopic three-dimensional autologous chondrocyte transplantation using spheroids for the treatment of full-thickness cartilage defects of the hip joint. Knee Surg Sports Traumatol Arthrosc 24(6):2032–2037

18.

Krueger DR, Gesslein M, Schuetz M, Perka C, Schroeder JH (2018) Injectable autologous chondrocyte implantation (ACI) in acetabular cartilage defects-three-year results. J Hip Preserv Surg 5(4):386–392

19.

Leunig M, Tibor LM, Naal FD, Ganz R, Seinwachs MR (2012) Surgical technique: Second-generation bone marrow stimulation via surgical dislocation to treat hip cartilage lesions. Clin Orthop Relat Res 470(12):3421–3431

20.

Lienert JJ, Rodkey WG, Steadman JR, Philippon MJ, Sekiya JK (2005) Microfracture techniques in hip arthroscopy. Oper Tech Orthop 15:267–272

21.

Logan ZS, Redmond JM, Spelsberg SC, Jackson TJ, Domb BG (2016) Chondral lesions of the hip. Clin Sports Med. 35(3):361–372

22.

Lubowitz JH, Poehling GG (2006) Hip arthroscopy: an emerging gold standard. Arthroscopy 22:1257–1259

23.

Makhni EC, Stone AV, Ukwuani GC et al (2017) A critical review: management and surgical options for articular defects in the Hip. Clin Sports Med 36(3):573–586

24.

Mancini D, Fontana A (2014) Five-year results of arthroscopic techniques for the treatment of acetabular chondral lesions in femoroacetabular impingement. Int Orthop 38(10):2057–2064

25.

McCarthy JC (2004) The diagnosis and treatment of labral and chondral injuries. Instr Course Lect 53:573–577

26.

McGill KC, Bush-Joseph CA, Nho SJ (2010) Hip microfracture: indications, technique, and outcomes. Cartilage 1:127–136

27.

Philippon MJ, Schenker ML, Briggs KK, Maxwell RB (2008) Can microfracture produce repair tissue in acetabular chondral defects? Arthroscopy 24:46–50

28.

Söderman P, Malchau H (2001) Is the Harris hip score system useful to study the outcome of total hip replacement? Clin Orthop Relat Res 384:189–197

29.

Steinwachs M, Kreuz PC (2007) Autologous chondrocyte implantation in chondral defects of the knee with a type I/III collagen membrane: a prospective study with a 3-year follow-up. Arthroscopy 23:381–387

30.

Steinwachs MR, Guggi T, Kreuz PC (2008) Marrow stimulation techniques. Injury 39(suppl 1):S26–S31

31.

Stubbs AJ, Potter HG (2009) Section VII: chondral lesions. J Bone Joint Surg Am. 91(Suppl 1):119

32.

Thier S, Weiss C, Fickert S (2017) Arthroscopic autologous chondrocyte implantation in the hip for the treatment of full-thickness cartilage defects—a case series of 29 patients and review of the literature. SICOT J 3:72

33.

Thorborg K, Roos EM, Bartels EM, Petersen J, Hölmich P (2010) Validity, reliability and responsiveness of patient-reported outcome questionnaires when assessing hip and groin disability: a systematic review. Br J Sports Med. 44(16):1186–1196

34.

Thorey F, Budde S, Ezechieli M, Albrecht UV, Ettinger M (2013) Feasibility of arthroscopic placement of autologous matrix-induced chondrogenesis grafts in the cadaver hip joint. Orthop Rev (Pavia) 5(3):e26

35.

Tijssen M, van Cingel R, van Melick N, de Visser E (2011) Patient-Reported Outcome Questionnaires for hip arthroscopy: a systematic review of the psychometric evidence. BMC Musculoskelet Disord. 12:117

36.

Vaughn ZD, Safran MR (2010) Arthroscopic femoral osteoplasty/chielectomy for cam-type femoroacetabular impingement in the athlete. Sports Med Arthrosc Rev 18(2):90–99

37.

Xiang Y, Bunpetch V, Zhou W, Ouyang H (2019) Optimization strategies for ACI: a step-chronicle review. J Orthop Translat 17:3–14

38.

Yen YM, Kocher MS (2010) Chondral lesions of the hip: microfracture and chondroplasty. Sports Med Arthrosc 18(2):83–89
Ethics declarations
Conflict of interest
All authors declare that they have no competing interests.
Funding
No funding or other financial support was received in relation to this study.
Ethical approval
Prior to starting the study, the research protocol was reviewed and approved by the institutional review board (IRB) of ATOS Clinic, Heidelberg, Germany (approval number 02/14).
Informed consent
All subjects were in agreement with the testing protocol and gave their informed consent for participation in accordance with our Institutional Review Board procedures.
Additional information
Publisher's Note
Springer Nature remains neutral with regard to jurisdictional claims in published maps and institutional affiliations.
About this article
Cite this article
Thorey, F., Malahias, MA. & Giotis, D. Sustained benefit of autologous matrix-induced chondrogenesis for hip cartilage repair in a recreational athletic population. Knee Surg Sports Traumatol Arthrosc 28, 2309–2315 (2020). https://doi.org/10.1007/s00167-019-05801-y
Received:

Accepted:

Published:

Issue Date:
Keywords
AMIC

Hip chondral defects

Sports, arthroscopic surgery

Cartilage repair

Regeneration