Abstract
Purpose
Adductor canal block (ACB) provides postoperative pain relief as effectively as femoral nerve block (FNB) does, and it preserves the strength of the quadriceps femoris. However, its effect on rehabilitation after arthroscopic partial meniscectomy has not been reported. The purpose of this study was to determine the effect of pre-operative ACB and FNB on the quality of rehabilitation after arthroscopic partial meniscectomy.
Methods
A total of 150 patients undergoing arthroscopic partial meniscectomy were randomly allocated to the FNB group (receiving 0.3% ropivacaine 30 ml at the thighroot-femoral nerve), the ACB group (receiving 0.3% ropivacaine 30 ml at mid-thigh adductor canal), or the control group. The primary outcome was the Hospital for Special Surgery (HSS) knee score on the 30th postoperative day.
Results
The HSS knee score of the ACB group on the 30th day after the operation was significantly higher than those of the FNB and control groups (88.6 ± 5.3 vs. 85.3 ± 6.9 and 81.2 ± 5.9, respectively; P < 0.05). Both the ACB and FNB groups showed excellent rehabilitation, indicating similar rehabilitation quality for both treatments.
Conclusion
ACB is similar to FNB concerning the quality of rehabilitation and pain relief after arthroscopic partial meniscectomy, while ACB has little effect on the strength of the quadriceps femoris.
Level of evidence
I
Trial registrataion
This trial was registered in the Chinese Clinical Trial Registry (ChiCTR-INC-16008346).
Access options
Buy single article
Instant access to the full article PDF.
US$ 39.95
Tax calculation will be finalised during checkout.
Subscribe to journal
Immediate online access to all issues from 2019. Subscription will auto renew annually.
US$ 119
Tax calculation will be finalised during checkout.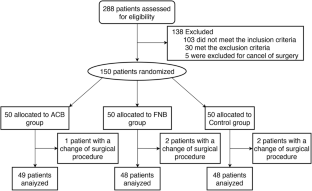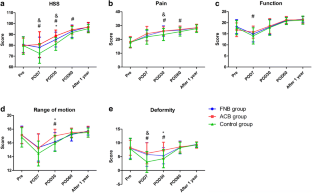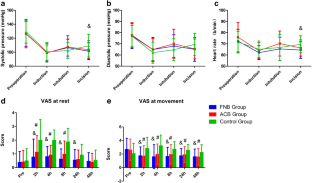 References
1.

Alford JW, Lewis P, Kang RW, Cole BJ (2005) Rapid progression of chondral disease in the lateral compartment of the knee following meniscectomy. Arthroscopy 21:1505–1509

2.

Anagnostopoulou S, Anagnostis G, Saranteas T, Mavrogenis AF, Paraskeuopoulos T (2016) Saphenous and infrapatellar nerves at the adductor canal: anatomy and implications in regional anesthesia. Orthopedics 39:e259–262

3.

Casati A, Cappelleri G, Fanelli G, Borghi B, Anelati D, Berti M et al (2000) Regional anaesthesia for outpatient knee arthroscopy: a randomized clinical comparison of two different anaesthetic techniques. Acta Anaesthesiol Scand 44:543–547

4.

Espelund M, Fomsgaard JS, Haraszuk J, Mathiesen O, Dahl JB (2013) Analgesic efficacy of ultrasound-guided adductor canal blockade after arthroscopic anterior cruciate ligament reconstruction: a randomised controlled trial. Eur J Anaesthesiol 30:422–428

5.

Everhart JS, Hughes L, Abouljoud MM, Swank K, Lewis C, Flanigan DC (2019) Femoral nerve block at time of ACL reconstruction causes lasting quadriceps strength deficits and may increase short-term risk of re-injury. Knee Surg Sports Traumatol Arthrosc 17:019–05628

6.

Gatewood CT, Tran AA, Dragoo JL (2017) The efficacy of post-operative devices following knee arthroscopic surgery: a systematic review. Knee Surg Sports Traumatol Arthrosc 25:501–516

7.

Goranson BD, Lang S, Cassidy JD, Dust WN, McKerrell J (1997) A comparison of three regional anaesthesia techniques for outpatient knee arthroscopy. Can J Anaesth 44:371–376

8.

Grevstad U, Mathiesen O, Lind T, Dahl JB (2014) Effect of adductor canal block on pain in patients with severe pain after total knee arthroplasty: a randomized study with individual patient analysis. Br J Anaesth 112:912–919

9.

Iskandar H, Benard A, Ruel-Raymond J, Cochard G, Manaud B (2003) Femoral block provides superior analgesia compared with intra-articular ropivacaine after anterior cruciate ligament reconstruction. Reg Anesth Pain Med 28:29–32

10.

Jaeger P, Nielsen ZJ, Henningsen MH, Hilsted KL, Mathiesen O, Dahl JB (2013) Adductor canal block versus femoral nerve block and quadriceps strength: a randomized, double-blind, placebo-controlled, crossover study in healthy volunteers. Anesthesiology 118:409–415

11.

Jenstrup MT, Jaeger P, Lund J, Fomsgaard JS, Bache S, Mathiesen O et al (2012) Effects of adductor-canal-blockade on pain and ambulation after total knee arthroplasty: a randomized study. Acta Anaesthesiol Scand 56:357–364

12.

Kessler S, Kafer W (2007) Comparative assessment of outcome in osteoarthritis of the knee: the utility of knee scores. Acta Chir Orthop Traumatol Cech 74:332–335

13.

Kuang MJ, Ma JX, Fu L, He WW, Zhao J, Ma XL (2017) Is adductor canal block better than femoral nerve block in primary total knee arthroplasty? A GRADE analysis of the evidence through a systematic review and meta-analysis. J Arthroplast 32:3238–3248

14.

Kwofie MK, Shastri UD, Gadsden JC, Sinha SK, Abrams JH, Xu D et al (2013) The effects of ultrasound-guided adductor canal block versus femoral nerve block on quadriceps strength and fall risk: a blinded, randomized trial of volunteers. Reg Anesth Pain Med 38:321–325

15.

Lee SJ, Lee BS, Kim JM, Bin SI (2015) Clinical results of contralateral arthroscopic meniscectomy performed with unilateral total knee arthroplasty: minimum 3-year follow-up. Knee Surg Relat Res 27:76–81

16.

Li D, Ma GG (2016) Analgesic efficacy and quadriceps strength of adductor canal block versus femoral nerve block following total knee arthroplasty. Knee Surg Sports Traumatol Arthrosc 24:2614–2619

17.

Manickam B, Perlas A, Duggan E, Brull R, Chan VW, Ramlogan R (2009) Feasibility and efficacy of ultrasound-guided block of the saphenous nerve in the adductor canal. Reg Anesth Pain Med 34:578–580

18.

Marshall SI, Chung F (1999) Discharge criteria and complications after ambulatory surgery. Anesth Analg 88:508–517

19.

McGrath B, Elgendy H, Chung F, Kamming D, Curti B, King S (2004) Thirty percent of patients have moderate to severe pain 24 hr after ambulatory surgery: a survey of 5703 patients. Can J Anaesth 51:886–891

20.

Memtsoudis SG, Yoo D, Stundner O, Danninger T, Ma Y, Poultsides L et al (2015) Subsartorial adductor canal vs femoral nerve block for analgesia after total knee replacement. Int Orthop 39:673–680

21.

Molony SL, Kobayashi M, Holleran EA, Mezey M (2005) Assessing pain as a fifth vital sign in long-term care facilities: recommendations from the field. J Gerontol Nurs 31:16–24

22.

Muraskin SI, Conrad B, Zheng N, Morey TE, Enneking FK (2007) Falls associated with lower-extremity-nerve blocks: a pilot investigation of mechanisms. Reg Anesth Pain Med 32:67–72

23.

Narin S, Unver B, Bakirhan S, Bozan O, Karatosun V (2014) Cross-cultural adaptation, reliability and validity of the Turkish version of the Hospital for Special Surgery (HSS) Knee Score. Acta Orthop Traumatol Turc 48:241–248

24.

Pfister U, Gareis V, Keller E, Weller S (1986) Late results after meniscectomy. Aktuelle Traumatol 16:90–93

25.

Rosseland LA, Solheim N, Stubhaug A (2008) Pain and disability 1 year after knee arthroscopic procedures. Acta Anaesthesiol Scand 52:332–337

26.

Slupik A, Bialoszewski D (2009) A comparative analysis of the clinical utility of the Staffelstein-score and the hospital for special surgery knee score (HSS) in monitoring physiotherapy of total knee replacement patients–preliminary study. Ortop Traumatol Rehabil 11:37–45

27.

Starke C, Kopf S, Petersen W, Becker R (2009) Meniscal repair. Arthroscopy 25:1033–1044

28.

Westergaard B, Jensen K, Lenz K, Bendtsen TF, Vazin M, Tanggaard K et al (2014) A randomised controlled trial of ultrasound-guided blockade of the saphenous nerve and the posterior branch of the obturator nerve for postoperative analgesia after day-case knee arthroscopy. Anaesthesia 69:1337–1344
Acknowledgements
No conflict of interest existed in the submission of this manuscript, and the manuscript was approved by all authors for publication.
Funding
This study was funded by the Natural Science Foundation of China (NSFC; 81700074; 81873500) and the National Key Research and Development Plan (2018YFC2001802).
Ethics declarations
Conflict of interest
The authors declare that there is no conflict of interest.
Ethical approval
All participants gave their written consent and were recruited in agreement with the Helsinki Declaration. This study was approved by the Biomedical Ethics Committee of West China Hospital of Sichuan University.
Additional information
Publisher's Note
Springer Nature remains neutral with regard to jurisdictional claims in published maps and institutional affiliations.
About this article
Cite this article
Xin, J., Zhang, Y., Li, Q. et al. Adductor canal block is similar to femoral nerve block for the quality of rehabilitation after arthroscopic partial meniscectomy. Knee Surg Sports Traumatol Arthrosc 28, 2334–2342 (2020). https://doi.org/10.1007/s00167-019-05796-6
Received:

Accepted:

Published:

Issue Date:
Keywords
Arthroscopic partial meniscectomy

Femoral nerve block

Adductor canal block

Rehabilitation