Abstract
Purpose
Flexion and rotation of the knee joint are supposed to alter the measurement of the mechanical leg axis on long leg radiographs. However, in patients with varus or valgus alignment it has not been systematically analyzed so far. The hypothesis is that measurement of the mechanical leg axis is more influenced by flexion and rotation in presence of varus or valgus alignment compared to patients with a straight coronal alignment.
Methods
3D surface models of the lower extremities of seven individuals with varying degrees of coronal alignment were created based on CT data. The coronal alignment of the seven individuals captured the range between 9° varus and 9° valgus with equal steps of 3°. Combinations of internal and external rotations of 10°, 20°, and 30° with flexion of 5°, 10°, 15°, 20°, and 30° were simulated. The mechanical leg axis was measured for each combination as the antero-posterior (ap)-projected hip–knee–ankle (HKA-) angle.
Results
294 simulations with all combinations of rotation and flexion were performed. Ranges of deviation of HKA never showed a critical deviation of more than 3° from median values. Deviations from baseline appeared normally distributed for all flexion and rotation combinations (p < 0.05) and the probability for a deviation from the mean mechanical leg axis of more than 3° was less than 0.03 for all combinations. Comparability of the models, therefore, could be assumed.
Conclusion
Deviations in HKA-angle measurements, caused by rotation or flexion, does not vary relevantly through the range of coronal alignment of 9° varus to 9° valgus. As a clinical relevance, deviations in HKA-angle measurements can be considered as comparable in patients with different coronal alignment.
Level of evidence
III.
This is a preview of subscription content, log in to check access.
Access options
Buy single article
Instant access to the full article PDF.
US$ 39.95
Tax calculation will be finalised during checkout.
Subscribe to journal
Immediate online access to all issues from 2019. Subscription will auto renew annually.
US$ 199
Tax calculation will be finalised during checkout.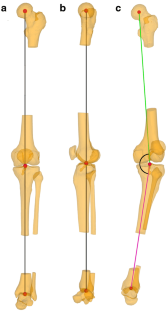 References
1.

Babazadeh S, Dowsey MM, Bingham RJ, Ek ET, Stoney JD, Choong PF (2013) The long leg radiograph is a reliable method of assessing alignment when compared to computer-assisted navigation and computer tomography. Knee 20:242–249

2.

Balint G, Szebenyi B (1996) Diagnosis of osteoarthritis. Guidelines and current pitfalls. Drugs 52(Suppl 3):1–13

3.

Bowman A, Shunmugam M, Watts AR, Bramwell DC, Wilson C, Krishnan J (2016) Inter-observer and intra-observer reliability of mechanical axis alignment before and after total knee arthroplasty using long leg radiographs. Knee 23:203–208

4.

Choong PF, Dowsey MM, Stoney JD (2009) Does accurate anatomical alignment result in better function and quality of life? Comparing conventional and computer-assisted total knee arthroplasty. J Arthroplasty 24:560–569

5.

Churchill DL, Incavo SJ, Johnson CC, Beynnon BD (1998) The transepicondylar axis approximates the optimal flexion axis of the knee. Clin Orthop Relat Res 356:111–118

6.

Colebatch AN, Hart DJ, Zhai G, Williams FM, Spector TD, Arden NK (2009) Effective measurement of knee alignment using AP knee radiographs. Knee 16:42–45

7.

Fürnstahl P, Schweizer A, Graf M, Vlachopoulos L, Fucentese S, Wirth S et al (2016) Surgical treatment of long-bone deformities: 3D preoperative planning and patient-specific instrumentation. Computational radiology for orthopaedic interventions. Springer, New York, pp 123–149

8.

Jamali AA, Meehan JP, Moroski NM, Anderson MJ, Lamba R, Parise C (2017) Do small changes in rotation affect measurements of lower extremity limb alignment? J Orthop Surg Res 12:77

9.

Kannan A, Hawdon G, McMahon SJ (2012) Effect of flexion and rotation on measures of coronal alignment after TKA. J Knee Surg 25:407–410

10.

Landis JR, Koch GC (1977) The measurement of observer agreement for categorical data. Biometrics 33:159–174

11.

Larson CM, Ross JR, Kuhn AW, Fuller D, Rowley DM, Giveans MR et al (2017) Radiographic hip anatomy correlates with range of motion and symptoms in national hockey league players. Am J Sports Med 45:1633–1639

12.

Lee YS, Lee BK, Lee SH, Park HG, Jun DS, Moon DH (2013) Effect of foot rotation on the mechanical axis and correlation between knee and whole leg radiographs. Knee Surg Sports Traumatol Arthrosc 21:2542–2547

13.

Radtke K, Becher C, Noll Y, Ostermeier S (2010) Effect of limb rotation on radiographic alignment in total knee arthroplasties. Arch Orthop Trauma Surg 130:451–457

14.

Ritter MA, Lutgring JD, Davis KE, Berend ME, Pierson JL, Meneghini RM (2007) The role of flexion contracture on outcomes in primary total knee arthroplasty. J Arthroplasty 22:1092–1096

15.

Schroter S, Ihle C, Elson DW, Dobele S, Stockle U, Ateschrang A (2016) Surgical accuracy in high tibial osteotomy: coronal equivalence of computer navigation and gap measurement. Knee Surg Sports Traumatol Arthrosc 24:3410–3417

16.

Sharma L, Song J, Felson DT, Cahue S, Shamiyeh E, Dunlop DD (2001) The role of knee alignment in disease progression and functional decline in knee osteoarthritis. JAMA 286:188–195

17.

Specogna AV, Birmingham TB, Hunt MA, Jones IC, Jenkyn TR, Fowler PJ et al (2007) Radiographic measures of knee alignment in patients with varus gonarthrosis: effect of weightbearing status and associations with dynamic joint load. Am J Sports Med 35:65–70

18.

van de Pol GJ, Verdonschot N, van Kampen A (2012) The value of the intra-operative clinical mechanical axis measurement in open-wedge valgus high tibial osteotomies. Knee 19:933–938

19.

Wyles CC, Norambuena GA, Howe BM, Larson DR, Levy BA, Yuan BJ et al (2017) Cam deformities and limited hip range of motion are associated with early osteoarthritic changes in adolescent athletes: a prospective matched cohort study. Am J Sports Med 45:3036–3043

20.

Zahn RK, Renner L, Perka C, Hommel H (2019) Weight-bearing radiography depends on limb loading. Knee Surg Sports Traumatol Arthrosc 27:1470–1476
Funding
There is no funding source.
Ethics declarations
Conflict of interest
The authors declare that they have no conflict of interest.
Ethical approval
The local ethical committee approved this study (Zurich Cantonal Ethics Commission, 2018-02242).
Informed consent
All patients gave their informed consent for their participation in and the publication of this study.
Additional information
Publisher's Note
Springer Nature remains neutral with regard to jurisdictional claims in published maps and institutional affiliations.
About this article
Cite this article
Jud, L., Trache, T., Tondelli, T. et al. Rotation or flexion alters mechanical leg axis measurements comparably in patients with different coronal alignment. Knee Surg Sports Traumatol Arthrosc 28, 3128–3134 (2020). https://doi.org/10.1007/s00167-019-05779-7
Received:

Accepted:

Published:

Issue Date:
Keywords
Mechanical leg axis

Hip–knee–ankle-angle

Coronal malalignment

Realignment surgeries

Knee osteotomy

Knee arthroplasty

Total knee replacement