Abstract
Purpose
The most commonly used arthrometer for measuring and reporting anterior tibial translation after anterior cruciate ligament reconstruction is the KT1000. Reports on its consistency and reproducibility vary in the literature, but it remains the "gold standard". The purpose of this study was to assess agreement of KT1000 measurements in a daily clinical setting.
Methods
A retrospective analysis of anterior knee translation in the healthy knee of 770 patients over a 17-year time period was performed. In this cohort, a total of 24 investigators performed 1890 measurement sets at 89 Newtons (N), 134N and at maximum manual force (MMax) level. To assess the inter- and intra-observer agreement, the intraclass-correlation coefficient (ICC) was calculated. The "investigator effect" was a difference between two examiners in the same patient and the "device effect'' a difference within one examiner in the same patient. Minimally important difference (MID) was calculated as 0.5 of the standard deviation.
Results
Thirteen investigators were female, performing 1099 measurements and 11 were male, performing 791 measurements. ICC ranged between 0.558 and 0.644. At the MMax level, male investigators had a higher mm reading than female investigators (p < 0.001). Increased experience did not correlate with a higher ICC. MID ranged between 0.85 and 1.65 mm.
Conclusion
This study investigated the KT1000 arthrometer in a clinical setting with a large number of investigators. This device delivers moderate agreement of results. Both the device and investigator effect are present. The MMax level has shown the lowest agreement and a dependency on the investigator gender.
Level of evidence
Level III diagnostic study
Access options
Buy single article
Instant access to the full article PDF.
US$ 39.95
Tax calculation will be finalised during checkout.
Subscribe to journal
Immediate online access to all issues from 2019. Subscription will auto renew annually.
US$ 119
Tax calculation will be finalised during checkout.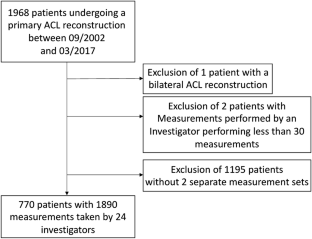 References
1.

Anderson AF, Lipscomb AB (1989) Preoperative instrumented testing of anterior and posterior knee laxity. Am J Sports Med 17:387–392

2.

Arneja S, Leith J (2009) Review article: validity of the KT-1000 knee ligament arthrometer. J Orthop Surg (Hong Kong) 17:77–79

3.

Ballantyne BT, French AK, Heimsoth SL, Kachingwe AF, Lee JB, Soderberg GL (1995) Influence of examiner experience and gender on interrater reliability of KT-1000 arthrometer measurements. Phys Ther 75:898–906

4.

Belanger L, Burt D, Callaghan J, Clifton S, Gleberzon BJ (2013) Anterior cruciate ligament laxity related to the menstrual cycle: an updated systematic review of the literature. J Can Chiropr Assoc 57:76–86

5.

Benner RW, Shelbourne KD, Gray T (2016) The degree of knee extension does not affect postoperative stability or subsequent graft tear rate after anterior cruciate ligament reconstruction with patellar tendon autograft. Am J Sports Med 44:844–849

6.

Berry J, Kramer K, Binkley J, Binkley GA, Stratford P, Hunter S, Brown K (1999) Error estimates in novice and expert raters for the KT-1000 arthrometer. J Orthop Sports Phys Ther 29:49–55

7.

Branch TP, Mayr HO, Browne JE, Campbell JC, Stoehr A, Jacobs CA (2010) Instrumented examination of anterior cruciate ligament injuries: minimizing flaws of the manual clinical examination. Arthroscopy 26:997–1004

8.

Cavaignac E, Coulin B, Tscholl P, Nik Mohd Fatmy N, Duthon V, Menetrey J (2017) Is quadriceps tendon autograft a better choice than hamstring autograft for anterior cruciate ligament reconstruction? A comparative study with a mean follow-up of 3.6 years. Am J Sports Med 45:1326–1332

9.

Chia Z-Y, Chee JN, Bin-Abd-Razak HR, Lie DT, Chang PC (2018) A comparative study of anterior cruciate ligament reconstruction with double, single, or selective bundle techniques. J Orthop Surg (Hong Kong) 26:2309499018773124

10.

Collette M, Courville J, Forton M, Gagnière B (2012) Objective evaluation of anterior knee laxity; comparison of the KT-1000 and GNRB® arthrometers. Knee Surg Sports Traumatol Arthrosc 20:2233–2238

11.

Cook JA, Ramsay CR, Fayers P (2004) Statistical evaluation of learning curve effects in surgical trials. Clin Trials 1:421–427

12.

Cristiani R, Sarakatsianos V, Engström B, Samuelsson K, Forssblad M, Stålman A (2019) Increased knee laxity with hamstring tendon autograft compared to patellar tendon autograft: a cohort study of 5462 patients with primary anterior cruciate ligament reconstruction. Knee Surg Sports Traumatol Arthrosc 27:381–388

13.

Daniel DM, Malcom LL, Losse G, Stone ML, Sachs R, Burks R (1985) Instrumented measurement of anterior laxity of the knee. J Bone Jt Surg Am 67:720–726

14.

Eiling E, Bryant AL, Petersen W, Murphy A, Hohmann E (2007) Effects of menstrual-cycle hormone fluctuations on musculotendinous stiffness and knee joint laxity. Knee Surg Sports Traumatol Arthrosc 15:126–132

15.

El-Sherief FAH, Aldahshan WA, Wahd YE, Abdelaziz AM, Soliman HAG, Hassan TG, Elbehairy HF, Awadallah AH (2018) Double-bundle anterior cruciate ligament reconstruction is better than single-bundle reconstruction in terms of objective assessment but not in terms of subjective score. Knee Surg Sports Traumatol Arthrosc 26:2395–2400

16.

Forster IW, Warren-Smith CD, Tew M (1989) Is the KT1000 knee ligament arthrometer reliable? J Bone Jt Surg Br 71:843–847

17.

Graham GP, Johnson S, Dent CM, Fairclough JA (1991) Comparison of clinical tests and the KT1000 in the diagnosis of anterior cruciate ligament rupture. Br J Sports Med 25:96–97

18.

Jenny J-Y, Puliero B, Schockmel G, Harnoist S, Clavert P (2017) Experimental validation of the GNRB® for measuring anterior tibial translation. Orthop Traumatol Surg Res 103:363–366

19.

Kilinc BE, Kara A, Celik H, Oc Y, Camur S (2016) Evaluation of the accuracy of Lachman and Anterior Drawer Tests with KT1000 ın the follow-up of anterior cruciate ligament surgery. J Exerc Rehabil 12:363–367

20.

Koo TK, Li MY (2016) A guideline of selecting and reporting intraclass correlation coefficients for reliability research. J Chiropr Med 15:155–163

21.

Larson CM, Bedi A, Dietrich ME, Swaringen JC, Wulf CA, Rowley DM, Giveans MR (2017) Generalized hypermobility, knee hyperextension, and outcomes after anterior cruciate ligament reconstruction: prospective, case-control study with mean 6 years follow-up. Arthroscopy 33:1852–1858

22.

Mayr HO, Hoell A, Bernstein A, Hube R, Zeiler C, Kalteis T, Suedkamp NP, Stoehr A (2011) Validation of a measurement device for instrumented quantification of anterior translation and rotational assessment of the knee. Arthroscopy 27:1096–1104

23.

Murgier J, Béranger JS, Boisrenoult P, Steltzlen C, Pujol N (2018) Prospective comparative study of knee laxity with four different methods in anterior cruciate ligament tears. Int Orthop 42:1845–1851

24.

Myrer JW, Schulthies SS, Fellingham GW (1996) Relative and absolute reliability of the KT-2000 arthrometer for uninjured knees. Testing at 67, 89, 134, and 178 N and manual maximum forces. Am J Sports Med 24:104–108

25.

Norman GR, Sloan JA, Wyrwich KW (2003) Interpretation of changes in health-related quality of life the remarkable universality of half a standard deviation. MED CARE 41:582–592

26.

Paine R, Lowe W (2012) Comparison of Kneelax and KT-1000 knee ligament arthrometers. J Knee Surg 25:151–154

27.

Pouderoux T, Muller B, Robert H (2019) Joint laxity and graft compliance increase during the first year following ACL reconstruction with short hamstring tendon grafts. Knee Surg Sports Traumatol Arthrosc. https://doi.org/10.1007/s00167-019-05711-z

28.

Pugh L, Mascarenhas R, Arneja S, Chin PYK, Leith JM (2009) Current concepts in instrumented knee-laxity testing. Am J Sports Med 37:199–210

29.

Robert H, Nouveau S, Gageot S, Gagnière B (2009) A new knee arthrometer, the GNRB: experience in ACL complete and partial tears. Orthop Traumatol Surg Res 95:171–176

30.

Roberti di Sarsina T, Macchiarola L, Signorelli C, Grassi A, Raggi F, Marcheggiani Muccioli GM, Zaffagnini S (2018) Anterior cruciate ligament reconstruction with an all-epiphyseal "over-the-top" technique is safe and shows low rate of failure in skeletally immature athletes. Knee Surg Sports Traumatol Arthrosc 27:498–506

31.

Rohman EM, Macalena JA (2016) Anterior cruciate ligament assessment using arthrometry and stress imaging. Curr Rev Musculoskelet Med 9:130–138

32.

Samuelsen BT, Webster KE, Johnson NR, Hewett TE, Krych AJ (2017) Hamstring autograft versus Patellar tendon autograft for ACL reconstruction: is there a difference in graft failure rate? A meta-analysis of 47,613 patients. Clin Orthop Relat Res 475:2459–2468

33.

Sernert N, Helmers J, Kartus C, Ejerhed L, Kartus J (2007) Knee-laxity measurements examined by a left-hand- and a right-hand-dominant physiotherapist, in patients with anterior cruciate ligament injuries and healthy controls. Knee Surg Sports Traumatol Arthrosc 15:1181–1186

34.

Sernert N, Kartus J, Köhler K, Ejerhed L, Karlsson J (2001) Evaluation of the reproducibility of the KT-1000 arthrometer. Scand J Med Sci Sports 11:120–125

35.

Taylor DC, DeBerardino TM, Nelson BJ, Duffey M, Tenuta J, Stoneman PD, Sturdivant RX, Mountcastle S (2009) Patellar tendon versus hamstring tendon autografts for anterior cruciate ligament reconstruction: a randomized controlled trial using similar femoral and tibial fixation methods. Am J Sports Med 37:1946–1957

36.

Thompson SM, Salmon LJ, Waller A, Linklater J, Roe JP, Pinczewski LA (2016) Twenty-year outcome of a longitudinal prospective evaluation of isolated endoscopic anterior cruciate ligament reconstruction with patellar tendon or hamstring autograft. Am J Sports Med 44:3083–3094

37.

Van Harlinger W, Blalock L, Merritt JL (2015) Upper limb strength: study providing normative data for a clinical handheld dynamometer. PM R 7:135–140

38.

Wiertsema SH, van Hooff HJA, Migchelsen L, Steultjens MPM (2008) Reliability of the KT1000 arthrometer and the Lachman test in patients with an ACL rupture. Knee 15:107–110

39.

Wroble RR, Van Ginkel LA, Grood ES, Noyes FR, Shaffer BL (1990) Repeatability of the KT-1000 arthrometer in a normal population. Am J Sports Med 18:396–399

40.

Yoon KH, Kim JH, Kwon YB, Kim EJ, Kim S-G (2019) Re-revision anterior cruciate ligament reconstruction showed more laxity than revision anterior cruciate ligament reconstruction at a minimum 2-year follow-up. Knee Surg Sports Traumatol Arthrosc. https://doi.org/10.1007/s00167-019-05653-6
Acknowledgements
We would like to thank Darli Myat, PhD, for maintaining the database.
Funding
No funding was received for this study.
Ethics declarations
Conflict of interest
The authors report no conflicts of interest with respect to this study.
Ethical approval
The database used for this study has a prospective, ongoing ethical approval (HREC/17/HAWKE/140).
Informed consent
All patients provided written consent for the data collection.
Additional information
Publisher's Note
Springer Nature remains neutral with regard to jurisdictional claims in published maps and institutional affiliations.
The research has been performed at the Sydney Orthopaedic Research Institute.
About this article
Cite this article
Klasan, A., Putnis, S.E., Kandhari, V. et al. Healthy knee KT1000 measurements of anterior tibial translation have significant variation. Knee Surg Sports Traumatol Arthrosc 28, 2177–2183 (2020). https://doi.org/10.1007/s00167-019-05768-w
Received:

Accepted:

Published:

Issue Date:
Keywords
Knee

Arthrometer

Anterior cruciate ligament

Anterior tibial translation