Abstract
Purpose
A blood transfusion after total knee arthroplasty (TKA) is associated with an increase in complication and infection rates. However, no studies have been conducted to predict transfusion after TKA using a machine learning algorithm. The purpose of this study was to identify informative preoperative variables to create a machine learning model, and to provide a web-based transfusion risk-assessment system for clinical use.
Methods
This study retrospectively reviewed 1686 patients who underwent TKA at our institution. Data for 43 preoperative variables, including medication history, laboratory values, and demographic characteristics, were collected. Variable selection was conducted using the recursive feature elimination algorithm. The transfusion group was defined as patients with haemoglobin (Hb) < 7 g/dL after TKA. A predictive model was developed using the gradient boosting machine, and the performance of the model was assessed by the area under the receiver operating characteristic curve (AUC). Data sets from an independent institution were tested with the model for external validation.
Results
Of the 1686 patients who underwent TKA, 108 (6.4%) were categorized into the transfusion group. Six preoperative variables were selected, including preoperative Hb, platelet count, type of surgery, tranexamic acid, age, and body weight. The predictive model demonstrated good predictive performance using the six variables [AUC 0.842; 95% confidence interval (CI) 0.820–0.856]. Performance was also good according to the external validation using 400 data from an independent institution (AUC 0.880; 95% CI 0.844–0.910). This web-based blood transfusion risk-assessment system can be accessed at http://safetka.net.
Conclusions
A web-based predictive model for transfusion after TKA using a machine learning algorithm was developed using six preoperative variables. The model is simple, has been validated, showed good performance, and can be used before TKA to predict the risk of transfusion and guide appropriate precautions for high-risk patients.
Level of evidence
Diagnostic level II.
This is a preview of subscription content, log in to check access.
Access options
Buy single article
Instant access to the full article PDF.
US$ 39.95
Price includes VAT for USA
Subscribe to journal
Immediate online access to all issues from 2019. Subscription will auto renew annually.
US$ 199
This is the net price. Taxes to be calculated in checkout.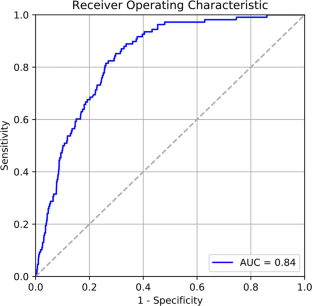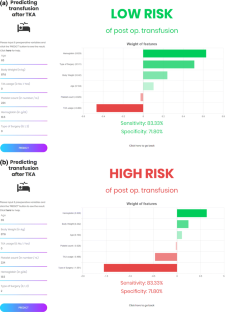 References
1.

Adalberth G, Byström S, Kolstad K, Mallmin H, Milbrink J (1998) Postoperative drainage of knee arthroplasty is not necessary: a randomized study of 90 patients. Acta Orthop Scand 69:475–478

2.

Alshryda S, Mason J, Vaghela M, Sarda P, Nargol A, Maheswaran S et al (2013) Topical (intra-articular) tranexamic acid reduces blood loss and transfusion rates following total knee replacement: a randomized controlled trial (TRANX-K). J Bone Jt Surg Am 95:1961–1968

3.

Bell TH, Berta D, Ralley F, Macdonald SJ, McCalden RW, Bourne RB et al (2009) Factors affecting perioperative blood loss and transfusion rates in primary total joint arthroplasty: a prospective analysis of 1642 patients. Can J Surg 52:295–301

4.

Bohm ER, Molodianovitsh K, Dragan A, Zhu N, Webster G, Masri B et al (2016) Outcomes of unilateral and bilateral total knee arthroplasty in 238,373 patients. Acta Orthop 87(Suppl 1):24–30

5.

Della Valle CJ, Buvanendran A, Mont MA, Callaghan JJ (2018) Contemporary blood conservation in hip and knee arthroplasty: tranexamic acid is an important piece of the puzzle! J Arthroplast 33:3063–3064

6.

Deutsch A, Spaulding J, Marcus RE (2006) Preoperative epoetin alfa vs autologous blood donation in primary total knee arthroplasty. J Arthroplast 21:628–635

7.

Everhart JS, Sojka JH, Mayerson JL, Glassman AH, Scharschmidt TJ (2018) Perioperative allogeneic red blood-cell transfusion associated with surgical site infection after total hip and knee arthroplasty. J Bone Jt Surg Am 100:288–294

8.

Fillingham YA, Kayupov E, Plummer DR, Moric M, Gerlinger TL, Della Valle CJ (2016) The James A. Rand Young Investigator's Award: a randomized controlled trial of oral and intravenous tranexamic acid in total knee arthroplasty: the same efficacy at lower cost? J Arthroplast 31:26–30

9.

Friedman R, Homering M, Holberg G, Berkowitz SD (2014) Allogeneic blood transfusions and postoperative infections after total hip or knee arthroplasty. J Bone Jt Surg Am 96:272–278

10.

Frisch NB, Wessell NM, Charters MA, Yu S, Jeffries JJ, Silverton CD (2014) Predictors and complications of blood transfusion in total hip and knee arthroplasty. J Arthroplast 29:189–192

11.

Hart A, Khalil JA, Carli A, Huk O, Zukor D, Antoniou J (2014) Blood transfusion in primary total hip and knee arthroplasty. Incidence, risk factors, and thirty-day complication rates. J Bone Jt Surg Am 96:1945–1951

12.

Hourlier H, Reina N, Fennema P (2015) Single dose intravenous tranexamic acid as effective as continuous infusion in primary total knee arthroplasty: a randomised clinical trial. Arch Orthop Trauma Surg 135:465–471

13.

Jhurani A, Shetty GM, Gupta V, Saxena P, Singh N (2016) Effect of closed suction drain on blood loss and transfusion rates in simultaneous bilateral total knee arthroplasty: a prospective randomized study. Knee Surg Relat Res 28:201–206

14.

Jordan MI, Mitchell TM (2015) Machine learning: trends, perspectives, and prospects. Science 349:255–260

15.

Kim HA, Kim S, Seo YI, Choi HJ, Seong SC, Song YW et al (2008) The epidemiology of total knee replacement in South Korea: national registry data. Rheumatology (Oxford) 47:88–91

16.

Lee GC, Kim DH, Lee JW, Kang SW, Cho SW (2018) Comparison of blood loss between intra-articular and intravenous tranexamic acid following primary total knee arthroplasty. J Korean Orthop Assoc 53:152–158

17.

Mistry JB, Gwam CU, Naziri Q, Pivec R, Abraham R, Mont MA et al (2018) Are allogeneic transfusions decreasing in total knee arthroplasty patients? National inpatient sample 2009–2013. J Arthroplast 33:1705–1712

18.

Newman ET, Watters TS, Lewis JS, Jennings JM, Wellman SS, Attarian DE et al (2014) Impact of perioperative allogeneic and autologous blood transfusion on acute wound infection following total knee and total hip arthroplasty. J Bone Jt Surg Am 96:279–284

19.

Obermeyer Z, Emanuel EJ (2016) Predicting the future—big data, machine learning, and clinical medicine. N Engl J Med 375:1216–1219

20.

Park JH, Rasouli MR, Mortazavi SM, Tokarski AT, Maltenfort MG, Parvizi J (2013) Predictors of perioperative blood loss in total joint arthroplasty. J Bone Jt Surg Am 95:1777–1783

21.

Ro DH, Jin H, Park JY, Lee MC, Won S, Han HS (2018) The use of bisphosphonates after joint arthroplasty is associated with lower implant revision rate. Knee Surg Sports Traumatol Arthrosc 11:78. https://doi.org/10.1007/s00167-018-5333-4

22.

Spahn DR (2010) Anemia and patient blood management in hip and knee surgery: a systematic review of the literature. Anesthesiology 113:482–495

23.

Tape TG (2001) Interpretation of diagnostic tests. Ann Intern Med 135:72

24.

Wilde JM, Copp SN, McCauley JC, Bugbee WD (2018) One dose of intravenous tranexamic acid is equivalent to two doses in total hip and knee arthroplasty. J Bone Jt Surg Am 100:1104–1109

25.

Yang ZG, Chen WP, Wu LD (2012) Effectiveness and safety of tranexamic acid in reducing blood loss in total knee arthroplasty: a meta-analysis. J Bone Jt Surg Am 94:1153–1159
Acknowledgements
This study used clinical data retrieved from Seoul National University Hospital Patients Research Environment (SUPREME) system. The authors wish to thank Kyunga Ko for help with statistics and proofreading the manuscript as well as Professor Yong Seuk Lee and Tae Woo Kim in Bundang Seoul National University Hospital for help with data collection.
Ethics declarations
Conflict of interest
The authors certify that they have no commercial association that might pose a conflict of interest in connection with this article.
Ethical approval
This study was approved by the institutional review board of Seoul National University College of Medicine, Seoul National University Hospital (IRB No. H-1810-133-982).
Additional information
Publisher's Note
Springer Nature remains neutral with regard to jurisdictional claims in published maps and institutional affiliations.
Changwung Jo and Sunho Ko contributed equally to this work.
Taehoon Ko and Du Hyun Ro contributed equally to this work.
Electronic supplementary material
Below is the link to the electronic supplementary material.
About this article
Cite this article
Jo, C., Ko, S., Shin, W.C. et al. Transfusion after total knee arthroplasty can be predicted using the machine learning algorithm. Knee Surg Sports Traumatol Arthrosc 28, 1757–1764 (2020). https://doi.org/10.1007/s00167-019-05602-3
Received:

Accepted:

Published:

Issue Date:
Keywords
Machine learning

Transfusion

Prediction

Arthroplasty

Predictive model

Artificial intelligence