Abstract
Purpose
The purpose of this study was to assess the clinical and patient-reported outcomes of a customised, individually made (CIM) bi-compartmental knee arthroplasty (BKA).
Methods
A prospectively recruited cohort of 79 patients was implanted with a CIM-BKA (patello-femoral plus either medial or lateral tibio-femoral, iDuo G2 system, Conformis, Billerica MA) at eight centres in the US and Germany. Patients were assessed for the 2011 KSS, KOOS, and ROM pre-operatively and at 2 weeks, 6 weeks, 12 weeks, 1 year, and 2 years post-operatively.
Results
The objective KSS score significantly improved from 69 at the pre-operative visit, to 94 at the 2-year post-operative time-point. Similar improvements were observed for the KSS function and satisfaction domains. Significant improvements from pre-operative levels were observed across all five domains of the KOOS. Two patients have undergone surgery to revise their CIM-BKA implant to total knees, resulting in a survivorship rate of 97.5% at an average follow-up of 2.6 years.
Conclusions
CIM-BKA compares favourably to published scores as well as revision rates for previously available monolithic OTS-BKA implants. CIM-BKA implants provide surgeons with a viable and patient-specific monolithic implant solution as an option for patients presenting with bi-compartmental disease, who might, otherwise, be treated by performing uni-condylar + patello-femoral joint or bicruciate sparing TKA surgeries. Longer follow-up and higher numbers have to be awaited for further validation of these encouraging early results.
Level of evidence
3b (individual case-controlled study).
This is a preview of subscription content, log in to check access.
Access options
Buy single article
Instant access to the full article PDF.
US$ 39.95
Price includes VAT for USA
Subscribe to journal
Immediate online access to all issues from 2019. Subscription will auto renew annually.
US$ 199
This is the net price. Taxes to be calculated in checkout.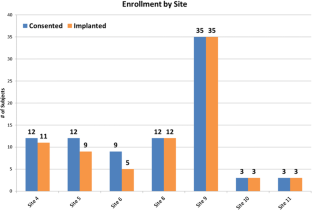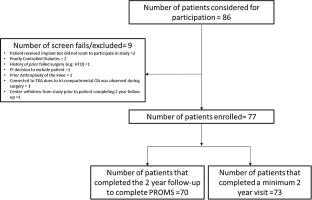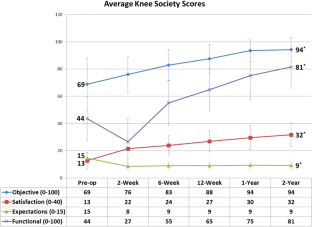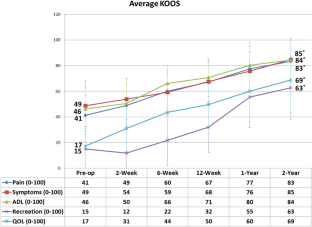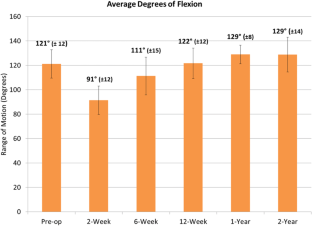 References
1.

Beckmann J, Steinert A, Zilkens C, Zeh A, Schnurr C, Schmitt-Sody M et al (2016) Partial replacement of the knee joint with patient-specific instruments and implants (ConforMIS iUni, iDuo). Orthopade 45:322–330

2.

Benazzo F, Rossi SM, Ghiara M (2014) Partial knee arthroplasty: patellofemoral arthroplasty and combined unicompartmental and patellofemoral arthroplasty implants–general considerations and indications, technique and clinical experience. Knee 21(Suppl 1):S43–46

3.

Bourne RB, Chesworth BM, Davis AM, Mahomed NN, Charron KD (2010) Patient satisfaction after total knee arthroplasty: who is satisfied and who is not? Clin Orthop Relat Res 468:57–63

4.

Carpenter DP, Holmberg RR, Quartulli MJ, Barnes CL (2014) Tibial plateau coverage in UKA: a comparison of patient specific and off-the-shelf implants. J Arthroplasty 15:15. https://doi.org/10.1016/j.arth.2014.03.026

5.

Christensen JC, Brothers J, Stoddard GJ, Anderson MB, Pelt CE, Gililland JM et al (2017) Higher frequency of reoperation with a new bicruciate-retaining total knee arthroplasty. Clin Orthop Relat Res 475:62–69

6.

Demange MK, Von Keudell A, Probst C, Yoshioka H, Gomoll AH (2015) Patient-specific implants for lateral unicompartmental knee arthroplasty. Int Orthop 39:1519–1526

7.

Engh GA, Parks NL, Whitney CE (2014) A prospective randomized study of bicompartmental vs. total knee arthroplasty with functional testing and short term outcome. J Arthroplasty. https://doi.org/10.1016/j.arth.2014.04.016

8.

Fitz W (2009) Unicompartmental knee arthroplasty with use of novel patient-specific resurfacing implants and personalized jigs. J Bone Jt Surg Am 91(Suppl 1):69–76

9.

Heekin RD, Fokin AA (2014) Incidence of bicompartmental osteoarthritis in patients undergoing total and unicompartmental knee arthroplasty: is the time ripe for a less radical treatment? J Knee Surg 27:77–81

10.

Johnson TC, Tatman PJ, Mehle S, Gioe TJ (2012) Revision surgery for patellofemoral problems: should we always resurface? Clin Orthop Relat Res 470:211–219

11.

Kamath AF, Levack A, John T, Thomas BS, Lonner JH (2014) Minimum two-year outcomes of modular bicompartmental knee arthroplasty. J Arthroplasty 29:75–79

12.

Morrison TA, Nyce JD, Macaulay WB, Geller JA (2011) Early adverse results with bicompartmental knee arthroplasty: a prospective cohort comparison to total knee arthroplasty. J Arthroplasty 26:35–39

13.

Muller M, Matziolis G, Falk R, Hommel H (2012) The bicompartmental knee joint prosthesis Journey Deuce: failure analysis and optimization strategies. Orthopade 41:894–904

14.

Noble PC, Conditt MA, Cook KF, Mathis KB (2006) The John Insall Award: patient expectations affect satisfaction with total knee arthroplasty. Clin Orthop Relat Res 452:35–43

15.

Ogura T, Le K, Merkely G, Bryant T, Minas T (2019) A high level of satisfaction after bicompartmental individualized knee arthroplasty with patient-specific implants and instruments. Knee Surg Sports Traumatol Arthrosc 27:1487–1496

16.

Palumbo BT, Henderson ER, Edwards PK, Burris RB, Gutierrez S, Raterman SJ (2011) Initial experience of the Journey-Deuce bicompartmental knee prosthesis: a review of 36 cases. J Arthroplasty 26:40–45

17.

Parratte S, Pauly V, Aubaniac JM, Argenson JN (2010) Survival of bicompartmental knee arthroplasty at 5–23 years. Clin Orthop Relat Res 468:64–72

18.

Shah SM, Dutton AQ, Liang S, Dasde S (2013) Bicompartmental versus total knee arthroplasty for medio-patellofemoral osteoarthritis: a comparison of early clinical and functional outcomes. J Knee Surg 26:411–416

19.

Steinert AF, Beckmann J, Holzapfel BM, Rudert M, Arnholdt J (2017) Bicompartmental individualized knee replacement: use of patient-specific implants and instruments (iDuo). Oper Orthop Traumatol 29:51–58

20.

Tan SM, Dutton AQ, Bea KC, Kumar VP (2013) Bicompartmental versus total knee arthroplasty for medial and patellofemoral osteoarthritis. J Orthop Surg (Hong Kong) 21:281–284

21.

Thienpont E, Price A (2013) Bicompartmental knee arthroplasty of the patellofemoral and medial compartments. Knee Surg Sports Traumatol Arthrosc 21:2523–2531

22.

Tria AJ Jr (2013) Bicompartmental knee arthroplasty: the clinical outcomes. Orthop Clin North Am 44(281–286):vii

23.

Wang H, Foster J, Franksen N, Estes J, Rolston L (2018) Gait analysis of patients with an off-the-shelf total knee replacement versus customised bi-compartmental knee replacement. Int Orthop 42:805–810

24.

Yamabe E, Ueno T, Miyagi R, Watanabe A, Guenzi C, Yoshioka H (2013) Study of surgical indication for knee arthroplasty by cartilage analysis in three compartments using data from Osteoarthritis Initiative (OAI). BMC Musculoskelet Disord 14:194
Funding
This study was externally funded by Conformis.
Ethics declarations
Conflicts of interest
All authors of the multicenter study received honoraria for patient enrollment and honoraria as consultants of Conformis which might influence this work.
Ethical approval
IRB/Ethics Committee approval was obtained from all participating sites.
Informed consent
All patients signed an informed consent prior to participating in the study.
Additional information
Publisher's Note
Springer Nature remains neutral with regard to jurisdictional claims in published maps and institutional affiliations.
About this article
Cite this article
Beckmann, J., Steinert, A.F., Huber, B. et al. Customised bi-compartmental knee arthroplasty shows encouraging 3-year results: findings of a prospective, multicenter study. Knee Surg Sports Traumatol Arthrosc 28, 1742–1749 (2020). https://doi.org/10.1007/s00167-019-05595-z
Received:

Accepted:

Published:

Issue Date:
Keywords
Bi-compartment

BKR

Customised

Individualised

Bicruciate retaining

Total knee replacement