Abstract
Purpose
This study first analyzes implant survival of this single design modular rotating hinge knee and identifies potential risk factors for failure and evaluates joint function using the postoperative WOMAC (Western Ontario and McMaster Universities Osteoarthritis Index) score, active flexion and extension deficit.
Methods
131 prostheses implanted for failure of prior total knee arthroplasty (n = 120) or complex primary procedures (n = 11) using a single modular implant (MUTARS—modular universal tumor and revision system GenuX, Implantcast, Buxtehude, Germany) between 2006 and 2014 including 73 patients treated for periprosthetic joint infection with a two-stage revision protocol were retrospectively identified. Implant survival was assessed using the Kaplan–Meier method; potential risk factors were identified using the log-rank test, as well as non-parametric analysis. Postoperative function was assessed using the WOMAC and measurement of range of motion.
Results
After a median follow-up of 62 months, 37 implants required implant revision (28%). Five-year survival was 69.7% [95% CI (confidence interval) 60.9–78.5] with periprosthetic (re-) infection being the main cause for failure (15%), followed by aseptic loosening (9%). In cases of periprosthetic infection, infection-free survival was 83% at 5 years (95% CI 74–92) with twelve patients suffering reinfection (16%).While body mass index (p = 0.75), age (p = 0.16) or indication for rotating hinge knee arthroplasty (p = 0.25) had no influence on survival, Charlson comorbidity score (CCI) (p = 0.07) and number of previous revision surgeries (p = 0.05) correlated with implant failure. There was trend (p = 0.1) for improved survival in fully cemented implants. Mean postoperative WOMAC was 127(range 55–191), 11 patients (15%) had limited knee extension.
Conclusions
Rotating hinge total knee arthroplasty using a single modular implant shows acceptable survival rates and function compared to previous studies with (re-)infection being the most relevant mode of failure. Patients with a high CCI and multiple previous surgeries are at increased risk for failure.
Level of evidence
Retrospective cohort study, III.
This is a preview of subscription content, log in to check access.
Access options
Buy single article
Instant access to the full article PDF.
US$ 39.95
Price includes VAT for USA
Subscribe to journal
Immediate online access to all issues from 2019. Subscription will auto renew annually.
US$ 199
This is the net price. Taxes to be calculated in checkout.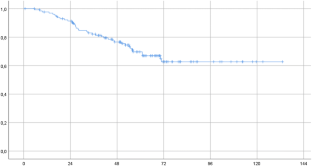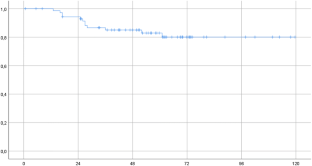 Abbreviations
BMI:

Body mass index

CCI:

Charlson comorbidity index

CI:

Confidence interval

IQR:

Interquartile range 25–75%

MSIS:

Musculoskeletal infection society

MUTARS:

Modular universal tumor and revision system

PJI:

Periprosthetic joint infection

PMMA:

Polymethylmethacrylate

RHK:

Rotating hinge knee

TKA:

Total knee arthroplasty

WOMAC:

Western Ontario and McMaster universities osteoarthritis index
References
1.

Barrack RL (2001) Evolution of the rotating hinge for complex total knee arthroplasty. Clin Orthop Relat Res 392:292–299

2.

Charlson ME, Pompei P, Ales KL, MacKenzie CR (1987) A new method of classifying prognostic comorbidity in longitudinal studies: development and validation. J Chronic Dis 40:373–383

3.

Cottino U, Abdel MP, Perry KI, Mara KC, Lewallen DG, Hanssen AD (2017) Long-term results after total knee arthroplasty with contemporary rotating-hinge prostheses. J Bone Joint Surg Am 99:324–330

4.

Davies GM, Watson DJ, Bellamy N (1999) Comparison of the responsiveness and relative effect size of the western Ontario and McMaster universities osteoarthritis index and the short-form medical outcomes study survey in a randomized, clinical trial of osteoarthritis patients. Arthritis Care Res 12:172–179

5.

Diaz-Ledezma C, Higuera CA, Parvizi J (2013) Success after treatment of periprosthetic joint infection: a Delphi-based international multidisciplinary consensus. Clin Orthop Relat Res 471:2374–2382

6.

Driesman AS, Macaulay W, Schwarzkopf R (2019) Cemented versus cementless stems in revision total knee arthroplasty. J Knee Surg. https://doi.org/10.1055/s-0039-1678686

7.

Ewald FC (1989) The knee society total knee arthroplasty roentgenographic evaluation and scoring system. Clin Orthop Relat Res 248:9–12

8.

Farid YR, Thakral R, Finn HA (2015) Intermediate-term results of 142 single-design, rotating-hinge implants: frequent complications may not preclude salvage of severely affected knees. J Arthroplast 30:2173–2180

9.

Fehring KA, Abdel MP, Ollivier M, Mabry TM, Hanssen AD (2017) Repeat two-stage exchange arthroplasty for periprosthetic knee infection is dependent on host grade. J Bone Joint Surg Am 99:19–24

10.

Fleischman AN, Azboy I, Fuery M, Restrepo C, Shao H, Parvizi J (2017) Effect of stem size and fixation method on mechanical failure after revision total knee arthroplasty. J Arthroplast 32:S202–S208

11.

Gehrke T, Kendoff D, Haasper C (2014) The role of hinges in primary total knee replacement. Bone Joint J 96(B):93–95

12.

Holl S, Schlomberg A, Gosheger G, Dieckmann R, Streitbuerger A, Schulz D et al (2012) Distal femur and proximal tibia replacement with megaprosthesis in revision knee arthroplasty: a limb-saving procedure. Knee Surg Sports Traumatol Arthrosc 20:2513–2518

13.

Hossain F, Patel S, Haddad FS (2010) Midterm assessment of causes and results of revision total knee arthroplasty. Clin Orthop Relat Res 468:1221–1228

14.

Inglis AE, Walker PS (1991) Revision of failed knee replacements using fixed-axis hinges. J Bone Joint Surg Br 73:757–761

15.

Kamath AF, Lewallen DG, Hanssen AD (2015) Porous tantalum metaphyseal cones for severe tibial bone loss in revision knee arthroplasty: a five to nine-year follow-up. J Bone Joint Surg Am 97:216–223

16.

Kaplan EL, Meier P (1958) Nonparametric estimation from incomplete observations. J Am Stat Assoc 53:457–481

17.

Koh CK, Zeng I, Ravi S, Zhu M, Vince KG, Young SW (2017) Periprosthetic joint infection is the main cause of failure for modern knee arthroplasty: an analysis of 11,134 knees. Clin Orthop Relat Res 475:2194–2201

18.

Kouk S, Rathod PA, Maheshwari AV, Deshmukh AJ (2018) Rotating hinge prosthesis for complex revision total knee arthroplasty: a review of the literature. J Clin Orthop Trauma 9:29–33

19.

Mantel N (1966) Evaluation of survival data and two new rank order statistics arising in its consideration. Cancer Chemother Rep Part 1 50:163–170

20.

Pala E, Trovarelli G, Calabro T, Angelini A, Abati CN, Ruggieri P (2015) Survival of modern knee tumor megaprostheses: failures, functional results, and a comparative statistical analysis. Clin Orthop Relat Res 473:891–899

21.

Parvizi J, Zmistowski B, Berbari EF, Bauer TW, Springer BD, Della Valle CJ et al (2011) New definition for periprosthetic joint infection: from the workgroup of the musculoskeletal infection society. Clin Orthop Relat Res 469:2992–2994

22.

Petis SM, Perry KI, Mabry TM, Hanssen AD, Berry DJ, Abdel MP (2019) Two-stage exchange protocol for periprosthetic joint infection following total knee arthroplasty in 245 knees without prior treatment for infection. J Bone Joint Surg Am 101:239–249

23.

Petursson G, Fenstad AM, Havelin LI, Gothesen O, Lygre SH, Rohrl SM et al (2015) Better survival of hybrid total knee arthroplasty compared to cemented arthroplasty. Acta Orthop 86:714–720

24.

Pour AE, Parvizi J, Slenker N, Purtill JJ, Sharkey PF (2007) Rotating hinged total knee replacement: use with caution. J Bone Joint Surg Am 89:1735–1741

25.

Rohner E, Benad K, Zippelius T, Kloss N, Jacob B, Kirschberg J et al (2018) Good clinical and radiological results of total knee arthroplasty using varus valgus constrained or rotating hinge implants in ligamentous laxity. Knee Surg Sports Traumatol Arthrosc. https://doi.org/10.1007/s00167-018-5307-6

26.

Shen C, Lichstein PM, Austin MS, Sharkey PF, Parvizi J (2014) Revision knee arthroplasty for bone loss: choosing the right degree of constraint. J Arthroplast 29:127–131

27.

Smith TH, Gad BV, Klika AK, Styron JF, Joyce TA, Barsoum WK (2013) Comparison of mechanical and nonmechanical failure rates associated with rotating hinged total knee arthroplasty in nontumor patients. J Arthroplast 28(62–67):e61

28.

Tan TL, Goswami K, Fillingham YA, Shohat N, Rondon AJ, Parvizi J (2018) Defining treatment success after 2-stage exchange arthroplasty for periprosthetic joint infection. J Arthroplast 33:3541–3546

29.

Wood GC, Naudie DD, MacDonald SJ, McCalden RW, Bourne RB (2009) Results of press-fit stems in revision knee arthroplasties. Clin Orthop Relat Res 467:810–817
Funding
A specific source of funding was not required in this study.
Ethics declarations
Conflict of interest
One author has received travel expenses by Implantcast Gmbh, Buxtehude, Germany outside the submitted work.
Ethical approval
Approval of the institutional review board was obtained prior to this investigation (local ethical committee ref. no. 2018-123-f-S).
Additional information
Publisher's Note
Springer Nature remains neutral with regard to jurisdictional claims in published maps and institutional affiliations.
About this article
Cite this article
Theil, C., Schmidt-Braekling, T., Gosheger, G. et al. Acceptable mid- to long-term survival rates and functional outcomes following a single design rotating hinge total knee arthroplasty. Knee Surg Sports Traumatol Arthrosc 28, 1868–1875 (2020). https://doi.org/10.1007/s00167-019-05593-1
Received:

Accepted:

Published:

Issue Date:
Keywords
Revision knee arthroplasty

TKA

PJI

Periprosthetic joint infection

Total knee arthroplasty

Rotating hinge knee