Abstract
Purpose
The objective of this study was to calculate bone resection thicknesses and resulting gap sizes, simulating a measured resection mechanical alignment (MA) technique for total knee arthroplasty (TKA).
Methods
MA bone resections were simulated on 1000 consecutive lower limb CT scans from patients undergoing TKA. Femoral rotation was aligned with either the surgical trans-epicondylar axis (TEA) or with 3° of external rotation to the posterior condyles (PC). Imbalances in the extension space, flexion space, medial compartment and lateral compartment were calculated.
Results
Extension space imbalances (≥ 3 mm) occurred in 25% of varus and 54% of valgus knees and severe imbalances (≥ 5 mm) were present in up to 8% of varus and 19% of valgus knees. Higher flexion space imbalance rates were created with TEA versus PC (p < 0.001). Using TEA, only 49% of varus and 18% of valgus knees had < 3 mm of imbalance throughout the extension and flexion spaces, and medial and lateral compartments.
Conclusion
A systematic use of the simulated measured resection MA technique for TKA leads to many cases with imbalance. Some imbalances may not be correctable surgically and may result in TKA instability. Modified versions of the MA technique or other alignment methods that better reproduce knee anatomies should be explored.
Level of evidence
2.
This is a preview of subscription content, log in to check access.
Access options
Buy single article
Instant access to the full article PDF.
US$ 39.95
Price includes VAT for USA
Subscribe to journal
Immediate online access to all issues from 2019. Subscription will auto renew annually.
US$ 199
This is the net price. Taxes to be calculated in checkout.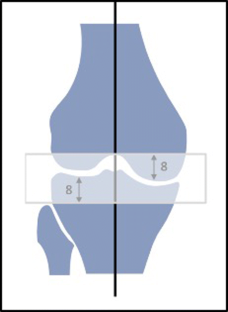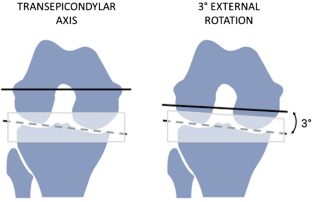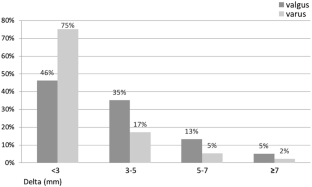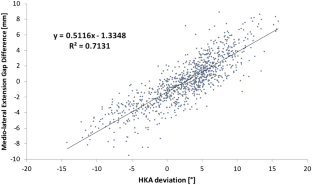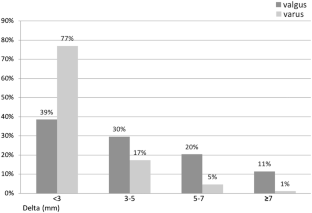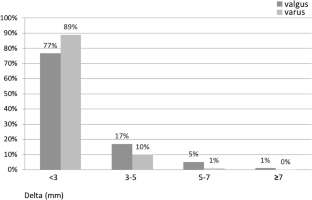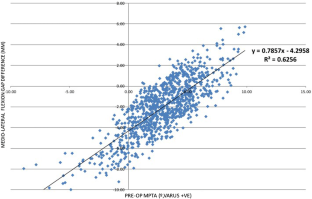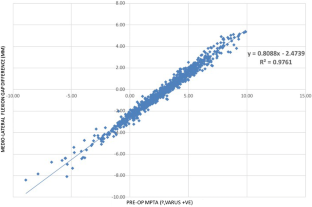 References
1.

Albanese CV, Rendine M, De Palma F, Impagliazzo A, Falez F, Postacchini F et al (2006) Bone remodelling in THA: a comparative DXA scan study between conventional implants and a new stemless femoral component. A preliminary report. Hip Int 16(Suppl 3):9–15

2.

Alghamdi A, Rahme M, Lavigne M, Masse V, Vendittoli PA (2014) Tibia valga morphology in osteoarthritic knees: importance of preoperative full limb radiographs in total knee arthroplasty. J Arthroplasty 29:1671–1676

3.

Almaawi AM, Hutt JRB, Masse V, Lavigne M, Vendittoli P-A (2017) The impact of mechanical and restricted kinematic alignment on knee anatomy in total knee arthroplasty. J Arthroplasty 32:2133–2140

4.

Bonnin MP, Saffarini M, Nover L, van der Maas J, Haeberle C, Hannink G et al (2017) External rotation of the femoral component increases asymmetry of the posterior condyles. Bone Joint J 99-B:894–903

5.

Christensen CP, Stewart AH, Jacobs CA (2013) Soft tissue releases affect the femoral component rotation necessary to create a balanced flexion gap during total knee arthroplasty. J Arthroplasty 28:1528–1532

6.

Daines BK, Dennis DA (2014) Gap balancing vs. measured resection technique in total knee arthroplasty. Clin Orthop Surg 6:1–8

7.

Freeman MA, Swanson SA, Todd RC (1973) Total replacement of the knee using the Freeman–Swanson knee prosthesis. Clin Orthop Relat Res 94:153–170

8.

Gu Y, Roth JD, Howell SM, Hull ML (2014) How frequently do four methods for mechanically aligning a total knee arthroplasty cause collateral ligament imbalance and change alignment from normal in white patients? AAOS exhibit selection. J Bone Joint Surg Am 96:e101

9.

Gustke KA, Golladay GJ, Roche MW, Elson LC, Anderson CR (2014) Primary TKA patients with quantifiably balanced soft-tissue achieve significant clinical gains sooner than unbalanced patients. Adv Orthop 2014:628695

10.

Hess S, Moser LB, Amsler F, Behrend H, Hirschmann MT (2019) Highly variable coronal tibial and femoral alignment in osteoarthritic knees: a systematic review. Knee Surg Sports Traumatol Arthrosc 27:1368–1377

11.

Hirschmann MT, Hess S, Behrend H, Amsler F, Leclercq V, Moser LB (2019) Phenotyping of hip-knee-ankle angle in young non-osteoarthritic knees provides better understanding of native alignment variability. Knee Surg Sports Traumatol Arthrosc 27:1378–1384

12.

Hirschmann MT, Moser LB, Amsler F, Behrend H, Leclercq V, Hess S (2019) Phenotyping the knee in young non-osteoarthritic knees shows a wide distribution of femoral and tibial coronal alignment. Knee Surg Sports Traumatol Arthrosc 27:1385–1393

13.

Howell SM, Howell SJ, Kuznik KT, Cohen J, Hull ML (2013) Does a kinematically aligned total knee arthroplasty restore function without failure regardless of alignment category? Clin Orthop Relat Res 471:1000–1007

14.

Huang T, Long Y, George D, Wang W (2017) Meta-analysis of gap balancing versus measured resection techniques in total knee arthroplasty. Bone Joint J 99-B:151–158

15.

Hunt NC, Ghosh KM, Athwal KK, Longstaff LM, Amis AA, Deehan DJ (2014) Lack of evidence to support present medial release methods in total knee arthroplasty. Knee Surg Sports Traumatol Arthrosc 22:3100–3112

16.

Hutt JRB, LeBlanc MA, Massé V, Lavigne M, Vendittoli PA (2016) Kinematic TKA using navigation: surgical technique and initial results. Orthop Traumatol Surg Res 102:99–104

17.

Jarvelin J, Hakkinen U, Rosenqvist G, Remes V (2012) Factors predisposing to claims and compensations for patient injuries following total hip and knee arthroplasty. Acta Orthop 83:190–196

18.

Jawhar A, Hutter K, Scharf HP (2016) Outcome in total knee arthroplasty with a medial-lateral balanced versus unbalanced gap. J Orthop Surg (Hong Kong) 24:298–301

19.

Kwak DS, In Y, Kim TK, Cho HS, Koh IJ (2016) The pie-crusting technique using a blade knife for medial collateral ligament release is unreliable in varus total knee arthroplasty. Knee Surg Sports Traumatol Arthrosc 24:188–194

20.

Le DH, Goodman SB, Maloney WJ, Huddleston JI (2014) Current modes of failure in TKA: infection, instability, and stiffness predominate. Clin Orthop Relat Res 472:2197–2200

21.

Lee GC, Lotke PA (2012) Can surgeons predict what makes a good TKA? Intraoperative surgeon impression of TKA quality does not correlate with knee society scores. Clin Orthop Relat Res 470:159–165

22.

Li G, Park SE, DeFrate LE, Schutzer ME, Ji L, Gill TJ et al (2005) The cartilage thickness distribution in the tibiofemoral joint and its correlation with cartilage-to-cartilage contact. Clin Biomech (Bristol, Avon) 20:736–744

23.

McAuliffe MJ, Roe J, Garg G, Whitehouse SL, Crawford R (2017) The varus osteoarthritic knee has no coronal contractures in 90 degrees of flexion. J Knee Surg 30:297–303

24.

Mihalko WM, Whiteside LA, Krackow KA (2003) Comparison of ligament-balancing techniques during total knee arthroplasty. J Bone Joint Surg Am 85-A(Suppl 4):132–135

25.

Niki Y, Sassa T, Nagai K, Harato K, Kobayashi S, Yamashita T (2017) Mechanically aligned total knee arthroplasty carries a risk of bony gap changes and flexion-extension axis displacement. Knee Surg Sports Traumatol Arthrosc 25:3452–3458

26.

Park IS, Ong A, Nam CH, Ahn NK, Ahn HS, Lee SC et al (2014) Transepicondylar axes for femoral component rotation might produce flexion asymmetry during total knee arthroplasty in knees with proximal tibia vara. Knee 21:369–373

27.

Peters CL, Jimenez C, Erickson J, Anderson MB, Pelt CE (2013) Lessons learned from selective soft-tissue release for gap balancing in primary total knee arthroplasty: an analysis of 1216 consecutive total knee arthroplasties: AAOS exhibit selection. J Bone Joint Surg Am 95:e152

28.

Riviere C, Iranpour F, Auvinet E, Aframian A, Asare K, Harris S et al (2017) Mechanical alignment technique for TKA: are there intrinsic technical limitations? Orthop Traumatol Surg Res 103:1057–1067

29.

Riviere C, Iranpour F, Auvinet E, Howell S, Vendittoli PA, Cobb J et al (2017) Alignment options for total knee arthroplasty: a systematic review. Orthop Traumatol Surg Res 103:1047–1056

30.

Saeki K, Mihalko WM, Patel V, Conway J, Naito M, Thrum H et al (2001) Stability after medial collateral ligament release in total knee arthroplasty. Clin Orthop Relat Res 392:184–189

31.

Sharkey PF, Lichstein PM, Shen C, Tokarski AT, Parvizi J (2014) Why are total knee arthroplasties failing today—has anything changed after 10 years? J Arthroplasty 29:1774–1778

32.

Unitt L, Sambatakakis A, Johnstone D, Briggs TW, Balancer Study G (2008) Short-term outcome in total knee replacement after soft-tissue release and balancing. J Bone Joint Surg Br 90:159–165

33.

Whiteside LA (2002) Soft tissue balancing: the knee. J Arthroplasty 17:23–27
Funding
No funding was received to perform this study.
Ethics declarations
Conflict of interest
The authors declared that they have no conflict of interest.
Ethical approval
This article used anonymous data from an existing collection of CT scans and does not contain any studies with human participants performed by any of the authors.
Informed consent
For this type of study formal consent is not required.
Additional information
Publisher's Note
Springer Nature remains neutral with regard to jurisdictional claims in published maps and institutional affiliations.
About this article
Cite this article
Blakeney, W., Beaulieu, Y., Puliero, B. et al. Bone resection for mechanically aligned total knee arthroplasty creates frequent gap modifications and imbalances. Knee Surg Sports Traumatol Arthrosc 28, 1532–1541 (2020). https://doi.org/10.1007/s00167-019-05562-8
Received:

Accepted:

Published:

Issue Date:
Keywords
Knee

Alignment

Mechanical

Gap

Ligament balance

Arthroplasty

Total knee replacement

Bone cuts