Abstract
Purpose
This study aimed at evaluating the association between the volume of the bone bruises and the magnitude of knee sagittal laxity and presence of meniscal injury in patients with anterior cruciate ligament (ACL) rupture. It was hypothesized that higher volumes of bone bruises will be associated with increased knee laxity and the presence of meniscal injury.
Methods
Patients with clinical diagnosis of ACL injury were referred for magnetic resonance imaging (MRI) and knee sagittal laxity measurement with a mechanical instrumented device (Porto-Knee Testing Device). The femoral and tibial bone bruises were assessed by MRI and the volume measured by manually contouring the bone bruise using a computerized software and computed by a mathematical algorithm combining all measured areas. The ACL rupture type (partial or total), meniscal tear (medial or lateral), and the localization of bone bruise were also analyzed.
Results
Seventy-six ACL-ruptured participants were included and 34 patients displayed bone bruises. Tibiofemoral sagittal laxity was higher in participants with complete ACL rupture (p < 0.05), but not influenced by the volume of bone bruises and meniscal status (n.s.). The volume of bone bruises was not significantly associated with the meniscal lesion or with the tibiofemoral sagittal laxity, independently of the meniscal injury status (n.s.).
Conclusions
The volume of femoral and/or tibial bone bruises was not associated with the type of ACL injury, tibiofemoral sagittal laxity or the status of meniscal injury. Bone bruises must be considered as a radiographic sign of injury and should not be suggestive of injury severity and not overvalued.
Level of evidence
Retrospective cohort study, Level III.
IRB number
0011/0014.
This is a preview of subscription content, log in to check access.
Access options
Buy single article
Instant access to the full article PDF.
US$ 39.95
Price includes VAT for USA
Subscribe to journal
Immediate online access to all issues from 2019. Subscription will auto renew annually.
US$ 199
This is the net price. Taxes to be calculated in checkout.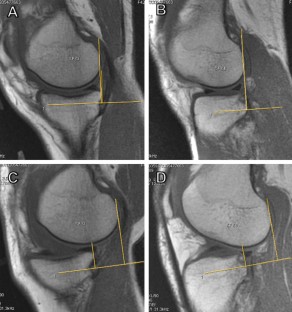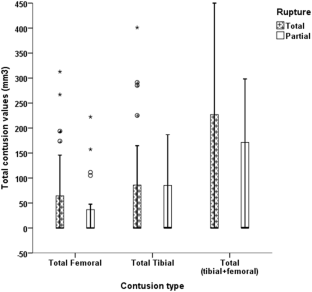 References
1.

Bisson LJ, Kluczynski MA, Hagstrom LS, Marzo JM (2013) A prospective study of the association between bone contusion and intra-articular injuries associated with acute anterior cruciate ligament tear. Am J Sports Med 41:1801–1807

2.

Bretlau T, Tuxøe J, Larsen L, Jørgensen U, Thomsen HS, Lausten G (2002) Bone bruise in the acutely injured knee. Knee Surg Sports Traumatol Arthrosc 10:96–101

3.

Dejour D, Ntagiopoulos PG, Saggin PR, Panisset J-C (2013) The diagnostic value of clinical tests, magnetic resonance imaging, and instrumented laxity in the differentiation of complete versus partial anterior cruciate ligament tears. Arthroscopy 29:491–499

4.

Dufka FL, Lansdown DA, Zhang AL, Allen CR, Ma CB, Feeley BT (2016) Accuracy of MRI evaluation of meniscus tears in the setting of ACL injuries. Knee 23:460–464

5.

Dunn WR, Spindler KP, Amendola A, Andrish JT, Kaeding CC, Marx RG et al (2010) Which preoperative factors, including bone bruise, are associated with knee pain/symptoms at index anterior cruciate ligament reconstruction (ACLR)? A Multicenter Orthopaedic Outcomes Network (MOON) ACLR cohort study. Am J Sports Med 38:1778–1787

6.

Espregueira-Mendes J, Andrade R, Leal A, Pereira H, Skaf A, Rodrigues-Gomes S et al (2017) Global rotation has high sensitivity in ACL lesions within stress MRI. Knee Surg Sports Traumatol Arthrosc 25:2993–3003

7.

Espregueira-Mendes J, Pereira H, Sevivas N, Passos C, Vasconcelos JC, Monteiro A et al (2012) Assessment of rotatory laxity in anterior cruciate ligament-deficient knees using magnetic resonance imaging with Porto-knee testing device. Knee Surg Sports Traumatol Arthrosc 20:671–678

8.

Gentili A, Seeger LL, Yao L, Do HM (1994) Anterior cruciate ligament tear: indirect signs at MR imaging. Radiology 193:835–840

9.

Illingworth KD, Hensler D, Casagranda B, Borrero C, van Eck CF, Fu FH (2014) Relationship between bone bruise volume and the presence of meniscal tears in acute anterior cruciate ligament rupture. Knee Surg Sports Traumatol Arthrosc 22:2181–2186

10.

Jelić Đ, Mašulović D (2011) Bone bruise of the knee associated with the lesions of anterior cruciate ligament and menisci on magnetic resonance imaging. Vojnosanit Pregl 68:762–766

11.

Lattermann C, Jacobs CA, Reinke EK, Scaramuzza EA, Huston LJ, Dunn WR et al (2017) Are bone bruise characteristics and articular cartilage pathology associated with inferior outcomes 2 and 6 years after anterior cruciate. Ligament reconstruction? Cartilage 8:139–145

12.

Li X, Ma BC, Bolbos RI, Stahl R, Lozano J, Zuo J et al (2008) Quantitative assessment of bone marrow edema-like lesion and overlying cartilage in knees with osteoarthritis and anterior cruciate ligament tear using MR imaging and spectroscopic imaging at 3 T. J Magn Reson Imaging 28:453–461

13.

Magnussen RA, Reinke EK, Huston LJ, Hewett TE, Spindler KP, Group M (2016) Factors associated with high-grade Lachman, pivot shift, and anterior drawer at the time of anterior cruciate ligament reconstruction. Arthroscopy 32:1080–1085

14.

McCauley TR, Moses M, Kier R, Lynch JK, Barton JW, Jokl P (1994) MR diagnosis of tears of anterior cruciate ligament of the knee: importance of ancillary findings. AJR Am J Roentgenol 162:115–119

15.

Nishimori M, Deie M, Adachi N, Kanaya A, Nakamae A, Motoyama M et al (2008) Articular cartilage injury of the posterior lateral tibial plateau associated with acute anterior cruciate ligament injury. Knee Surg Sports Traumatol Arthrosc 16:270–274

16.

Noyes FR, Jetter AW, Grood ES, Harms SP, Gardner EJ, Levy MS (2014) Anterior cruciate ligament function in providing rotational stability assessed by medial and lateral tibiofemoral compartment translations and subluxations. Am J Sports Med 43:683–692

17.

Papalia R, Torre G, Vasta S, Zampogna B, Pedersen DR, Denaro V et al (2015) Bone bruises in anterior cruciate ligament injured knee and long-term outcomes. A review of the evidence. Open Access J Sports Med 6:37

18.

Pedersen DR, El-Khoury GY, Thedens DR, Saad-Eldine M, Phisitkul P, Amendola A (2017) Bone contusion progression from traumatic knee injury: association of rate of contusion resolution with injury severity. Open Access J Sports Med 8:9

19.

Sanders TG, Medynski MA, Feller JF, Lawhorn KW (2000) Bone contusion patterns of the knee at MR imaging: footprint of the mechanism of injury. Radiographics 20:S135–S151

20.

Siebold R, Fu FH (2008) Assessment and augmentation of symptomatic anteromedial or posterolateral bundle tears of the anterior cruciate ligament. Arthroscopy 24:1289–1298

21.

Song G-y, Zhang H, Wang Q-q, Zhang J, Li Y, Feng H (2016) Bone contusions after acute noncontact anterior cruciate ligament injury are associated with knee joint laxity, concomitant meniscal lesions, and anterolateral ligament abnormality. Arthroscopy 32:2331–2341

22.

Spindler KP, Schils JP, Bergfeld JA, Andrish JT, Weiker GG, Anderson TE et al (1993) Prospective study of osseous, articular, and meniscal lesions in recent anterior cruciate ligament tears by magnetic resonance imaging and arthroscopy. Am J Sports Med 21:551–557

23.

Szkopek K, Warming T, Neergaard K, Jørgensen H, Christensen H, Krogsgaard M (2012) Pain and knee function in relation to degree of bone bruise after acute anterior cruciate ligament rupture. Scand J Med Sci Sports 22:635–642

24.

Tashiro Y, Okazaki K, Miura H, Matsuda S, Yasunaga T, Hashizume M et al (2009) Quantitative assessment of rotatory instability after anterior cruciate ligament reconstruction. Am J Sports Med 37:909–916

25.

Theologis AA, Kuo D, Cheng J, Bolbos RI, Carballido-Gamio J, Ma CB et al (2011) Evaluation of bone bruises and associated cartilage in anterior cruciate ligament—injured and—reconstructed knees using quantitative T 1ρ magnetic resonance imaging: 1-year cohort study. Arthroscopy 27:65–76

26.

Walczak BE, Lukes C, Amendola N, Dunn WR (2017) Limited evidence that the presence of a bone bruise alone affects the clinical outcome of surgically reconstructed anterior cruciate ligaments: a systematic review. J ISAKOS 2:186–190

27.

Yoon KH, Yoo JH, Kim K-I (2011) Bone contusion and associated meniscal and medial collateral ligament injury in patients with anterior cruciate ligament rupture. J Bone Jt Surg Am 93:1510–1518
Funding
The authors declare that there was no funding of this study.
Ethics declarations
Conflict of interest
JEM is the patent holder of the PKTD but does not receive any royalties or fees.
Ethical approval
This study was approved by the Institutional Ethical Committee (IRB number: 0011/0014). The study protocol was conducted in accordance with the ethical standards of the responsible committee on human experimentation and with the Helsinki Declaration.
About this article
Cite this article
Bastos, R., Andrade, R., Vasta, S. et al. Tibiofemoral bone bruise volume is not associated with meniscal injury and knee laxity in patients with anterior cruciate ligament rupture. Knee Surg Sports Traumatol Arthrosc 27, 3318–3326 (2019). https://doi.org/10.1007/s00167-018-5343-2
Received:

Accepted:

Published:

Issue Date:
Keywords
Bone bruise

Bone contusion

Knee laxity

Meniscal injury