Abstract
Purpose
Bone marrow concentrate (BMC) and platelet-rich plasma (PRP) are used extensively in regenerative medicine. The aim of this study was to determine differences in the cellular composition and cytokine concentrations of BMC and PRP and to compare two commercial BMC systems in the same patient cohort.
Methods
Patients (29) undergoing orthopaedic surgery were enrolled. Bone marrow aspirate (BMA) was processed to generate BMC from two commercial systems (BMC-A and BMC-B). Blood was obtained to make PRP utilizing the same system as BMC-A. Bone marrow-derived samples were cultured to measure colony-forming units, and flow cytometry was performed to assess mesenchymal stem cell (MSC) markers. Cellular concentrations were assessed for all samples. Catabolic cytokines and growth factors important for cartilage repair were measured using multiplex ELISA.
Results
Colony-forming units were increased in both BMCs compared to BMA (p < 0.0001). Surface markers were consistent with MSCs. Platelet counts were not significantly different between BMC-A and PRP, but there were differences in leucocyte concentrations. TGF-β1 and PDGF were not different between BMC-A and PRP. IL-1ra concentrations were greater (p = 0.0018) in BMC-A samples (13,432 pg/mL) than in PRP (588 pg/mL). The IL-1ra/IL-1β ratio in all BMC samples was above the value reported to inhibit IL-1β.
Conclusions
The bioactive factors examined in this study have differing clinical effects on musculoskeletal tissue. Differences in the cellular and cytokine composition between PRP and BMC and between BMC systems should be taken into consideration by the clinician when choosing a biologic for therapeutic application.
Level of evidence
Clinical, Level II.
Access options
Buy single article
Instant access to the full article PDF.
US$ 39.95
Tax calculation will be finalised during checkout.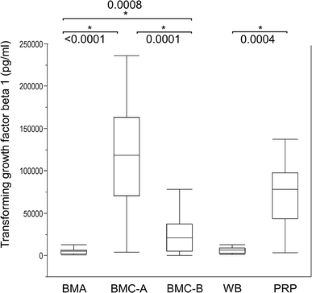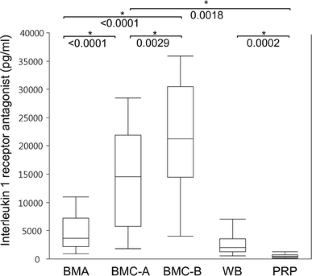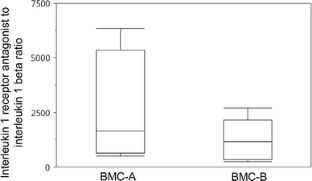 References
1.

Anz AW, Hackel JG, Nilssen EC, Andrews JR (2014) Application of biologics in the treatment of the rotator cuff, meniscus, cartilage, and osteoarthritis. J Am Acad Orthop Surg 22:68–79

2.

Ataliotis P (2000) Platelet-derived growth factor A modulates limb chondrogenesis both in vivo and in vitro. Mech Dev 94:13–24

3.

Baer PC, Geiger H (2012) Adipose-derived mesenchymal stromal/stem cells: tissue localization, characterization, and heterogeneity. Stem Cells Int 2012:812693

4.

Baggiolini M, Clark-Lewis I (1992) Interleukin-8, a chemotactic and inflammatory cytokine. FEBS Lett 307:97–101

5.

Baltzer AW, Moser C, Jansen SA, Krauspe R (2009) Autologous conditioned serum (Orthokine) is an effective treatment for knee osteoarthritis. Osteoarthr Cartil 17:152–160

6.

Barry F, Murphy M (2013) Mesenchymal stem cells in joint disease and repair. Nat Rev Rheumatol 9:584–594

7.

Barry F, Boynton RE, Liu B, Murphy JM (2001) Chondrogenic differentiation of mesenchymal stem cells from bone marrow: differentiation-dependent gene expression of matrix components. Exp Cell Res 268:189–200

8.

Bazzoni F, Cassatella MA, Rossi F, Ceska M, Dewald B, Baggiolini M (1991) Phagocytosing neutrophils produce and release high amounts of the neutrophil-activating peptide 1/interleukin 8. J Exp Med 173:771–774

9.

Blaney Davidson EN, van der Kraan PM, van den Berg WB (2007) TGF-beta and osteoarthritis. Osteoarthr Cartil 15:597–604

10.

Boswell SG, Cole BJ, Sundman EA, Karas V, Fortier LA (2012) Platelet-rich plasma: a milieu of bioactive factors. Arthroscopy 28:429–439

11.

Centeno CJ, Busse D, Kisiday J, Keohan C, Freeman M, Karli D (2008) Increased knee cartilage volume in degenerative joint disease using percutaneously implanted, autologous mesenchymal stem cells. Pain Physician 11:343–353

12.

Chen J, Chen H, Li P, Diao H, Zhu S, Dong L, Wang R, Guo T, Zhao J, Zhang J (2011) Simultaneous regeneration of articular cartilage and subchondral bone in vivo using MSCs induced by a spatially controlled gene delivery system in bilayered integrated scaffolds. Biomaterials 32:4793–4805

13.

Cole BJ, Seroyer ST, Filardo G, Bajaj S, Fortier LA (2010) Platelet-rich plasma: where are we now and where are we going? Sports Health 2:203–210

14.

Cuthbert R, Boxall SA, Tan HB, Giannoudis PV, McGonagle D, Jones E (2012) Single-platform quality control assay to quantify multipotential stromal cells in bone marrow aspirates prior to bulk manufacture or direct therapeutic use. Cytotherapy 14:431–440

15.

Dinarello CA, Thompson RC (1991) Blocking IL-1: interleukin 1 receptor antagonist in vivo and in vitro. Immunol Today 12:404–410

16.

Dominici M, Le Blanc K, Mueller I, Slaper-Cortenbach I, Marini F, Krause D, Deans R, Keating A, Prockop D, Horwitz E (2006) Minimal criteria for defining multipotent mesenchymal stromal cells. The International Society for Cellular Therapy position statement. Cytotherapy 8:315–317

17.

Enea D, Cecconi S, Calcagno S, Busilacchi A, Manzotti S, Kaps C, Gigante A (2013) Single-stage cartilage repair in the knee with microfracture covered with a resorbable polymer-based matrix and autologous bone marrow concentrate. Knee 20:562–569

18.

Fan J, Ren L, Liang R, Gong Y, Cai D, Wang DA (2010) Chondrogenesis of synovium-derived mesenchymal stem cells in photopolymerizing hydrogel scaffolds. J Biomater Sci Polym Ed 21:1653–1667

19.

Fernandes JC, Martel-Pelletier J, Pelletier JP (2002) The role of cytokines in osteoarthritis pathophysiology. Biorheology 39:237–246

20.

Filardo G, Kon E, Roffi A, Di Matteo B, Merli ML, Marcacci M (2013) Platelet-rich plasma: why intra-articular? A systematic review of preclinical studies and clinical evidence on PRP for joint degeneration. Knee Surg Sports Traumatol Arthrosc 23:2459–2474

21.

Filardo G, Madry H, Jelic M, Roffi A, Cucchiarini M, Kon E (2013) Mesenchymal stem cells for the treatment of cartilage lesions: from preclinical findings to clinical application in orthopaedics. Knee Surg Sports Traumatol Arthrosc 21:1717–1729

22.

Fortier LA, Barker JU, Strauss EJ, McCarrel TM, Cole BJ (2011) The role of growth factors in cartilage repair. Clin Orthop Relat Res 469:2706–2715

23.

Fortier LA, Potter HG, Rickey EJ, Schnabel LV, Foo LF, Chong LR, Stokol T, Cheetham J, Nixon AJ (2010) Concentrated bone marrow aspirate improves full-thickness cartilage repair compared with microfracture in the equine model. J Bone Joint Surg Am 92:1927–1937

24.

Galotto M, Berisso G, Delfino L, Podesta M, Ottaggio L, Dallorso S, Dufour C, Ferrara GB, Abbondandolo A, Dini G, Bacigalupo A, Cancedda R, Quarto R (1999) Stromal damage as consequence of high-dose chemo/radiotherapy in bone marrow transplant recipients. Exp Hematol 27:1460–1466

25.

Gharibi B, Hughes FJ (2012) Effects of medium supplements on proliferation, differentiation potential, and in vitro expansion of mesenchymal stem cells. Stem Cells Transl Med 1:771–782

26.

Gigante A, Cecconi S, Calcagno S, Busilacchi A, Enea D (2012) Arthroscopic knee cartilage repair with covered microfracture and bone marrow concentrate. Arthrosc Tech 1:e175–e180

27.

Gobbi A, Karnatzikos G, Scotti C, Mahajan V, Mazzucco L, Grigolo B (2011) One-step cartilage repair and bone marrow aspirate concentrated cells and collagen matrix in full-thickness knee cartilage lesions: results at 2-year follow-up. Cartilage 2:286–299

28.

Gobbi A, Karnatzikos G, Sankineani SR (2014) One-step surgery with multipotent stem cells for the treatment of large full-thickness chondral defects of the knee. Am J Sports Med 42:648–657

29.

Goldring MB (2000) Osteoarthritis and cartilage: the role of cytokines. Curr Rheumatol Rep 2:459–465

30.

Granowitz EV, Clark BD, Mancilla J, Dinarello CA (1991) Interleukin-1 receptor antagonist competitively inhibits the binding of interleukin-1 to the type II interleukin-1 receptor. J Biol Chem 266:14147–14150

31.

Grotendorst GR, Smale G, Pencev D (1989) Production of transforming growth factor beta by human peripheral blood monocytes and neutrophils. J Cell Physiol 140:396–402

32.

Hattar K, Fink L, Fietzner K, Himmel B, Grimminger F, Seeger W, Sibelius U (2001) Cell density regulates neutrophil IL-8 synthesis: role of IL-1 receptor antagonist and soluble TNF receptors. J Immunol 166:6287–6293

33.

Hegde V, Shonuga O, Ellis S, Fragomen A, Kennedy J, Kudryashov V, Lane JM (2014) A prospective comparison of 3 approved systems for autologous bone marrow concentration demonstrated nonequivalency in progenitor cell number and concentration. J Orthop Trauma 28:591–598

34.

Johnson RG (2014) Bone marrow concentrate with allograft equivalent to autograft in lumbar fusions. Spine (Phila Pa 1976) 39:695–700

35.

Johnstone B, Hering TM, Caplan AI, Goldberg VM, Yoo JU (1998) In vitro chondrogenesis of bone marrow-derived mesenchymal progenitor cells. Exp Cell Res 238:265–272

36.

Koh YG, Choi YJ, Kwon OR, Kim YS (2014) Second-look arthroscopic evaluation of cartilage lesions after mesenchymal stem cell implantation in osteoarthritic knees. Am J Sports Med 42:1628–1637

37.

Kurth T, Hedbom E, Shintani N, Sugimoto M, Chen FH, Haspl M, Martinovic S, Hunziker EB (2007) Chondrogenic potential of human synovial mesenchymal stem cells in alginate. Osteoarthr Cartil 15:1178–1189

38.

Lv FJ, Tuan RS, Cheung KM, Leung VY (2014) Concise review: the surface markers and identity of human mesenchymal stem cells. Stem Cells 32:1408–1419

39.

Mackay AM, Beck SC, Murphy JM, Barry FP, Chichester CO, Pittenger MF (1998) Chondrogenic differentiation of cultured human mesenchymal stem cells from marrow. Tissue Eng 4:415–428

40.

McCarrel T, Fortier L (2009) Temporal growth factor release from platelet-rich plasma, trehalose lyophilized platelets, and bone marrow aspirate and their effect on tendon and ligament gene expression. J Orthop Res 27:1033–1042

41.

Meijer H, Reinecke J, Becker C, Tholen G, Wehling P (2003) The production of anti-inflammatory cytokines in whole blood by physico-chemical induction. Inflamm Res 52:404–407

42.

Montaseri A, Busch F, Mobasheri A, Buhrmann C, Aldinger C, Rad JS, Shakibaei M (2011) IGF-1 and PDGF-bb suppress IL-1beta-induced cartilage degradation through down-regulation of NF-kappaB signaling: involvement of Src/PI-3K/AKT pathway. PLoS ONE 6:e28663

43.

Mueller MB, Tuan RS (2008) Functional characterization of hypertrophy in chondrogenesis of human mesenchymal stem cells. Arthritis Rheum 58:1377–1388

44.

Mwale F, Stachura D, Roughley P, Antoniou J (2006) Limitations of using aggrecan and type X collagen as markers of chondrogenesis in mesenchymal stem cell differentiation. J Orthop Res 24:1791–1798

45.

Poloni A, Maurizi G, Rosini V, Mondini E, Mancini S, Discepoli G, Biasio S, Battaglini G, Felicetti S, Berardinelli E, Serrani F, Leoni P (2009) Selection of CD271(+) cells and human AB serum allows a large expansion of mesenchymal stromal cells from human bone marrow. Cytotherapy 11:153–162

46.

Rutgers M, Saris DB, Dhert WJ, Creemers LB (2010) Cytokine profile of autologous conditioned serum for treatment of osteoarthritis, in vitro effects on cartilage metabolism and intra-articular levels after injection. Arthritis Res Ther 12:R114

47.

Schnabel LV, Mohammed HO, Miller BJ, McDermott WG, Jacobson MS, Santangelo KS, Fortier LA (2007) Platelet rich plasma (PRP) enhances anabolic gene expression patterns in flexor digitorum superficialis tendons. J Orthop Res 25:230–240

48.

Skowronski J, Rutka M (2013) Osteochondral lesions of the knee reconstructed with mesenchymal stem cells—results. Ortop Traumatol Rehabil 15:195–204

49.

Tchetina EV, Antoniou J, Tanzer M, Zukor DJ, Poole AR (2006) Transforming growth factor-beta2 suppresses collagen cleavage in cultured human osteoarthritic cartilage, reduces expression of genes associated with chondrocyte hypertrophy and degradation, and increases prostaglandin E(2) production. Am J Pathol 168:131–140

50.

Tsutsumi S, Shimazu A, Miyazaki K, Pan H, Koike C, Yoshida E, Takagishi K, Kato Y (2001) Retention of multilineage differentiation potential of mesenchymal cells during proliferation in response to FGF. Biochem Biophys Res Commun 288:413–419

51.

Tuli R, Tuli S, Nandi S, Huang X, Manner PA, Hozack WJ, Danielson KG, Hall DJ, Tuan RS (2003) Transforming growth factor-beta-mediated chondrogenesis of human mesenchymal progenitor cells involves N-cadherin and mitogen-activated protein kinase and Wnt signaling cross-talk. J Biol Chem 278:41227–41236

52.

Van Lent PL, Van De Loo FA, Holthuysen AE, Van Den Bersselaar LA, Vermeer H, Van Den Berg WB (1995) Major role for interleukin 1 but not for tumor necrosis factor in early cartilage damage in immune complex arthritis in mice. J Rheumatol 22:2250–2258

53.

Veronesi F, Giavaresi G, Tschon M, Borsari V, Nicoli Aldini N, Fini M (2013) Clinical use of bone marrow, bone marrow concentrate, and expanded bone marrow mesenchymal stem cells in cartilage disease. Stem Cells Dev 22:181–192

54.

Wehling P, Moser C, Frisbie D, McIlwraith CW, Kawcak CE, Krauspe R, Reinecke JA (2007) Autologous conditioned serum in the treatment of orthopedic diseases: the orthokine therapy. BioDrugs 21:323–332

55.

Yang KG, Raijmakers NJ, van Arkel ER, Caron JJ, Rijk PC, Willems WJ, Zijl JA, Verbout AJ, Dhert WJ, Saris DB (2008) Autologous interleukin-1 receptor antagonist improves function and symptoms in osteoarthritis when compared to placebo in a prospective randomized controlled trial. Osteoarthr Cartil 16:498–505

56.

Yoo JU, Barthel TS, Nishimura K, Solchaga L, Caplan AI, Goldberg VM, Johnstone B (1998) The chondrogenic potential of human bone-marrow-derived mesenchymal progenitor cells. J Bone Joint Surg Am 80:1745–1757
Acknowledgments
Arteriocyte Medical Systems Inc (JGK) and the Harry M. Zweig Memorial Fund (LAF) provided funding for the study. Personnel support (KAR, EJF) was provided by the Ohnell family foundation and the Michel Levitt family foundation. Stipend support (JMC) was provided by the Morris Animal Foundation.
Ethics declarations
Conflict of interest
Author (JGK) is a consultant for Arteriocyte Medical Systems Inc. Author (LAF) is a consultant for Arthrex Inc. All samples were de-identified prior to shipment to prevent any potential biases from being introduced into the study analyses.
Ethical standards
All procedures performed in studies involving human participants were approved by the institutional research review board and in accordance with the ethical standards of the 1964 Helsinki Declaration and its later amendments or comparable ethical standards.
Informed consent
Informed consent was obtained from all individual participants included in the study.
About this article
Cite this article
Cassano, J.M., Kennedy, J.G., Ross, K.A. et al. Bone marrow concentrate and platelet-rich plasma differ in cell distribution and interleukin 1 receptor antagonist protein concentration. Knee Surg Sports Traumatol Arthrosc 26, 333–342 (2018). https://doi.org/10.1007/s00167-016-3981-9
Received:

Accepted:

Published:

Issue Date:
Keywords
Bone marrow concentrate

MSCs

Platelet-rich plasma

PRP

Interleukin 1 receptor antagonist

IL-1ra