Zusammenfassung
Der Erhalt des vorderen Kreuzbandes (VKB) mittels dynamischer intraligamentärer Stabilisierung (DIS; Ligamys ®; Mathys AG Bettlach, Schweiz) ist eine neue Therapiemöglichkeit von akuten, femoral lokalisierten VKB-Rupturen bei aktiven Patienten. Bei diesem Verfahren wird das originäre VKB mithilfe von PDS-Fäden femoral adaptiert und die Heilungszone durch einen Polyethylenfaden mit Federsystem mechanisch geschützt. Somit stellt die DIS einen temporären dynamischen alloplastischen VKB-Ersatz dar, wobei in jeder Position eine definierte Federkraft den Tibiakopf nach dorsal zieht. Erste klinische Studien mit dieser Technik zeigten in den ersten Jahren nach DIS zufriedenstellende subjektive und objektive Resultate. Multivarianzanalysen wurden zur Prüfung von negativen Einflüssen auf die Heilungsprognose durchgeführt, um die ideale Indikation besser zu validieren. Dabei wurde als "ideale" Indikation der aktive Patient, jedoch nicht der Hochleistungs- bzw. Kontaktsportler identifiziert mit einer frischen VKB-Ruptur des proximalen bzw. des femoralen Drittels. Zusätzlich sollte die Riss-Morphologie eine gute VKB-Substanz zeigen, ohne dass eine völlig zerfaserte oder gar Defektruptur vorliegt. Daher sollte die Entscheidung intraoperativ erfolgen. Postoperativ sollte die Sportwiederaufnahme, insbesondere bei Wettkampfsport, unter identischen funktionellen Aspekten wie nach einem VKB-Ersatz erfolgen.
Abstract
Dynamic intraligamentary stabilization (DIS) was introduced as a ligament-preserving technique for the surgical treatment of acute anterior cruciate ligament (ACL) injuries. This technique proposes a dynamic, rather than a rigid stabilization of the ACL using a polyethylene cord and a spring–screw implant. Due to this, a continuous posterior drawer of the tibial head protects the healing process of the ACL at the femoral site. Initial studies of dynamic intraligamentary stabilization showed promising clinical results. However, multivariate regression models showed that a high preinjury sports activity level and a midsubstance ACL rupture predicts an inferior outcome. Therefore, correct patient selection and narrowing the surgical indication (acute, proximally located rupture) are important for the treatment success.
Access options
Buy single article
Instant access to the full article PDF.
US$ 39.95
Tax calculation will be finalised during checkout.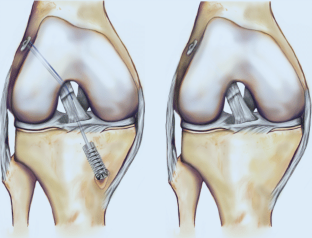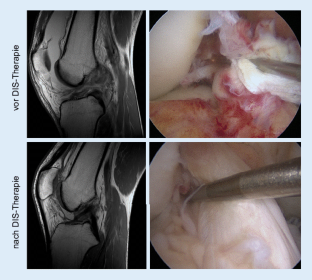 Literatur
1.

Dai B et al (2012) Prevention of ACL injury, part I: injury characteristics, risk factors, and loading mechanism. Res Sports Med 20(3–4):180–197

2.

Beynnon BD et al (2005) Treatment of anterior cruciate ligament injuries, part 2. Am J Sports Med 33(11):1751–1767

3.

Kohl S et al (2014) A novel technique, dynamic intraligamentary stabilization creates optimal conditions for primary ACL healing: a preliminary biomechanical study. Knee 21(2):477–480

4.

Ateschrang A et al (2017) Recovery of ACL function after dynamic intraligamentary stabilization is resultant to restoration of ACL integrity and scar tissue formation. Knee Surg Sports Traumatol Arthrosc. https://doi.org/10.1007/s00167-017-4656-x

5.

Kohl S et al (2013) Anterior crucial ligament rupture: self-healing through dynamic intraligamentary stabilization technique. Knee Surg Sports Traumatol Arthrosc 21(3):599–605

6.

Kohl S et al (2016) Dynamic intraligamentary stabilisation: initial experience with treatment of acute ACL ruptures. Bone Joint J 98(6):793–798

7.

Henle P (2015) Dynamic Intraligamentary Stabilization (DIS) for treatment of acute anterior cruciate ligament ruptures: case series experience of the first three years. BMC Musculoskelet Disord. https://doi.org/10.1186/s12891-015-0484-7

8.

Schliemann B et al (2015) Dynamische intraligamentäre Stabilisierung frischer Rupturen des vorderen Kreuzbandes (Ligamys). Trauma Berufskr 1(7):1–7

9.

Krismer AM et al (2017) Factors influencing the success of anterior cruciate ligament repair with dynamic intraligamentary stabilisation. Knee Surg Sports Traumatol Arthrosc 25(12):3923–3928. https://doi.org/10.1007/s00167-017-4445-6

10.

Sherman MF (1991) The long-term followup of primary anterior cruciate ligament repair. Defining a rationale for augmentation. Am J Sports Med 19(3):234–245

11.

Taylor SA et al (2015) Primary repair of the anterior cruciate ligament: a systematic review. Arthroscopy 31(11):2233–2247

12.

Van Dyck P (2017) Pitfalls in MR imaging of acute anterior cruciate ligament injuries. Knee Surg Sports Traumatol Arthrosc. https://doi.org/10.1007/s00167-017-4701-9

13.

van der List JP, DiFelice GS (2017) Preoperative magnetic resonance imaging predicts eligibility for arthroscopic primary anterior cruciate ligament repair. Knee Surg Sports Traumatol Arthrosc. https://doi.org/10.1007/s00167-017-4646-z

14.

Wiggins AJ et al (2016) Risk of secondary injury in younger athletes after anterior cruciate ligament reconstruction: a systematic review and meta-analysis. Am J Sports Med 44(7):1861–1876. https://doi.org/10.1177/0363546515621554
Ethics declarations
Interessenkonflikt
A. Ateschrang, M.-D. Ahrend, U. Stöckle, S. Schröter und S. Ahmad geben an, dass sie innerhalb der vergangenen 3 Jahre Forschungsunterstützung von Mathys AG Bettlach für die Durchführung einer prospektiven Vergleichsstudie erhalten haben.
Dieser Beitrag beinhaltet keine von den Autoren durchgeführten Studien an Menschen oder Tieren.
About this article
Cite this article
Ateschrang, A., Ahrend, MD., Stöckle, U. et al. Dynamische intraligamentäre Stabilisierung des vorderen Kreuzbands. Arthroskopie 31, 211–214 (2018). https://doi.org/10.1007/s00142-017-0187-1
Schlüsselwörter
Dynamische intraligamentäre Stabilisierung

VKB-Ruptur

VKB-Erhalt

Komplikationen

Kurzzeitergebnisse
Keywords
Dynamic intraligamentary stabilization

ACL rupture

ACL repair

Complications

Short-term outcomes