Abstract
Purpose
To compare the cost and effectiveness of the two most popular forms of eye care in intensive care, ocular lubricant (Lacrilube) and polyacrylamide hydrogel dressings (Geliperm); for the prevention of exposure keratopathy in the critically ill.
Methods
A prospective randomised contralateral eye study was conducted at the Intensive Care Unit (ICU), Royal London Hospital, London, UK. Eighty eyes of 40 patients were recruited. Each patient received both Lacrilube and Geliperm allocated at random to different sides. A daily ophthalmology ward round was conducted. The outcome measures included the greatest palpebral aperture length, conjunctival oedema, and any exposure keratopathy.
Results
There was no statistically significant difference in the maximum corneal exposure score between the eyes treated with Lacrilube and Geliperm (P = 0.38). No significant difference in degree of chemosis or palpebral aperture was identified.
Conclusions
Our data suggest that Geliperm is as effective as Lacrilube in the prevention of exposure keratopathy in the critically ill. We also note that nursing staff must be fully trained in its application for eye care.
Access options
Buy single article
Instant access to the full article PDF.
USD 39.95
Price includes VAT (USA)
Tax calculation will be finalised during checkout.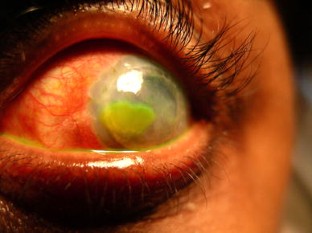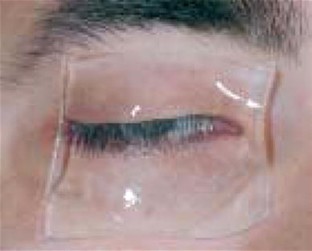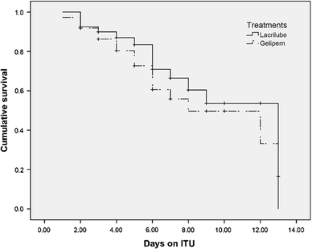 References
1.

Wilson L (1982) Bacterial corneal ulcers. In: Duane T (ed) Clinical ophthalmology. Harper & Row, Hagerstown, pp 5–9

2.

Hutton WL, Sexton RR (1972) Atypical Pseudomonas corneal ulcers in semicomatose patients. Am J Ophthalmol 73:37–39

3.

Laight SE (1996) The efficacy of eye care for ventilated patients: outline of an experimental comparative research pilot study. Intensive Crit Care Nurs 12:16–26

4.

Marshall AP, Elliott R, Rolls K, Schacht S, Boyle M (2008) Eyecare in the critically ill: clinical practice guideline. Aust Crit Care 21:97–109

5.

King D, Healy M (2003) Prevention of eye disease in intensive care—a telephone survey. Int Care Med 29:15(suppl)

6.

Ezra DG, Lewis G, Healy M, Coombes A (2005) Preventing exposure keratopathy in the critically ill: a prospective study comparing eye care regimes. Br J Ophthalmol 89:1068–1069

7.

Lenart SB, Garrity JA (2000) Eye care for patients receiving neuromuscular blocking agents or propofol during mechanical ventilation. Am J Crit Care 9:188–191

8.

Ezra D, Chan MPY, Solebo LA, Malik ANJ, Ahmadi-Lari S, Hersch D, Hanouka A, Al-Hakim H, Crane B, Coombes AC, Healy M (2006) Randomised controlled trial comparing Geliperm and Lacrilube Eye care in the Critically ill. Intensive care medicine Int Care Med 32:227(suppl)

9.

Knaus WA, Draper EA, Wagner DP, Zimmerman JE (1985) APACHE II: a severity of disease classification system. Crit Care Med 13:818–829

10.

McClellan KA (1997) Mucosal defense of the outer eye. Surv Ophthalmol 42:233–246

11.

Kirwan JF, Potamitis T, el-Kasaby H, Hope-Ross MW, Sutton GA (1997) Microbial keratitis in intensive care. BMJ 314:433–434

12.

Mercieca F, Suresh P, Morton A, Tullo A (1999) Ocular surface disease in intensive care unit patients. Eye 13(Pt 2):231–236

13.

Ommeslag D, Colardyn F, De Laey JJ (1987) Eye infections caused by respiratory pathogens in mechanically ventilated patients. Crit Care Med 15:80–81

14.

Dua HS (1998) Bacterial keratitis in the critically ill and comatose patient. Lancet 351:387–388

15.

Johnson KL, Kearney PA, Johnson SB, Niblett JB, MacMillan NL, McClain RE (1994) Closed versus open endotracheal suctioning: costs and physiologic consequences. Crit Care Med 22:658–666

16.

Parkin B, Turner A, Moore E, Cook S (1997) Bacterial keratitis in the critically ill. Br J Ophthalmol 81:1060–1063

17.

Cunningham C, Gould D (1998) Eyecare for the sedated patient undergoing mechanical ventilation: the use of evidence-based care. Int J Nurs Stud 35:32–40

18.

Koroloff N, Boots R, Lipman J, Thomas P, Rickard C, Coyer F (2004) A randomised controlled study of the efficacy of hypromellose and Lacri–Lube combination versus polyethylene/Cling wrap to prevent corneal epithelial breakdown in the semiconscious intensive care patient. Intensive Care Med 30:1122–1126

19.

So HM, Lee CC, Leung AK, Lim JM, Chan CS, Yan WW (2008) Comparing the effectiveness of polyethylene covers (Gladwraptrade mark) with lanolin (Duratears((R))) eye ointment to prevent corneal abrasions in critically ill patients: a randomized controlled study. Int J Nurs Stud

20.

Cortese D, Capp L, McKinley S (1995) Moisture chamber versus lubrication for the prevention of corneal epithelial breakdown. Am J Crit Care 4:425–428

21.

Ezra DG, Healy M, Coombes A (2005) Assessment of corneal epitheliopathy in the critically ill. Intensive Care Med 31:313

22.

Landsberger HA (1958) Hawthorne revisited: management and the worker: its critics, and developments in human relations in industry. New York State School of Industrial and Labor Relations, Cornell University, Ithaca

23.

Kress JP, Pohlman AS, O'Connor MF, Hall JB (2000) Daily interruption of sedative infusions in critically ill patients undergoing mechanical ventilation. N Engl J Med 342:1471–1477
Acknowledgments
Thanks to Andrew Ely and Gail Marshall (Audit department) for their help with data collection.
Conflict of interests statement
None.
About this article
Cite this article
Ezra, D.G., Chan, M.P.Y., Solebo, L. et al. Randomised trial comparing ocular lubricants and polyacrylamide hydrogel dressings in the prevention of exposure keratopathy in the critically ill. Intensive Care Med 35, 455 (2009). https://doi.org/10.1007/s00134-008-1284-4
Received:

Accepted:

Published:
Keywords
Cornea

Exposure

Intensive care

Eye lubricant