Access options
Buy single article
Instant access to the full article PDF.
US$ 39.95
Tax calculation will be finalised during checkout.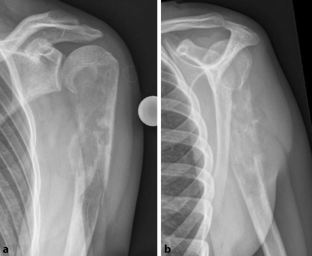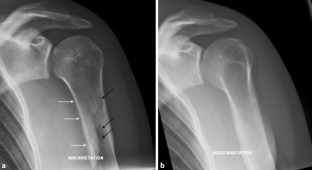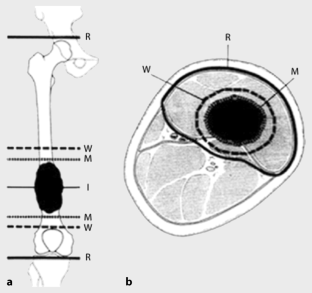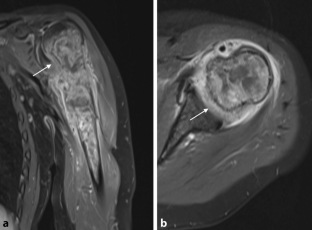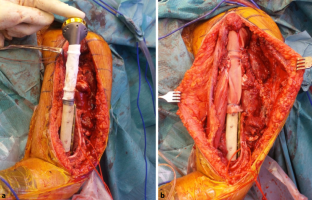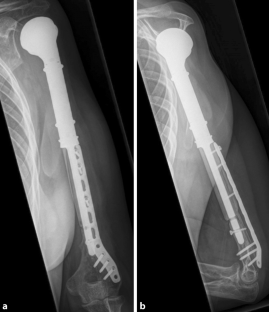 Literatur
1.

Lodwick GS, Wilson AJ, Farrell C, Virtama P, Dittrich F (1980) Determining growth rates of focal lesions of bone from radiographs. Radiology 134(3):577–583. https://doi.org/10.1148/radiology.134.3.6928321

2.

Calvert GT, Randall RL, Jones KB, Cannon-Albright L, Lessnick S, Schiffman JD (2012) At-risk populations for osteosarcoma: the syndromes and beyond. Sarcoma 2012:152382. https://doi.org/10.1155/2012/152382

3.

von Eisenhart-Rothe R, Toepfer A, Salzmann M, Schauwecker J, Gollwitzer H, Rechl H (2011) Primary malignant bone tumors. Orthopade 40(12):1121–1142. https://doi.org/10.1007/s00132-011-1866-7

4.

DRG (2006) Von der AG Muskuloskelettale Diagnostik der Deutschen Röntgengesellschaft empfohlene Protokolle für MRT-Untersuchungen der Gelenke und Wirbelsäule. Fortschr Röntgenstr 178 (1):128–130. https://doi.org/10.1055/s-2005-926171

5.

Rechl H, Kirchhoff C, Wortler K, Lenze U, Toepfer A, von Eisenhart-Rothe R (2011) [Diagnosis of malignant bone and soft tissue tumors]. Orthopade 40 (10):931–941; quiz 942–933. https://doi.org/10.1007/s00132-011-1821-7

6.

Salzer-Kuntschik M, Delling G, Beron G, Sigmund R (1983) Morphological grades of regression in osteosarcoma after polychemotherapy—study COSS 80. J Cancer Res Clin Oncol 106 Suppl:21–24. https://doi.org/10.1007/bf00625047

7.

Enneking WF (1986) A system of staging musculoskeletal neoplasms. Clin Orthop Relat Res 204:9–24

8.

Campanacci M (1999) Bone and Soft Tissue Tumors. Clinical Features, Imaging, Pathology and Treatment. Springer, Vienna

9.

Henderson ER, Groundland JS, Pala E, Dennis JA, Wooten R, Cheong D, Windhager R, Kotz RI, Mercuri M, Funovics PT, Hornicek FJ, Temple HT, Ruggieri P, Letson GD (2011) Failure mode classification for tumor endoprostheses: retrospective review of five institutions and a literature review. J Bone Joint Surg Am 93 (5):418–429. https://doi.org/10.2106/JBJS.J.00834

10.

Toepfer A, Harrasser N, Schwarz P-R, Pohlig F, Lenze U, Muhlhofer HML, Gerdesmeyer L, von Eisenhart-Rothe R, Suren C (2017) Distal femoral replacement with the MML system: a single center experience with an average follow-up of 86 months. BMC Musculoskelet Disord. https://doi.org/10.1186/s12891-017-1570-9

11.

Hasan K, Racano A, Deheshi B, Farrokhyar F, Wunder J, Ferguson P, Holt G, Schwartz H, Petrisor B, Bhandari M, Ghert M (2012) Prophylactic antibiotic regimens in tumor surgery (PARITY) survey. BMC Musculoskelet Disord 13:91. https://doi.org/10.1186/1471-2474-13-91
Ethics declarations
Interessenkonflikt
A. Toepfer, A.K. Calek und R. von Eisenhart-Rothe geben an, dass kein Interessenkonflikt besteht.
Für diesen Beitrag wurden von den Autoren keine Studien an Menschen oder Tieren durchgeführt. Für die aufgeführten Studien gelten die jeweils dort angegebenen ethischen Richtlinien. Für Bildmaterial oder anderweitige Angaben innerhalb des Manuskripts, über die Patienten zu identifizieren sind, liegt von ihnen und/oder ihren gesetzlichen Vertretern eine schriftliche Einwilligung vor.
The supplement containing this article is not sponsored by industry.
Additional information
Redaktion
N. Harrasser, München
About this article
Cite this article
Toepfer, A., Calek, A.K. & von Eisenhart-Rothe, R. 17/w – immobilisierende Schmerzen im Oberarm nach Bagatelltrauma. Orthopäde (2021). https://doi.org/10.1007/s00132-021-04070-3
Schlüsselwörter
Pathologische Fraktur

Ewing-Sarkom

Megaprothese

Neo-/adjuvante Therapie

Osteosarkom

Resektionsstatus