Abstract
This article provides a review of the various options for the treatment of osteoarticular pathology of the shoulder. This can range from focal osteochondral defects to diffuse arthritis and can occur at any age. Although total shoulder arthroplasty and hemiarthroplasty are the most frequently used methods, they not generally suitable for younger patients under 60 years old due to the lack of long-term stability and deterioration. If conservative treatment is unsuccessful or not an option, resurfacing is an alternative procedure with good long-term results. The various methods that have been reported for resurfacing and partial resurfacing of the humeral head are described as well as the results of studies on these procedures. In this article the indications, biomechanics, outcomes and complications are outlined for the two resurfacing options preferred by the authors.
Zusammenfassung
Dieser Beitrag gibt einen Überblick über die verschiedenen Optionen zur Behandlung der osteoartikulären Pathologie der Schulter. Diese kann von fokalen osteochondralen Defekten bis hin zu diffuser Arthrose reichen und in jedem Alter auftreten. Obwohl die Schultertotalendoprothese und die Hemiarthroplastik die am häufigsten verwendeten Methoden sind, eignen sie sich aufgrund der fehlenden Langzeitstabilität und der Verschlechterung im Allgemeinen nicht für jüngere Patienten unter 60 Jahren. Wenn eine konservative Behandlung nicht erfolgreich ist oder keine Option darstellt, ist das Resurfacing ein alternatives Verfahren mit guten Langzeitergebnissen. Es werden sowohl die verschiedenen Methoden für das Resurfacing bzw. das partielle Resurfacing des Humeruskopfes beschrieben als auch die Ergebnisse von Studien zu diesen Verfahren. In diesem Artikel werden Indikationen, Biomechanik, Ergebnisse und Komplikationen der beiden von den Autoren bevorzugten Resurfacing-Varianten beschrieben.
Access options
Buy single article
Instant access to the full article PDF.
US$ 39.95
Tax calculation will be finalised during checkout.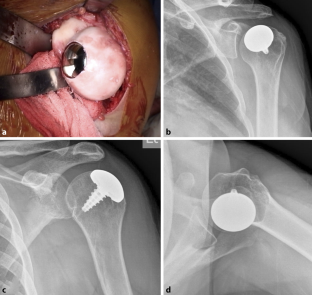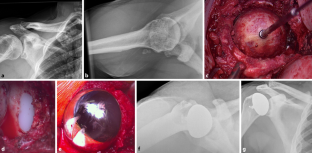 Abbreviations
ASES:

American shoulder and elbow surgeons

AVN:

Avascular necrosis

HA:

Hemiarthroplasty

HHR:

Humeral head resurfacing

HR:

Hazard ratio

HSL:

Hill-Sachs lesion

MCID:

Minimum clinically important difference

PGBG:

Posterior glenoid bone grafting

PSS:

Penn shoulder score

ROM:

Range of motion

SANE:

Single Assessment Numeric Evaluation shoulder patient reported outcome measure

SF-12:

Short Form survey, patient reported mesure to assess impact of health on everyday life

SST:

Simple shoulder test

TSA:

Total shoulder arthroplasty

VSA:

Visual analog scale
References
1.

National Joint Replacement Registry, The Australian Orthopaedic Association (2014ed) Demographics and outcomes of shoulder Arthroplasty: supplementary report 2012

2.

Bessette MC, Frisch NC, Kodali P, Jones MH, Miniaci A (2017) Partial resurfacing for humeral head defects associated with recurrent shoulder instability. Orthopedics 40(6):e996–e1003

3.

Boileau P, Avidor C, Krishnan SG, Walch G, Kempf J‑F, Molé D (2002) Cemented polyethylene versus uncemented metal-backed glenoid components in total shoulder arthroplasty: a prospective, double-blind, randomized study. J Shoulder Elbow Surg 11(4):351–359

4.

Boileau P, O'Shea K, Vargas P, Pinedo M, Old J, Zumstein M (2012) Anatomical and functional results after arthroscopic Hill-Sachs remplissage. J Bone Joint Surg Am 94(7):618–626

5.

Büchler P, Farron A (2004) Benefits of an anatomical reconstruction of the humeral head during shoulder arthroplasty: a finite element analysis. Clin Biomech 19(1):16–23

6.

Burgess DL, McGrath MS, Bonutti PM, Marker DR, Delanois RE, Mont MA (2009) Shoulder resurfacing. J Bone Joint Surg 91(5):1228–1238

7.

Burkhart SS, De Beer JF (2000) Traumatic glenohumeral bone defects and their relationship to failure of arthroscopic Bankart repairs: significance of the inverted-pear glenoid and the humeral engaging Hill-Sachs lesion. Arthroscopy 16(7):677–694

8.

Bushnell BD, Creighton RA, Herring MM (2008) Bony instability of the shoulder. Arthroscopy 24(9):1061–1073

9.

Cil A, Sperling JW, Cofield RH (2014) Nonstandard glenoid components for bone deficiencies in shoulder arthroplasty. J Shoulder Elbow Surg 23(7):e149–e157

10.

Clitherow HD, Frampton CM, Astley TM (2014) Effect of glenoid cementation on total shoulder arthroplasty for degenerative arthritis of the shoulder: a review of the New Zealand National Joint Registry. J Shoulder Elbow Surg 23(6):775–781

11.

Cvetanovich GL, Naylor AJ, O'Brien MC, Waterman BR, Garcia GH, Nicholson GP (2020) Anatomic total shoulder arthroplasty with an inlay glenoid component: clinical outcomes and return to activity. J Shoulder Elbow Surg 29(6):1188–1196. https://doi.org/10.1016/j.jse.2019.10.003

12.

Egger AC, Peterson J, Jones MH, Miniaci A (2019) Total shoulder arthroplasty with nonspherical humeral head and inlay glenoid replacement: clinical results comparing concentric and nonconcentric glenoid stages in primary shoulder arthritis. JSES Open Access 3(3):145–153

13.

Fox TJ, Foruria AM, Klika BJ, Sperling JW, Schleck CD, Cofield RH (2013) Radiographic survival in total shoulder arthroplasty. J Shoulder Elbow Surg 22(9):1221–1227

14.

Franceschi F, Longo UG, Ruzzini L, Rizzello G, Maffulli N, Denaro V (2008) Arthroscopic salvage of failed arthroscopic Bankart repair: a prospective study with a minimum follow-up of 4 years. Am J Sports Med 36(7):1330–1336

15.

Gagliano JR, Helms SM, Colbath GP, Przestrzelski BT, Hawkins RJ, DesJardins JD (2017) A comparison of onlay versus inlay glenoid component loosening in total shoulder arthroplasty. J Shoulder Elbow Surg 26(7):1113–1120

16.

Giles JW, Elkinson I, Ferreira LM et al (2012) Moderate to large engaging Hill-Sachs defects: an in vitro biomechanical comparison of the remplissage procedure, allograft humeral head reconstruction, and partial resurfacing arthroplasty. J Shoulder Elbow Surg 21(9):1142–1151

17.

Gunther SB, Tran SK (2019) Long-term follow-up of total shoulder replacement surgery with inset glenoid implants for arthritis with deficient bone. J Shoulder Elbow Surg 28(9):1728–1736

18.

Hammond G, Tibone JE, McGarry MH, Jun B‑J, Lee TQ (2012) Biomechanical comparison of anatomic humeral head resurfacing and hemiarthroplasty in functional glenohumeral positions. J Bone Joint Surg 94(1):68–76

19.

Harryman DT, Sidles JA, Harris SL, Lippitt SB (1995) The effect of articular conformity and the size of the humeral head component on laxity and motion after glenohumeral arthroplasty. A study in cadavera. J Bone Joint Surg Am 77(4):555–563

20.

Hertel R, Knothe U, Ballmer FT (2002) Geometry of the proximal humerus and implications for prosthetic design. J Shoulder Elbow Surg 11(4):331–338

21.

Hill CL, Gill TK, Shanahan E, Taylor AW (2010) Prevalence and correlates of shoulder pain and stiffness in a population-based study: the North West Adelaide Health Study. Int J Rheum Dis 13(3):215–222

22.

Iannotti JP, Gabriel JP, Schneck S, Evans B, Misra S (1992) The normal glenohumeral relationships. An anatomical study of one hundred and forty shoulders. J Bone Joint Surg Am 74(4):491–500

23.

Issa K, Pierce CM, Pierce TP et al (2016) Total shoulder arthroplasty demographics, incidence, and complications—a nationwide inpatient sample database study. Surg Technol Int 29:240–246

24.

Jobe CM, Lannotti JP (1995) Limits imposed on glenohumeral motion by joint geometry. J Shoulder Elbow Surg 4(4):281–285

25.

Jun BJ, Iannotti JP, McGarry MH, Yoo JC, Quigley RJ, Lee TQ (2013) The effects of prosthetic humeral head shape on glenohumeral joint kinematics: a comparison of non-spherical and spherical prosthetic heads to the native humeral head. J Shoulder Elbow Surg 22(10):1423–1432

26.

Klika BJ, Wooten CW, Sperling JW et al (2014) Structural bone grafting for glenoid deficiency in primary total shoulder arthroplasty. J Shoulder Elbow Surg 23(7):1066–1072

27.

Levine WN, Fischer CR, Nguyen D, Flatow EL, Ahmad CS, Bigliani LU (2012) Long-term follow-up of shoulder hemiarthroplasty for glenohumeral osteoarthritis. J Bone Joint Surg 94(22):e164

28.

Mansat P, Briot J, Mansat M, Swider P (2007) Evaluation of the glenoid implant survival using a biomechanical finite element analysis: influence of the implant design, bone properties, and loading location. J Shoulder Elbow Surg 16(3):S79–S83

29.

Merolla G, Paladini P, Di Napoli G, Campi F, Porcellini G (2015) Outcomes of arthroscopic Hill-Sachs remplissage and anterior Bankart repair: a retrospective controlled study including ultrasound evaluation of posterior capsulotenodesis and infraspinatus strength assessment. Am J Sports Med 43(2):407–414

30.

Miniaci A, Gish MW (2004) Management of anterior glenohumeral instability associated with large Hill-Sachs defects. Tech Shoulder Elbow Surg 5(3):170–175

31.

Moroder P, Runer A, Kraemer M et al (2015) Influence of defect size and localization on the engagement of reverse Hill-Sachs lesions. Am J Sports Med 43(3):542–548

32.

Norris TR, Iannotti JP (2002) Functional outcome after shoulder arthroplasty for primary osteoarthritis: a multicenter study. J Shoulder Elbow Surg 11(2):130–135

33.

Park MJ, Tjoumakaris FP, Garcia G, Patel A, Kelly IVJD (2011) Arthroscopic remplissage with Bankart repair for the treatment of glenohumeral instability with Hill-Sachs defects. Arthroscopy 27(9):1187–1194

34.

Pearl ML (2005) Proximal humeral anatomy in shoulder arthroplasty: implications for prosthetic design and surgical technique. J Shoulder Elbow Surg 14(1):S99–S104

35.

Pearl ML, Volk AG (1996) Coronal plane geometry of the proximal humerus relevant to prosthetic arthroplasty. J Shoulder Elbow Surg 5(4):320–326

36.

Phillips J, Runciman R, Miniaci A (2004) Mathematical modeling of humeral head geometry. Paper presented at: surgery of the shoulder and elbow: an international perspective. Selected proceedings of the 9th International Congress on Surgery of the Shoulder,.

37.

Ross M, Glasson J‑M, Alexander J et al (2020) Medium to long-term results of a recessed glenoid for glenoid resurfacing in total shoulder arthroplasty. Shoulder Elbow 12(1 Suppl):31–39. https://doi.org/10.1177/1758573219826341

38.

Scalise JJ, Miniaci A, Iannotti JP (2007) Resurfacing arthroplasty of the humerus: indications, surgical technique, and clinical results. Tech Shoulder Elbow Surg 8(3):152–160

39.

Schoch B, Schleck C, Cofield RH, Sperling JW (2015) Shoulder arthroplasty in patients younger than 50 years: minimum 20-year follow-up. J Shoulder Elbow Surg 24(5):705–710

40.

Sekiya JK, Wickwire AC, Stehle JH, Debski RE (2009) Hill-Sachs defects and repair using osteoarticular allograft transplantation: biomechanical analysis using a joint compression model. Am J Sports Med 37(12):2459–2466

41.

Sperling JW, Cofield RH, Rowland CM (2004) Minimum fifteen-year follow-up of Neer hemiarthroplasty and total shoulder arthroplasty in patients aged fifty years or younger. J Shoulder Elbow Surg 13(6):604–613

42.

Steffee A, Moore R (1984) Hemi-resurfacing arthroplasty of the shoulder. Contemp Orthop 9(1):51–59

43.

Sweet SJ, Takara T, Ho L, Tibone JE (2015) Primary partial humeral head resurfacing: outcomes with the HemiCAP implant. Am J Sports Med 43(3):579–587

44.

Uribe JW, Botto-van Bemden A (2009) Partial humeral head resurfacing for osteonecrosis. J Shoulder Elbow Surg 18(5):711–716

45.

Walch G, Moraga C, Young A, Castellanos-Rosas J (2012) Results of anatomic nonconstrained prosthesis in primary osteoarthritis with biconcave glenoid. J Shoulder Elbow Surg 21(11):1526–1533

46.

Yamamoto N, Itoi E, Abe H et al (2007) Contact between the glenoid and the humeral head in abduction, external rotation, and horizontal extension: a new concept of glenoid track. J Shoulder Elbow Surg 16(5):649–656
Ethics declarations
Conflict of interest
A. Miniaci received consulting fees and royalties from Arthrosurface related to intellectual property related to the subject of this work. M. J. Scarcella declare that he (or she) has no competing interests. Neither of the authors, their immediate families nor any research foundation with which they are affiliated have received any financial payments or other benefits from any commercial entity related to the subject of this article.
Ethical standards
For this article no studies with human participants or animals were performed by any of the authors. There were clinical studies referenced that were performed in accordance with the ethical standards indicated in each case.
About this article
Cite this article
Miniaci, A., Scarcella, M.J. Shoulder resurfacing for treatment of focal defects and diffuse osteoarthritis. Orthopäde 50, 112–118 (2021). https://doi.org/10.1007/s00132-020-04055-8
Keywords
Total shoulder arthroplasty

Hemiarthroplasty

Humeral head

Nonspherical anatomic humeral head

Resurfacing
Schlüsselwörter
Schultertotalendoprothese

Hemiarthroplastik

Humeruskopf

Nicht sphärischer anatomischer Humeruskopf

Resurfacing