Zusammenfassung
Einleitung
Das mechanische Alignment (MA) ist ein standardisiertes Vorgehen mit dem Ziel einer neutral ausgerichteten Beinachse. Eine sich näher an die Patientenanatomie orientierende Ausrichtung der Prothese kann ein Ansatz für bessere klinische Outcomes sein. Die hier vorgestellte Operationstechnik des adjustierten mechanischen Alignments (aMA) ist eine modifizierte Extension-Gap-First-Technik, die die natürliche ligamentäre Spannung des Kniegelenks berücksichtigt, sodass ligamentäre Releases weitestgehend vermieden werden können.
Indikation
Das aMA kann bei primären und sekundären Varusgonarthrosen von bis zu 20° angewendet werden.
Operationstechnik
Ziel der Operation ist eine ausgeglichene Bandspannung, die nicht über Bandreleases, sondern über eine femorale knöcherne Korrektur erreicht wird. TEA und Sulkuslinie werden zur Kontrolle der ligamentbasierten Femurrotation markiert. Für eine reliable Bandspannung werden die Osteophyten entfernt. Ein quantitativer Bandspanner wird unter größter Sorgfalt aufgespannt, Spaltweite sowie mediale und laterale Bandspannung werden abgelesen. Um eine Streckspaltasymmetrie zu korrigieren, wird, statt des typisch durchgeführten medialen Weichteilreleases, die Asymmetrie durch einen speziellen femoralen Schnittblock knöchern ausgeglichen. Nun wird der Beugespalt beurteilt, wobei die transversale femorale Rotation der Weichteilspannung folgt. Der Spanner stellt einen rechteckigen Beugespalt bei ausgeglichener Bandspannung ein. Nach finaler Ausbalancierung des Spalts wird die Femurpräparation vollendet und die Probekomponenten werden eingesetzt. Hierbei wird die Rotation der Tibiakomponente durch Einlaufen festgelegt.
Diskussion und Schlussfolgerung
Die vorgestellte Technik kombiniert eine Measured-Resection-Technik mit der individuellen Bandspannung. Dabei beträgt die maximale Abweichung der femoralen Ausrichtung in der Koronarebene von der Neutralausrichtung 2,5°. Um Probleme zu vermeiden, empfiehlt es sich, eine sich an der Patientenanatomie orientierende Komponentenausrichtung über eine Anpassung der Femurkomponente zu erzielen. Die Measured-Resection-Technik birgt die Gefahr der Flexionsinstabilität. Durch die Gap-Balancing-Technik kann, präzise proximale Tibiaschnitte vorausgesetzt, eine symmetrische Bandspannung erreicht werden. Beim Ausrichten der Femurkomponentenrotation sollte auf Beugespaltstabilität und Patellatracking geachtet werden. Langzeitstudien hoher Fallzahl sind nötig, um die guten kurzfristigen Ergebnisse der vorgestellten Operationstechnik zu evaluieren.
Abstract
Introduction
Mechanical alignment (MA) is a standardized procedure that aims to achieve a neutrally aligned leg axis. An alignment of the prosthesis closer to the patient's anatomy can be an approach for better clinical outcomes. The surgical technique of adjusted mechanical alignment (aMA) presented here is a modified extension-gap-first technique that takes into account the natural ligamentous tension of the knee joint so that ligamentous releases can be avoided as far as possible.
Indication
The aMA technique can be used for primary and secondary varus gonarthrosis of up to 20° of varus.
Surgical technique
The aim of the operation is to achieve a balanced ligament tension through a femoral osseous correction rather than ligament releases. TEA and the sulcus line are marked to control the ligament-based femoral rotation. The osteophytes are removed to ensure a reliable ligament tension. A quantitative ligament tensioner is stretched with great care, and gap width as well as medial and lateral ligament tension are read off. In order to correct an extension gap asymmetry, instead of the typical medial soft tissue release, the asymmetry is compensated by a special femoral cutting block. Now, the flexion gap is assessed, whereby the transverse femoral rotation follows the soft tissue tension. The tensioner adjusts a rectangular flexion gap with balanced ligament tension. After a final balancing of the gaps, the femoral preparation is completed and the trial components are inserted. Here, the rotation of the tibial component is set by repeated flexion-extension cycles.
Discussion and conclusion
The technique presented combines a measured-resection technique with individual ligament tension. The maximum deviation of the femoral alignment in the coronal plane from the neutral alignment is 2.5°. In order to avoid problems, it is recommended, as with the described technique, to achieve a component alignment based on the patient anatomy by adjusting the femoral component. The measured-resection technique carries the risk of flexion instability. With the gap-balancing technique symmetrical ligament tension can be achieved, assuming precise proximal tibial cuts. When aligning the femoral component rotation, flexion gap stability and patella tracking should be considered. Long-term studies of high case numbers are necessary to evaluate the good short-term results of the presented surgical technique.
This is a preview of subscription content, log in to check access.
Access options
Buy single article
Instant access to the full article PDF.
US$ 39.95
Price includes VAT for USA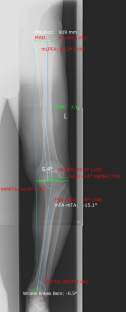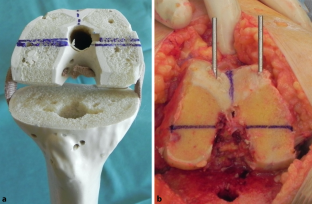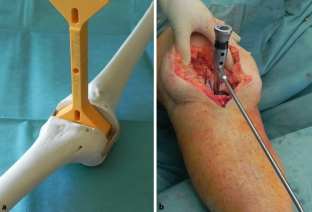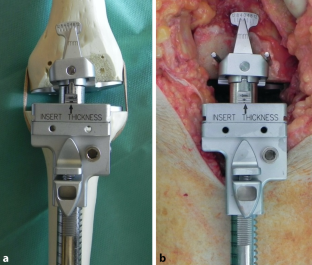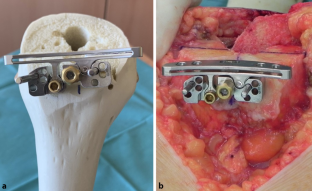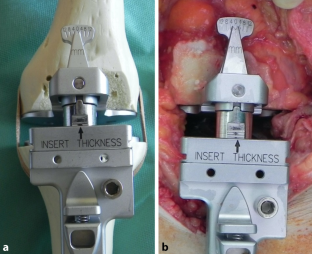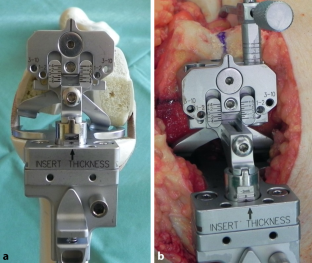 Abbreviations
AA:

Anatomisches Alignment

aMA :

Adjustiertes mechanisches Alignment

AMA :

Winkel zwischen anatomischer und mechanischer Achse

EPRD :

Endoprothesenregister Deutschland

FSA-mTA :

Winkel zwischen der anatomischen Femurachse und der mechanischen Tibiaachse

HKA :

Hip-Knee-Ankle-Angle

JLCA :

Gelenklinienkonvergenzwinkel

MA :

Mechanisches Alignment

MAD :

Mechanische Achsabweichung

mFA-mTA :

Winkel zwischen der mechanischen Femurachse und der mechanischen Tibiaachse

mLDFA :

Mechanischer lateraler distaler Femurwinkel

mLDTA :

Mechanischer lateraler distaler Tibiawinkel

mLPFA :

Mechanischer lateraler proximaler Femurwinkel

mMPTA :

Mechanischer medialer proximaler Tibiawinkel

TEA :

Transepikondyläre Achse
Literatur
1.

Dyrhovden GS, Lygre SHL, Badawy M, Gothesen O, Furnes O (2017) Have the causes of revision for total and unicompartmental knee arthroplasties changed during the past two decades? Clin Orthop Relat Res 475(7):1874–1886

2.

Thomsen MG, Latifi R, Kallemose T, Husted H, Troelsen A (2016) Does knee awareness differ between different knee arthroplasty prostheses? A matched, case-control, cross-sectional study. BMC Musculoskelet Disord 17:141

3.

Nashi N, Hong CC, Krishna L (2015) Residual knee pain and functional outcome following total knee arthroplasty in osteoarthritic patients. Knee Surg Sports Traumatol Arthrosc 23(6):1841–1847

4.

Parvizi J, Nunley RM, Berend KR, Lombardi AV Jr, Ruh EL, Clohisy JC, Hamilton WG, Della Valle CJ, Barrack RL (2014) High level of residual symptoms in young patients after total knee arthroplasty. Clin Orthop Relat Res 472(1):133–137

5.

Bourne RB, Chesworth BM, Davis AM, Mahomed NN, Charron KD (2010) Patient satisfaction after total knee arthroplasty: Who is satisfied and who is not? Clin Orthop Relat Res 468(1):57–63

6.

Thienpont E, Cornu O, Bellemans J, Victor J (2015) Current opinions about coronal plane alignment in total knee arthroplasty: a survey article. Acta Orthop Belg 81(3):471–477

7.

Riviere C, Iranpour F, Auvinet E, Howell S, Vendittoli PA, Cobb J, Parratte S (2017) Alignment options for total knee arthroplasty: a systematic review. Orthop Traumatol Surg Res 103(7):1047–1056

8.

Matziolis G, Pfiel S, Wassilew G, Boenicke H, Perka C (2011) Kinematic analysis of the flexion axis for correct femoral component placement. Knee Surg Sports Traumatol Arthrosc 19(9):1504–1509

9.

Bellemans J, Colyn W, Vandenneucker H, Victor J (2012) The Chitranjan Ranawat Award: Is neutral mechanical alignment normal for all patients? The concept of constitutional varus. Clin Orthop Relat Res 470(1):45–53

10.

Hommel H, Perka C, Pfitzner T (2016) Preliminary results of a new surgical technique in total knee arthroplasty (TKA) using the native ligament tension for femoral implant positioning in varus osteoarthritis. Arch Orthop Trauma Surg 136(7):991–997

11.

Mugnai R, Digennaro V, Ensini A, Leardini A, Catani F (2014) Can TKA design affect the clinical outcome? Comparison between two guided-motion systems. Knee Surg Sports Traumatol Arthrosc 22(3):581–589

12.

Peters CL, Jimenez C, Erickson J, Anderson MB, Pelt CE (2013) Lessons learned from selective soft-tissue release for gap balancing in primary total knee arthroplasty: an analysis of 1216 consecutive total knee arthroplasties: AAOS exhibit selection. J Bone Joint Surg Am 95(20):e152

13.

Hunt NC, Ghosh KM, Athwal KK, Longstaff LM, Amis AA, Deehan DJ (2014) Lack of evidence to support present medial release methods in total knee arthroplasty. Knee Surg Sports Traumatol Arthrosc 22(12):3100–3112

14.

Roth JD, Howell SM, Hull ML (2018) Kinematically aligned total knee arthroplasty limits high tibial forces, differences in tibial forces between compartments, and abnormal tibial contact kinematics during passive flexion. Knee Surg Sports Traumatol Arthrosc 26(6):1589–1601

15.

Baldini A, Scuderi GR, Aglietti P, Chalnick D, Insall JN (2004) Flexion-extension gap changes during total knee arthroplasty: effect of posterior cruciate ligament and posterior osteophytes removal. J Knee Surg 17(2):69–72

16.

Whiteside LA (2002) Soft tissue balancing: the knee. J Arthroplasty 17(4 Suppl 1):23–27

17.

Suzuki T, Ryu K, Kojima K, Iriuchishima T, Saito S, Nagaoka M, Tokuhashi Y (2015) Evaluation of spacer block technique using tensor device in unicompartmental knee arthroplasty. Arch Orthop Trauma Surg 135(7):1011–1016

18.

Meloni MC, Hoedemaeker RW, Violante B, Mazzola C (2014) Soft tissue balancing in total knee arthroplasty. Joints 2(1):37–40

19.

Yercan HS, Ait Si Selmi T, Sugun TS, Neyret P (2005) Tibiofemoral instability in primary total knee replacement: a review. Part 1: basic principles and classification. Knee 12(4):257–266

20.

Yercan HS, Ait Si Selmi T, Sugun TS, Neyret P (2005) Tibiofemoral instability in primary total knee replacement: A review. Part 2: diagnosis, patient evaluation, and treatment. Knee 12(5):336–340

21.

Saffarini M, Nover L, Tandogan R, Becker R, Moser LB, Hirschmann MT, Indelli PF (2019) The original Akagi line is the most reliable: a systematic review of landmarks for rotational alignment of the tibial component in TKA. Knee Surg Sports Traumatol Arthrosc 27(4):1018–1027

22.

Bellemans J (2011) Neutral mechanical alignment: a requirement for successful TKA: opposes. Orthopedics 34(9):e507–e509

23.

Howell SM, Howell SJ, Kuznik KT, Cohen J, Hull ML (2013) Does a kinematically aligned total knee arthroplasty restore function without failure regardless of alignment category? Clin Orthop Relat Res 471(3):1000–1007

24.

Innocenti B, Bellemans J, Catani F (2016) Deviations from optimal alignment in TKA: Is there a biomechanical difference between femoral or tibial component alignment? J Arthroplasty 31(1):295–301

25.

Klatt BA, Goyal N, Austin MS, Hozack WJ (2008) Custom-fit total knee arthroplasty (OtisKnee) results in malalignment. J Arthroplasty 23(1):26–29

26.

Ritter MA, Davis KE, Meding JB, Pierson JL, Berend ME, Malinzak RA (2011) The effect of alignment and BMI on failure of total knee replacement. J Bone Joint Surg Am 93(17):1588–1596

27.

Ritter MA, Faris PM, Keating EM, Meding JB (1994) Postoperative alignment of total knee replacement. Its effect on survival. Clin Orthop Relat Res 299:153–156

28.

Hommel H, Perka C (2015) Gap-balancing technique combined with patient-specific instrumentation in TKA. Arch Orthop Trauma Surg 135(11):1603–1608

29.

Springer BD, Parratte S, Abdel MP (2014) Measured resection versus gap balancing for total knee arthroplasty. Clin Orthop Relat Res 472(7):2016–2022

30.

Hofmann S, Romero J, Roth-Schiffl E, Albrecht T (2003) Rotational malalignment of the components may cause chronic pain or early failure in total knee arthroplasty. Orthopade 32(6):469–476

31.

Matziolis G, Boenicke H, Pfiel S, Wassilew G, Perka C (2011) The gap technique does not rotate the femur parallel to the epicondylar axis. Arch Orthop Trauma Surg 131(2):163–166

32.

Pietsch M, Hofmann S (2012) Early revision for isolated internal malrotation of the femoral component in total knee arthroplasty. Knee Surg Sports Traumatol Arthrosc 20(6):1057–1063

33.

Schnurr C, Nessler J, König DP (2009) Is referencing the posterior condyles sufficient to achieve a rectangular flexion gap in total knee arthroplasty? Int Orthop 33(6):1561–1565
Ethics declarations
Interessenkonflikt
H. Hommel, S. Tsamassiotis, R. Falk und P. Fennema geben an, dass kein Interessenkonflikt besteht.
Für diesen Beitrag wurden von den Autoren keine Studien an Menschen oder Tieren durchgeführt. Für die aufgeführten Studien gelten die jeweils dort angegebenen ethischen Richtlinien.
Additional information
Die Autoren H. Hommel und S. Tsamassiotis haben zu gleichen Teilen zum Manuskript beigetragen.
About this article
Cite this article
Hommel, H., Tsamassiotis, S., Falk, R. et al. Adjustiertes mechanisches Alignment: Operative Technik – Tipps und Tricks. Orthopäde 49, 562–569 (2020). https://doi.org/10.1007/s00132-020-03929-1
Schlüsselwörter
Kniegelenk

Knietotalendoprothese

Ligament Balancing

Alignment

Operationstechnik
Keywords
Knee joint

Knee arthroplasty, total

Ligament balancing

Alignment

Surgical technique