Abstract
Background
Pyogenic spondylodiscitis (PS) is a debilitating condition laden with orthopedic and neurological complications. The choice of the best step in management is often delayed due to the controversy encompassing its multiple facets. Several classification systems were proposed in the literature to define optimal management; however, consensus was not achieved.
Objective
The aim of this study was to review the literature and critically appraise the classification systems of PS and the rationale behind the classification criteria.
Methods
A literature search was conducted in PubMed. Titles and abstracts of articles were searched using different synonyms of spondylodiscitis and its classification. No restrictions regarding language of publication or date of publication were applied.
Results
A total of 43 papers with 5 encompassing 3 main classifications were found in the literature. These classifications were overlapping but different. They encompassed neurologic deficits, abscess formation and segmental instability, laboratory parameters and morphological changes in magnetic resonance imaging (MRI) as the most important factors used to classify PS, assess the severity and guide treatment.
Conclusion
The current classification schemes overlap and encompass the most clinically relevant factors; however, some could be too complex for interdisciplinary clinical practice and do not adequately address unique entities, such as PS of the cervical spine, anterolisthesis and retrolisthesis. Most importantly, some criteria must be utilized in concert with recently published guidelines and should be re-assessed for validity and reliability. A uniform orthopedic parlance is required to optimize the management of this debilitating and life-threatening condition.
Zusammenfassung
Hintergrund
Die pyogene Spondylodiszitis (PS) ist eine lebensbedrohliche Erkrankung mit zahlreichen orthopädischen und neurologischen Komplikationen. Die Wahl des besten Therapieschrittes wird aufgrund der facettenreichen Darstellung des Krankheitsbilds häufig verzögert. In der Literatur wurden mehrere Klassifikationssysteme zur Entscheidungsfindung vorgeschlagen, um ein optimales Therapie-Management zu definieren. Ein Konsens wurde jedoch nicht erreicht.
Fragestellung
Das Ziel dieser Studie ist es, die Literatur bezüglich der vorhandenen Klassifikationen der PS zu überprüfen und die Klassifizierungsparameter kritisch zu bewerten.
Methoden
Eine Literaturrecherche wurde mit PubMed durchgeführt. Titel und Abstracts von Artikeln wurden mit verschiedenen Synonymen der Spondylodiszitis und ihrer Klassifikation durchsucht. Sowohl die Veröffentlichungssprache als auch das Veröffentlichungsdatum stellten kein Ausschlusskriterium dar.
Ergebnisse
Iinsgesamt wurden 43 Artikel gefunden, von denen 5 Arbeiten 3 verschiedene Klassifikationen aufwiesen. Diese Klassifikationen überschneiden sich, auch wenn sie sich zum Teil unterscheiden. Sie umfassen die wichtigsten Parameter wie das neurologische Defizit, die Abszessbildung und die segmentale Instabilität sowie Laborparameter und morphologische Veränderungen in der Magnetresonanztomographie (MRT) zur Klassifizierung der PS, zur Einschätzung des Schweregrades und zur therapeutischen Entscheidungsfindung.
Schlussfolgerungen
Die aktuell publizierten Klassifikationen zeigen bezüglich des Aufbaus Überlappungen und umfassen die klinisch relevantesten Parameter. Einige dieser Klassifikationen könnten jedoch für die interdisziplinäre klinische Praxis zu komplex und im klinischen Alltag schwere zu handhaben sein. Auch werden einzelne Entitäten wie z. B. die PS der Halswirbelsäule, die Antero- und die Retrolisthese nicht adressiert. Am wichtigsten ist, dass einige der enthaltenen Kriterien in Übereinstimmung mit den kürzlich veröffentlichten Leitlinien verwendet werden müssen und auf ihre Validität und Reliabilität überprüft werden sollten. Eine einheitliche orthopädische Klassifikation ist erforderlich, um das Management dieser lebensbedrohlichen Erkrankung zu optimieren.
Access options
Buy single article
Instant access to the full article PDF.
US$ 39.95
Tax calculation will be finalised during checkout.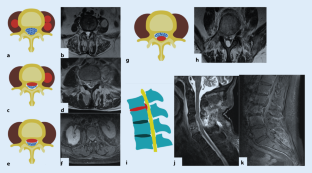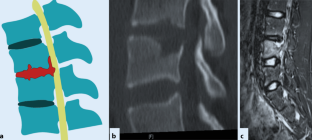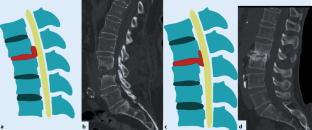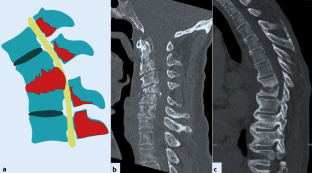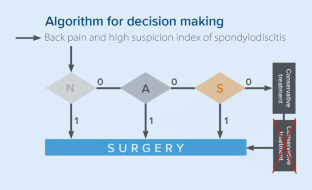 Abbreviations
ASIA:

American Spinal Injury Association

CRP:

C‑reactive protein

CT:

Computed tomography

ESR:

Erythrocyte sedimentation rate

HRQoL:

Health-related quality of life

IDSA:

Infectious Disease Society of America

MRI:

Magnetic resonance imaging

PS:

Pyogenic spondylodiscitis

ROM:

Range of motion

SEA:

Spinal epidural abscess
References
1.

Zimmerli W (2010) Vertebral osteomyelitis. N Engl J Med 362(11):1022–1029

2.

Pola E et al (2018) Multidisciplinary management of pyogenic spondylodiscitis: epidemiological and clinical features, prognostic factors and long-term outcomes in 207 patients. Eur Spine J 27(2):229–236

3.

Lu M‑L et al (2015) Transforaminal lumbar interbody debridement and fusion for the treatment of infective spondylodiscitis in the lumbar spine. Eur Spine J 24(3):555–560

4.

Berbari EF et al (2015) 2015 Infectious Diseases Society of America (IDSA) clinical practice guidelines for the diagnosis and treatment of native vertebral osteomyelitis in adults. Clin Infect Dis 61(6):e26–e46

5.

Segreto FA et al (2018) Vertebral osteomyelitis: a comparison of associated outcomes in early versus delayed surgical treatment. Int J Spine Surg 12(6):703–712

6.

Taylor DG et al (2018) Presentation and outcomes after medical and surgical treatment versus medical treatment alone of spontaneous infectious spondylodiscitis: a systematic literature review and meta-analysis. Global Spine J 8(4_suppl):49S–58S

7.

Stoeckle M et al (2008) The role of diabetes mellitus in patients with bloodstream infections. Swiss Med Wkly 138(35):512

8.

Sobottke R et al (2009) Treatment of spondylodiscitis in human immunodeficiency virus-infected patients: a comparison of conservative and operative therapy. Spine 34(13):E452–E458

9.

Grammatico L et al (2008) Epidemiology of vertebral osteomyelitis (VO) in France: analysis of hospital-discharge data 2002–2003. Epidemiol Infect 136(5):653–660

10.

Mylona E et al (2009) Pyogenic vertebral osteomyelitis: a systematic review of clinical characteristics. Semin Arthritis Rheum 39(1):10–17

11.

Pola E et al (2017) New classification for the treatment of pyogenic spondylodiscitis: validation study on a population of 250 patients with a follow-up of 2 years. Eur Spine J 26(4):479–488

12.

McHenry MC, Easley KA, Locker GA (2002) Vertebral osteomyelitis: long-term outcome for 253 patients from 7 Cleveland-area hospitals. Clin Infect Dis 34(10):1342–1350

13.

Bucher E et al (2000) Spondylodiscitis associated with bacteraemia due to coagulase-negative staphylococci. Eur J Clin Microbiol Infect Dis 19(2):118–120

14.

Bernard L et al (2015) Antibiotic treatment for 6 weeks versus 12 weeks in patients with pyogenic vertebral osteomyelitis: an open-label, non-inferiority, randomised, controlled trial. Lancet 385(9971):875–882

15.

Gouliouris T, Aliyu SH, Brown NM (2010) Spondylodiscitis: update on diagnosis and management. J Antimicrob Chemother 65(suppl_3):iii11–iii24

16.

Sendi P, Bregenzer T, Zimmerli W (2008) Spinal epidural abscess in clinical practice. QJM 101(1):1–12

17.

Wirtz DC et al (2000) Diagnostic and therapeutic management of lumbar and thoracic spondylodiscitis—an evaluation of 59 cases. Arch Orthop Trauma Surg 120(5-6):245–251

18.

Eismont FJ et al (1983) Pyogenic and fungal vertebral osteomyelitis with paralysis. J Bone Joint Surg Am 65(1):19–29

19.

Bateman JL, Pevzner MM (1995) Spinal Osteomyelitis: a review of 10 years'experience. Orthopedics 18(6):561–565

20.

Jensen AG et al (1998) Bacteremic staphylococcus aureus spondylitis. Arch Intern Med 158(5):509–517

21.

Akbar M et al (2011) Pyogenic spondylodiscitis of the thoracic and lumbar spine: a new classification and guide for surgical decision-making. Orthopäde 40(7):614–623

22.

Homagk L et al (2016) Spondylodiscitis severity code: scoring system for the classification and treatment of non-specific spondylodiscitis. Eur Spine J 25(4):1012–1020

23.

Akbar M et al (2012) Pyogene Spondylodiszitis: Therapiealgorithmus und neue Klassifikation zur therapeutischen Entscheidungsfindung (Leitthema). Orthopäde 41(9):749–758

24.

Homagk L et al (2019) SponDT (spondylodiscitis diagnosis and treatment): spondylodiscitis scoring system. J Orthop Surg Res 14(1):100

25.

Chapman JR, Dettori JR, Norvell DC (2009) Spine classifications and severity measures. Thieme, Stuttgart

26.

Mirza SK et al (2002) Classifications of thoracic and lumbar fractures: rationale and supporting data. J Am Acad Orthop Surg 10(5):364–377

27.

Field MJ, Lohr KN (1990) Clinical practice guidelines: directions for a new program. National Academies Press, Washington

28.

Audigé L, Bhandari M, Kellam J (2004) How reliable are reliability studies of fracture classifications? A systematic review of their methodologies. Acta Orthop Scand 75(2):184–194

29.

Herren C et al (2017) Spondylodiscitis: diagnosis and treatment options: a systematic review. Dtsch Ärztebl Int 114(875):51–52

30.

Stricsek G et al (2018) Etiology and surgical management of cervical spinal epidural abscess (SEA): a systematic review. Global Spine J 8(4_suppl):59S–67S

31.

Rigamonti D et al (1999) Spinal epidural abscess: contemporary trends in etiology, evaluation, and management. Surg Neurol 52(2):189–197

32.

Howie BA et al (2018) Thoracic epidural abscesses: a systematic review. Global Spine J 8(4_suppl):68S–84S

33.

de Leeuw CN et al (2018) Lumbar epidural abscesses: a systematic review. Global Spine J 8(4_suppl):85S–95S

34.

Hadjipavlou AG et al (2000) Hematogenous pyogenic spinal infections and their surgical management. Spine 25(13):1668–1679

35.

Ghobrial GM et al (2015) Surgical management in 40 consecutive patients with cervical spinal epidural abscesses. Spine 40(17):E949–E953

36.

Alton TB et al (2015) Is there a difference in neurologic outcome in medical versus early operative management of cervical epidural abscesses? Spine J 15(1):10–17

37.

Tuchman A, Pham M, Hsieh PC (2014) The indications and timing for operative management of spinal epidural abscess: literature review and treatment algorithm. Neurosurg Focus 37(2):E8

38.

Khanna RK et al (1996) Spinal epidural abscess: evaluation of factors influencing outcome. Neurosurgery 39(5):958–964

39.

Szpalski M (1996) The mysteries of segmental instability. Bull NYU Hosp Jt Dis 55(3):147

40.

Izzo R et al (2013) Biomechanics of the spine. Part I: spinal stability. Eur J Radiol 82(1):118–126

41.

Izzo R et al (2013) Biomechanics of the spine. Part II: spinal instability. Eur J Radiol 82(1):127–138

42.

White A, Panjabi MM (1990) Clinical biomechanics of the spine, 2nd edn. Lippincott Williams & Wilkins, Philadelphia

43.

Gopinath P (2015) Lumbar segmental instability: points to ponder. J Orthop 12(4):165

44.

Panjabi MM (1992) The stabilizing system of the spine. Part II. Neutral zone and instability hypothesis. J Spinal Disord 5:390–390

45.

Kirkaldy-Willis W (1985) Presidential symposium on instability of the lumbar spine: introduction. Spine 10(3):254

46.

Vaccaro AR, Ball ST (2000) Indications for instrumentation in degenerative lumbar spinal disorders. Orthopedics 23(3):260–271

47.

Johnson R, Panjabi M, Southwick W (1975) Biomechanical analysis of clinical stability in the cervical spine. Clin Orthop Relat Res 109:85–96

48.

Panjabi MM, Hausfeld JN, White AA (1981) A biomechanical study of the ligamentous stability of the thoracic spine in man. Acta Orthop Scand 52(3):315–326

49.

Kowalski TJ et al (2006) Do follow-up imaging examinations provide useful prognostic information in patients with spine infection? Clin Infect Dis 43(2):172–179

50.

Khan MH et al (2006) Serum C‑reactive protein levels correlate with clinical response in patients treated with antibiotics for wound infections after spinal surgery. Spine J 6(3):311–315

51.

Chelsom J, Solberg CO (1998) Vertebral osteomyelitis at a Norwegian university hospital 1987–97: clinical features, laboratory findings and outcome. Scand J Infect Dis 30(2):147–151

52.

Carragee EJ (1997) Pyogenic vertebral osteomyelitis. J Bone Joint Surg Am 79(6):874–880

53.

Carragee EJ et al (1997) The clinical use of erythrocyte sedimentation rate in pyogenic vertebral osteomyelitis. Spine 22(18):2089–2093

54.

del Pozo JSG, Soto MV, Solera J (2007) Vertebral osteomyelitis: long-term disability assessment and prognostic factors. J Infect 54(2):129–134

55.

O'Daly BJ, Morris SF, O'Rourke SK (2008) Long-term functional outcome in pyogenic spinal infection. Spine 33(8):E246–E253

56.

Euba G et al (2008) Long-term clinical and radiological magnetic resonance imaging outcome of abscess-associated spontaneous pyogenic vertebral osteomyelitis under conservative management. Semin Arthritis Rheum 38(1):28–40

57.

Carragee EJ (1997) The clinical use of magnetic resonance imaging in pyogenic vertebral osteomyelitis. Spine 22(7):780–785

58.

Wang Q et al (2010) Utility of MRI in the follow-up of pyogenic spinal infection in children. Pediatr Radiol 40(1):118

59.

Kowalski T et al (2007) Follow-up MR imaging in patients with pyogenic spine infections: lack of correlation with clinical features. AJNR Am J Neuroradiol 28(4):693–699

60.

Gillams A, Chaddha B, Carter A (1996) MR appearances of the temporal evolution and resolution of infectious spondylitis. AJR Am J Roentgenol 166(4):903–907
Ethics declarations
Conflict of interest
H. Almansour, W. Pepke and M. Akbar declare that they have no competing interests.
For this article no studies with human participants or animals were performed by any of the authors. All studies performed were in accordance with the ethical standards indicated in each case.
Additional information
The manuscript does not contain information about medical device(s)/drug(s).
About this article
Cite this article
Almansour, H., Pepke, W. & Akbar, M. Pyogenic spondylodiscitis. Orthopäde 49, 482–493 (2020). https://doi.org/10.1007/s00132-019-03836-0
Keywords
Vertebral osteomyelitis classification

Surgery

Neurologic deficits

Epidural abscess

Segmental instability
Schlüsselwörter
Klassifikation

Operative Therapie

Neurologische Defizite

Epiduraler Abszess

Segmentale Instabilität