Zusammenfassung
Hintergrund
Die Hüftexartikulation lässt sich auch heutzutage bei Patienten mit Sarkomen, schweren periprothetischen Infektionen und Traumata nicht immer vermeiden. Sie stellt einen psychisch und physisch äußerst belastenden Eingriff dar. Die Stumpfaufbauplastik erlaubt durch die Implantation eines proximalen Femurersatzes die Transformation einer Hüftexartikulation in eine Oberschenkelamputation mit einer konsekutiv verbesserten exoprothetischen Versorgungsmöglichkeit und einem ansprechenderen kosmetischen Erscheinungsbild.
Fragestellung
Beschreibung der Indikationen, Technik, klinischen Ergebnisse und Funktion der Stumpfaufbauplastik.
Material und Methode
Es erfolgte eine selektive Literaturrecherche sowie die Einbringung eigener Erfahrungen zur Darstellung aktueller Erkenntnisse bei Durchführung einer Stumpfaufbauplastik.
Ergebnisse
Lokalrezidive treten nach einer Stumpfaufbauplastik im Vergleich zur Hüftexartikulation nicht gehäuft auf. Die Mehrzahl der Patienten kann mit einer Exoprothese versorgt werden, benötigen aber zum Gehen zumeist einen Gehstock. Bei Verwendung einer Exoprothese wird diese in der Regel ganztägig getragen mit Gehstrecken von durchschnittlich 2000 m – auch bei einer Stumpfaufbauplastik mit einer Rekonstruktionslänge von unter 10 cm. Die Tragezeit der Exoprothese war bei Patienten über dem 50. Lebensjahr jedoch signifikant kürzer bei zudem schlechteren Funktionsscores. Postoperative Komplikationen waren mit 52 % häufig. Die gravierendste Komplikation stellte die periprothetische Infektion (21 %) und die Stumpfperforation mit konsekutiver Infektion (14 %) dar.
Schlussfolgerungen
Die Stumpfaufbauplastik kann bei onkologischen Patienten selbst nach multiplen Voroperationen in fortgeschrittenen Krankheitsstadien eine kosmetisch und funktionell hochwertige Therapiealternative zur Hüftexartikulation darstellen – ohne die lokale Tumorkontrolle zu vernachlässigen. Die häufigste Komplikation dieses Verfahrens stellt die Stumpfperforation dar. Neben der Verbesserung der Sitzfähigkeit kann sich die Mehrzahl der Patienten bei kurativer oder auch palliativer Therapiesituation mit einer Exoprothese mobilisieren. Insbesondere ältere Patienten benötigen hierzu die Zuhilfenahme von Gehstützen.
Abstract
Background
Hip disarticulation is a psychologically and physically demanding procedure. However, it remains a therapeutical option whenever limb salvage proves impossible due to sarcoma, severe implant-associated infections or trauma. The stump lengthening procedure (SLP) is a surgical technique that allows partial salvage of the thigh through endoprosthetic proximal femur replacement after hip disarticulation, depending on the amount of viable soft tissue coverage. This leads to a more appealing visual appearance, facilitates prosthetic fitting and significantly improves limb function.
Objectives
Description of indications for SLP, surgical technique, presentation of clinical and functional outcomes.
Methods
Review of applying literature and presentation of outcomes of our own SLP collective.
Results
The risk of local recurrence does not increase after SLP compared to hip disarticulation. While the majority of patients can be fitted with an exoprosthesis, a walking aid is usually necessary for ambulation. Exoprostheses are usually worn throughout the entire day, and patients manage distances of a mean of 2000 metres, even if reconstruction lengths are less than 10 cm. Patients aged 50 years or older tend to wear their exoprosthesis for shorter periods of daywear and achieve significantly poorer functional scores. Postoperative complications are common at a rate of 52%. Periprosthetic infection (21%) and soft tissue perforation of the implant with subsequent implant-associated infection (14%) were the most severe complications observed.
Conclusions
The stump lengthening procedure poses a feasible alternative to classic hip disarticulation in patients with multiple prior operations and/or advanced stages of disease. It leads to satisfactory cosmetic and functional results without jeopardizing local tumor control. Stump perforation presents as the most common complication. Apart from improving the ability to sit down comfortably, both patients treated with a curative and palliative intent manage to ambulate using exoprostheses. With increasing age at the time of operation, walking aids are necessary for ambulation.
This is a preview of subscription content, log in to check access.
Access options
Buy single article
Instant access to the full article PDF.
US$ 39.95
Price includes VAT for USA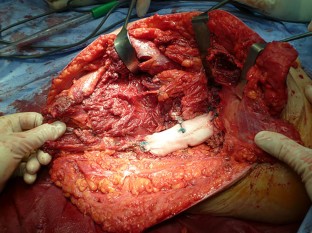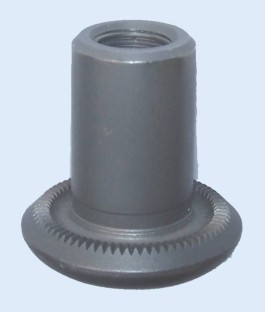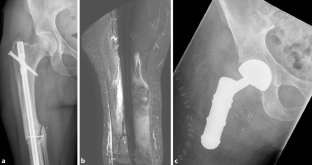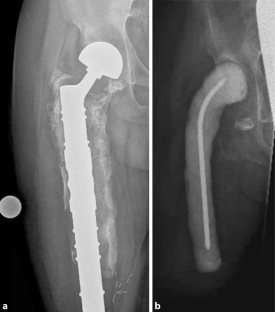 Abbreviations
MSTS:

Musculoskeletal Tumor Society
Literatur
1.

Denes Z, Till A (1997) Rehabilitation of patients after hip disarticulation. Arch Orthop Trauma Surg 116:498–499

2.

Endean ED, Schwarcz TH, Barker DE et al (1991) Hip disarticulation: factors affecting outcome. J Vasc Surg 14:398–404

3.

Gosheger G, Hillmann A, Roedl R et al (2001) Stump lengthening after hip disarticulation using a modular endoprosthesis in 5 patients. Acta Orthop Scand 72:533–535

4.

Gosheger G, Gebert C, Ahrens H et al (2005) Die Stumpfaufbauplastik – eine neue Technik zur Vermeidung der Hüftexartikulation. Med Orthop Tech 4:41–46

5.

Guzik G (2017) Comparison of quality of life of patients after hip disarticulation and those after stump lengthening with modular prosthesis. Ortop Traumatol Rehabil 19:157–164

6.

Henrichs MP, Singh G, Gosheger G et al (2015) Stump lengthening procedure with modular endoprostheses—the better alternative to disarticulations of the hip joint? J Arthroplasty 30:681–686

7.

Horesh Z, Levy M, Stein H (1998) Lengthening of an above-knee amputation stump with the Ilizarov technique—a case report. Acta Orthop Scand 69:322–328

8.

Jain R, Grimer RJ, Carter SR et al (2005) Outcome after disarticulation of the hip for sarcomas. Eur J Surg Oncol 31:1025–1028

9.

Kalson NS, Gikas PD, Aston W et al (2010) Custom-made endoprostheses for the femoral amputation stump: an alternative to hip disarticulation in tumour surgery. J Bone Joint Surg Br 92:1134–1137

10.

Marcrove RC, McMillian RD, Nasr E (1979) Preservation of the functional above knee stump following hip disarticulation by means of an Austin-Moore prosthesis. Clin Orthop 141:217–222

11.

Park HW, Jhang JS, Hahn SB et al (1997) Lengthening of an amputation stump by Ilizarov technique. A case report. Int Orthop 21:274–276

12.

Persson BM, Broome A (1994) Lengthening a short femoral amputation stump. A case of tissue expander and endoprosthesis. Acta Orthop Scand 65:99–100

13.

Streitbuerger A, Henrichs MP, Hauschild G et al (2018) Silver-coated megaprostheses in the proximal femur in patients with sarcoma. Eur J Orthop Surg Traumatol 29:79–85

14.

Unruh T, Fisher DFJR, Unruh TA et al (1990) Hip disarticulation. An 11-year experience. Arch Surg 125:791–793

15.

Yari I, Dijkstra PU, Geertzen JH (2008) Functional outcome of hip disarticulation and hemipelvectomy: a cross-sectional national descriptive study in the Netherlands. Clin Rehabil 22:1127–1133
Ethics declarations
Interessenkonflikt
J. Hardes und A. Streitbürger weisen auf folgende Beziehung hin: Forschungsunterstützung durch die Firma Implantcast, Buxtehude. W. Guder, M. Nottrott, L. Podleska, G. Täger und M. Dudda geben an, dass kein Interessenkonflikt besteht.
Für diesen Beitrag wurden von den Autoren keine Studien an Menschen oder Tieren durchgeführt. Für die aufgeführten Studien gelten die jeweils dort angegebenen ethischen Richtlinien.
About this article
Cite this article
Hardes, J., Guder, W., Nottrott, M. et al. Endoprothesen zur Stumpfbildung nach Hüftexartikulation. Orthopäde 48, 582–587 (2019). https://doi.org/10.1007/s00132-019-03721-w
Schlüsselwörter
Amputationsstumpf

Femur

Sarkom

Oberschenkel

Gehen
Keywords
Amputation stumps

Femur

Sarcoma

Thigh

Walking