Abstract
Background
An osteoblastoma is a rare benign bone tumor characterized by formation of osteoid tissue and primitive bone and occurs more often in men than in women. They are often secondary to an osteoid osteoma and can be located at any site on the skeleton. Lesions generally involve the posterior elements of the spine, such as the pedicle and the lamina.
Case presentation
This study reports the case of a 25-year-old female who suffered from an osteoblastoma of the right sacrum with repeated swelling and pain in the right lumbosacral region for approximately 6 months. Computed tomography (CT) and magnetic resonance imaging (MRI) of the pelvis revealed a segmented, expansive, multiseptate lesion. Resection with wide margins was performed and a huge cavity of approximately 15 × 8 × 4.4 cm in the right sacrum and pelvis was formed after complete curettage of the tumor. The pathological analysis of the resected tissue was consistent with a benign osteoblastoma. A follow-up was performed 2 years later and the patient was eventually relieved of the pain, the mobility of the right leg was improved and the CT scan demonstrated no evidence of recurrence.
Conclusion
Osteoblastomas most commonly occur in the spine but rarely also in the sacrum. Large core needle biopsies play an important role in the diagnostics. Intralesional surgery can be performed for treatment of osteoblastomas.
Zusammenfassung
Hintergrund
Das Osteoblastom ist ein seltener benigner Knochentumor, der durch die Bildung von Osteoidgewebe und primitivem Knochen gekennzeichnet ist. Er ist bei Männern häufiger als bei Frauen. Osteoblastome treten oft sekundär zu einem Osteoidosteom auf und können sich an jeder Stelle im Skelett befinden. Die Läsionen betreffen i. d. R. die hinteren Elemente der Wirbelsäule, beispielsweise die Pedikel und die Lamina.
Kasuistik
Wir präsentieren den Fall einer 25-jährigen Frau, die etwa 6 Monate lang an einem Osteoblastom des rechten Kreuzbeins mit wiederkehrenden Schwellungen und Schmerzen in der rechten Lumbosakralregion litt. Die Computer- und die Magnetresonanztomographie (CT, MRT) des Beckens zeigten eine segmentierte, expansive, vielfach septierte Läsion. Nach großzügiger Resektion und vollständiger Kürettage des Tumors war eine sehr große Kavität von etwa 15 × 8 × 4,4  cm im rechten Os sacrum und im Becken entstanden. Die histopathologische Befundung war vereinbar mit einem gutartigen Osteoblastom. Ein Follow-up wurde 2 Jahre später durchgeführt. Schließlich litt die Patientin nicht mehr unter Schmerzen, die Beweglichkeit des rechten Beins war verbessert und in der Kontroll-CT zeigten sich keine Hinweise für ein Rezidiv.
Schlussfolgerung
Osteoblastome treten am häufigsten in der Wirbelsäule auf, selten auch im Os sacrum. Von Relevanz für die Diagnose ist eine Kernbiopsie mit einer großlumigen Nadel. Intraläsionale Operationen sind eine Option zur Behandlung von Osteoblastomen.
This is a preview of subscription content, log in to check access.
Access options
Buy single article
Instant access to the full article PDF.
US$ 39.95
Price includes VAT for USA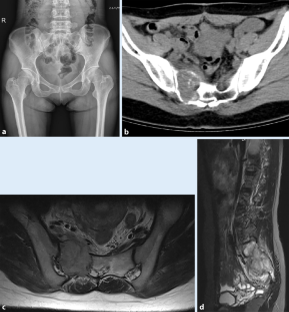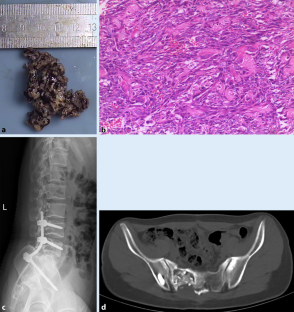 Abbreviations
MRI:

Magnetic resonance imaging

CT:

Computed tomography

T1WI:

T1 weighted image

T2WI:

T2 weighted image
References
1.

Li ZH, Ma H, Fu Q, Hou TS (2012) Clinical manifestation and surgical treatment of spinal osteoblastoma. Zhonghua Wai Ke Za Zhi 50(2):110–114

2.

Pilavaki M, Petsatodis G, Petsatodis E, Cheva A, Palladas P (2011) Imaging of an unusually located aggressive osteoblastoma of the pelvis: a case report. Hippokratia 15(1):87–89

3.

Ando K, Imagama S, Kobayashi K, Nishida Y, Ishiguro N (2017) Aggressive osteoblastoma of the cervical spine involving the canal and vertebral artery: a case report. Eur Spine J 26(Suppl 1):111–116

4.

Galgano MA, Goulart CR, Iwenofu H, Chin LS, Lavelle W, Mendel E (2016) Osteoblastomas of the spine: a comprehensive review. Neurosurg Focus 41(2):E4

5.

Burn SC, Ansorge O, Zeller R, Drake JM (2009) Management of osteoblastoma and osteoid osteoma of the spine in childhood. J Neurosurg Pediatr 4(5):434–438

6.

Saccomanni B (2009) Osteoid osteoma and osteoblastoma of the spine: a review of the literature. Curr Rev Musculoskelet Med 2(1):65–67

7.

Rana V, Saxena V, Sahai K, Singh G (2016) Epithelioid osteoblastoma of maxilla: a rare and aggressive variant of a benign neoplasm at an uncommon site. J Oral Maxillofac Pathol 20(2):332

8.

Dahlin DC, Johnson EWJR (1954) Giant osteoid osteoma. J Bone Joint Surg Am 36-A(3):559–572

9.

Lichtenstein L (1956) Benign osteoblastoma: a category of osteoid-and bone-forming tumors other than classical osteoid osteoma, which may be mistaken for giant-cell tumor or osteogenic sarcoma. Cancer 9:1044–1052

10.

Jaffe HL (1956) Benign osteoblastoma. Bull Hosp Jt Dis 17:141–151

11.

Ozaki M, Nishioka K, Kimura A, Kondo T, Nakao N (2017) Activation of the arachidonic acid metabolic pathway and induction of sleep disturbance by sacral osteoblastoma: a case report. Mol Clin Oncol 7(2):237–240

12.

Gdoura F, Trigui M, Ellouze Z, Hamed YB, Ayadi K et al (2010) Hamatum osteoblastoma. Orthop Traumatol Surg Res 96:712–716

13.

Arrigoni F, Barile A, Zugaro L, Fascetti E, Zappia M, Brunese L, Masciocchi (2017) CT-guided radiofrequency ablation of spinal osteoblastoma: treatment and long-term follow-up. Int J Hyperthermia 9:1–7

14.

Patnaik S, Jyotsnarani Y, Uppin SG, Susarla R (2016) Imaging features of primary tumors of the spine: a pictorial essay. Indian J Radiol Imaging 26(2):279–289

15.

Guzik G (2016) The correspondence between magnetic resonance images and the clinical and Intraoperative status of patients with spinal tumors. Curr Med Imaging Rev 12(2):149–155

16.

Berberoglu S, Oguz A, Aribal E, Ataoglu O (1997) Osteoblastoma response to radiotherapy and chemotherapy. Med Pediatr Oncol 28:305–309

17.

Wang B, Han SB, Jiang L, Yuan HS, Liu C, Zhu B, Liu ZJ, Liu XG (2017) Percutaneous radiofrequency ablation for spinal osteoid osteoma and osteoblastoma. Eur Spine J 26(7):1884–1892

18.

Ruggieri P, Huch K, Mavrogenis AF et al (2014) Osteoblastoma of the sacrum: report of 18 cases and analysis of the literature. J Spine 39(2):E97–E103

19.

Subramanian M, Chou H, Chokkappan K, Peh WC (2017) Clinics in diagnostic imaging (174). L5 vertebral superior facet osteoblastoma (OB). Singapore Med J 58(2):79–84

20.

Ruggieri P, Angelini A, Ussia G et al (2010) Surgical margins and local control in resection of sacral chordomas. Clin Orthop Relat Res 468:2939–2947

21.

Sar C, Eralp L (2002) Surgical treatment of primary tumors of the sacrum. Arch Orthop Trauma Surg 122:148–155
Acknowledgements
The authors thank the Engineering Technology Research Center construction project of Jiangxi Province for assisting in this paper.
Funding
All research costs were supplied by the three projects, NSFC (No. 81460341), Gan-Po Talents Project 555 of Jiangxi Province, Jiangxi Provincial Department of Science and Technology (20171BAB205059) and Jiangxi provincial department of education (GJJ160127)
Ethics declarations
Conflict of interest
Q. Lai, Q. Wang, H. Liu, D. Chen, Z. Wan, X. Yu, R. Guo, X. Liu, M. Dai and B. Zhang declare that they have no competing interests.
This study was approved by the ethical review committee of The First Affiliated Hospital of Nanchang University Medical School and written informed consent was obtained from the patient.
Additional information
Authors' contributions
The authors Q. Lai, Q. Wang and Hucheng Liu share the first authorship.
Q. Lai and Q. Wang wrote the initial draft. X. Yu, X. Liu, R. Guo, M. Dai reviewed the literature. B. Zhang and H. Liu were the surgeons who treated the patient. All authors read and approved the final manuscript.
About this article
Cite this article
Lai, Q., Wang, Q., Liu, H. et al. A rare case of giant osteoblastoma of the sacrum. Orthopäde 48, 343–347 (2019). https://doi.org/10.1007/s00132-018-3638-0
Keywords
Osteoid osteoma

Curettage

Aneurysmal bone cyst

Surgical procedures, operative

Resection
Schlüsselwörter
Osteoidosteom

Kürettage

Aneurysmatische Knochenzyste

Operative chirurgische Interventionen

Resektion