Zusammenfassung
Hintergrund
Baker-Zysten sind Symptom einer intraartikulär vermehrten Flüssigkeitsansammlung. Die Ursachen können entzündlich-rheumatisch, degenerativ und traumatisch sein. Durch den vermehrten intraartikulären Druck bildet sich eine Ausstülpung der synovialen Kapsel in die Kniekehle zwischen den Sehnen des M. semimembranosus und des M. gastrocnemius medialis. Traditionell werden Baker-Zysten offen reseziert. Eine Alternative bietet die arthroskopische Operation, die im vorliegenden Kurzbeitrag mit kombiniertem Operationsvideo dargestellt wird.
Operationsmethode
Das Arthroskop wird durch den anterolateralen Zugang durch die Fossa intercondylaris (unterhalb des hinteren Kreuzbands) zum posteromedialen Recessus geführt. Unter visueller Kontrolle wird ein posteromedialer Zugang etabliert und das Zystenventil mit einem Shaver reseziert, bis eine ausreichend große Verbindung zwischen Gelenkkapsel und Zyste existiert (Zystendekompression). Nach der Dekompression wird das Arthroskop durch den posteromedialen Zugang direkt in den Hohlraum der Zyste geführt. Anschließend wird über ein weiteres Zystenportal die innere Wand der Zyste mit dem Shaver entfernt. Die begleitende intraartikuläre Pathologie muss entsprechend mitbehandelt werden. In unserem Video wird die Entfernung des Meniskus aufgrund einer Innenmeniskusläsion gezeigt.
Abstract
Background
Baker's cysts are related to increased intra-articular pressure. The causes may be inflammatory, degenerative or traumatic disorders. Owing to the increased intra-articular pressure a cyst protrudes between the semimembranosus and the medial gastrocnemius tendons. The traditional treatment for a Baker's cyst is open resection. As an alternative, an arthroscopic procedure can be performed, which is demonstrated by the video on surgical technique that accompanies this short report.
Surgical technique
From the anterolateral portal the arthroscope is advanced through the intercondylar notch (below the posterior cruciate ligament) to the posteromedial recess. Under visual control, a posteromedial portal is created followed by identification of the capsular fold separating the cyst from the joint cavity. This fold (valvular mechanism) is resected with a shaver from the posteromedial portal until a large enough connection exists between the joint and the cyst (cyst decompression). After the decompression, the arthroscope is inserted from the posteromedial portal directly into the cyst cavity. Subsequently, the inner wall of the cyst is removed with the shaver via an additional far posterior cystic portal. It is obligatory to treat the associated intra-articular pathological condition. In our video a medial meniscal lesion is treated with partial meniscectomy.
Access options
Buy single article
Instant access to the full article PDF.
US$ 39.95
Tax calculation will be finalised during checkout.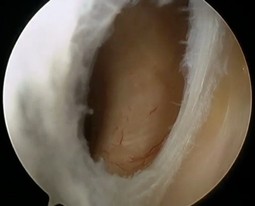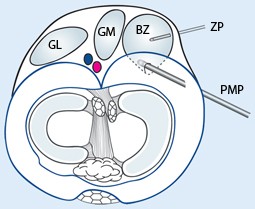 Literatur
1

Ahn JH, Lee SH, Yoo JC, Chang MJ, Park YS (2010) Arthroscopic treatment of popliteal cysts: clinical and magnetic resonance imaging results. Arthroscopy 26(10):1340–1347

2

Ahn JH, Yoo JC, Lee SH, Lee YS (2007) Arthroscopic cystectomy for popliteal cysts through the posteromedial cystic portal. Arthroscopy 23(5):559 e551–554

3

Childress HM (1970) Popliteal cysts associated with undiagnosed posterior lesions of the medial meniscus. The significance of age in diagnosis and treatment. J Bone Joint Surg Am 52(7):1487–1492

4

Clarke JM, McCann BG, Colin JF (1988) Popliteal artery occlusion by a popliteal (Baker's) cyst. Eur J Vasc Surg 2(1):61–63

5

Dash S, Bheemreddy SR, Tiku ML (1998) Posterior tibial neuropathy from ruptured Baker's cyst. Semin Arthritis Rheum 27(5):272–276

6

Drescher MJ, Smally AJ (1997) Thrombophlebitis and pseudothrombophlebitis in the ED. Am J Emerg Med 15(7):683–685

7

Fritschy D, Fasel J, Imbert JC, Bianchi S, Verdonk R, Wirth CJ (2006) The popliteal cyst. Knee Surg Sports Traumatol Arthrosc 14(7):623–628

8

Gomez J, Kattamis A, Schenck RC Jr (1994) Pseudothrombophlebitis in an adolescent without rheumatic disease. A case report. Clin Orthop Relat Res 308:250–253

9

Johnson LL, van Dyk GE, Johnson CA, Bays BM, Gully SM (1997) The popliteal bursa (Baker's cyst): an arthroscopic perspective and the epidemiology. Arthroscopy 13(1):66–72

10

Kashani SR, Moon AH, Gaunt WD (1985) Tibial nerve entrapment by a Baker cyst: case report. Arch Phys Med Rehabil 66(1):49–51

11

Ko S, Ahn J (2004) Popliteal cystoscopic excisional debridement and removal of capsular fold of valvular mechanism of large recurrent popliteal cyst. Arthroscopy 20(1):37–44

12

Krag DN, Stansel HC Jr (1982) Popliteal cyst producing complete arterial occlusion. A case report. J Bone Joint Surg Am 64(9):1369–1370

13

Miller TT, Staron RB, Koenigsberg T, Levin TL, Feldman F (1996) MR imaging of Baker cysts: association with internal derangement, effusion, and degenerative arthropathy. Radiology 201(1):247–250

14

Prichard AJ, Gilliland EL, Lewis JD (1990) Episodic intermittent claudication associated with a Baker's cyst. Eur J Vasc Surg 4(5):543–545

15

Rauschning W, Lindgren PG (1979) Popliteal cysts (Baker's cysts) in adults. I. Clinical and roentgenological results of operative excision. Acta Orthop Scand 50(5):583–591

16

Robb D (1960) Obstruction of popliteal artery by synovial cyst. Report of a case. Br J Surg 48:221–222

17

Sansone V, De Ponti A (1999) Arthroscopic treatment of popliteal cyst and associated intra-articular knee disorders in adults. Arthroscopy 15(4):368–372

18

Yamakado K (2002) Dissecting a popliteal cyst after failed unicompartmental knee arthroplasty. Arthroscopy 18(9):1024–1028

19

Zhang WW, Lukan JK, Dryjski ML (2005) Nonoperative management of lower extremity claudication caused by a Baker's cyst: case report and review of the literature. Vascular 13(4):244–247
Ethics declarations
Interessenkonflikt
M.C. Liebensteiner, M. Thaler, D. Putzer, A. Wurm und M. Nogler geben an, dass kein Interessenkonflikt besteht. Diese Studie wurde mit Mitteln der Medizinische Universität Innsbruck durchgeführt. Michael Liebensteiner, Martin Thaler, David Putzer, Alexander Wurm und Michael Nogler sind bezahlte Mitarbeiter der Medizinischen Universität Innsbruck.
Alle im vorliegenden Manuskript beschriebenen Untersuchungen am Menschen wurden mit Zustimmung der zuständigen Ethik-Kommission, im Einklang mit nationalem Recht sowie gemäß der Deklaration von Helsinki von 1975 (in der aktuellen, überarbeiteten Fassung) durchgeführt. Von allen beteiligten Patienten liegt eine Einverständniserklärung vor.
Alle Patienten, die über Bildmaterial oder anderweitige Angaben innerhalb des Manuskripts zu identifizieren sind, haben hierzu ihre schriftliche Einwilligung gegeben. Im Falle von nicht mündigen Patienten liegt die Einwilligung eines Erziehungsberechtigten oder des gesetzlich bestellten Betreuers vor. Die Einverständniserklärung des Patienten zur Verwendung des Videomaterials wurde erhoben.
About this article
Cite this article
Liebensteiner, M., Thaler, M., Putzer, D. et al. Arthroskopische Operation der Baker-Zyste. Orthopäde 44, 803–805 (2015). https://doi.org/10.1007/s00132-015-3155-3
Schlüsselwörter
Chirurgische Dekompression

Kniegelenk

Thrombophlebitis

Claudicatio intermittens

Poplitealzyste
Keywords
Surgical decompression

Knee Joint

Thrombophlebitis

Intermittent claudication

Popliteal cyst