Kommentar zu: Immundiagnostik und -therapie des habituellen Aborts
Originalpublikation
Grosse-Wilde H, Kuhn U (1988) Immundiagnostik und -therapie des habituellen Aborts. Gynäkologe 21:249–261
Die Reihe "Blick zurück" in Der Gynäkologe
In der Reihe "Blick zurück" werden im Jahr 2018 zum Jubiläum "50 Jahre Der Gynäkologe" historische Artikel der Zeitschrift zu allen Themen rund um die Gynäkologie kommentiert.
Grosse-Wilde und Kuhn beschreiben in ihrem Übersichtsartikel
Immundiagnostik und -therapie des habituellen Aborts
den Wissensstand aus dem Jahr 1988 hinsichtlich der immunologischen Faktoren bei habituellem Abort, möglicher diagnostischer Verfahren und darauf basierender therapeutischer Optionen (Abb.
1
).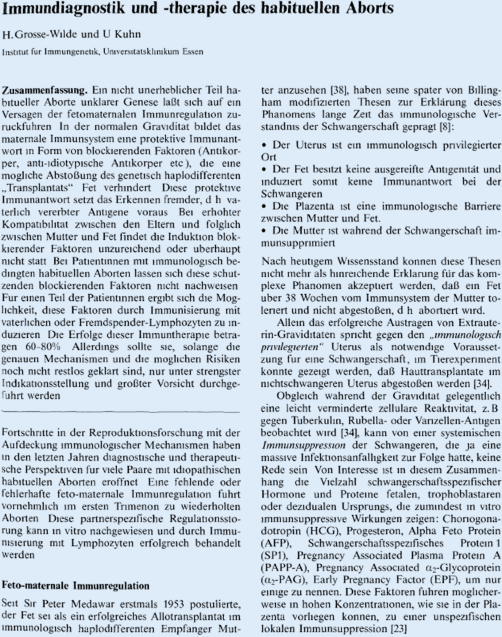 Comments on: Immunodiagnostics and immunotherapy of habitual abortion
Notes
Interessenkonflikt
R.-J. Kuon gibt an, dass kein Interessenkonflikt besteht.
Copyright information
© Springer Medizin Verlag GmbH, ein Teil von Springer Nature 2018