Zusammenfassung
Hintergrund
Endometriose ist die zweithäufigste benigne Erkrankung des weiblichen Genitale nach der Leiomyomatose.
Ziel
Schwerpunkte dieser Übersicht sind die präoperative Diagnostik sowie die Planung der Operationsradikalität in Abhängigkeit des Leidensdrucks sowie des Kinderwunsches der Patientin. Zu den typischen Symptomen der Endometriose gehören Dysmenorrhö, chronische Unterbauchschmerzen, Dyspareunie, Subfertilität, unspezifische Unterbauchschmerzen, zyklische Darm- oder Blasensymptome (z. B. Dyschezie, Meteorismus, Obstipation, rektaler Blutabgang, Diarrhöen, Hämaturie), Blutungsstörungen und chronische Müdigkeit.
Ergebnisse
Etwa 50 % aller weiblichen Jugendlichen und bis zu 32 % aller Frauen im reproduktionsfähigen Alter, die aufgrund chronischer Unterbauchschmerzen oder Dysmenorrhö operiert werden, leiden an Endometriose. Das Zeitintervall zwischen den ersten unspezifischen Symptomen und der definitiven Diagnose beträgt bei der Endometriose etwa 7 Jahre. Hierfür ist nicht nur die ganz unspezifische Symptomatik verantwortlich, sondern vor allem auch die häufig fehlende Sensibilisierung der kooperierenden Fachdisziplinen, an die sich die Patientinnen im Erstkontakt wenden. Die Therapieoptionen beinhalten abwartendes Verhalten, Analgesie, hormonelle Behandlung, operative Intervention und die Kombination aus Operation und medikamentöser Therapie. Die Rezidivrate für therapierte Endometriose liegt zwischen 5% und > 60 %, sie ist in hohem Maße abhängig von einem ganzheitlichen Management und der operativen Qualität.
Diskussion
Zur Optimierung der individuellen Endometriosetherapie ist Interdisziplinarität in Diagnostik und Therapie wegweisend, sie sollte vor allem bei der tief infiltrierenden Endometriose entsprechenden Zentren vorbehalten bleiben.
Abstract
Background
Endometriosis is the second most common benign female genital disease after uterine leiomyoma.
Objectives
This review discusses the individual management for each patient which should take into account the severity of the disease and whether the patient desires to have children. Endometriosis is defined as the presence of endometrial glands and stroma outside the internal epithelial lining of the cavity of the uterus. As a consequence, endometriosis can cause a wide range of symptoms, such as chronic pelvic pain, subfertility, dysmenorrhea, deep dyspareunia, cyclical bowel or bladder symptoms (e.g. dyschezia, bloating, constipation, rectal bleeding, diarrhea and hematuria), abnormal menstrual bleeding, chronic fatigue and low back pain.
Results
Approximately 50 % of teenage women and up to 32 % of women of reproductive age operated on for chronic pelvic pain or dysmenorrhea, suffer from endometriosis. The time interval between the first unspecific symptoms and the medical diagnosis of endometriosis is approximately 7 years. This is caused not only by the non-specific nature of the symptoms but also by the frequent lack of awareness on the part of the cooperating disciplines with which the patients have first contact. As the pathogenesis of endometriosis is not clearly understood, a causal treatment is still not possible. Treatment options include watchful waiting, analgesia, hormonal medical therapy, surgical intervention and the combination of medical treatment before and/or after surgery. The treatment should be as radical as necessary and as minimal as possible. The recurrence rate among treated patients lies between 5 % and > 60 % and is very much dependent on the integrated management and surgical skills.
Conclusion
To optimize the individual patient treatment a high degree of interdisciplinary cooperation in the diagnosis and treatment is crucial and should be reserved for appropriate centres especially in the case of deep infiltrating endometriosis.
Access options
Buy single article
Instant access to the full article PDF.
US$ 39.95
Tax calculation will be finalised during checkout.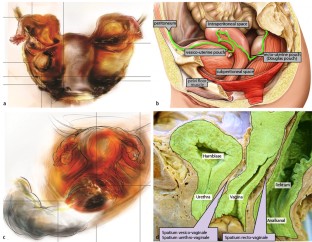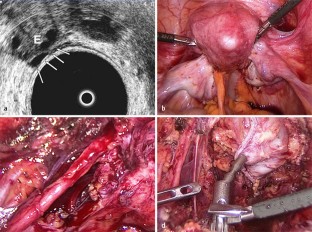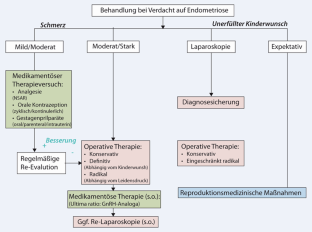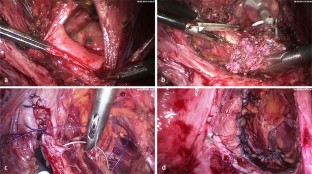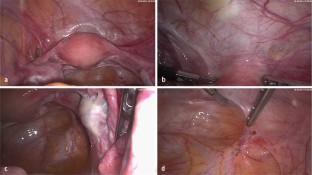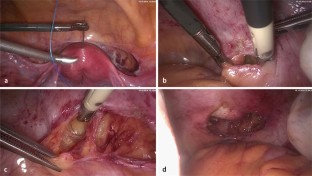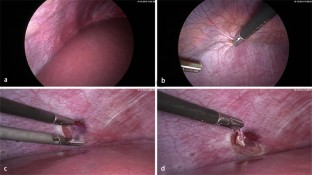 Literatur
1.

Alkatout I, Mettler L, Beteta C et al (2013) Combined surgical and hormone therapy for endometriosis is the most effective treatment: prospective, randomized, controlled trial. J Minim Invasive Gynecol 20:473–481

2.

Alkatout I, Schollmeyer T, Hawaldar NA et al (2012) Principles and safety measures of electrosurgery in laparoscopy. JSLS 16:130–139

3.

Clement PB (2007) The pathology of endometriosis: a survey of the many faces of a common disease emphasizing diagnostic pitfalls and unusual and newly appreciated aspects. Adv Anat Pathol 14:241–260

4.

Donnez J, Squifflet J (2010) Complications, pregnancy and recurrence in a prospective series of 500 patients operated on by the shaving technique for deep rectovaginal endometriotic nodules. Hum Reprod 25:1949–1958

5.

Dousset B, Leconte M, Borghese B et al (2010) Complete surgery for low rectal endometriosis: long-term results of a 100-case prospective study. Ann Surg 251:887–895

6.

Engemise S, Gordon C, Konje JC (2010) Endometriosis. BMJ 340:c2168

7.

Ercoli A, D'Asta M, Fagotti A et al. (2012) Robotic treatment of colorectal endometriosis: technique, feasibility and short-term results. Hum Reprod 27:722–726

8.

Fritzer N, Tammaa A, Salzer H et al (2014) Dyspareunia and quality of sex life after surgical excision of endometriosis: a systematic review. Eur J Obstet Gynecol Reprod Biol 173:1–6

9.

Healey M, Ang WC, Cheng C (2010) Surgical treatment of endometriosis: a prospective randomized double-blinded trial comparing excision and ablation. Fertil Steril 94:2536–2540

10.

Jelenc F, Ribic-Pucelj M, Juvan R et al. (2012) Laparoscopic rectal resection of deep infiltrating endometriosis. J Laparoendosc Adv Surg Tech A 22:66–69

11.

Koh CE, Juszczyk K, Cooper MJ et al (2012) Management of deeply infiltrating endometriosis involving the rectum. Dis Colon Rectum 55:925–931

12.

Lin SY, Lee RK, Hwu YM et al (1998) Reproducibility of the revised American Fertility Society classification of endometriosis using laparoscopy or laparotomy. Int J Gynaecol Obstet 60:265–269

13.

Mabrouk M, Montanari G, Guerrini M et al (2011) Does laparoscopic management of deep infiltrating endometriosis improve quality of life? A prospective study. Health Qual Life Outcomes 9:98

14.

Mabrouk M, Spagnolo E, Raimondo D et al. (2012) Segmental bowel resection for colorectal endometriosis: is there a correlation between histological pattern and clinical outcomes? Hum Reprod 27:1314–1319

15.

Mahmood TA, Templeton A (1990) The impact of treatment on the natural history of endometriosis. Hum Reprod 5:965–970

16.

Medicine PCOaSFR (2008) Treatment of pelvic pain associated with endometriosis. Fertil Steril 90:S260–S269

17.

Meuleman C, Tomassetti C, D'hooghe TM (2012) Clinical outcome after laparoscopic radical excision of endometriosis and laparoscopic segmental bowel resection. Curr Opin Obstet Gynecol 24:245–252

18.

Meuleman C, Tomassetti C, D'hoore A et al (2011) Surgical treatment of deeply infiltrating endometriosis with colorectal involvement. Hum Reprod Update 17:311–326

19.

Meuleman C, Tomassetti C, Wolthuis A et al (2014) Clinical outcome after radical excision of moderate-severe endometriosis with or without bowel resection and reanastomosis: a prospective cohort study. Ann Surg 259:522–531

20.

Mol BW, Bayram N, Lijmer JG et al (1998) The performance of CA-125 measurement in the detection of endometriosis: a meta-analysis. Fertil Steril 70:1101–1108

21.

Nezhat C, Hajhosseini B, King LP (2011) Laparoscopic management of bowel endometriosis: predictors of severe disease and recurrence. JSLS 15:431–438

22.

Olive DL, Schwartz LB (1993) Endometriosis. N Engl J Med 328:1759–1769

23.

Possover M (2014) Pathophysiologic explanation for bladder retention in patients after laparoscopic surgery for deeply infiltrating rectovaginal and/or parametric endometriosis. Fertil Steril 101:754–758

24.

Roman H, Vassilieff M, Tuech JJ et al (2013) Postoperative digestive function after radical versus conservative surgical philosophy for deep endometriosis infiltrating the rectum. Fertil Steril 99:1695–1704

25.

Ruffo G, Scopelliti F, Manzoni A et al. (2014) Long-term outcome after laparoscopic bowel resections for deep infiltrating endometriosis: a single-center experience after 900 cases. Biomed Res Int 463058

26.

Soares SR, Martinez-Varea A, Hidalgo-Mora JJ et al (2012) Pharmacologic therapies in endometriosis: a systematic review. Fertil Steril 98:529–555

27.

Vercellini P, Pietropaolo G, De Giorgi O et al (2006) Reproductive performance in infertile women with rectovaginal endometriosis: is surgery worthwhile? Am J Obstet Gynecol 195:1303–1310

28.

Vercellini P, DE Matteis S, Somigliana E et al (2013) Long-term adjuvant therapy for the prevention of postoperative endometrioma recurrence: a systematic review and meta-analysis. Acta Obstet Gynecol Scand 92:8–16
Danksagung
Die Autoren danken für die Bereitstellung von Abb. 1 Mathias Podlovics (a, b) und Professor Dr. Thilo Wedel (c, d).
Einhaltung ethischer Richtlinien
Interessenkonflikt, I. Alkatout, I. Meinhold-Heerlein, I. von Leffern und N. Maass gebem an, dass kein Interessenkonflikt besteht.
Dieser Beitrag beinhaltet keine Studien an Menschen der Tieren.
Zusatzmaterial online
Video 1: Ureterolyse bei tief infiltrierender Endometriose der Sakrouterinligamente (WMV 46KB)
Video 2: Partielle Resektion eines die Harnblase infiltrierenden Endometrioseknotens (AVI 26KB)
Video 3: End-zu-End Anastomose nach laparoskopischer anteriorer Rektumresektion eines transmural gewachsenen Endometrioseknotens (AVI 22KB)
About this article
Cite this article
Alkatout, I., Meinhold-Heerlein, I., von Leffern, I. et al. Operative Therapie der Endometriose: radikal und schonend zugleich. Gynäkologe 48, 228–236 (2015). https://doi.org/10.1007/s00129-014-3419-8
Schlüsselwörter
Adenomyosis uteri

Laparoskopie

Interdisziplinäre Chirurgie

Subfertilität

Dysmenorrhö
Keywords
Adenomyosis

Laparoscopy

Interdisciplinary surgery

Subfertility

Dysmenorrhea