Abstract
This study aimed to compare biochemical and histological biomarkers in oysters to identify impacted areas in a Brazilian port region. Oysters belonging to the Crassostrea genus were collected in two points in São José Bay (Brazil): (A1) Curupu Island (control area) and (A2) Braga Port (impacted area). Digestive glands from oysters were used to analyze the enzymatic activity of glutathione S-transferase and Catalase. The gills were used for standard histology analyses. Water samples were collected for metal analyses. Our results indicated that there was a change in the activity of oyster GST and CAT enzymes, especially in A2. Histological gill analysis indicated more frequent changes in A2. The analyzed metals presented higher values in A2. The results of this study suggest that enzymatic alterations, histological changes and higher metal values are indicative of initial stress caused by contaminants in São José Bay, especially in the port region.
Access options
Buy single article
Instant access to the full article PDF.
US$ 39.95
Tax calculation will be finalised during checkout.
Subscribe to journal
Immediate online access to all issues from 2019. Subscription will auto renew annually.
US$ 119
Tax calculation will be finalised during checkout.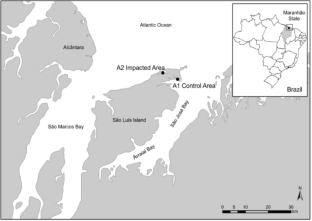 References
Ahmad I, Hamid T, Fatima M, Chand HS, Jain SK, Athar M, Raisuddin S (2000) Induction of hepatic antioxidants in freshwater catfish (Channa punctatus Bloch) is a biomarker of paper mill effluent exposure. Biochim Biophys Acta Gen Subj 1523:37–48. https://doi.org/10.1016/S0304-4165(00)00098-2

Ahmad I, Oliveira M, Pacheco M, Santos MA (2005) Anguilla anguilla L. oxidative stress biomarkers responses to copper exposure with or without β-naphthoflavone pre-exposure. Chemosphere 61:267–275. https://doi.org/10.1016/j.chemosphere.2005.01.069

ANVISA (2001) Resolução - RDC n° 12, de 2 de janeiro de 2001. Regulamento técnico sobre os padrões microbiológicos para alimentos. Diário Oficial [da] República Federativa do Brasil, Brasília. http://portal.anvisa.gov.br/documents/33880/2568070/RDC_12_2001.pdf/15ffddf6-3767-4527-bfac-740a0400829b. Acessed 31 May 2020

APHA (2005) Standard method for the examination of water and wastewater, 21st edn. American Public Health Association, Washington DC

Bailey D, Solomon G (2004) Pollution prevention at ports: clearing the air. Environ Impact Assess Rev 24:749–774. https://doi.org/10.1016/j.eiar.2004.06.005

Bernet D, Schmidt H, Meier W, Burkhardt-Holm P, Wahli T (1999) Histopathology in fish: proposal for a protocol to assess aquatic pollution. J Fish Dis 22:25–34. https://doi.org/10.1046/j.1365-2761.1999.00134.x()

Beutler E (1975) Red cell metabolism. A manual of biochemical methods. Grune & Stratton Inc., New York ()

Camargo MMP, Martinez CBR (2006) Biochemical and physiological biomarkers in Prochilodus lineatus submitted to in situ tests in an urban stream in southern Brazil. Environ Toxicol Pharmacol 21:61–69. https://doi.org/10.1016/j.etap.2005.07.016 ()

Castro JS, França CL, Cardoso RL et al (2019) Histological Changes in the Kidney of Sciades Herzbergii (Siluriformes, Ariidae) for Environmental Monitoring of a Neotropical Estuarine Area (São Marcos Bay, Northeastern Brazil). Bull Environ Contam Toxicol 103:246254. https://doi.org/10.1007/s00128-019-02633-x

Chandran R, Sivakumar AA, Mohandass S, Aruchami M (2005) Effect of cadmium and zinc on antioxidant enzyme activity in the gastropod, Achatina fulica. Comp Biochem Physiol Part C: Toxicol Pharmacol 140:422–426. https://doi.org/10.1016/j.cca.2005.04.007

Choong FC, Bristow GA, Shaharom F, Rashid ZA, Kua BC (2011) Probopyrus buitendijki (Isopoda, Bopyridae), a parasitic isopod on Macrobrachium rosenbergii in Timun river, Negeri Sembilan, Malaysia. Crustaceana 84:1051–1059

CONAMA (2005) Conselho Nacional do Meio Ambiente. Resolução no 357, de 17 de março de 2005. http://www2.mma.gov.br/port/conama/legiabre.cfm?codlegi=459. Accessed 31 May 2020

Daniel S, Richard H, Scott S, Michael HDWB (2008) The toxicology of fishes. In: The toxicology of fishes. pp 683–731

Delshab H, Farshchi P, Mohammadi M, Moattar F (2017) Assessment of heavy metals contamination and its effects on oyster (Saccostrea cucullata) biometry parameters in the Asaluyeh port coasts, Persian Gulf. Iran Int J Environ Stud 74:1031–1043. https://doi.org/10.1080/00207233.2017.1371989

Elliott M, Whitfield AK (2011) Challenging paradigms in estuarine ecology and management. Estuar Coast Shelf Sci 94:306–314. https://doi.org/10.1016/j.ecss.2011.06.016

França VD, Monteles JS, Funo ICSA, Castro ACL (2013) Seleção de áreas potenciais para o cultivo de ostra nativa, Crassostrea spp. e Sururu, Mytella falcata, em Raposa, Maranhão. Arq Ciênc Mar 46:62–75. https://doi.org/10.32360/acmar.v46i1.891

Funo ICSA, Antonio IG, Marinho YF, Gálvez AO (2016) Influência da salinidade sobre a sobrevivência e crescimento de Crassostrea gasar. Bol Inst Pesca 41:837–847

Guimarães IM, Antonio ÍG, Peixoto S, Oliveira A (2008) Influência da salinidade sobre a sobrevivência da ostra-do-mangue, Crassostrea rhizophorae. Arq Ciênc Mar 41:118–122. https://doi.org/10.32360/acmar.v41i1.6084

Goksøyr A, Förlin L (1992) The cytochrome P-450 system in fish, aquatic toxicology and environmental monitoring. Aquat Toxicol 22:287–311. https://doi.org/10.1016/0166-445X(92)90046-P

Gonçalves RA, Oliveira DF, Rezende CE et al (2020) Spatial and Temporal Effects of Decommissioning a Zinc Smelter on the Sediment Quality of an Estuary System: Sepetiba Bay, Rio de Janeiro, Brazil. J Braz Chem Soc 31:683–693. https://doi.org/10.21577/0103-5053.20190232

Jen M, Yan AC (2010) Syndromes associated with nutritional deficiency and excess. Clin Dermatol 28:669–685. https://doi.org/10.1016/j.clindermatol.2010.03.029

Jordão CP, Pereira JL, Jham GN (1997) Chromium contamination in sediment, vegetation and fish caused by tanneries in the State of Minas Gerais, Brazil. Sci Total Environ 207:1–11. https://doi.org/10.1016/S0048-9697(97)00232-5

Keen JH, Habig WH, Jakoby WB (1976) Mechanism for several activities of the glutathione-S-transferase. J Biol Chem 251:6183–6188

Karuzina II, Archakov AI (1994) The oxidative inactivation of cytochrome P450 in monooxygenase reactions. Free Radic Biol Med 16:73–97. https://doi.org/10.1016/0891-5849(94)90245-3

Luna-Acosta A, Bustamante P, Godefroy J, Fruitier-Arnaudin I, Thomas-Guyon H (2010) Seasonal variation of pollution biomarkers to assess the impact on the health status of juvenile Pacific oysters Crassostrea gigas exposed in situ. Environ Sci Pollut Res 17:999–1008. https://doi.org/10.1007/s11356-009-0287-1

Luoma SN, Rainbow PS (2008) Metal contamination in aquatic environments: science and lateral management. Cambridge university press

Luoma SN, Rainbow PS (2009) Metal contamination in aquatic environments: science and lateral management. J Fish Biol 75:1911–1912. https://doi.org/10.1111/j.1095-8649.2009.02440_4.x

Lushchak VI (2011) Environmentally induced oxidative stress in aquatic animals. Aquat Toxicol 101:13–30. https://doi.org/10.1016/j.aquatox.2010.10.006

Markich SJ, Jeffree RA (2019) The euryhaline pygmy mussel, Xenostro bussecuris, is a useful biomonitor of key metal contamination in the highly urbanised Sydney Estuary, Australia. Environ Pollut 252:813–824. https://doi.org/10.1016/j.envpol.2019.05.131

Mccarthy JF, Shugart L (1990) Biomarkers of environmental contamination. Lewis Publishers, Boca Raton

Montazeri N, Maite M, Liu D et al (2015) Surveillance of Enteric Viruses and Microbial Indicators in the Eastern Oysters (Crassostrea virginica) and Harvest Waters along Louisiana Gulf Coast. J Food Sci 80:1075–1082. https://doi.org/10.1111/1750-3841.12871

Monteles JS, Funo ICSA, Castro TCS, Viana DCP, Conceição FS, França VL (2009) Percepção sócio-ambiental das marisqueiras no município de Raposa-MA. Rev Bras Eng Pesca 4:34–45. https://doi.org/10.18817/repesca.v4i2.141

Moreira JC (1996) Threats by heavy metals: human and environmental contamination in Brazil. Sci Total Environ 188:S1–S71. https://doi.org/10.1016/0048-9697(96)05277-1

Mydlarz LD, Jones LE, Harvell CD (2006) Innate immunity, environmental drivers, and disease ecology of marine and freshwater invertebrates. Annu Rev Ecol Evol Syst 37:251–288. https://doi.org/10.1146/annurev.ecolsys.37.091305.110103

Oliveira SRS, Batista WS, Sousa JBM et al (2019) Enzymatic and Histological Biomarkers in Ucides cordatus (Crustacea, Decapoda) in an Industrial Port on the North Coast of Brazil. Bull Environ Contam Toxicol 102:802–810. https://doi.org/10.1007/s00128-019-02594-1

Paula MD (2006) Inimigo invisível: metais pesados e a saúde humana. Periód Tchê Quím 3:37–44

Pfeffer CS, Hite MF, Oliver JD (2003) Ecology of Vibrio Vulnificus in Estuarine Waters of Eastern North Carolina. Appl Environ Microbiol 69:3526–3531. https://doi.org/10.1128/aem.69.6.3526-3531.2003

Rainbow PS (2006) Biomonitoring of trace metals in estuarine and marine environments. Australas J Ecotoxicol 12:107–122

Ramos RJ, Pereira MA, Miotto LA, Faria LFBD, Silveira Junior N, Vieira CRW (2010) Microrganismos indicadores de qualidade higiênico-sanitária em ostras (Crassostrea gigas) e águas salinas de fazendas marinhas localizadas na Baía Sul da Ilha de Santa Catarina, Brasil. Ver Inst Adolfo Lutz (Impr) 69:29–37

Ribeiro EB, Almeida ZS, Carvalho-Neta RNF (2012) Hábito alimentar do bagre Sciades herzbergii (Siluriformes, Ariidae) da Ilha dos Caranguejos, Maranhão, Brasil. Arq Bras Med Vet e Zootec 64:1761–1765. https://doi.org/10.1590/S0102-09352012000600048

Ribeiro EB, Noleto KS, Oliveira SRS et al (2020) Biomarkers (glutathione S-transferase and catalase) and microorganisms in soft tissues of Crassostrear hizophorae to assess contamination of sea food in Brazil. Mar Pollut Bull 58:1–10. https://doi.org/10.1016/j.marpolbul.2020.111348

Silveira RP, Rodrigues APC, Santelli RE, Cordeiro RE, Cordeiro RC, Bidone ED (2011) Mass balance in the monitoring of pollutants in tidal rivers of the Guanabara Bay, Rio de Janeiro, Brazil. Environ Monit Assess 181:165–173. https://doi.org/10.1007/s10661-010-1821-9

Teisseire H, Vernet G (2000) Is the "diuron effect" due to a herbicide strengthening of antioxidative defenses of Lemna minor? Pestic Biochem Physiol 66:153–160. https://doi.org/10.1006/pest.1999.2463

USEPA (2018) Surface Water Quality Standards - Chap. 62–302. https://www.epa.gov/sites/production/files/2014-12/documents/flsection62-302.pdf. Accessed 18 June 2020

Valdez-Domingos FX, Azevedo M, Silva MD, Randi MAF, Freire CA, Assis HS, Ribeiro CO (2007) Multi biomarker assessment of three Brazilian estuaries using oysters as bioindicators. Environ Res 105:350–363. https://doi.org/10.1016/j.envres.2007.06.003

Ventura EC, Gaelzer LR, Zanette J, Marques MRF, Bainy ACD (2002) Biochemical indicators of contaminant exposure in spotted pigfish (Orthopristis ruber) caught at three bays of Rio de Janeiro coast. Mar Environ Res 54:775–779. https://doi.org/10.1016/S0141-1136(02)00137-X

Yusof AM, Yanta NF, Wood AKH (2004) The use of bivalves as bio-indicators in the assessment of marine pollution along a coastal area. J Radioanal Nucl Chem 259:119–127. https://doi.org/10.1023/B:JRNC.0000015816.16869.6f
Acknowledgements
The authors are grateful to the Biology and Aquatic Environment Study Group (BIOAqua/UEMA), the Aquatic Organism Biomarker Laboratory (LABOAQ/UEMA), the Animal Morphology Laboratory, the Fishing and Aquatic Ecology Laboratory (LABPEA/UEMA), the Soil Chemistry Laboratory (UEMA), the UEMA (Veterinary Medicine Department) Food and Water Microbiology Laboratory and the Oceanography Department of the Universidade Federal do Maranhão (DEOLI/UFMA) for assistance with the laboratory analyzes. We are also thank ful to the Brazilian agencies CAPES (Coordenação de Aperfeiçoamento de Pessoal de Nível Superior, Finance Code 001) and FAPEMA (Fundação de Pesquisa e Desenvolvimento Científico do Maranhão) for financial support.
Additional information
Publisher's note
Springer Nature remains neutral with regard to jurisdictional claims in published maps and institutional affiliations.
About this article
Cite this article
Noleto, K.S., de Oliveira, S.R.S., Lima, I.M.A. et al. Biochemical and Histological Biomarkers in Crassostrea sp. (Bivalvia, Ostreidae) for Environmental Monitoring of a Neotropical Estuarine Area (São José Bay, Northeastern Brazil). Bull Environ Contam Toxicol (2021). https://doi.org/10.1007/s00128-021-03149-z
Received:

Accepted:

Published:
Keywords
Metals

Bivalves

Enzymes

GlutathioneS-Transferase

Catalase