Abstract
Based on the micro-hyperspectral imaging technique, spherical engineered microplastic (polyethylene, 10–45 μm) and microalgae (Isochrysis galbana) (4–7 μm) were identified. In transmittance mode of MHSI, micro image cubes from 400 to 1000 nm were obtained from slides containing MP and MA in thin seawater. Classifiers like Support Vector Machine (SVM(Radial Basis Function (RBF))), Least Squares Support Vector Machine (LSSVM(RBF)), k-Nearest Neighbors, etc. were adopted and compared to classify MP and MA. In order to expand the imaging range of micro imaging, image stitching technology was adopted. In allusion to the stitched image cube, SVM(RBF) is suggested for the identification of MA and MP, with recall and precision > 0.86. The above results demonstrate that the MHSI is a promising technique, which can detect MPs with particle size Limit of Detection of 10–45 μm, and it is potential to further expand this LOD.
Access options
Buy single article
Instant access to the full article PDF.
US$ 39.95
Tax calculation will be finalised during checkout.
Subscribe to journal
Immediate online access to all issues from 2019. Subscription will auto renew annually.
US$ 119
Tax calculation will be finalised during checkout.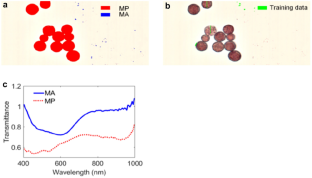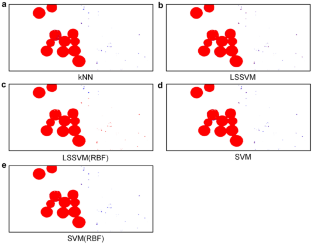 References
Andrady AL, Hamid HS, Torikai A (2003) Effects of climate change and UV-B on materials. Photochem Photobiol Sci 2(1):68–72

Appleton B, Bradley AP, Wildermoth M (2005) Towards optimal image stitching for virtual microscopy. DICTA'05, pp 44–44. IEEE

Bakir A, O'Connor IA, Rowland SJ, Hendriks AJ, Thompson RC (2016) Relative importance of microplastics as a pathway for the transfer of hydrophobic organic chemicals to marine life. Environ Pollut 219:56–65

Barnes DK, Galgani F, Thompson RC, Barlaz M (2009) Accumulation and fragmentation of plastic debris in global environments. Philos Trans R Soc B Biol Sci 364(1526):1985–1998

Besseling E, Wegner A, Foekema EM, Van Den Heuvel-Greve MJ, Koelmans AA (2013) Effects of microplastic on fitness and PCB bioaccumulation by the lugworm Arenicola marina (L.). Environ Sci Technol 47(1):593–600

Botelho BG, Oliveira LS, Franca AS (2017) Fluorescence spectroscopy as tool for the geographical discrimination of coffees produced in different regions of Minas Gerais State in Brazil. Food Control 77:25–31

Brennecke D, Duarte B, Paiva F, Caçador I, Canning-Clode J (2016) Microplastics as vector for heavy metal contamination from the marine environment. Estuar Coast Shelf Sci 178:189–195

Canniff PM, Hoang TC (2018) Microplastic ingestion by Daphnia magna and its enhancement on algal growth. Sci Total Environ 633:500–507

Chang CI (2003) Hyperspectral imaging: techniques for spectral detection and classification. Kluwer Academic/Plenum Publishers, New York

Cincinelli A, Scopetani C, Chelazzi D, Lombardini E, Martellini T, Katsoyiannis A, Fossi MC, Corsolini S (2017) Microplastic in the surface waters of the Ross Sea (Antarctica): occurrence, distribution and characterization by FTIR. Chemosphere 175:391–400

Cole M, Lindeque P, Halsband C, Galloway TS (2011) Microplastics as contaminants in the marine environment: a review. Mar Pollut Bull 62(12):2588–2597

Cole M, Lindeque P, Fileman E, Halsband C, Goodhead R, Moger J, Galloway TS (2013) Microplastic ingestion by zooplankton. Environ Sci Technol 47(12):6646–6655

Cortes C, Vapnik V (1995) Support vector networks. Mach Learn 20:273–297

Cover TM, Hart PE (1967) Nearest neighbor pattern classification. IEEE Trans Inf Theory IT-13:21–27

Crichton EM, Noël M, Gies EA, Ross PS (2017) A novel, density-independent and FTIR-compatible approach for the rapid extraction of microplastics from aquatic sediments. Anal Methods 9(9):1419–1428

Dekiff JH, Remy D, Klasmeier J, Fries E (2014) Occurrence and spatial distribution of microplastics in sediments from Norderney. Environ Pollut 186:248–256

Eriksen M, Lebreton LC, Carson HS, Thiel M, Moore CJ, Borerro JC, Galgani F, Ryan PG, Reisser J (2014) Plastic pollution in the world's oceans: more than 5 trillion plastic pieces weighing over 250,000 tons afloat at sea. PLoS One 9(12):e111913

Garaba SP, Dierssen HM (2018) An airborne remote sensing case study of synthetic hydrocarbon detection using short wave infrared absorption features identified from marine-harvested macro-and microplastics. Remote Sens Environ 205:224–235

Hidalgo-Ruz V, Gutow L, Thompson RC, Thiel M (2012) Microplastics in the marine environment: a review of the methods used for identification and quantification. Environ Sci Technol 46(6):3060–3075

La Daana KK, Officer R, Lyashevska O, Thompson RC, O'Connor I (2017) Microplastic abundance, distribution and composition along a latitudinal gradient in the Atlantic Ocean. Mar Pollut Bull 115(1–2):307–314

Lenz R, Enders K, Stedmon CA, Mackenzie DM, Nielsen TG (2015) A critical assessment of visual identification of marine microplastic using Raman spectroscopy for analysis improvement. Mar Pollut Bull 100(1):82–91

Li J, Liu H, Paul Chen J (2018) Microplastics in freshwater systems: a review on occurrence, environmental effects, and methods for microplastics detection. Water Res 137:362–374

Mehrubeoglu M, Teng M, Zimba P (2014) Resolving mixed algal species in hyperspectral images. Sensors 14(1):1–21

Miller ME, Kroon FJ, Motti CA (2017) Recovering microplastics from marine samples: a review of current practices. Mar Pollut Bull 123(1–2):6–18

Mishchenko MI (1993) Light scattering by size–shape distributions of randomly oriented axially symmetric particles of a size comparable to a wavelength. Appl Opt 32(24):4652–4666

Müller YK, Wernicke T, Pittroff M, Witzig CS, Storck FR, Klinger J, Zumbülte N (2020) Microplastic analysis—are we measuring the same? Results on the first global comparative study for microplastic analysis in a water sample. Anal Bioanal Chem 412(3):555–560

Rajapakse CS, Padalkar MV, Yang HJ, Ispiryan M, Pleshko N (2017) Non-destructive NIR spectral imaging assessment of bone water: comparison to MRI measurements. Bone 103:116–124

Renner G, Schmidt TC, Schram J (2017) A new chemometric approach for automatic identification of microplastics from environmental compartments based on FT-IR spectroscopy. Anal Chem 89(22):12045–12053

Shan J, Zhao J, Zhang Y, Liu L, Wu F, Wang X (2019) Simple and rapid detection of microplastics in seawater using hyperspectral imaging technology. Anal Chim Acta 1050:161–168

Shim WJ, Thomposon RC (2015) Microplastics in the ocean. Arch Environ Contam Toxicol 69(3):265–268

Suykens JAK, Vandewalle J (1999) Least squares support vector machine classifiers. Neural Process Lett 9(3):293–300

Wang F, Wong CS, Chen D, Lu X, Wang F, Zeng EY (2018) Interaction of toxic chemicals with microplastics: a critical review. Water Res 139:208–219

Xie L, Ye X, Liu D, Ying Y (2009) Quantification of glucose, fructose and sucrose in bayberry juice by NIR and PLS. Food Chem 114(3):1135–1140

Zhang C, Chen X, Wang J, Tan L (2017) Toxic effects of microplastic on marine microalgae Skeletonema costatum: interactions between microplastic and algae. Environ Pollut 220:1282–1288

Zhang Y, Wang X, Shan J, Zhao J, Zhang W, Liu L, Wu F (2019) Hyperspectral imaging based method for rapid detection of microplastics in the intestinal tracts of fish. Environ Sci Technol 53(9):5151–5158

Zhao J, Liu L, Zhang Y, Wang X, Wu F (2018) A novel way to rapidly monitor microplastics in soil by hyperspectral imaging technology and chemometrics. Environ Pollut 238:121–129
Acknowledgements
This work was financially supported by the National Natural Science Foundation of China (Grant Number: 31801619), the Natural Science Foundation of Zhejiang Province (Grant Numbers: LY18F050002, LY19F050016), and the National Key R&D Program of China (Grant Number: 2016YFC1402403). The authors will thank Huahong Shi (ORCID: 0000-0003-2978-0680) for his help in work polish.
Additional information
Publisher's Note
Springer Nature remains neutral with regard to jurisdictional claims in published maps and institutional affiliations.
Supplementary Information
Below is the link to the electronic supplementary material.
About this article
Cite this article
Huang, H., Sun, Z., Zhang, Z. et al. The Identification of Spherical Engineered Microplastics and Microalgae by Micro-hyperspectral Imaging. Bull Environ Contam Toxicol (2021). https://doi.org/10.1007/s00128-021-03131-9
Received:

Accepted:

Published:
Keywords
Micro-hyperspectral imaging

Image stitching

Identification

Microplastics

Microalgae