Abstract
In this study, we determined the effect of manure application on net nitrification rates (NNRs), heavy metal concentrations (HMCs), and abundance of ammonia-oxidizing archaea (AOA)/bacteria (AOB), and nitrite-oxidizing bacteria (NOB) in soil. HMCs were measured by atomic absorption spectroscopy. Abundance of AOA, AOB, and NOB was enumerated by q-PCR. NNRs ranged from 2.8 to 14.7 mg kg−1 h−1 and were significantly (p < 0.05) increased in manure soils as compared to control soils. NNRs were affected by pH 7 and temperature 30°C. Cd, Fe and Pb concentrations were classified as excessively polluted, moderate contamination and slight pollution, respectively, in the manure soils. NNRs and concentrations of Fe and Pb were significantly (p < 0.00) positive correlated, but Cu and Cd were significantly (p < 0.00) negative correlated with NNRs. Application of manure significantly (p < 0.05) increased HMCs (Fe, Cu, and Pb), which have indirect and direct effects on NNRs and nitrifying bacteria.
We're sorry, something doesn't seem to be working properly.
Please try refreshing the page. If that doesn't work, please contact support so we can address the problem.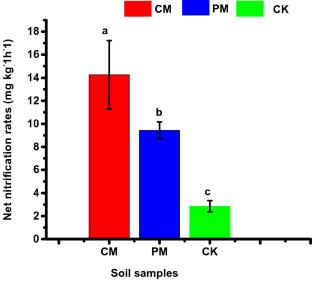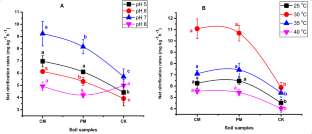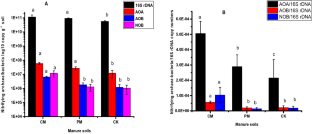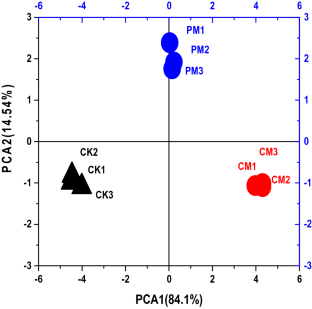 References
Ali N, Khan S, Khan MA, Waqas M, Yao H (2019) Endocrine disrupting pesticides in soil and their health risk through ingestion of vegetables grown in Pakistan. Environ Sci Pollut Res 26:8808–8820. https://doi.org/10.1007/s11356-019-04287-y

Allison SM, Prosser JI (1993) Ammonia oxidation at low pH by attached populations of nitrifying bacteria. Soil Biol Biochem 25(7):935–941. https://doi.org/10.1016/0038-0717(93)90096-T

Bai JH, Gao HF, Deng W, Yang ZF, Cui BS, Xiao R (2010) Nitrification potential of marsh soils from two natural saline–alkaline wetlands. Biol Fertil Soils 46:525–529. https://doi.org/10.1007/s00374-010-0441-4

Briffa J, Sinagra E, Blundell R (2020) Heavy metal pollution in the environment and their toxicological effects on humans. Heliyon 6(9):e04691. https://doi.org/10.1016/j.heliyon.2020.e04691

Bünemann EK, Schwenke GD, Van Zwieten L (2006) Impact of agricultural inputs on soil organisms—a review. Soil Res 44(4):379–406. https://doi.org/10.1071/sr05125

Cang L (2004) Heavy metals pollution in poultry and livestock feeds and manures under intensive farming in Jiangsu Province. China. J Environ Sci 16(3):371–374

Dao TH, Cavigelli MA (2003) Mineralizable carbon, nitrogen, and water-extractable phosphorus release from stockpiled and composted manure and manure-amended soils. Agron J 95(2):405–413. https://doi.org/10.2134/agronj2003.4050

Edori OS, Edori ES (2012) Effect of auto mechanic works on lead and iron content in two mechanic villages in Port Harcourt, Rivers State Nigeria. J Appl Sci Environ Manage 16:317–321

Graham DW, Knapp CW, VanVleck ES, Bloor K, Lane T, Graham CE (2007) Experimental demonstration of chaotic instability in biological nitrification. ISME J 1:385–394. https://doi.org/10.1038/ismej.2007.45

Hart SC, Binkley D, Perry A (1997) Influence of red alder on soil nitrogen transformations in two conifer forests of contrasting productivity. Soil Biol Biochem 29:1111–1123. https://doi.org/10.1016/S0038-0717(97)00004-7

Hemida SK, Omar SA, Abdel-Mallek AY (1997) Microbial populations and enzyme activity in soil treated with heavy metals. Water Air Soil Pollut 95(1–4):13–22. https://doi.org/10.1007/BF02406152

Herrmann M, Saunders AM, Schramm A (2009) Effect of lake trophic status and rooted macrophytes on community composition and abundance of ammonia-oxidizing prokaryotes in freshwater sediments. Appl Environ Microbiol 75(10):3127–3136. https://doi.org/10.1128/AEM.02806-08

Hoover NL, Law JY, Long LAM, Kanwar RS, Soupir ML (2019) Long-term impact of poultry manure on crop yield, soil and water quality, and crop revenue. J Environ Manage 252:109582. https://doi.org/10.1016/j.jenvman.2019.109582

Huang R, Wang Y, Gao X, Liu J, Wang Z, Gao M (2020) Nitrous oxide emission and the related denitrifier community: a short-term response to organic manure substituting chemical fertilizer. Ecotox Environ Safe 192:110291. https://doi.org/10.1016/j.ecoenv.2020.110291

Kasama T, Takashi Murakami T (2001) The effect of microorganisms on Fe precipitation rates at neutral pH. Chem Geol 180(1–4):117–128. https://doi.org/10.1016/S0009-2541(01)00309-6

Khanom A, Azad MAK, Ali MM, Ali MY, Biswas SK, Rahman MM (2021) Plants and microbes' responses to the net nitrification rates of chemical fertilizers in vegetable soils. Appl Soil Ecol 158:103783. https://doi.org/10.1016/j.apsoil.2020.103783

Klimek B (2012) Effect of long-term zinc pollution on soil microbial community resistance to repeated contamination. Bull Environ Contam Toxicol 88:617–622. https://doi.org/10.1007/s00128-012-0523-0

Könneke M, Bernhard AE, de la Torre JR, Walker CB, Waterbury JB, Stahl DA (2005) Isolation of an autotrophic ammonia-oxidizing marine archaeon. Nature 437:543–546. https://doi.org/10.1038/nature03911

Kuypers MMM, Marchant HK, Kartal B (2018) The microbial nitrogen-cycling network. Nat Rev Microbiol 16:263–276. https://doi.org/10.1038/nrmicro.2018.9

Lacatusu R (2000) Appraising levels of soil contamination and pollution with heavy metals. In: Heineke HJ, Eckelmann W, Thomasson AJ, Jones RJA, Montanarella L. and Buckley B, Eds., European Soil Bureau-Research Report No. 4: 393-403

Leininger S, Urich T, Schloter M, Schwark L, Qi J, Nicol GW, Schleper C (2006) Archaea predominate among ammonia-oxidizing prokaryotes in soils. Nature 442(7104):806. https://doi.org/10.1038/nature04983

Liu L, Chen H, Cai P, Liang W, Huang Q (2009) Immobilization and phytotoxicity of Cd in contaminated soil amended with chicken manure compost. J Hazard Mater 163(2–3):563–567. https://doi.org/10.1016/j.jhazmat.2008.07.004

Meinhardt KA, Bertagnolli A, Pannu MW, Strand SE, Brown SL, Stahl DA (2015) Evaluation of revised polymerase chain reaction primers for more inclusive quantification of ammonia-oxidizing archaea and bacteria. Environ Microbiol Rep 7:354–363. https://doi.org/10.1111/1758-2229.12259

Moral R, Perez-Murcia MD, Perez-Espinosa A, Moreno-Caselles J, Paredes C, Rufete B (2008) Salinity, organic content, micronutrients and heavy metals in pig slurries from South-eastern Spain. Waste Manage 28(2):367–371. https://doi.org/10.1016/j.wasman.2007.01.009

Nahar K, Ali MM, Khanom A, Alam MK, Azad MAK, Rahman MM (2020) Levels of heavy metal concentrations and their effect on net nitrification rates and nitrifying archaea/bacteria in paddy soils of Bangladesh. Appl Soil Ecol 156:103697. https://doi.org/10.1016/j.apsoil.2020.103697

Rahman MM, Shan J, Yang P, Shang X, Xia Y, Yan X (2018) Effects of long-term pig manure application on antibiotics, abundance of antibiotic resistance genes (ARGs), anammox and denitrification rates in paddy soils. Environ Pollut 240:368–377. https://doi.org/10.1016/j.envpol.2018.04.135

Rahman MM, Nahar K, Ali MM, Sultana N, Karim MM, Adhikari UK, Rauf M, Azad MAK (2020) Effect of long-term pesticides and chemical fertilizers application on the microbial community specifically anammox and denitrifying bacteria in rice field soil of Jhenaidah and Kushtia district, Bangladesh. Bull Environ Contam Toxicol 104:828–833. https://doi.org/10.1007/s00128-020-02870-5

Sheng R, Meng DL, Wu MN, Di HJ, Qin HL, Wei WX (2013) Effect of agricultural land use change on community composition of bacteria and ammonia oxidizers. J Soils Sediments 13:1246–1256. https://doi.org/10.1007/s11368-013-0713-3

Smolders E, Brans K, Coppens F, Merckx R (2001) Potential nitrification rate as a tool for screening toxicity in metal-contaminated soils. Environ Toxicol Chem 20(12):2469–2474. https://doi.org/10.1002/etc.5620201111

Sun R, Guo X, Wang D, Chu H (2015) Effects of long-term application of chemical and organic fertilizers on the abundance of microbial communities involved in the nitrogen cycle. Appl Soil Ecol 95:171–178. https://doi.org/10.1016/j.apsoil.2015.06.010

Wang X, Han C, Zhang J, Huang Q, Deng H, Deng Y, Zhong W (2015) Long-term fertilization effects on active ammonia oxidizers in an acidic upland soil in China. Soil Biol Biochem 84:28–37. https://doi.org/10.1016/j.soilbio.2015.02.013

Xiong X, Yanxia L, Wei L, Chunye L, Wei H, Ming Y (2010) Copper content in animal manures and potential risk of soil copper pollution with animal manure use in agriculture. Resour Conserv Recycl 54(11):985–990. https://doi.org/10.1016/j.resconrec.2010.02.005

Zeng J, Liu X, Song L, Lin X, Zhang H, Shen C, Chu H (2016) Nitrogen fertilization directly affects soil bacterial diversity and indirectly affects bacterial community composition. Soil Biol Biochem 92:41–49. https://doi.org/10.1016/j.soilbio.2015.09.018

Zhang T, Ye L, Hin A, Tong Y, Shao MF, Lok S (2011) Ammonia-oxidizing archaea and ammonia-oxidizing bacteria in six full-scale wastewater treatment bioreactors. Appl Microbiol Biotechnol 91:1215–1225. https://doi.org/10.1007/s00253-011-3408-y

Zhou DM, Hao XZ, Wang YJ, Dong YH, Cang L (2005) Copper and Zn uptake by radish and pakchoi as affected by application of livestock and poultry manures. Chemosphere 59(2):167–175. https://doi.org/10.1016/j.chemosphere.2004.11.008
Acknowledgements
The authors thankful to Dr. Md. Mashiur Rahman, Department of Genetic engineering and Biotechnology, Jessore Science University and Technology, Jessore, Bangladesh for the analysis of heavy metal concentrations. The authors thank the University Grant Commission (UGC) Bangladesh and Islamic University, Kushtia-7003 (141/Edu/IU-2019/331) and the Ministry of Science and Technology, Bangladesh (390000000090602419/ES-373) for partial funding.
Ethics declarations
Conflict of interest
All authors mutually announce that they have no conflict of interest.
Ethical Approval
This article does not comprise any studies with human contributors or animals performed by any of the authors.
Additional information
Publisher's Note
Springer Nature remains neutral with regard to jurisdictional claims in published maps and institutional affiliations.
Supplementary Information
Below is the link to the electronic supplementary material.
About this article
Cite this article
Ali, M.M., Khanom, A., Nahar, K. et al. Effect of Manure Application on Net Nitrification Rates, Heavy Metal Concentrations and Nitrifying Archaea/Bacteria in Soils. Bull Environ Contam Toxicol (2021). https://doi.org/10.1007/s00128-021-03112-y
Received:

Accepted:

Published:
Keywords
Soil contamination

Nitrifying microbial communities

q-PCR

Cow and poultry manure