Abstract
Many leather processing industries in Sialkot, Pakistan, discharge their wastes freely into the environment which then enters nearby water bodies. Irrigation practices with these polluted waters pose a great threat to the soil quality. Hence, the soils and effluent waters of five famous leather processing sites were evaluated for the presence of As, Cr, Cd, Ni, Zn, Mn, Mg, Na, K, and Ca. High mean concentrations of As (112.6 mg kg−1), Cr (45.9 mg kg−1), Cd (2.0 mg kg−1), Ni (58.2 mg kg−1), Zn (117.6 mg kg−1), Mn (12.8 mg kg−1), Mg (34,511 mg kg−1), Na (16,292 mg kg−1), K (1765 mg kg−1), and Ca (4387 mg kg−1) were found in soils at our study sites. Effluents were found to be highly acidic with high TDS content and high EC values. Index of Geoaccumulation (Igeo) confirmed the extremely toxic nature of these soils. Plants growing at these sites also showed high concentrations of As, Cr, and Cd in their leaves.
We're sorry, something doesn't seem to be working properly.
Please try refreshing the page. If that doesn't work, please contact support so we can address the problem.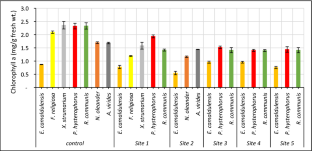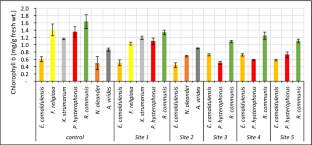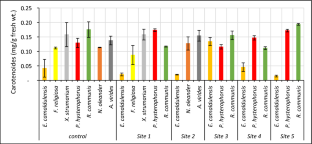 References
Ahmad K, Wajid K, Khan ZI, Ugulu I, Memoona H, Sana M, Nawaz K, Malik IS, Bashir H, Sher M (2019a) Evaluation of potential toxic metals accumulation in wheat irrigated with wastewater. Bull Environ Contam Toxicol 102:822–828

Ahmad Z, Khan SM, Ali MI, Fatima N, Ali S (2019b) Pollution indicandum and marble waste polluted ecosystem; role of selected indicator plants in phytoremediation and determination of pollution zones. J Clean Prod 236:117709

Ali Z, Malik RN, Qadir A (2013) Heavy metals distribution and risk assessment in soils affected by tannery effluents. Chem Ecol 29:676–692

Anwar S, Nawaz MF, Gul S, Rizwan M, Ali S, Kareem A (2016) Uptake and distribution of minerals and heavy metals in commonly grown leafy vegetable species irrigated with sewage water. Environ Monit Assess 188:541

Armon D (1949) Copper enzymes in isolated chloroplast. Plant Physiol 24:1–15

Chandra R, Yadav S, Yadav S (2017) Phytoextraction potential of heavy metals by native wetland plants growing on chlorolignin containing sludge of pulp and paper industry. Ecol Eng 98:134–145

Junaid M, Hashmi MZ, Malik RN (2016) Evaluating levels and health risk of heavy metals in exposed workers from surgical instrument manufacturing industries of Sialkot, Pakistan. Environ Sci Pollut Res 23:18010–18026

Khalid N, Hussain M, Hameed M, Ahmad R (2017) Physiological, biochemical and defense system responses of Parthenium hysterophorus to vehicular exhaust pollution. Pak J Bot 49:67–75

Khalid N, Hussain M, Ashraf M, Masood A, Akhtar Y (2018a) Spatio-temporal variation in cadmium released by automobiles along two roads in Pakistan. Pak J Bot 50:529–536

Khalid N, Hussain M, Young HS, Ashraf M, Hameed M, Ahmad R (2018b) Lead concentrations in soils and some wild plant species along two busy roads in Pakistan. Bull Environ Contam Toxicol 100:250–258

Khalid N, Noman A, Sanaullah T, Akram MA, Aqeel M (2018c) Vehicle pollution toxicity induced changes in physiology, defence system and biochemical characteristics of Calotropis procera L. Chem Ecol 34:565–581

Khalid N, Masood A, Noman A, Aqeel M, Qasim M (2019a) Study of the responses of two biomonitor plant species (Datura alba & Ricinus communis) to roadside air pollution. Chemosphere 235:832–841

Khalid N, Noman A, Aqeel M, Masood A, Tufail A (2019b) Phytoremediation potential of Xanthium strumarium for heavy metals contaminated soils at roadsides. Int J Environ Sci Technol 16:2091–2100

Korkina I, Vorobeichik E (2018) Humus Index as an indicator of the topsoil response to the impacts of industrial pollution. Appl Soil Ecol 123:455–463

Loska K, Wiechuła D, Korus I (2004) Metal contamination of farming soils affected by industry. Environ Int 30:159–165

Malik RN, Jadoon WA, Husain SZ (2010) Metal contamination of surface soils of industrial city Sialkot, Pakistan: a multivariate and GIS approach. Environ Geochem Health 32:179–191

Nagajyoti PC, Lee KD, Sreekanth T (2010) Heavy metals, occurrence and toxicity for plants: a review. Environ Chem Lett 8:199–216

Noreen I, Khan SM, Ahmad ZE, Rahman IU, Tabassum AB, Abd_Allah EF (2019) Response of different plant species to pollution emitted from oil and gas plant with special reference to heavy metals accumulation. Pak J Bot 51(4):1231–1240

Qadir A, Malik RN, Husain SZ (2008) Spatio-temporal variations in water quality of Nullah Aik-tributary of the river Chenab, Pakistan. Environ Monit Assess 140:43–59

Tóth G, Hermann T, Szatmári G, Pásztor L (2016) Maps of heavy metals in the soils of the European Union and proposed priority areas for detailed assessment. Sci Total Environ 565:1054–1062

Ullah R, Malik RN, Qadir A (2009) Assessment of groundwater contamination in an industrial city, Sialkot, Pakistan. Afr J Environ Sci Technol 3:429–446

Yang Q, Li Z, Lu X, Duan Q, Huang L, Bi J (2018) A review of soil heavy metal pollution from industrial and agricultural regions in China: pollution and risk assessment. Sci Total Environ 642:690–700

Yaylalı-Abanuz G (2011) Heavy metal contamination of surface soil around Gebze industrial area, Turkey. Microchem J 99:82–92

Zhou J, Feng K, Pei Z, Meng F, Sun J (2016) Multivariate analysis combined with GIS to source identification of heavy metals in soils around an abandoned industrial area, Eastern China. Ecotoxicology 25:380–388
Acknowledgements
We gratefully acknowledge Higher Education Commission of Pakistan for supporting this study through SRGP Grant No. 21-1306/SRGP/R&D/HEC/2017. We are also thankful to Katie Nigro (University of Colorado, United States) for critically checking the paper and editing the English Language.
Additional information
Publisher's note
Springer Nature remains neutral with regard to jurisdictional claims in published maps and institutional affiliations.
About this article
Cite this article
Khalid, N., Rizvi, Z.F., Yousaf, N. et al. Rising Metals Concentration in the Environment: A Response to Effluents of Leather Industries in Sialkot. Bull Environ Contam Toxicol (2021). https://doi.org/10.1007/s00128-021-03111-z
Received:

Accepted:

Published:
Keywords
Tanneries

Industrial pollution

Waste water

Effluents