Abstract
A bulky waste, oyster shell (OS), was calcinated at 400–800°C to produce Ca-rich products (OS400–OS800) to reduce the human health risk of soil cadmium (Cd) and arsenic (As). Thermogravimetric analysis, X-ray diffraction (XRD), scanning electron microscopy (SEM), and BET method were used to characterize OS and its calcined products. OS and OS400–OS700 removed little Cd and As from water, whereas OS800 removed 1508 mg Cd or 514 mg As per kg of OS800 from solutions of 1032 mg Cd/L or 257 mg As/L via adsorption and precipitation. Adding OS800 at a 2% dose to a Cd- and As-contaminated soil lowered its exchangeable Cd from 60% to 27%, and reduced Cd content in the edible part of vegetable Bok Choy from 2.80 to 0.048 mg/kg and As from 1.73 to 0.47 mg/kg. Converting OS to soil amendment has the dual benefits to soil remediation and sustainable oyster aquaculture.
This is a preview of subscription content, log in to check access.
Access options
Buy single article
Instant access to the full article PDF.
US$ 39.95
Price includes VAT for USA
Subscribe to journal
Immediate online access to all issues from 2019. Subscription will auto renew annually.
US$ 199
This is the net price. Taxes to be calculated in checkout.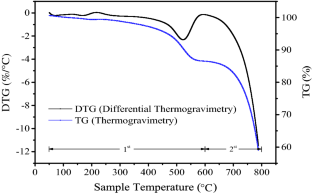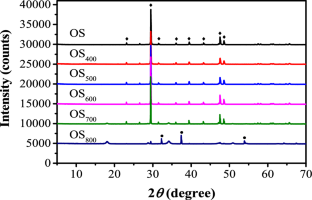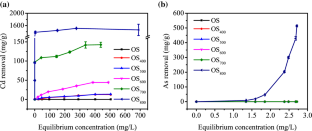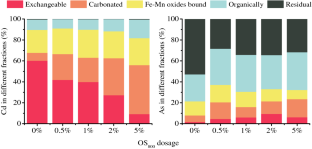 References
Alberts EM, Taylor SD, Edwards SL et al (2015) Structural and compositional characterization of the adhesive produced by reef building oysters. ACS Appl Mater Interfaces 7:8533–8538. https://doi.org/10.1021/acsami.5b00287

Alidoust D, Kawahigashi M, Yoshizawa S et al (2015) Mechanism of cadmium biosorption from aqueous solutions using calcined oyster shells. J Environ Manag 150:103–110. https://doi.org/10.1016/j.jenvman.2014.10.032

Beiyuan J, Tsang DCW, Valix M et al (2018) Combined application of EDDS and EDTA for removal of potentially toxic elements under multiple soil washing schemes. Chemosphere 205:178–187. https://doi.org/10.1016/j.chemosphere.2018.04.081

Bi D, Yuan G, Wei J et al (2019) A soluble humic substance for the simultaneous removal of cadmium and arsenic from contaminated soils. Int J Environ Res Public Health. https://doi.org/10.3390/ijerph16244999

Bolan N, Kunhikrishnan A, Thangarajan R et al (2014) Remediation of heavy metal(loid)s contaminated soils–to mobilize or to immobilize? J Hazard Mater 266:141–166. https://doi.org/10.1016/j.jhazmat.2013.12.018

Chen Y, Xu J, Lv Z (2018) Impacts of biochar and oyster shells waste on the immobilization of arsenic in highly contaminated soils. J Environ Manag 217:646–653. https://doi.org/10.1016/j.jenvman.2018.04.007

Choi UK, Lee OH, Kim YC (2011) Effect of calcinated oyster shell powder on growth, yield, spawn run, and primordial formation of king oyster mushroom (Pleurotus Eryngii). Molecules 16:2313–2322. https://doi.org/10.3390/molecules16032313

de Alvarenga RA, Galindro BM, Helpa Cde F et al (2012) The recycling of oyster shells: an environmental analysis using Life Cycle Assessment. J Environ Manag 106:102–109. https://doi.org/10.1016/j.jenvman.2012.04.017

Gabarrón M, Zornoza R, Martínez-Martínez S et al (2019) Effect of land use and soil properties in the feasibility of two sequential extraction procedures for metals fractionation. Chemosphere 218:266–272. https://doi.org/10.1016/j.chemosphere.2018.11.114

Gu JF, Zhou H, Yang HL et al (2019) Cadmium and arsenic accumulation during the rice growth period under in situ remediation. Ecotoxicol Environ Saf 171:451–459. https://doi.org/10.1016/j.ecoenv.2019.01.003

Havlin JL, Soltanpour PN (1980) A nitric acid plant tissue digest method for use with inductively coupled plasma spectrometry. Commun Soil Sci Plant Anal 11:969–980. https://doi.org/10.1080/00103628009367096

Hu CY, Lo SL, Kuan WH (2014) High concentration of arsenate removal by electrocoagulation with calcium. Sep Purif Technol 126:7–14. https://doi.org/10.1016/j.seppur.2014.02.015

Jolly Y, Islam A, Akbar S (2013) Transfer of metals from soil to vegetables and possible health risk assessment. Springerplus 2:385. https://doi.org/10.1186/2193-1801-2-385

Khan MA, Khan S, Khan A et al (2017) Soil contamination with cadmium, consequences and remediation using organic amendments. Sci Total Environ 601–602:1591–1605. https://doi.org/10.1016/j.scitotenv.2017.06.030

Kobatake H, Kirihara S (2019) Lowering the incineration temperature of fishery waste to optimize the thermal decomposition of shells and spines. Fish Sci 85:573–579. https://doi.org/10.1007/s12562-019-01292-5

Lee HH, Kim SY, Owens VN et al (2018) How does oyster shell immobilize cadmium? Arch Environ Contam Toxicol 74:114–120. https://doi.org/10.1007/s00244-017-0453-2

Liu YX, Yang TO, Yuan DX et al (2010) Study of municipal wastewater treatment with oyster shell as biological aerated filter medium. Desalination 254:149–153. https://doi.org/10.1016/j.desal.2009.12.003

Lu R (1999) Analytical methods for soil and agricultural chemistry. China Agricultural Science and Technology Press, Beijing, pp 477–479

Mao Y, Lin F, Fang J et al (2019) Bivalve production in China. In: Smaal A, Ferreira J, Grant J, Petersen J, Strand Ø (eds) Goods and services of marine bivalves. Springer, Cham, pp 51–72

Meng FD, Yuan GD, Wei J et al (2017) Leonardite-derived humic substances are great adsorbents for cadmium. Environ Sci Pollut Res Int 24:23006–23014. https://doi.org/10.1007/s11356-017-9947-8

MEPRC (2014) Report on the national soil contamination survey. Ministry of Environmental Protection, People's Republic of China. https://www.gov.cn/foot/2014-04/17/content_2661768.htm. (in Chinese). Accessed 30 Jan 2020

Mohamed M, Yousuf S, Maitra S (2012) Decomposition study of calcium carbonate in cockle shell. J Eng Sci Technol 7:1–10

Ok YS, Oh SE, Ahmad M et al (2010) Effects of natural and calcined oyster shells on Cd and Pb immobilization in contaminated soils. Environ Earth Sci 61:1301–1308. https://doi.org/10.1007/s12665-010-0674-4

Pavlović D, Pavlović M, Čakmak D et al (2018) Fractionation, mobility, and contamination assessment of potentially toxic metals in urban soils in four industrial serbian cities. Arch Environ Contam Toxicol 75:335–350. https://doi.org/10.1007/s00244-018-0518-x

Puga AP, Abreu CA, Melo LCA et al (2015) Biochar application to a contaminated soil reduces the availability and plant uptake of zinc, lead and cadmium. J Environ Manag 159:86–93. https://doi.org/10.1016/j.jenvman.2015.05.036

Qiao JT, Liu TX, Wang XQ et al (2018) Simultaneous alleviation of cadmium and arsenic accumulation in rice by applying zero-valent iron and biochar to contaminated paddy soils. Chemosphere 195:260–271. https://doi.org/10.1016/j.chemosphere.2017.12.081

Silva TH, Mesquita-Guimarães J, Henriques B et al (2019) The potential use of oyster shell waste in new value-added by-product. Resources. https://doi.org/10.3390/resources8010013

Singh R, Singh S, Parihar P et al (2015) Arsenic contamination, consequences and remediation techniques: a review. Ecotoxicol Environ Saf 112:247–270. https://doi.org/10.1016/j.ecoenv.2014.10.009

Wang F, Ouyang W, Hao F et al (2014) In situ remediation of cadmium-polluted soil reusing four by-products individually and in combination. J Soils Sediments 14:451–461. https://doi.org/10.1007/s11368-013-0827-7

Yuan GD, Theng BKG, Churchman GJ et al (2013) Clays and clay minerals for pollution control. Dev Clay Sci 5:587–644. https://doi.org/10.1016/B978-0-08-098259-5.00021-4

Zhu YN, Zhang XH, Xie QL et al (2006) Solubility and stability of calcium arsenates at 25°C. Water Air Soil Pollut 169:221–238. https://doi.org/10.1007/s11270-006-2099-y

Zhuo L, Li H, Cheng F et al (2012) Co-remediation of cadmium-polluted soil using stainless steel slag and ammonium humate. Environ Sci Pollut Res Int 19:2842–2848. https://doi.org/10.1007/s11356-012-0790-7
Acknowledgements
This work was supported by the Chinese National Key Research and Development Program (2016YFD0200303) and the National Natural Science Foundation of China (41501522), and Guangdong Technology and Equipment Research Center for Soil and Water Pollution Control. Three anonymous reviewers are appreciated for comments and suggestions.
About this article
Cite this article
Bi, D., Yuan, G., Wei, J. et al. Conversion of Oyster Shell Waste to Amendment for Immobilising Cadmium and Arsenic in Agricultural Soil. Bull Environ Contam Toxicol 105, 277–282 (2020). https://doi.org/10.1007/s00128-020-02906-w
Received:

Accepted:

Published:

Issue Date:
Keywords
Oyster shell waste

Soil remediation

Cadmium

Arsenic

Bioavailability