Abstract
Purpose
Headspace services provide treatment options to young people seeking mental healthcare. To obtain a better understanding of needs and characteristics of this population, and effectively evaluate services, we require novel youth-specific outcome measures. As part of our broad research program to establish such measures, a sample of young people were recruited and assessed. The study describes (i) methodology used to obtain clinical, functioning, and substance use characteristics of young people presenting to headspace services; and (ii) an overview of these characteristics.
Methods
Young people presenting to headspace centres were recruited. Multidimensional information was obtained relating to clinical and functional outcomes, demographic information, and lifestyle factors.
Results
1107 young help-seeking individuals were recruited. Participants were most likely young adults aged M = 18.1 years, SD = 3.3, with diagnoses of depression and/or anxiety (76.6%, n = 801), engaged in work and study (84.9%, n = 890), and living with parent(s) (68.9%, n = 736). Impairments in functioning were moderate as indicated by the Social and Occupational Functioning Assessment Scale (M = 65.2, SD = 9.5), substance use was common (alcohol 62.7%, n = 665; illicit substances 30.5%, n = 324), and current suicidal ideation was reported by a third (33.6%, n = 358).
Conclusions
A broad dataset was obtained providing an insight into key clinical, functional and quality of life characteristics of these individuals. We observed that young people present with complex problems, comorbid diagnoses, moderate levels of symptomatology, impairments in functioning, substance use, and suicidal ideation. This work provides the foundation for our broader research program aiming to develop novel, relevant and youth-specific, change and outcome measures.
Access options
Buy single article
Instant access to the full article PDF.
US$ 39.95
Tax calculation will be finalised during checkout.
Subscribe to journal
Immediate online access to all issues from 2019. Subscription will auto renew annually.
US$ 159
Tax calculation will be finalised during checkout.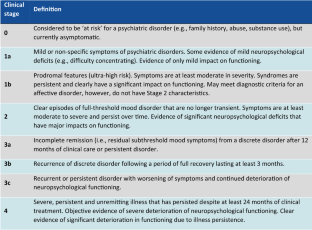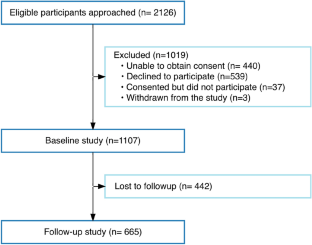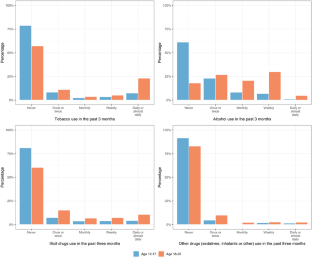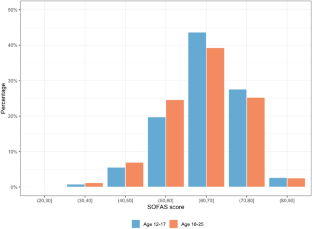 References
1.

Gore FM, Bloem PJ, Patton GC, Ferguson J, Joseph V, Coffey C, Sawyer SM, Mathers CD (2011) Global burden of disease in young people aged 10–24 years: a systematic analysis. The Lancet 377(9783):2093–2102

2.

Gibb SJ, Fergusson DM, Horwood LJ (2010) Burden of psychiatric disorder in young adulthood and life outcomes at age 30. Br J Psychiatry 197(2):122–127

3.

Johnson SE, Lawrence D, Hafekost J, Saw S, Buckingham WJ, Sawyer MG, Ainley J, Zubrick SR (2016) Service use by Australian children for emotional and behavioural problems : Findings from the second Australian Child and Adolescent Survey of Mental Health and Wellbeing. Aust N Zealand J Psychiatry 50 (9)

4.

Patton GC, Sawyer SM, Santelli JS, Ross DA, Afifi R, Allen NB, Arora M, Azzopardi P, Baldwin W, Bonell C (2016) Our future: a lancet commission on adolescent health and wellbeing. The Lancet 387(10036):2423–2478

5.

Wykes T, Haro JM, Belli SR, Obradors-Tarragó C, Arango C, Ayuso-Mateos JL, Bitter I, Brunn M, Chevreul K, Demotes-Mainard J (2015) Mental health research priorities for Europe. Lancet Psychiatry 2(11):1036–1042

6.

Rickwood D, Paraskakis M, Quin D, Hobbs N, Ryall V, Trethowan J, McGorry P (2019) Australia's innovation in youth mental health care: the headspace centre model. Early Intervent Psychiatry 13(1):159–166. https://doi.org/10.1111/eip.12740

7.

McGorry TJ, Rickwood D (2019) Creating headspace for integrated youth mental health care. World Psychiatry 18(2):140

8.

Headspace (2019) Headspace annual report 2018–19. Headspace National Youth Mental Health Foundation, Melbourne

9.

Rickwood DJ, Telford NR, Parker AG, Tanti CJ, McGorry PD (2014) headspace—Australia's innovation in youth mental health: who are the clients and why are they presenting? Med J Aust 200(2):108–111

10.

Australian Government (2019) 2019–2020 Ministerial Statement—Health. https://www.infrastructure.gov.au/department/statements/2019_2020/ministerial-statement/health.aspx. Accessed 10/04/2020

11.

Hetrick SE, Bailey AP, Smith KE, Malla A, Mathias S, Singh SP, O'Reilly A, Verma SK, Benoit L, Fleming TM, Moro MR, Rickwood DJ, Duffy J, Eriksen T, Illback R, Fisher CA, McGorry PD (2017) Integrated (one-stop shop) youth health care: best available evidence and future directions. Med J Aust 207(10):S5–S18

12.

Lobo R, Petrich M, Burns SK (2014) Supporting health promotion practitioners to undertake evaluation for program development. BMC Public Health 14(1):1315

13.

Hilferty F, Cassells R, Muir K, Duncan A, Christensen D, Mitrou F, Katz I (2015) Is headspace making a difference to young people's lives? Final report of the independent evaluation of the headspace program. Social Policy Research Centre. Sydney, Australia

14.

Muir K, Powell A, Patulny R, Flaxman S, McDermott S, Oprea I, Gendera S, Vespignani J, Sitek T, Abello D, Katz I (2009) Headspace evaluation report. Independent evaluation of headspace: the national youth mental health foundation. Social Policy Research Centre, University of New South Wales

15.

Kwan B, Rickwood D (2015) A systematic review of mental health outcome measures for young people aged 12 to 25 years. BMC Psychiatry. https://doi.org/10.1186/s12888-015-0664-x

16.

Parker A, Hetrick S, Purcell R (2010) Psychosocial assessment of young people—refining and evaluating a youth friendly assessment interview. Aust Fam Physician 39(8):585–588

17.

Carpenter JS, Iorfino F, Cross S, Nichles A, Zmicerevska N, Crouse JJ, Palmer JR, Whitton AE, White D, Naismith SL, Guastella AJ, Hermens DF, Scott J, Scott EM, Hickie IB (2020) Cohort profile: the Brain and Mind Centre <em>Optymise</em> cohort: tracking multidimensional outcomes in young people presenting for mental healthcare. BMJ Open 10(3):e030985. https://doi.org/10.1136/bmjopen-2019-030985

18.

Pirkis J, Burgess P, Coombs T, Clarke A, Jones-Ellis D, Dickson R (2005) Routine measurement of outcomes in Australia's public sector mental health services. Aust N Zeal Health Policy 2(1):8

19.

Whipple JL, Lambert MJ (2011) Outcome measures for practice. Annu Rev Clin Psychol 7:87–111

20.

Timimi S, Tetley D, Burgoine W, Walker G (2013) Outcome orientated child and adolescent mental health services (OO-CAMHS): a whole service model. Clin Child Psychol Psychiatry 18(2):169–184

21.

Patel V, Flisher AJ, Hetrick S, McGorry P (2007) Mental health of young people: a global public-health challenge. The Lancet 369(9569):1302–1313. https://doi.org/10.1016/s0140-6736(07)60368-7

22.

McGorry PD, Tanti C, Stokes R, Hickie IB, Carnell K, Littlefield LK, Moran J (2007) headspace: Australia's National Youth Mental Health Foundation—where young minds come first. Med J Aust 187(S7):S68–S70

23.

Hetrick SE, Parker AG, Callahan P, Purcell R (2010) Evidence mapping: illustrating an emerging methodology to improve evidence-based practice in youth mental health. J Eval Clin Pract 16(6):1025–1030. https://doi.org/10.1111/j.1365-2753.2008.01112.x

24.

Kroenke K, Spitzer RL, Williams JB (2001) The PHQ-9: validity of a brief depression severity measure. J Gen Intern Med 16(9):606–613

25.

Kessler RC, Andrews G, Colpe LJ, Hiripi E, Mroczek DK, Normand SLT, Walters EE, Zaslavsky AM (2002) Short screening scales to monitor population prevalences and trends in non-specific psychological distress. Psychol Med 32(6):959–976. https://doi.org/10.1017/s0033291702006074

26.

Spitzer RL, Kroenke K, Williams JB, Löwe B (2006) A brief measure for assessing generalized anxiety disorder: the GAD-7. Arch Intern Med 166(10):1092–1097

27.

Norman SB, Cissell SH, Means-Christensen AJ, Stein MB (2006) Development and validation of an Overall Anxiety Severity And Impairment Scale (OASIS). Depress Anxiety 23(4):245–249. https://doi.org/10.1002/da.20182

28.

Birmaher B, Brent DA, Chiappetta L, Bridge J, Monga S, Baugher M (1999) Psychometric properties of the Screen for Child Anxiety Related Emotional Disorders (SCARED): a replication study. J Am Acad Child Adolesc Psychiatry 38(10):1230–1236

29.

Roelofs J, Muris P, Huibers M, Peeters F, Arntz A (2006) On the measurement of rumination: a psychometric evaluation of the ruminative response scale and the rumination on sadness scale in undergraduates. J Behav Ther Exp Psychiatry 37(4):299–313. https://doi.org/10.1016/j.jbtep.2006.03.002

30.

Reynolds WM (1987) Suicidal ideation questionnaire (SIQ). Psychological Assessment Resources, Odessa

31.

Kanter JW, Mulick PS, Busch AM, Berlin KS, Martell CR (2006) The Behavioral Activation for Depression Scale (BADS): psychometric properties and factor structure. J Psychopathol Behav Assess 29(3):191–202. https://doi.org/10.1007/s10862-006-9038-5

32.

Snell WE Jr, Gum S, Shuck RL, Mosley JA, Kite TL (1995) The clinical anger scale: preliminary reliability and validity. J Clin Psychol 51(2):215–226

33.

Ising HK, Veling W, Loewy RL, Rietveld MW, Rietdijk J, Dragt S, Klaassen RM, Nieman DH, Wunderink L, Linszen DH, van der Gaag M (2012) The validity of the 16-item version of the prodromal questionnaire (PQ-16) to screen for ultra high risk of developing psychosis in the general help-seeking population. Schizophr Bull 38(6):1288–1296. https://doi.org/10.1093/schbul/sbs068

34.

Fisher CA, Goodall J, Simmons MB, Allott K, Hetrick SE (2016) Subjective ratings of neurocognitive functioning in depressed young people undergoing treatment: utility of a brief screening tool. Early Intervent Psychiatry 10(3):252–257. https://doi.org/10.1111/eip.12226

35.

Humeniuk R, Ali R, Babor TF, Farrell M, Formigoni ML, Jittiwutikarn J, de Lacerda RB, Ling W, Marsden J, Monteiro M, Nhiwatiwa S, Pal H, Poznyak V, Simon S (2008) Validation of the alcohol, smoking and substance involvement screening test (ASSIST). Addiction 103(6):1039–1047. https://doi.org/10.1111/j.1360-0443.2007.02114.x

36.

Buysse DJ, Reynolds CF III, Monk TH, Berman SR, Kupfer DJ (1989) The pittsburgh sleep quality index: a new instrument for psychiatric practice and research. Psychiatry Res 28(2):193–213

37.

Godin G (2011) The Godin-Shephard leisure-time physical activity questionnaire. Health Fit J Can 4(1):18–22

38.

Perera HN (2016) Construct validity of the Social Provisions Scale: a bifactor exploratory structural equation modeling approach. Assessment 23(6):720–733. https://doi.org/10.1177/1073191115589344

39.

Gupta A, Chong S, Leong FT (2015) Development and validation of the vocational identity measure. J Career Assess 23(1):79–90

40.

Richardson JR, Peacock SJ, Hawthorne G, Iezzi A, Elsworth G, Day NA (2012) Construction of the descriptive system for the assessment of quality of life AQoL-6D utility instrument. Health Qual Life Outcomes 10(1):38

41.

American Psychiatric Association (2013) Diagnostic and statistical manual of mental disorders: DSM-5. American Psychiatric Assocation, Arlington

42.

McGorry PD, Hickie IB, Yung AR, Pantelis C, Jackson HJ (2006) Clinical staging of psychiatric disorders: a heuristic framework for choosing earlier, safer and more effective interventions. Aust N Z J Psychiatry 40(8):616–622. https://doi.org/10.1111/j.1440-1614.2006.01860.x

43.

Goldman HH, Skodol AE, Lave TR (1992) Revising axis V for DSM-IV: a review of measures of social functioning. Am J Psychiatry 149:9

44.

Carney R, Yung AR, Amminger GP, Bradshaw T, Glozier N, Hermens DF, Hickie IB, Killackey E, McGorry P, Pantelis C, Wood SJ, Purcell R (2017) Substance use in youth at risk for psychosis. Schizophr Res 181:23–29. https://doi.org/10.1016/j.schres.2016.08.026

45.

Holt-Lunstad J, Smith TB, Layton JB (2010) Social relationships and mortality risk: a meta-analytic review. PLoS Med 7(7):e1000316–e1000316. https://doi.org/10.1371/journal.pmed.1000316

46.

Catty J, Lissouba P, White S, Becker T, Drake RE, Fioritti A, Knapp M, Lauber C, Rössler W, Tomov T, van Busschbach J, Wiersma D, Burns T (2008) Predictors of employment for people with severe mental illness: results of an international six-centre randomised controlled trial. Br J Psychiatry 192(3):224–231. https://doi.org/10.1192/bjp.bp.107.041475

47.

Australian Bureau of Statistics (2016) Census of Population and Housing: Estimating Homelessness, in 2049.0. Australian Bureau of Statistics, Canberra.

48.

Padgett DK (2020) Homelessness, housing instability and mental health: making the connections. B J Psych Bull 44(5):197–201

49.

Hall WD, Patton G, Stockings E, Weier M, Lynskey M, Morley KI, Degenhardt L (2016) Why young people's substance use matters for global health. Lancet Psychiatry 3(3):265–279

50.

Windle M (2016) Drinking over the lifespan: focus on early adolescents and youth. Alcohol Res Curr Rev 38(1):95

51.

Patton GC, Coffey C, Lynskey MT, Reid S, Hemphill S, Carlin JB, Hall W (2007) Trajectories of adolescent alcohol and cannabis use into young adulthood. Addiction 102(4):607–615. https://doi.org/10.1111/j.1360-0443.2006.01728.x

52.

Purcell R, Jorm AF, Hickie IB, Yung AR, Pantelis C, Amminger GP, Glozier N, Killackey E, Phillips LJ, Wood SJ, Harrigan S, Mackinnon A, Scott E, Hermens DF, Guastella AJ, Kenyon A, Mundy L, Nichles A, Scaffidi A, Spiliotacopoulos D, Taylor L, Tong JP, Wiltink S, Zmicerevska N, McGorry PD (2015) Demographic and clinical characteristics of young people seeking help at youth mental health services: baseline findings of the Transitions Study. Early Intervent Psychiatry 9(6):487–497. https://doi.org/10.1111/eip.12133

53.

Hamilton BA, Naismith SL, Scott EM, Purcell S, Hickie IB (2011) Disability is already pronounced in young people with early stages of affective disorders: data from an early intervention service. J Affect Disord 131(1–3):84–91. https://doi.org/10.1016/j.jad.2010.10.052

54.

Hermens DF, Scott EM, White D, Lynch M, Lagopoulos J, Whitwell BG, Naismith SL, Hickie IB (2013) Frequent alcohol, nicotine or cannabis use is common in young persons presenting for mental healthcare: a cross-sectional study. BMJ Open. https://doi.org/10.1136/bmjopen-2012-002229

55.

Holloway EM, Rickwood D, Rehm IC, Meyer D, Griffiths S, Telford N (2018) Non-participation in education, employment, and training among young people accessing youth mental health services: demographic and clinical correlates. Adv Mental Health 16(1):19–32. https://doi.org/10.1080/18387357.2017.1342553

56.

Iorfino F, Davenport TA, Ospina-Pinillos L, Hermens DF, Cross S, Burns J, Hickie IB (2017) Using new and emerging technologies to identify and respond to suicidality among help-seeking young people: a cross-sectional study. J Med Internet Res 19(7):e247. https://doi.org/10.2196/jmir.7897

57.

headspace (2017) headspace Annual Report: 2016–17. headspace National Youth Mental Health Foundation, Melbourne, Australia

58.

headspace (2018) headspace Annual Report 2017–18. headspace National Youth Mental Health Foundation, Melbourne, Australia
Acknowledgements
This was a joint project between Orygen; Centre for Youth Mental Health (University of Melbourne) and headspace National Youth Mental Health Foundation. We thank Dr. Sharnel Perera for her contributions in many aspects of the project and the team of research assistants involved in collecting the data. We thank the headspace centre staff and young people whose participation made this study possible.
Funding
This work was supported by National Health and Medical Research Council, Australia (Grant no. APP1076940).
About this article
Cite this article
Filia, K., Rickwood, D., Menssink, J. et al. Clinical and functional characteristics of a subsample of young people presenting for primary mental healthcare at headspace services across Australia. Soc Psychiatry Psychiatr Epidemiol (2021). https://doi.org/10.1007/s00127-020-02020-6
Received:

Accepted:

Published:
Keywords
Cohort study

Primary mental healthcare

Outcome measurement

Youth