Abstract
Purpose
To explore whether the 'hikikomori' syndrome (social withdrawal) described in Japan exists in other countries, and if so, how patients with the syndrome are diagnosed and treated.
Methods
Two hikikomori case vignettes were sent to psychiatrists in Australia, Bangladesh, India, Iran, Japan, Korea, Taiwan, Thailand and the USA. Participants rated the syndrome's prevalence in their country, etiology, diagnosis, suicide risk, and treatment.
Results
Out of 247 responses to the questionnaire (123 from Japan and 124 from other countries), 239 were enrolled in the analysis. Respondents' felt the hikikomori syndrome is seen in all countries examined and especially in urban areas. Biopsychosocial, cultural, and environmental factors were all listed as probable causes of hikikomori, and differences among countries were not significant. Japanese psychiatrists suggested treatment in outpatient wards and some did not think that psychiatric treatment is necessary. Psychiatrists in other countries opted for more active treatment such as hospitalization.
Conclusions
Patients with the hikikomori syndrome are perceived as occurring across a variety of cultures by psychiatrists in multiple countries. Our results provide a rational basis for study of the existence and epidemiology of hikikomori in clinical or community populations in international settings.
Access options
Buy single article
Instant access to the full article PDF.
USD 39.95
Price excludes VAT (USA)
Tax calculation will be finalised during checkout.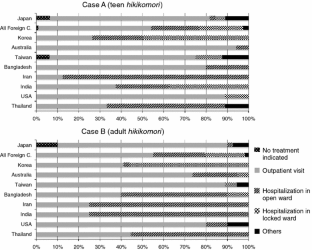 References
Tseng WS (2001) Handbook of cultural psychiatry. Academic Press, San Diego

Wasan AD, Neufeld K, Jayaram G (2009) Practice patterns and treatment choices among psychiatrists in New Delhi, India: a qualitative and quantitative study. Soc Psychiatry Psychiatr Epidemiol 44(2):109–119

Alarcon RD (2009) Culture, cultural factors and psychiatric diagnosis: review and projections. World Psychiatry 8(3):131–139

Ogata Y, Izumi Y, Kitaike T (2006) Mobile-phone e-mail use, social networks, and loneliness among Japanese high school students (in Japanese). Nippon Koshu Eisei Zasshi 53(7):480–492

Saito T (1998) Social Withdrawal (Shakaiteki Hikikomori). PHP Shinsho (in Japanese), Tokyo

Kaneko S (2006) Japan's 'socially withdrawn youths' and time constraints in Japanese society: management and conceptualization of time in a support group for 'hikikomori'. Time Soc 15(2–3):233–249

Watts J (2002) Public health experts concerned about "hikikomori". Lancet 359(9312):1131

Teo AR (2010) A new form of social withdrawal in Japan: a review of hikikomori. Int J Soc Psychiatry 56(2):178–185

Teo AR, Gaw AC (2010) Hikikomori, a Japanese culture-bound syndrome of social withdrawal?: A proposal for DSM-5. J Nerv Ment Dis 198(6):444–449

Borovoy A (2008) Japan's hidden youths: mainstreaming the emotionally distressed in Japan. Cult Med Psychiatry 32(4):552–576

Garcia-Campayo J, Alda M, Sobradiel N, Sanz Abos B (2007) A case report of hikikomori in Spain. Med Clin (Barc) 129(8):318–319

Sakamoto N, Martin RG, Kumano H, Kuboki T, Al-Adawi S (2005) Hikikomori, is it a culture-reactive or culture-bound syndrome? Nidotherapy and a clinical vignette from Oman. Int J Psychiatry Med 35(2):191–198

Lee KM, Koo JG, Kim EJ, Lee SH (2001) The psychosocial characteristics of oiettolie adolescents (in Korean). Korean J Counsel Psychother 13(1):147–162

Koyama A, Miyake Y, Kawakami N, Tsuchiya M, Tachimori H, Takeshima T (2010) Lifetime prevalence, psychiatric comorbidity and demographic correlates of "hikikomori" in a community population in Japan. Psychiatry Res 176(1):69–74

Kano R, Kondo N (2000) Seinen no Hikikomori (Adolescent Social Withdrawal) (in Japanese). Iwasaki gakuzyutsu shuppansha, Tokyo

Kondo N, Iwazaki H, Kobayashi M, Miyazawa H (2007) Psychiatric background of social withdrawal in adolescence (in Japanese). Seishin Shinkeigaku Zasshi 109(9):834–843

Saito K (2010) Hikikomori No Hyouka-Shien Ni Kansuru Gaido-Rain [Guideline of Hikikomori for their evaluations and supports]. Ministry of Health, Labour and Welfare (http://www.ncgmkohnodai.go.jp/pdf/jidouseishin/22ncgm_hikikomori.pdf), Tokyo

Trumpf J, Margraf J, Vriends N, Meyer AH, Becker ES (2010) Specific phobia predicts psychopathology in young women. Soc Psychiatry Psychiatr Epidemiol 45(12):1161–1166

Nolfe G, Petrella C, Zontini G, Uttieri S (2010) Association between bullying at work and mental disorders: gender differences in the Italian people. Soc Psychiatry Psychiatr Epidemiol 45(11):1037–1041

Canino G, Polanczyk G, Bauermeister JJ, Rohde LA, Frick PJ (2010) Does the prevalence of CD and ODD vary across cultures? Soc Psychiatry Psychiatr Epidemiol 45(7):695–704

Eichelsheim VI, Buist KL, Dekovic M, Wissink IB, Frijns T, van Lier PA, Koot HM, Meeus WH (2010) Associations among the parent-adolescent relationship, aggression and delinquency in different ethnic groups: a replication across two Dutch samples. Soc Psychiatry Psychiatr Epidemiol 45(3):293–300

Coid J, Yang M (2010) Violence and delayed social independence among young adult British men. Soc Psychiatry Psychiatr Epidemiol 45(3):301–308

Rydell AM (2010) Family factors and children's disruptive behaviour: an investigation of links between demographic characteristics, negative life events and symptoms of ODD and ADHD. Soc Psychiatry Psychiatr Epidemiol 45(2):233–244

Kitayama O, Saito T, Watanabe T, Muto S (2001) Zadankai Hikikomori Ni Tsuite (Forum Hikikomori)(in Japanese). In: Watanabe T, Muto S (eds) Gendai No Esprit 403-Hikikomori-. Shibundo, Tokyo, pp 5–34

Doi T (1973) The anatomy of dependence. Kodensha International, Tokyo

Kato T (2008) The significance of communicating with neighbors for young psychiatrists. World Cult Psychiatr Res Rev 3(4):219–225. http://www.wcprr.org/pdf/03-04/2008.04.219225.pdf

Niiya Y, Ellsworth PC, Yamaguchi S (2006) Amae in Japan and the United States: an exploration of a "culturally unique" emotion. Emotion 6(2):279–295

Malagon A, Alvaro P, Corcoles D, Martin-Lopez LM, Bulbena A (2010) 'hikikomori': a new diagnosis or a syndrome associated with a psychiatric diagnosis? Int J Soc Psychiatry 56(5):558–559

Kinugasa T (1998) Young Adults and withdrawal (Yangu Adaruto No Hikikomori) (in Japanese). Rinsho Shinkeigaku 27:147–152

Mann JJ, Apter A, Bertolote J, Beautrais A, Currier D, Haas A, Hegerl U, Lonnqvist J, Malone K, Marusic A, Mehlum L, Patton G, Phillips M, Rutz W, Rihmer Z, Schmidtke A, Shaffer D, Silverman M, Takahashi Y, Varnik A, Wasserman D, Yip P, Hendin H (2005) Suicide prevention strategies: a systematic review. JAMA 294(16):2064–2074

Hsu LK, Lee S (1993) Is weight phobia always necessary for a diagnosis of anorexia nervosa? Am J Psychiatry 150(10):1466–1471

Pavlova B, Uher R, Dragomirecka E, Papezova H (2010) Trends in hospital admissions for eating disorders in a country undergoing a socio-cultural transition, the Czech Republic 1981–2005. Soc Psychiatry Psychiatr Epidemiol 45(5):541–550

Miller MN, Pumariega AJ (2001) Culture and eating disorders: a historical and cross-cultural review. Psychiatry 64(2):93–110

American Psychiatric Association (2000) Diagnostic and statistical manual of mental disorders (4th edn). American Psychiatric Association, Washington (DC)

Russell JG (1989) Anxiety disorders in Japan: a review of the Japanese literature on shinkeishitsu and taijinkyofusho. Culture Med Psychiatry 13(4):391–403

Nakamura K, Shioji R (1997) Taijin kyoufushou to hikikomori (in Japanese). Rinshou Seishin Igaku (Clin Psychiatry) 26:1169–1176

Kirmayer LJ (1991) The place of culture in psychiatric nosology: Taijin kyofusho and DSM-III-R. J Nerv Ment Dis 179(1):19–28

Simons RC (1980) The resolution of the Latah paradox. J Nerv Ment Dis 168(4):195–206

Kenny MG (1983) Paradox lost. The latah problem revisited. J Nerv Ment Dis 171(3):159–167

Aboujaoude E (2010) Problematic Internet use: an overview. World Psychiatry 9(2):85–90

Young K (2010) Internet addiction over the decade: a personal look back. World Psychiatry 9(2):91

Ha JH, Yoo HJ, Cho IH, Chin B, Shin D, Kim JH (2006) Psychiatric comorbidity assessed in Korean children and adolescents who screen positive for Internet addiction. J Clin Psychiatry 67(5):821–826

Yen CF, Yen JY, Ko CH (2010) Internet addiction: ongoing research in Asia. World Psychiatry 9(2):97

Jeon HJ, Lee JY, Lee YM, Hong JP, Won SH, Cho SJ, Kim JY, Chang SM, Lee D, Lee HW, Cho MJ (2010) Lifetime prevalence and correlates of suicidal ideation, plan, and single and multiple attempts in a Korean nationwide study. J Nerv Ment Dis 198(9):643–646

Hagihara A, Miyazaki S, Tarumi K (2010) Internet use and suicide among younger age groups between 1989 and 2008 in Japan. Acta Psychiatr Scand 121(6):485; author reply 485–486

Naito A (2007) Internet suicide in Japan: implications for child and adolescent mental health. Clin Child Psychol Psychiatry 12(4):583–597

Ozawa-de Silva C (2008) Too lonely to die alone: internet suicide pacts and existential suffering in Japan. Cult Med Psychiatry 32(4):516–551

Kondo N, Sakai M, Ishikawa S, Niimuras J, Tanoue M (2008) Home visits for social withdrawal cases in community mental health and child welfare services (in Japanese). Seishin Shinkeigaku Zasshi 110(7):536–545

Kato TA, Tateno M, Umene-Nakano W, Balhara YP, Teo AR, Fujisawa D, Sasaki R, Ishida T, Kanba S (2010) Impact of biopsychosocial factors on psychiatric training in Japan and overseas: are psychiatrists oriented to mind, brain, or sociocultural issues? Psychiatry Clin Neurosci 64(5):520–530

Tanaka-Matsumi J (1979) Taijin Kyofusho: diagnostic and cultural issues in Japanese psychiatry. Cult Med Psychiatry 3(3):231–245
Acknowledgments
The present study was supported by the World Psychiatric Association (WPA) Research Fund 2010, and a grant from Japan Foundation for Neuroscience and Mental Health (both to T.A.K.). We thank the Japan Young Psychiatrists Organization (JYPO) for promoting our research activity. We are grateful to Drs. Horikawa H, Kuga H, Tanaka M and Barroilhet S for their cooperation.
Conflict of interest
All authors declare that they have no conflicts of interest.
About this article
Cite this article
Kato, T.A., Tateno, M., Shinfuku, N. et al. Does the 'hikikomori' syndrome of social withdrawal exist outside Japan? A preliminary international investigation. Soc Psychiatry Psychiatr Epidemiol 47, 1061–1075 (2012). https://doi.org/10.1007/s00127-011-0411-7
Received:

Accepted:

Published:

Issue Date:

DOI: https://doi.org/10.1007/s00127-011-0411-7
Keywords
Hikikomori

Social withdrawal

Taijin kyofusho

Amae

Internet addiction