Abstract
The magnetite ore bodies of the Paleozoic Glubochenskoe iron deposit (315.7 Mt at ~ 30.15% Fe) are located in the northern part of the Valerianovka arc zone ("Turgai belt") within the Transuralian Megazone, Russia. They occur in calcareous-volcaniclastic rocks, exhibit layered textures, and contain primary seafloor hematite ores. The sequence of mineral formation reflects the diagenetic to metamorphic evolution of the iron ores: (i) finely dispersed hematite-1; (ii) tabular hematite-2 crystals; (iii) pseudomorphic magnetite-1 after hematite-2; (iv) zoned magnetite-2 crystals with relict hematite-2 (or magnetite-1); (v) thin oscillatory zoned magnetite-3 crystals; and (vi) magnetite-4 porphyroblasts. A gangue assemblage of Fe-rich and Fe–Mg chlorite, illite, quartz, albite, carbonates, rutile, and apatite with rare monazite, xenotime, and zircon occurs in ore and calcareous-volcaniclastic layers. The gangue clasts (volcanic glass, Ca–Mg and Ti minerals, and altered volcanic rocks) are replaced by hematite and further by magnetite. Low siderite δ13C values from layered magnetite ores (− 8.0 to − 19.5‰ PDB) indicate the presence of primary organic matter in calcareous-volcaniclastic rocks. Siderite δ18O values (6.5 to 17.4‰ SMOW) are evidence of isotopic exchange between minerals and fluids during metamorphism. Negative δ34S values for pyrite (down to − 4.5‰) likely indicate derivation of sulfur from organic matter in clastic sedimentary rocks. LA-ICP-MS analysis of zoned magnetite demonstrates highly variable Si, Al, Mg, Na, K, Ca, Ti, Mn, Rb, Y, Zr, Sr, U, and P contents, related to inclusions of gangue minerals. Elevated homogenous V and Ga contents and low contents of Sc, Co, Ni, Ge, As, Mo, Sn, and W (average < 5 ppm) indicate their incorporation into the structure of magnetite. All element contents (except V and Ga) are significantly higher in the inner zone of magnetite (magnetite-1) compared to the outer zone of magnetite (magnetite-2). The calcareous-volcaniclastic material, which was altered during submarine weathering and leaching, is proposed to be a major source of iron to form oxides. Altogether, the paragenetic sequence, and the mineralogical and geochemical data suggest the Glubochenskoe deposit can be characterized as a volcanic-sedimentary type of banded iron formation.
Access options
Buy single article
Instant access to the full article PDF.
US$ 39.95
Tax calculation will be finalised during checkout.
Subscribe to journal
Immediate online access to all issues from 2019. Subscription will auto renew annually.
US$ 119
Tax calculation will be finalised during checkout.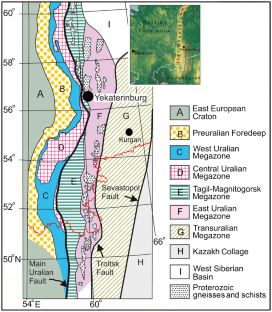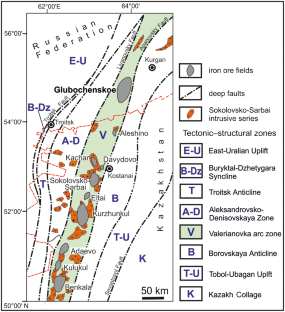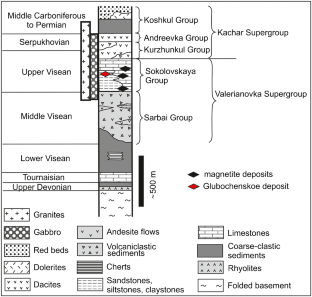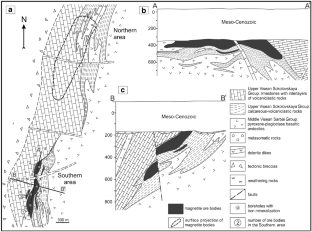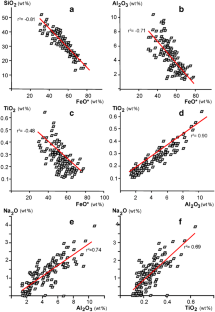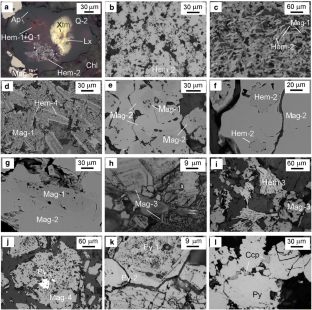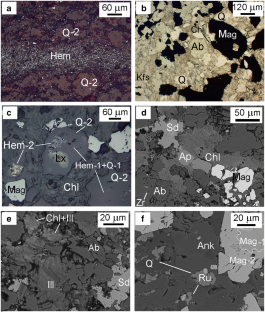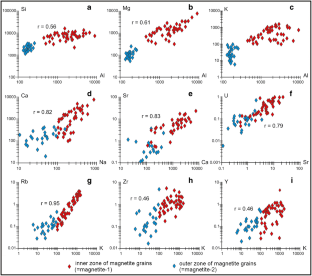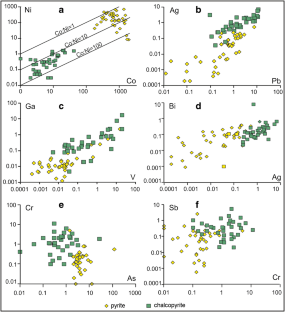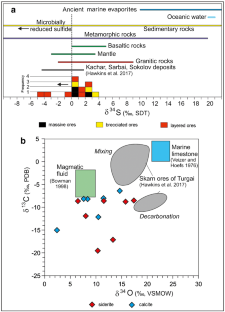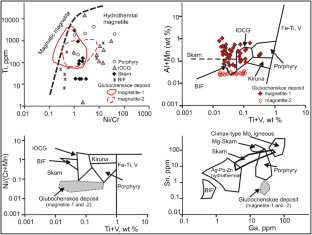 References
Ahn JH, Peacor DR (1985) Transmission electron microscopic study of diagenetic chlorite in Gulf Coast argillaceous sediments. Clay Clay Miner 33:228–236

Alirezaei S, Cameron EM (2001) Variations of sulfur isotopes in metamorphic rocks from Bamble Sector, southern Norway: a laser probe study. Chem Geol 181:23–45. https://doi.org/10.1016/S0009-2541(01)00266-2

Ayres DE (1972) Genesis of iron-bearing minerals in banded iron formation mesobands in the Dales Gorge Member, Hamersley Group, Western Australia. Econ Geol 67:1214–1233

Ayupova NR, Maslennikov VV, Tessalina SG, Shilovsky OP, Sadykov SA, Hollis SP, Danyushevsky LV, Safina NP, Statsenko EO (2017) Tube fossils from gossanites of the Urals VHMS deposits, Russia: authigenic mineral assemblages and trace element distributions. Ore Geol Rev 85:107–130. https://doi.org/10.1016/j.oregeorev.2016.08.003

Baccar MB, Fritz B, Made B (1993) Diagenetic albitization of K-feldspar and plagioclase in sandstone reservoirs: thermodynamic and kinetic modeling. J Sediment Petrol 63(6):1100–1109

Bajwah ZU, Seccombe PK, Offier R (1987) Trace element distribution, Co:Ni ratios and genesis of the Big Cadia iron-copper deposit, New South Wales, Australia. Mineral Deposita 22:292–300

Banerjee NR, Furnes H, Muehlenbachs K, Staudigel H (2004) Microbial alteration of volcanic glass in modern and ancient oceanic crust as a proxy for studies of extraterrestrial material. Lunar and Planetary Science XXXV. 1248 pdf. https://doi.org/10.1016/j.epsl.2005.11.011

Baur ME, Hayes JM, Studley SA, Walter MR (1985) Millimeter scale variations of stable isotope abundance in carbonate from banded iron formations in the Hamersley group of Western Australia. Econ Geol 80:270–282

Beaufort D, Rigault C, Billon S, Bil V (2015) Chlorite and chloritization processes through mixed-layer mineral series in low temperature geological systems – a review. Clay Miner 50:497–523. https://doi.org/10.1180/claymin.2015.050.4.06

Bekmukhametov AE (1987) Magmatic iron formation. Nedra, Moscow (in Russian)

Belevtsev YN, Buharov VP, Naumenko VV, Goncharuk AF, Popov BA, Stepanov VA, Usenko AI (1982) About volcanogenic-sedimentary origin of magnetite ores of Urals. Geol Ore Dep 1:53–75 (in Russian)

Bontognali TRR, Fischer WW, Föllm KB (2013) Siliciclastic associated banded iron formation from the 3.2 Ga Moodies Group, Barberton Greenstone Belt, South Africa. Precambrian Res 226:116–124

Bowman JR (1998) Stable isotope systematic of skarns. In: Lentz, DR (Ed.) Mineralized intrusion-related Skarn systems. Short course series 26. Min Assoc Canada, Quebec, pp 99–146

Bralia A, Sabatini G, Troja F (1979) A revaluation of the Co/Ni ratio in pyrite as geochemical tool in ore genesis problems. Mineral Deposita 14:353–374

Brown DA, Gross GA, Sawicki JA (1995) A review of the microbial geochemistry of banded iron-formations. Can Mineral 33:1321–1333

Brown D, Puchkov V, Alvarez-Marron J, Bea F, Perez-Estaun A (2006) Tectonic processes in the Southern and Middle Urals: an overview. In: Gee DG, Stephenson RA (eds) European Lithosphere Dynamics 32, vol 32. Geological Society, London, Memoirs, pp 407–419. https://doi.org/10.1144/GSL.MEM.2006.032.01.24

Craig JR, Vokes FM, Solberg TN (1998) Pyrite: physical and chemical textures. Mineral Deposita 57:3–18. https://doi.org/10.1007/s001260050187

Cuadros J, Michalski JR, Dekov V, Bishop J, Fiore S, Dyar MD (2013) Crystal-chemistry of interstratified Mg/Fe-clay minerals from seafloor hydrothermal sites. Chem Geol 360–361:142–158. https://doi.org/10.1016/j.chemgeo.2013.10.016

Dare SAS, Barnes S-J, Beaudoin G, Méric J, Boutroy E, Potvin-Doucet C (2014) Trace elements in magnetite as petrogenetic indicators. Mineral Deposita 49:785–796. https://doi.org/10.1007/s00126-014-0529-0

Deditius AP, Utsunomiya S, Ewing RC, Chryssoulis SL, Venter D, Kesler SE (2009) Decoupled geochemical behavior of As and Cu in hydrothermal systems. Geology 37:707–710. https://doi.org/10.1130/G25781A.1

Deditius AP, Reich M, Simon A, Suvorova A, Knipping J, Roberts MP, Rubanov S, Dodd A, Saunders M (2018) Nanogeochemistry of hydrothermal magnetite. Contrib Mineral Petrol 173(6):46. https://doi.org/10.1007/s00410-018-1474-1

Drits VA, Kossovskaya AG (1989) Smectites-indicators of geological environments of continents and oceans. In: Halodov VN (ed) Genesis of sediments and fundamental problems of lithology. Nauka, Moscow, pp 7–37 (in Russian)

Dupuis C, Beaudoin G (2011) Discriminant diagrams for iron oxide trace element fingerprinting of mineral deposit types. Mineral Deposita 46:319–335. https://doi.org/10.1007/s00126-011-0334-y

Dymkin AM, Prugov VP (1980) Stratiform type of iron ores and their genetic signature. Nauka, Moscow (in Russian)

Exon NF, Cronan DS (1983) Hydrothermal iron deposits and associated sediments from submarine volcanoes off Vanuatu, southwest Pacific. Mar Geol 52(3-4):M43–M52. https://doi.org/10.1016/0025-3227(83)90052-X

Fischer WR, Schwertmann U (1975) The formation of hematite from amorphous iron(III)hydroxide. Clays Clay Min 23:33–37. https://doi.org/10.1346/ccmn.1975.0230105

Flick H, Nesbor HD, Behnisch R (1990) Iron ore of the Lahn-Dill type formed by diagenetic seeping of pyroclastic sequences – a case study on the Schalstein section at Gänsberg (Weilburg). Geol Rundsch 79(2):401–415

Gregory RT, Criss RE, Taylor HP Jr (1989) Oxygen isotope exchange kinetics of mineral pairs in closed and open systems: applications to problems of hydrothermal alteration of igneous rocks and Precambrian iron formations. Chem Geol 75:1–42. https://doi.org/10.1016/0009-2541(89)90019-3

Gross KA, Berndt CC (2002) Biomedical application of apatites. In Kohn MJ, Rakovan J, Hughe JM (eds) Phosphates. Geochemical, geobiological, and materials importance 48: 631–672

Hangari KM, Ahmad SN, Perry EC (1980) Carbon and oxygen isotope ratios in diagenetic siderite and magnetite from Upper Devonian ironstone, Wadi Shatti District, Libya. Econ Geol 75(4):538–545. https://doi.org/10.2113/gsecongeo.75.4.538

Hawkins T, Smith MP, Herrington RJ, Maslennikov VV, Boyce AJ, Jeffries T, Creaser RA (2017) The geology and genesis of the iron skarns of the Turgai belt, northwestern Kazakhstan. Ore Geol Rev 85:216–246. https://doi.org/10.1016/j.oregeorev.2015.10.016

Herrington R, Smith M, Maslennikov V, Belogub E, Armstrong R (2002) A short review of Palaeozoic hydrothermal magnetite iron-oxide deposits of the south and central Urals and their geological setting. In: Porter TM (Ed.) Hydrothermal iron oxide copper-gold and related deposits: a global perspective 2. PGC Publishing, pp. 343–353, http://local.www.geokniga.org/books/4957

Ivlev AI (2004) The Kachar iron deposit – a new look at the geological structure. In: Ivlev AI (Ed): Toporkov readings. Rudniy, pp. 62–82 (in Russian)

Jahren JS, Aagaard P (1989) Compositional variations in diagenetic chlorite and illite, and relationships with formation-water chemistry. Clay Miner 2:157–170. https://doi.org/10.1180/claymin.1989.024.2.04

Kaufman AJ, Hayes JM, Klein C (1990) Primary and diagenetic controls of isotopic compositions of iron-formation carbonates. Geochim Cosmochim Acta 54:3461–3473. https://doi.org/10.1016/0016-7037(90)90298-Y

Kranidiotis P, MacLean WH (1987) Systematics of chlorite alteration at the Phelps Dodge massive sulfide deposit, Matagami, Quebec. Econ GeoL 82:1898–1911. https://doi.org/10.2113/gsecongeo.82.7.1898

Kelley DS, Baross JA, Delaney JR (2002) Volcanoes, fluids, and life at mid-ocean ridge spreading centers. Annu Rev Earth Planet Sci 30:385–491

Kiyokawa S, Ueshiba T (2015) Rapid sedimentation of iron oxyhydroxides in an active hydrothermal shallow semi-enclosed bay at Satsuma Iwo-Jima Island, Kagoshima, Japan. Sediment Geol 319:98–113. https://doi.org/10.1016/j.sedgeo.2015.01.010

Knipping JL, Bilenker LD, Simon AC, Reich M, Barra F, Deditius AP, Wälle M, Heinrich CA, Holtz F, Munizaga R (2015) Trace elements in magnetite from massive iron oxide-apatite deposits indicate a combined formation by igneous and magmatic-hydrothermal processes. Geochim Cosmochim Acta 171:15–38. https://doi.org/10.1016/j.gca.2015.08.010

Koglin N, Frimmel HF, Lawrie Minter WE, Bratz H (2010) Trace-element characteristics of different pyrite types in Mesoarchean to Paleoproterozoic placer deposits. Mineral Deposita 45:259–280. https://doi.org/10.1007/s00126-009-0272-0

Kossovskaya AG, Petrova VV, Shutov VD (1982) The mineral associations of palagonitization of oceanic basalts and problems of extraction of ore components. Lithol Miner Resour 3:10–31

Large RR, Bull SW, Maslennikov VV (2011) A carbonaceous sedimentary source-rock model for Carlin-type and orogenic gold deposits. Econ Geol 106:331–358

Laurila T, Hannington M, Leybourne M, Peterson S, Devey CW, Garbe-Schoenberg D (2015) New insights into the mineralogy of the Atlantis II Deep metalliferous sediments, Red Sea. Geochem Geophys Geosyst 16:4449–4478. https://doi.org/10.1002/2015GC006010

Lu JF, Tsai CJ (2015) Reduction kinetics of hematite to magnetite under hydrothermal treatments. RSC Adv 22:17236–17244. https://doi.org/10.1039/c4ra12389a

Maslennikov VV, Maslennikova SP, Large RR, Danyushevsky LV (2009) Study of trace element zonation in vent chimneys from the Silurian Yaman-Kasy VHMS (the Southern Urals, Russia) using laser ablation inductively coupled plasma mass spectrometry (LA-ICP MS). Econ Geol 104:1111–1141

Maslennikov VV, Ayupova NR, Herrington RJ, Danyushevskiy LV, Large RR (2012) Ferruginous and manganiferous haloes around massive sulphide deposits of the Urals. Ore Geol Rev 47:5–41. https://doi.org/10.1016/j.oregeorev.2012.03.008

Maynard JB (1983) Geochemistry of sedimentary ore deposits. Springer-Verlag, New York

McClay KR, Ellis PG (1983) Deformation and recrystallisation of pyrite. Mineral Mag 47:527–538. https://doi.org/10.1180/minmag.1983.047.345.14

Moncure GK, Lahann RW, Siebert RV (1984) Origin of secondary porosity and cement distribution in a sandstone/shale sequence from the Frio Formation (Oligocene) / In: Clastic diagenesis (ed. D.A. Mc. Donald and R.C. Surdam). Mem Am Assoc Petrol Geol 37:151–161

Morad S, Aldahan AA (1987) Diagenetic chloritization of feldspars in sandstones. Sediment Geol 51:155–164. https://doi.org/10.1016/0037-0738(87)90046-7

Morse JW, Mackenzie FT (1990) Geochemistry of sedimentary carbonates. Developments in sedimentology. Elsevier, Amsterdam

Mucke A, Cabral RA (2005) Redox and nonredox reactions of magnetite and hematite in rocks. Chem Erde 65:271–278. https://doi.org/10.1016/j.chemer.2005.01.002

Nadoll P, Angerer T, Mauk JL, French D, Walshe J (2014) The chemistry of hydrothermal magnetite: a review. Ore Geol Rev 16:1–32. https://doi.org/10.1016/j.oregeorev.2013.12.013

Ohmoto H, Rye RO (1979) Isotopes of sulfur and carbon. In: Barnes HJ (ed) Geochemistry of Hydrothermal Ore Deposits, 2nd edn. Wiley, New York, pp 509–567

Orlov VP (ed) (2007) Iron ore base of Russia. Geoinformmark, Moscow (in Russian)

Ovchinnikov LN, Dymkin AM (Ed) (1987) Iron ore formation of Transuralian zone (northern part of the Turgai trough). USC of Academy of Sciences USSR (in Russian)

Petrova VV, Voronin BI, Serebrennikova ND (1980) Features of the underwater change of the mafic glass in the core of 160 voyage of Glomar Challenger. Lithol Miner Resour 2:133–142 (in Russian)

Pirajno F (2009) Submarine hydrothermal mineral systems. In: Pirajno F (ed.): Hydrothermal processes and mineral systems, Springer, 1250 p.

Poltavets YA (2009) The Tyumen-Kustanay trough: features of magmatism and metallogeny. Lithosfera 3:17–32 (in Russian)

Porotov GS (1981) Connection of magnetite deposits of the Turgai trough with paleovolcanic structures. In: Geology and genesis of iron ore deposits. USSR Academy of Sciences, Sverdlovsk, pp. 25–34 (in Russian)

Posth NR, Konhauser KO, Kappler A (2013) Microbiological processes in banded iron formation deposition. Sedimentology 60:1733–1754. https://doi.org/10.1111/sed.12051

Puchkov VN (2013) Structural stages and evolution of the Urals. Mineral Petrol 107(1):3–37. https://doi.org/10.1007/s00710-012-0263-1

Qiang S, Zhang B, Yong L, Chang PZ, Xue YY, Qiao SZ, Wu BY, He CN (2009) Characteristics and trace element geochemistry of pyrite from the Songhu iron deposit, Nilek County, Xinjiang, China. Acta Petrol Sin 25(6):1456–1464

Ramdohr P (1969) Ore minerals and their intergrowhs. (Monographs in Earth Science). Oxford

Ramseyer K, Boles JR, Lichtner PC (1992) Mechanism of plagioclase albitization. J Sediment Petrol 62:349–356

Reed MH (1983) Seawater-basalt reaction and the origin of greenstones and related ore deposits. Econ Geol 78(3):466–485

Reich M, Simon AC, Deditius A, Barra F, Chryssoulis S, Lagas G, Tardani D, Knipping J, Bilenker L, Sánchez-Alfaro P, Roberts MP, Munizaga R (2016) Trace element signature of pyrite from the Los Colorados iron oxide-apatite (IOA) deposit, Chile: a missing link between Andean IOA and IOCG systems? Econ Geol 111:743–761. https://doi.org/10.2113/econgeo.111.3.743

Roberts AP (2015) Magnetic mineral diagenesis. Earth Sci Rev 151:1–47. https://doi.org/10.1016/j.earscirev.2015.09.010

Rudnitsky VF, Aleshin KB, Kuznetsov AZ, Ivanchenko VS (2013) Structure of magnetite lodes at the Estyunino iron deposit in the central Urals. Geol Ore Dep 55(6):467–481

Seyfried WE, Bishoff JL (1979) Low temperature basalt alteration by seawater: an experimental study at 70 and 150 °C. Geochim Cosmochim Acta 43:1937–1947

Shimazaki H (1985) Regional variation of isotopic composition of hydrothermal ore sulfur in Japan. J Fac Sci Univ Tokyo, Sect, II 21:81–100

Shimazaki H, Shimizu M, Takanori N (1986) Carbon and oxygen calcites from Japanese isotopes of skarn deposits. Geochem J 20:297–310

Staudigel H, Hart S (1983) Alteration of basaltic glass: mechanisms and significance for the oceanic crust-seawater budget. Geochim Cosmochim Acta 47:337–350. https://doi.org/10.1016/0016-7037(83)90257-0

Sturesson U (2003) Lower Palaeozoic iron oolites and volcanism from a Baltoscandian perspective. Sediment Geol 159(3):241–256. https://doi.org/10.1016/S0037-0738(02)00330-5

Taitel-Goldman N, Singer A (2002) Metastable Si-Fe phases in hydrothermal sediments of Atlantis II Deep, Red Sea. Clay Miner 37:235–248. https://doi.org/10.1180/0009855023720030

Valley JW (1986) Stable isotope geochemistry of metamorphic rocks. Rev Mineral Geochem 16(1):445–489

Veizer J, Hoefs J (1976) The nature of O18/O16 and C13/C12 secular trends in sedimentary carbonate rocks. Geochim Cosmochim Acta 40:1387–1395

Velde B, Medhioub M (1988) Approach to chemical equilibrium in diagenetic chlorites. Contrib. Mineral Petrol 98:122–127

Walker JCG (1984) Suboxic diagenesis in banded iron formations. Nature 309:340–342

Watson EB (1996) Surface enrichment and trace-element uptake during crystal growth. Geochim Cosmochim Acta 60:5013–5020. https://doi.org/10.1016/S0016-7037(96)00299-2

Zhang Y, Shao Y, Chen H, Liu Z, Li D (2017) A hydrothermal origin for the large Xinqiao Cu-S-Fe deposit, Eastern China: evidence from sulfide geochemistry and sulfur isotopes. Ore Geol Rev 88:534–549. https://doi.org/10.1016/j.oregeorev.2016.08.002

Zhao HJ, Xie GQ, Wei KT, Ke YF (2012) Mineral compositions and fluid evolution of the Tonglushan skarn Cu–Fe deposit, SE Hubei, east-central China. Int Geol Rev 54:737–764. https://doi.org/10.1080/00206814.2011.569418
Acknowledgments
The authors are grateful to Ivan Blinov (IMin) for SEM study of minerals and Irina Gottman (IGG UB RAS) for EPMA studies of magnetite. The authors thank Dr. Craig Johnson (USGS) and Dr. Martin Reich (University of Chile) for their valuable suggestions and Associate Editor Karen Kelley for recommendations and language adaptation, which improved this paper. Careful reading by Georges Beaudoin, Editor-in-Chief of Mineralium Deposita, is also greatly appreciated.
Funding
This work was supported by State Contract of the IMin (no. AAAA-A19-119061790049-3). SPH is currently funded by Geological Survey Ireland/DCCAE Postdoctoral Fellowship Program, No. 2016-PD-003.
Additional information
Publisher's note
Springer Nature remains neutral with regard to jurisdictional claims in published maps and institutional affiliations.
Editorial handling: K. Kelley
Electronic supplementary material
About this article
Cite this article
Ayupova, N.R., Novoselov, K.A., Maslennikov, V.V. et al. The formation of magnetite ores of the Glubochenskoe deposit, Turgai iron belt, Russia: new structural, mineralogical, geochemical, and isotopic constraints. Miner Deposita 56, 103–123 (2021). https://doi.org/10.1007/s00126-020-00994-6
Received:

Accepted:

Published:

Issue Date:
Keywords
Iron ores

Hematite

Magnetite

Gangue minerals

LA-ICP-MS

Carbon and oxygen isotopes

Transuralian Megazone