Abstract
We report whole-rock major, trace, and platinum-group element (PGE) geochemistry of volcanic rocks from the Teutonic Bore complex that hosts the Jaguar and Bentley Cu–Zn volcanogenic massive sulfide (VMS) deposits. This study aims to understand their sulfide saturation history and chalcophile element evolution during differentiation of the Jaguar and Bentley magmas, and investigate the role of chalcophile element fertility on the formation of VMS deposits. The fractionated primitive mantle–normalized trace element patterns, with negative Nb and Ti anomalies of basalts, andesites, dacites, and rhyolites from Jaguar and Bentley, are similar to each other. The trace elements and PGE show continuous variations when plotted against fractionation indices such as Yb, which can be explained by a two-stage fractional crystallization model: stage 1 Rayleigh fractionation of plagioclase + clinopyroxene + Cr-spinel, and stage 2 the fractional of plagioclase + clinopyroxene + magnetite + 0.1 wt% sulfide liquid. Dolerites, which postdate the mineralization, differ from the other rock types and require a different magma source. Andesite and basalt are the most PGE-enriched lithologies in Jaguar and Bentley. The PGE behave incompatibly in the early stage of magma differentiation at < 4 ppm Yb, whereas they abruptly decrease at > 4 ppm Yb, indicating sulfide saturation at this point. When Pd/MgO and Pd/Pt are used as chalcophile element fertility indicators, the andesite before sulfide saturation (< 4 ppm Yb) is as fertile as the magmas associated with porphyry Cu-only deposits. In contrast, the andesite after sulfide saturation and other lithologies are characterized by markedly depleted fertility similar to those of barren suites. This suggests that sulfide-undersaturated andesite, and probably basalt, may have been a significant source for Cu in the Jaguar and Bentley Cu–Zn VMS deposits. However, the Au fertility of the Jaguar and Bentley andesite must have been low and not enough to form Au-rich VMS deposits because their Pd/MgO and Pd/Pt values are 5–10 times lower than those of andesite and dacite from the modern Au-rich seafloor massive sulfide deposits. This can be explained if ore formation occurred shortly after sulfide saturation. If the amount of sulfide melt to precipitate was small, Au, with its high partition coefficient into immiscible sulfide melts, would have been largely stripped from the silicate melt, whereas Cu, with its lower partition coefficient, would be little affected. Our study shows that chalcophile element fertility may play an important role in the formation of VMS deposits, especially in controlling the Au contents of the ore, if the magmatic-hydrothermal component is the dominant source for metals in VMS systems.
This is a preview of subscription content, log in to check access.
Access options
Buy single article
Instant access to the full article PDF.
US$ 39.95
Price includes VAT for USA
Subscribe to journal
Immediate online access to all issues from 2019. Subscription will auto renew annually.
US$ 199
This is the net price. Taxes to be calculated in checkout.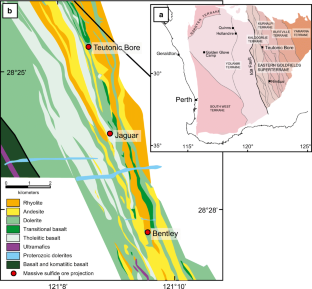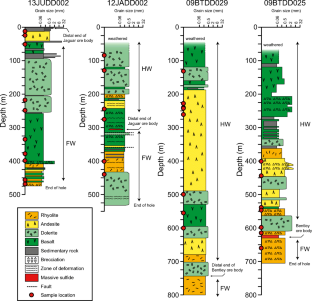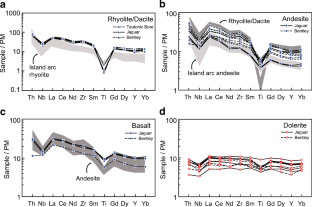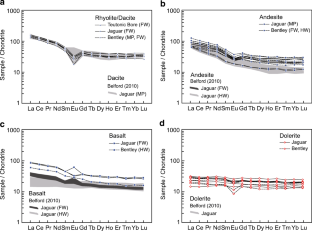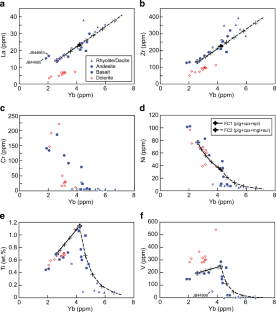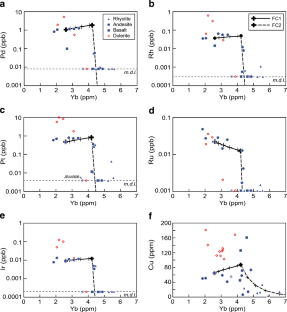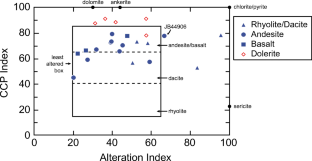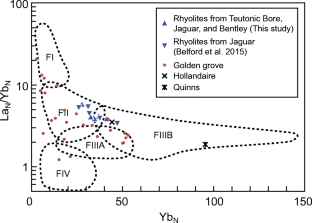 References
Barley ME, Brown SJA, Krapez B, Kositcin N (2008) Physical volcanology and geochemistry of a Late Archaean volcanic arc: Kurnalpi and Gindalbie Terranes, Eastern Goldfields Superterrane, Western Australia. Precambrian Res 161:53–76

Barnes SJ, Van Kranendonk MJ (2014) Archean andesites in the east Yilgarn craton, Australia: products of plume-crust interaction? Lithosphere 6:80–92

Belford S (2010) Genetic and chemical characterisation of the host succession to the Archean Jaguar VHMS deposit. University of Tasmania

Belford SM, Davidson GJ, McPhie J, Large RR (2015) Architecture of the Neoarchaean Jaguar VHMS deposit, Western Australia: implications for prospectivity and the presence of depositional breaks. Precambrian Res 260:136–160

Berkenbosch HA, de Ronde CEJ, Gemmell JB, McNeill AW, Goemann K (2012) Mineralogy and formation of black smoker chimneys from Brothers Submarine Volcano, Kermadec arc. Econ Geol 107:1613–1633

Berkenbosch HA, de Ronde CEJ, Paul BT, Gemmell JB (2015) Characteristics of Cu isotopes from chalcopyrite-rich black smoker chimneys at Brothers volcano, Kermadec arc, and Niuatahi volcano, Lau basin. Mineral Deposita 50:811–824

Binns RA, Scott SD (1993) Actively forming polymetallic sulfide deposits associated with felsic volcanic rocks in the eastern Manus back-arc basin, Papua New Guinea. Econ Geol 88:2226–2236

Brown SJA, Barley ME, Krapež B, Cas RAF (2002) The Late Archaean Melita Complex, Eastern Goldfields, Western Australia: shallow submarine bimodal volcanism in a rifted arc environment. J Volcanol Geothern Res 115:303–327

Butterfield DA, Nakamura K, Takano B, Lilley MD, Lupton JE, Resing JA, Roe KK (2011) High SO2 flux, sulfur accumulation, and gas fractionation at an erupting submarine volcano. Geology 39:803–806

Campbell IH, Franklin JM, Gorton MP, Hart TR, Scott SD (1981) The role of subvolcanic sills in the generation of massive sulfide deposits. Econ Geol 76:2248–2253

Cassidy KF, Champion DC, Fletcher IR, Dunphy JM, Black LP, Claoue-Long JC (2002) Geochronological constraints on the Leonora-Laverton transect area, northeastern Yilgarn Craton, Geology, geochronology and geophysics of the northeastern Yilgarn Craton, with an emphasis on the Leonora-Laverton transect area; proceedings of papers presented at an industry workshop, Australian Geological Survey Organisation, 37–58

Chen MM, Campbell IH, Xue Y, Tian W, Ireland TR, Holden P, Cas RAF, Hayman PC, Das R (2015) Multiple sulfur isotope analyses support a magmatic model for the volcanogenic massive sulfide deposits of the Teutonic Bore volcanic complex, Yilgarn Craton, Western Australia. Econ Geol 110:1411–1423

Cocker HA, Valente DL, Park JW, Campbell IH (2015) Using platinum group elements to identify sulfide saturation in a porphyry Cu system: the El Abra porphyry Cu deposit, northern Chile. J Petrol 56:2491–2514

Crocket JH (2000) PGE in fresh basalt, hydrothermal alteration products, and volcanic incrustations of Kilauea volcano, Hawaii. Geochim Cosmochim Acta 64:1791–1807

de Ronde CEJ, Baker ET, Massoth GJ, Lupton JE, Wright IC, Feely RA, Greene RR (2001) Intra-oceanic subduction-related hydrothermal venting, Kermadec volcanic arc, New Zealand. Earth Planet Sci Lett 193:359–369

de Ronde CEJ, Hannington MD, Stoffers P, Wright IC, Ditchburn RG, Reyes AG, Baker ET, Massoth GJ, Lupton JE, Walker SL, Greene RR, Soong CWR, Ishibashi J, Lebon GT, Bray CJ, Resing JA (2005) Evolution of a submarine magmatic-hydrothermal system: Brothers Volcano, Southern Kermadec Arc, New Zealand. Econ Geol 100:1097–1133

de Ronde CEJ, Massoth GJ, Butterfield DA, Christenson BW, Ishibashi J, Ditchburn RG, Hannington MD, Brathwaite RL, Lupton JE, Kamenetsky VS, Graham IJ, Zellmer GF, Dziak RP, Embley RW, Dekov VM, Munnik F, Lahr J, Evans LJ, Takai K (2011) Submarine hydrothermal activity and gold-rich mineralization at Brothers Volcano, Kermadec Arc, New Zealand. Mineral Deposita 46:541–584

de Ronde CEJ, Hein JR, Butterfield DA (2014) Metallogenesis and mineralization of Intraoceanic Arcs II: the Aeolian, Izu-Bonin, Mariana, and Kermadec Arcs, and the Manus Backarc Basin-introduction. Econ Geol 109:2073–2077

Franklin JM et al. (2005) Volcanogenic massive sulfide deposits. In: One Hundredth Anniversary Volume. Society of Economic Geologists

Fuchs S, Hannington MD, Petersen S (2019) Divining gold in seafloor polymetallic massive sulfide systems. Mineral Deposita 54:789–820

Gruen G, Weis P, Driesner T, Heinrich CA, de Ronde CEJ (2014) Hydrodynamic modeling of magmatic-hydrothermal activity at submarine arc volcanoes, with implications for ore formation. Earth Planet Sci Lett 404:307–318

Hallberg JA (1984) A geochemical aid to igneous rock type identification in deeply weathered terrain. J Geochem Explor 20:1–8

Hallberg JA, Thompson JFH (1985) Geologic setting of the Teutonic Bore massive sulfide deposit, Archean Yilgarn Block, Western Australia. Econ Geol 80:1953–1964

Hao HD, Campbell IH, Park JW, Cooke DR (2017) Platinum-group element geochemistry used to determine Cu and Au fertility in the Northparkes igneous suites, New South Wales, Australia. Geochim Cosmochim Acta 216:372–392

Hao HD, Campbell IH, Richards JP, Nakamura E, Sakaguchi C (2019) Platinum-group element geochemistry of the Escondida Igneous Suites, northern Chile: implications for ore formation. J Petrol 60:487–514

Hart TR, Gibson HL, Lesher CM (2004) Trace element geochemistry and petrogenesis of felsic volcanic rocks associated with volcanogenic massive Cu-Zn-Pb sulfide deposits. Econ Geol Bull Soc 99:1003–1013

Hayman P, Cas R, Squire RJ, Das R, Wingate S, Wyche S, Amelin Y, Campbell I, Chen M, Allen C, Uren A, Xue Y (2014) Age constraints for the Teutonic Bore volcanic complex from thermal ionisation mass spectrometry, Geochronology report. presented to Sixth Sponsors Meeting, Kalgoorlie, November, 12p

Hollis SP, Yeats CJ, Wyche S, Barnes SJ, Ivanic TJ, Belford SM, Davidson GJ, Roache AJ, Wingate MTD (2015) A review of volcanic-hosted massive sulfide (VHMS) mineralization in the Archaean Yilgarn Craton, Western Australia: Tectonic, stratigraphic and geochemical associations. Precambrian Res 260:113–135

Hollis SP, Yeats CJ, Wyche S, Barnes SJ, Ivanic TJ (2017) VMS mineralization in the Yilgarn Craton, Western Australia: a review of known deposits and prospectivity analysis of felsic volcanic rocks. Geol Surv Western Aust Rep 165:68

Huston DL (1997) Stable isotopes and their significance for understanding the genesis of volcanic-hosted massive sulfide deposits: a review. In: volcanic associated massive sulfide deposits: processes and examples in modern and ancient settings, vol 8. Society of Economic Geologists

Huston DL, Champion DC, Cassidy KF (2014) Tectonic controls on the endowment of neoarchean cratons in volcanic-hosted massive sulfide deposits: Evidence from lead and neodymium isotopes. Econ Geol 109:11–26

Huston DL, Relvas JMRS, Gemmell JB, Drieberg S (2011) The role of granites in volcanic-hosted massive sulphide ore-forming systems: an assessment of magmatic-hydrothermal contributions. Mineral Deposita 46:473–507

Jamais M, Lassiter JC, Brugmann G (2008) PGE and Os-isotopic variations in lavas from Kohala volcano, Hawaii: constraints on PGE behavior and melt/crust interaction. Chem Geol 250:16–28

Jenner FE, O'Neill HSC, Arculus RJ, Mavrogenes JA (2010) The magnetite crisis in the evolution of arc-related magmas and the initial concentration of Au, Ag and cu. J Petrol 51:2445–2464

Jochum KP, Nohl U (2008) Reference materials in geochemistry and environmental research and the GeoReM database. Chem Geol 253:50–53

Kim J, Lee K-Y, Kim J-H (2011) Metal-bearing molten sulfur collected from a submarine volcano: implications for vapor transport of metals in seafloor hydrothermal systems. Geology 39:351–354

Kositcin N, Brown SJA, Barley ME, Krapez B, Cassidy KF, Champion DC (2008) SHRIMP U-Pb zircon age constraints on the Late Archaean tectonostratigraphic architecture of the Eastern Goldfields Superterrane, Yilgarn Craton, Western Australia. Precambrian Res 161:5–33

Large RR, Gemmell JB, Paulick H, Huston DL (2001) The alteration box plot: a simple approach to understanding the relationship between alteration mineralogy and lithogeochemistry associated with volcanic-hosted massive sulfide deposits. Econ Geol 96:957–971

Lentz DR (1998) Petrogenetic evolution of felsic volcanic sequences associated with Phanerozoic volcanic-hosted massive sulphide systems: the role of extensional geodynamics. Ore Geol Rev 12:289–327

Lesher CM, Goodwin AM, Campbell IH, Gorton MP (1986) Trace-element geochemistry of ore-associated and barren, felsic metavolcanic rocks in the Superior Province, Canada. Can J Earth Sci 23:222–237

Lesher CM, Lee RF, Groves DI, Bickle MJ (1981) Geochemistry of komatiite from Kambalda, Western Australia: I. Chalcophile element depletion—a consequence of sulfide liquid separation from komatiitic magmas. Econ Geol 76:1714–1728

Li Y, Audétat A (2015) Effects of temperature, silicate melt composition, and oxygen fugacity on the partitioning of V, Mn, Co, Ni, Cu, Zn, As, Mo, Ag, Sn, Sb, W, Au, Pb, and Bi between sulfide phases and silicate melt. Geochim Cosmochim Acta 162:25–45

Lowczak JN, Campbell IH, Cocker H, Park JW, Cooke DR (2018) Platinum-group element geochemistry of the Forest reef Volcanics, southeastern Australia: implications for porphyry au-cu mineralisation. Geochim Cosmochim Acta 220:385–406

Lupton J, Butterfield D, Lilley M, Evans L, Nakamura KI, Chadwick W Jr, Resing J, Embley R, Olson E, Proskurowski G, Baker E, de Ronde C, Roe K, Greene R, Lebon G, Young C (2006) Submarine venting of liquid carbon dioxide on a Mariana Arc volcano. Geochem Geophys Geosyst 7. https://doi.org/10.1029/2005GC001152

Lupton J, Lilley M, Butterfield D, Evans L, Embley R, Massoth G, Christenson B, Nakamura KI, Schmidt M (2008) Venting of a separate CO2-rich gas phase from submarine arc volcanoes: examples from the Mariana and Tonga-Kermadec arcs. J Geophys Res Solid Earth 113. https://doi.org/10.1029/2007JB005467

MacLean WH, Barrett TJ (1993) Lithogeochemical techniques using immobile elements. J Geochem Explor 48:109–133

Massoth GJ, De Ronde CEJ, Lupton JE, Feely RA, Baker ET, Lebon GT, Maenner SM (2003) Chemically rich and diverse submarine hydrothermal plumes of the southern Kermadec volcanic arc (New Zealand). Geol Soc Lond, Spec Publ 219:119–139

McDonough WF, Sun SS (1995) The composition of the earth. Chem Geol 120:223–253

Meisel T, Moser J (2004) Platinum-group element and rhenium concentrations in low abundance reference materials. Geostand Geoanal Res 28:233–250

Moss R, Scott SD, Binns RA (2001) Gold content of Eastern Manus Basin volcanic rocks: implications for enrichment in associated hydrothermal precipitates. Econ Geol 96:91–107

Mungall JE, Brenan JM (2014) Partitioning of platinum-group elements and Au between sulfide liquid and basalt and the origins of mantle-crust fractionation of the chalcophile elements. Geochim Cosmochim Acta 125:265–289

Nelson DR (1995) Compilation of SHRIMP U-Pb zircon geochronology data, 1994, record 1995/3, Western Australia Geological Survey

Nelson DR (1997a) Evolution of the Archaean granite-greenstone terranes of the eastern goldfields, Western Australia: SHRIMP U-Pb zircon constraints. Precambrian Res 83:57–81

Nelson DR (1997b) Compilation of SHRIMP U-Pb zircon geochronology data, 1996, record 1997/2, Western Australia Geological Survey

Park J-W, Hu ZC, Gao S, Campbell IH, Gong HJ (2012) Platinum group element abundances in the upper continental crust revisited - new constraints from analyses of Chinese loess. Geochim Cosmochim Acta 93:63–76

Park J-W, Campbell IH, Arculus RJ (2013) Platinum-alloy and sulfur saturation in an arc-related basalt to rhyolite suite: evidence from the Pual Ridge lavas, the astern Manus Basin. Geochim Cosmochim Acta 101:76–95

Park J-W, Campbell IH, Kim J, Moon JW (2015) The role of late sulfide saturation in the formation of a Cu- and Au-rich magma: insights from the Platinum Group Element Geochemistry of Niuatahi-Motutahi Lavas, Tonga Rear Arc. J Petrol 56:59–81

Park J-W, Campbell IH, Kim J (2016) Abundances of platinum group elements in native sulfur condensates from the Niuatahi-Motutahi submarine volcano, Tonga rear arc: implications for PGE mineralization in porphyry deposits. Geochim Cosmochim Acta 174:236–246

Park J-W, Kamenetsky V, Campbell I, Park G, Hanski E, Pushkarev E (2017) Empirical constraints on partitioning of platinum group elements between Cr-spinel and primitive terrestrial magmas. Geochim Cosmochim Acta 216:393–416

Park J-W, Campbell IH, Malaviarachchi SPK, Cocker H, Hao HD, Kay SM (2019) Chalcophile element fertility and the formation of porphyry Cu±Au deposits. Mineral Deposita 54:657–670

Parker P, Belford SM, Maier R, Lynn S, Stewart W (2017) Teutonic Bore - Jaguar - Bentley volcanogenic massive sulfide field. In: Phillips GN (ed) Australian ore deposits, vol 32. The Australian Institute of Mining and Metallurgy, Melbourne, pp 167–172

Patten CGC, Pitcairn IK, Teagle DAH, Harris M (2016) Mobility of Au and related elements during the hydrothermal alteration of the oceanic crust: implications for the sources of metals in VMS deposits. Mineral Deposita 51(2):179–200

Patten CGC, Pitcairn IK, Teagle DAH (2017) Hydrothermal mobilisation of au and other metals in supra-subduction oceanic crust: insights from the Troodos ophiolite. Ore Geol Rev 86:487–508

Patten CGC, Pitcairn IK, Alt JC, Zack T, Lahaye Y, Teagle DAH, Markdahl K (2020) Metal fluxes during magmatic degassing in the oceanic crust: sulfide mineralisation at ODP site 786B, Izu-Bonin forearc. Mineral Deposita 55:469–489

Pearce JA, Cann JR (1973) Tectonic setting of basic volcanic-rocks determined using trace-element analyses. Earth Planet Sci Lett 19:290–300

Peucker-Ehrenbrink B, Bach W, Hart SR, Blusztajn JS, Abbruzzese T (2003) Rhenium-osmium isotope systematics and platinum group element concentrations in oceanic crust from DSDP/ODP sites 504 and 417/418. Geochem Geophys Geosyst. https://doi.org/10.1029/2002GC000414

Resing JA, Lebon G, Baker ET, Lupton JE, Embley RW, Massoth GJ, Chadwick WW, de Ronde CEJ (2007) Venting of acid-sulfate fluids in a high-sulfidation setting at NW Rota-1 submarine volcano on the Mariana Arc. Econ Geol 102:1047–1061

Resing JA, Baker ET, Lupton JE, Walker SL, Butterfield DA, Massoth GJ, Nakamura K (2009) Chemistry of hydrothermal plumes above submarine volcanoes of the Mariana Arc. Geochem Geophys Geosyst 10. https://doi.org/10.1029/2008GC002141

Stüeken EE, Catling DC, Buick R (2012) Contributions to late Archaean sulphur cycling by life on land. Nat Geosci 5:722–725

Swager CP (1997) Tectono-stratigraphy of late Archaean greenstone terranes in the southern eastern goldfields, Western Australia. Precambrian Res 83:11–42

Swager CP, Witt WK, Griffin TJ, Ahmat AL, Hunter WM, McGoldrick PJ, Wyche S (1992) Late Archaean granite–greenstones of the Kalgoorlie Terrane, Yilgarn Craton, Western Australia. In: Glover JE, Ho SE (eds) The Archaean: terrains, processes and metallogeny, the University of Western Australia, Geology Department and University Extension, Publication no. 22, p 107–122

Tolstoy M, Waldhauser F, Bohnenstiehl DR, Weekly RT, Kim WY (2008) Seismic identification of along-axis hydrothermal flow on the East Pacific rise. Nature 451(7175):181–184

Toplis MJ, Carroll MR (1995) An experimental study of the influence of oxygen fugacity on Fe-Ti oxide stability, phase relations, and mineral—Melt Equilibria in Ferro-Basaltic Systems. J Petrol 36:1137–1170

Whitford DJ, Mcpherson WPA, Wallace DB (1989) Geochemistry of the host rocks of the volcanogenic massive sulfide deposit at Que River, Tasmania. Econ Geol 84:1–21

Winchester JA, Floyd PA (1977) Geochemical discrimination of different magma series and their differentiation products using immobile elements. Chem Geol 20:325–343

Yang KH, Scott SD (1996) Possible contribution of a metal-rich magmatic fluid to a sea-floor hydrothermal system. Nature 383:420–423
Acknowledgments
The authors would like to thank two reviewers, Stephen Barnes and Steven Hollis, and the associated editor, Marco Fiorentini, for their critical and constructive comments that improved the manuscript substantially. Hongda Hao and Helen Coker are thanked for their assistance with the whole-rock major and PGE analyses. We also thank Mimi Chen for the discussion on samples and local geology. This research was funded by the ARC Linkage Project LP110200747, and we thank its sponsors, particularly the Independence Group, for access to the Jaguar and Bentley VMS deposits and to their geochemical and petrological data. We also acknowledge that part of this study was supported by the National Research Foundation (NRF) of Korea grant funded by the Korea government (No. 2019R1A2C1009809) for a project entitled "Understanding the deepsea biosphere on seafloor hydrothermal vents in the Indian Ridge (No. 20170411)" funded by the Ministry of Oceans and Fisheries, Korea.
Additional information
Publisher's note
Springer Nature remains neutral with regard to jurisdictional claims in published maps and institutional affiliations.
Editorial handling: M. Fiorentini
About this article
Cite this article
Park, J., Campbell, I. Platinum-group element geochemistry of the volcanic rocks associated with the Jaguar and Bentley Cu–Zn volcanogenic massive sulfide (VMS) deposits, Western Australia: implications for the role of chalcophile element fertility on VMS mineralization. Miner Deposita (2020). https://doi.org/10.1007/s00126-020-00991-9
Received:

Accepted:

Published: