Abstract
Mineralized shear zones in the Archean Missanabie-Renabie gold district (~ 1.1 Moz Au; Wawa, Ontario, Canada) locally define composite orebodies that record three hydrothermal events: (1) a pre-orogenic Au1 event (pre-D1 and pre-prograde-metamorphic); (2) a syn-orogenic, post-peak-metamorphic Retrograde event (syn-D3); and (3) a late syn-to post-orogenic Au2 event (late syn- to post-D4). Genetic considerations indicate the orebodies are hybrids with early intrusion-related (Au1) and later orogenic (Retrograde + Au2) events. Pearson product-moment correlation coefficients (log10) of whole-rock and LA-ICP-MS pyrite trace metal datasets distinguish Au1 from Au2 mineralization by Au-Ag, Au-Bi, and Au-Te correlations > 0.7 (p < 0.05) in the former, irrespective of sample medium and analytical method. An Au-Mo correlation in whole rock data (0.58–0.76; p < 0.05) further distinguishes Au1 from Au2 and supports an independently inferred intrusion-related origin for Au1. Sulfur isotope data is similar for both Au1 and Au2 pyrite with average δ34S values of − 5.5‰ ± 0.2‰ (1σ) and − 3.5‰ ± 0.3‰ (1σ) and average Δ33S values of 0.4‰ ± 0.1‰ (1σ) and − 0.3‰ ± 0.2‰ (1σ), respectively. SIMS δ18Oquartz values for the Au1, Retrograde, and Au2 events largely overlap and, like δ18Ocarbonate values of previous studies, tend to be lower than values typical of Archean gold deposits. The results of this study suggest that correlation coefficients in trace metal datasets are useful in discriminating and characterizing different gold events. Caution is emphasized with the use of S- and O-isotope datasets for these purposes. The presence of low δ18O values in vein quartz and carbonate is best explained by an 18O-depleted fluid formed during the Retrograde hydrothermal event. The latter is inferred at 2580 ± 21 Ma based on U-Pb geochronlogy of hydrothermal titanite, and relates to deformation and metamorphism in the nearby, amphibolite- to granulite-grade Kapuskasing metamorphic belt. Geochronological and geochemical evidence suggest that the 18O-depleted fluid may have formed via the devolatilization of biotite-bearing granitoids during deep-crustal metamorphism.
This is a preview of subscription content, log in to check access.
Access options
Buy single article
Instant access to the full article PDF.
US$ 39.95
Price includes VAT for USA
Subscribe to journal
Immediate online access to all issues from 2019. Subscription will auto renew annually.
US$ 199
This is the net price. Taxes to be calculated in checkout.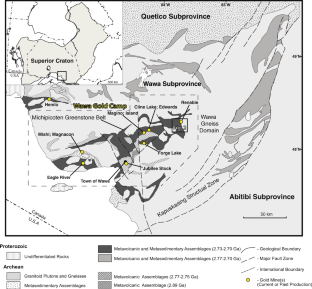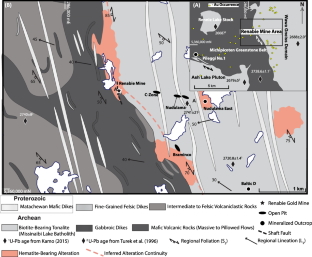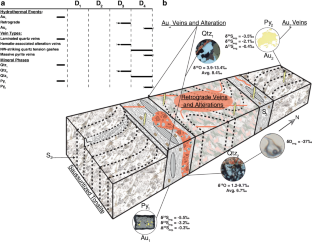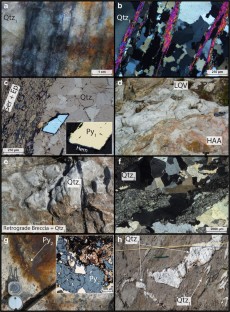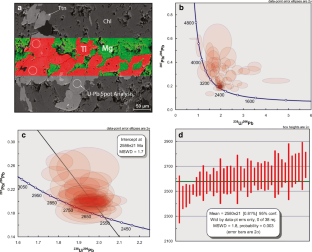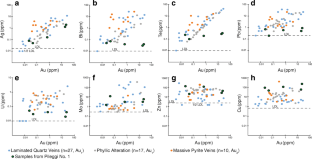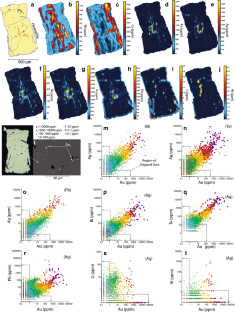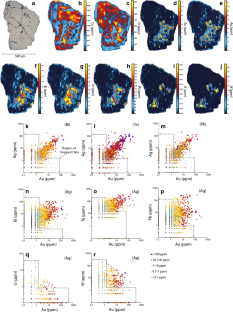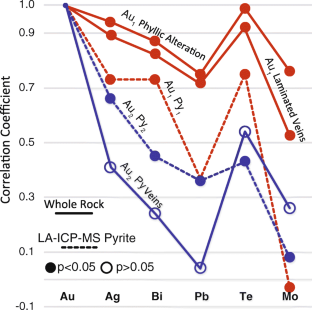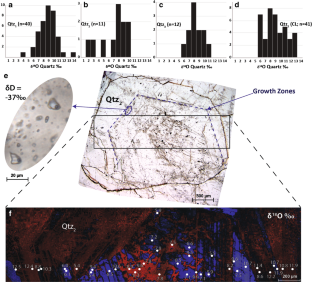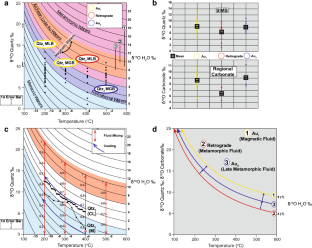 References
Alan M, Yardley B (2007) Tracking meteoric infiltration into a magmatic-hydrothermal system: a cathodoluminescence, oxygen isotope and trace element study of quartz from Mt. Leyshon, Australia. Chem Geol 240:343–360

Aleinikoff JN, Wintsch RP, Tollo RP, Unruh DM, Fanning CM, Schmitz MD (2007) Ages and origins of rocks of the Killingworth dome, south-Central Connecticut: implications for the tectonic evolution of southern New England. J Sci 307:63–118

Beaudoin G (2011) The stable isotope geochemistry of orogenic gold deposits. In: Barra F, Reich M, Campos E, Tornos F (eds) Proceedings of the Eleventh Biennial SGA Meeting, Antofagasta, pp 556–558

Beaudoin G, Pitre D (2005) Stable isotope geochemistry of the Archean Val-d'Or (Canada) orogenic gold vein field. Mineral Deposita 40:59–75

Bennett G (1972) Precambrian geology of Stover and Brackin townships. Ontario Geological Survey preliminary map P.2380

Bindeman I, Valley JW (2001) Low-δ18O rhyolites from Yellowstone: magmatic evolution based on analyses of zircons and individual phenocrysts. J Petrol:1491–1517

Bruce EL, Horwood HC (1942) Rennie–Leeson area, district of Sudbury, Ontario Ontario Geological Survey: Annual Report Map 51G

Callan NJ (1991) Syn-deformational shear zone-hosted Au-quartz vein mineralization in TTG host rocks, Renabie Mine area, North Ontario: structural analysis, microstructural characteristics and vein paragenesis. In: Ontario Geological Survey Open File Report 5759, 194 p

Callan NJ, Spooner ETC (1998) Repetitive hydraulic fracturing and shear zone inflation in an Archean granitoid-hosted, ribbon banded, au-quartz vein system, Renabie area, Ontario, Canada. Ore Geol Rev 12:237–266

Elmer FL, White RW, Powell R (2006) Devolatilization of metabasic rocks during greenschist-amphibolite facies metamorphism. J Metamorph Geol 24:497–513

Evans KA, Phillips GN, Powell R (2006) Rock-buffering of auriferous fluids in altered rocks associated with the Golden mile-style mineralization, Kalgoorlie gold field, Western Australia. Econ Geol 101:805–817

Farquhar J, Wing B (2003) Multiple sulfur isotopes and the evolution of the atmosphere. Earth Planet Sci Lett 213:1–13

Ferguson SA (1968) Renabie Mines, Nudulama Mines and adjoining properties, surface geology, parts of Renabie, Leeson and Brackin townships, District of Sudbury: Ontario Department of Mines preliminary geological map P.492

Fournier RO (1985) Theb behavior of silica in hydrothermal solutions. In: Berger BR, Bethke PM (eds) Geology and geochemistry of epithermal systems, vol 2. Reviews in economic geology, pp 45–61

Godefroy-Rodríguez M, Hagemann S, LaFlamme C, Fiorentini M (2020) The multiple sulfur isotope architecture of the Golden Mile and Mount Charlotte deposits, Western Australia. Miner Deposita 55:797–822. https://doi.org/10.1007/s00126-018-0828-y

Goldfarb RJ, Groves DI (2015) Orogenic gold: common or evolving fluid and metal sources through time. Lithos 233:2–26

Goldfarb RJ, Baker T, Dubé B, Groves DI, Hart CJR, Gosselin P (2005) Distribution, character, and enesis of gold deposits in metamorphic terranes. In: Hedenquist JW, Thompson JFH, Goldfarb RJ, Richards JP (eds) Economic Geology One Hundredth Anniversary Volume, pp. 407–450

Gourcerol B, Kontak DJ, Thurston P, Petrus J (2018a) Application of LA-ICP-MS sulfide analysis and methodology to deciphering elemental paragenesis and associations in addition to multi-stage processes in metamorphic gold settings. Can Mineral 56:1–18

Gourcerol B, Kontak DJ, Thurston P, Petrus J (2018b) LA-ICP-MS mapping, elemental parageneses and trace metal associations in sulfides from auriferous Algoma-type BIFs: implications for nature of mineralizing fluids, metal sources and deposit models. Mineral Deposita 53:871–894

Groves DI, Phillips GN, Ho SE, Houston SM, Standing CA (1987) Craton-scale distribution of Archean greenstone gold deposits: predictive capacity of the metamorphic model. Econ Geol 82:2045–2058

Groves DI, Goldfarb RJ, Robert F, Hart CJR (2003) Gold deposits in metamorphic belts: overview of current understanding, outstanding problems, future research, and exploration significance. Econ Geol 98:1–29

Groves DI, Santosh M, Deng J, Wang Q, Yang L, Zhang L (2019) A holistic model for the origin of orogenic gold deposits and its implications for exploration. Mineral Deposita 55:275–292. https://doi.org/10.1007/s00126-019-00877-5

Hagemann SG, Mariam-Gebre M, Groves DI (1994) Surface-water influx in shallow-level Archean lode-gold deposits in Western Australia. Geology 22:1067–1070

Hammerli J, Kemp AIS, Jeon H (2018) An Archean Yellowstone? Evidence from extremely low δ18O in zircons preserved in granulites of the Yilgarn Craton, Western Australia. Geology 46(5):411–414

Haroldson EL (2014) Fluid inclusions and stable isotope study of Magino: a magmatic-related Archean gold deposit. Unpublished M.Sc. thesis, The University of Wisconsin-Madison, 81 p

Hart CJR (2007) Reduced intrusion-related gold systems: In Goodfellow WD (ed) Mineral deposits of Canada: a synthesis of major deposit types, District Metallogeny, the Evolution of Geological Provinces, and Exploration Methods: Geological Association of Canada, Mineral Deposits Division, Special Publication No 5, pp 95–112

Heather KB, Arias Z (1992) Geological and structural setting of gold mineralization in the Goudreau–Lochalsh area, Wawa gold camp. Ontario Geological Survey, Open File Report 5832, 159 p

Helt KM, Williams-Jones AE, Clark JR, Wing BA, Wares RP (2014) Constraints on the genesis of the Archean oxidized, intrusion-related Canadian Malartic gold deposit, Quebec, Canada. Econ Geol 109:713–735

Hronsky JA, Groves DI, Loucks RR, Begg GC (2012) A unified model for gold mineralization in accretionary orogens and implications for regional-scale exploration targeting methods. Miner Deposita 47:339–358

Kamo SL (2015) Report on U-Pb CA-ID-TIMS geochronology on volcanic and plutonic rocks, superior and Grenville provinces, Ontario. Internal report for the Ontario Geological Survey, Jack Satterly Geochronology Laboratory, University of Toronto, Toronto, p 48

Kennedy AK, Kamo SL, Nasdala L, Timms NE (2010) Grenville skarn titanite: potential reference material for SIMS U-Th-Pb analysis. Can Mineral 48:1423–1443

Kerr MJ, Hanley JJ, Kontak DJ, Morrison GG, Petrus J, Sharpe T, Fayek M (2018) Evidence of upgrading of gold tenor in an auriferous orogenic quartz-carbonate vein system by late magmatic-hydrothermal fluids at the Madrid deposit, Hope Bay Greenstone Belt, Nunavut, Canada. Geochim Cosmochim Acta 241:180–218

Kerrich R (1989) Geochemical evidence on the sources of fluids and solutes for shear zone hosted mesothermal au deposits: In Bursnall JT (ed) Mineralization and shear zones: geological Association of Canada, Short Course Notes 6, pp. 129–197

Kerrich R (1990a) Carbon-isotope systematics of Archean Au-Ag vein deposits in the Superior province. Can J Earth Sci 27:40–56

Kerrich R (1990b) Mesothermal gold deposits: A critique of genetic hypotheses: In: Robert F, Sheahan PA, Green SB (eds) Greenstone gold and crustal evolution, NUNA Conference Volume, pp 13–27

Kirkland CL, Hollis J, Danisik M, Peterson J, Evans NJ, McDonald BJ (2017) Apatite and titanite from the Karrat Group, Greenland; implications for charting the thermal evolution of crust from the U-Pb geochronology of common Pb bearing phases. Precambrian Res 300:107–120

Kontak DJ, Horne RJ, Kyser K (2011) An oxygen isotope study of two contrasting orogenic gold vein systems in the Meguma Terrane, Nova Scotia, Canada, with implications for fluid sources and genetic models. Mineral Deposita 46:289–304

Kontak DJ, Hanley JB, Fayek M (2016) A Rayleigh distillation model to explain large variations in oxygen isotope data for orogenic gold veins. Abstract, Geological Association of Canada-Mineralogical Association of Canada

Kontak DJ, Hanley JB, Gourceol B, Petrus JA, Kelly C, Kerr M, Letourneau M, Malcolm K, McDivitt J, Neyedley K, Tokaryk S (2018) Protracted and complex fluid histories the norm in orogenic-type gold deposits as revealed by LA ICP-MS sulfide mapping. Abstract, resources for future generations (RFG) meeting, Vancouver

Kyser TK, Kerrich R (1990) Geochemistry of fluids in tectonically active crustal regions: In: Nesbitt BE (ed) Short course on fluids in tectonically active regimes of the continental crust, Mineralogical Association of Canada Short Course Handbook, 18, pp. 133–230

LaFlamme C, Jamieson JW, Fiorentini ML, Thebaud N, Caruso S, Selvaraja V (2018) Investigating sulfur pathways through the lithosphere by tracing mass independent fractionation of sulfur to the Lady Bountiful orogenic gold deposit, Yilgarn Craton. Gondwana Res 58:27–38

Li H, Schwarez HP, Shaw DM (1991) Deep-crustal oxygen isotope variations: the Wawa-Kapuskasing crustal transect, Ontario. Contrib Mineral Petrol 107:448–458

Ludwig KR (2003) Isoplot 3.00 a geochronological toolkit for Microsoft Excel. Berkeley Geochronology Center

Mao W, Rusk B, Yang F, Zhang M (2017) Physical and chemical evolution of the Dabaoshan porphyry Mo deposit, South China: insights from fluid inclusions, cathodoluminescence, and trace elements in quartz. Econ Geol 112:889–918

Matsuhisa Y, Goldsmith JR, Clayton RN (1979) Oxygen isotopic fractionation in the system quartz-albite-anorthite-water. Geochim Cosmochim Acta 43:1131–1140

McCuaig TC, Kerrich R (1998) P-T-t-deformation-fluid characteristics of lode gold deposits: evidence from alteration systematics. Ore Geol Rev 12:381–454

McDivitt JA (2016) Gold mineralization in the Missanabie-Renabie District of the Wawa subprovince: geochemical data and photographs. Ontario Geological Survey, Miscellaneous Release—Data 339

McDivitt JA, Lafrance B, Kontak DJ, Robichaud, L (2015) Characterization of gold mineralization in the Missanabie-Renabie District of the Wawa gold camp. Summary of Field Work and Other Activities, Open File Report 6313, pp. 6–1 to 6–8

McDivitt JA, Lafrance B, Kontak DJ, Robichaud L (2017) The structural evolution of the Missanabie-Renabie gold district: pre-orogenic veins in an orogenic gold setting and their influence on the formation of hybrid deposits. Econ Geol 112:1959–1975

McDivitt JA, Kontak DJ, Lafrance B, Robichaud L (2018) Contrasting fluid chemistries, alteration characteristics, and metamorphic timing relationships recorded in hybridized orebodies of the Missanabie-Renabie gold district, Archean Wawa subprovince, Ontatio, Canada. Econ Geol 113:397–420

Moser D (1989) Mid-crustal structures of the Wawa gneiss terrane near Chapleau, Ontario. Current Research, Part C. Geological Survey of Canada, Paper 88-lC, pp. 93–99

Moser D (1993) A geological, structural and geochronological study of the Central Wawa Gneiss Domain: Implications for the development of different crustal levels of the Archean Abitibi-Wawa Orogen of the Southern Superior Province, Canadian Shield. Unpublished Ph.D. thesis, Queen's University, 182 p

Moser D (1994) The geology and structure of the mid-crustal Wawa gneiss domain: a key to understanding tectonic variation with depth and time in the late Archean Abitibi-Wawa orogen. Can J Earth Sci 31:1064–1080

Neyedley K, Hanley K, Fayek M, Kontak DJ (2017) Textural, fluid inclusions, and stable O isotope constraints on vein formation and gold precipitation, 007 deposit, Bissett, Manitoba, Canada. Econ Geol 112:629–660

Ohmoto H, Rye RO (1979) Isotopes of sulfur and carbon: In Barnes HL (ed) Geochemistry of Hydrothermal Ore Deposits, 2nd edition, pp. 509–567

Ojala VJ, Groves DI, Ridley JR (1995) Hydrogen isotope fractionation factors between hydrous mineral and ore fluid at low temperatures: evidence from the Granny Smith gold deposit, Western Australia. Mineral Deposita 30:328–331

Percival JA, Card KD (1985) Structure and evolution of Archean crust in central Superior province, Canada. In: Ayres LD, Thurston PC, Card KD, Weber W (eds) Evolution of Archean Supracrustal Sequences, vol 28. Geological Association of Canada Special Paper, pp 179–192

Percival JA, West GF (1994) The Kapuskasing uplift: a geological and geophysical synthesis. Can J Earth Sci 31:1256–1286

Phillips GN, Groves DI, Brown IJ (1987) Source requirements for the Golden Mile Kalgoorlie: significance to the metamorphic replacement model for Archean gold deposits. Can J Earth Sci 24:1642–1651

Pickthorn WJ, Goldfarb RJ, Leach DL (1987) Dual origins of lode gold deposits in the Canadian Cordillera—discussion. Geology 15:471–473

Polito PA, Bone Y, Clarke JD, Mernagh TP (2001) Compositional zoning of fluid inclusions in the Archaean Junction gold deposit, Western Australia: a process of fluid—wall-rock interaction? Aus J Earth Sci 48:833–855

Powell R, Will T, Phillips G (1991) Metamorphism of Archean greenstone belts—calculated fluid compositions and implications for gold mineralization. J Metamorph Geol 9:141–150

Riley RA (1971) Precambrian geology of Glascow, Meath and Rennie townships. Ontario Geological Survey, preliminary map P.2210

Ripley EM, Li C (2017) A review of the application of multiple S isotopes to magmatic Ni-Cu-PGE deposits and the significance of spatially variable Δ33S values. Econ Geol 112:983–991

Robert F (2001) Syenite-associated disseminated gold deposits in the Abitibi greenstone belt, Canada. Min Deposita 36:503–516. https://doi.org/10.1007/s001260100186

Robichaud L, McDivitt JA, Trevisan BE (2015) Geology and Mineral Potential of Rennie and Leeson Townships, Michipicoten Greenstone Belt. Summary of Field Work and Other Activities 2015, Ontario Geological Survey, Open File Report 6313, pp.5–1 to 5–11

Rusk BG, Lowers HA, Reed MH (2008) Trace elements in hydrothermal quartz: relationships to cathodoluminescent textures and insights into vein formation. Geology 36:547–550

Sage RP (1986) Stratigraphic correlation in the Wawa area. Volcanology and Mineral Deposits, Ontario Geological Survey, Miscellaneous Paper 129, pp. 62–68

Sage RP, Heather KB (1991) The structure, stratigraphy and mineral deposits of the Wawa area. Geological Association of Canada–Mineralogical Association of Canada–Society of Economic Geologists, Joint Annual Meeting, Toronto 1991, Field Trip A6, 118p

Samson IM, Bluent B, Holm EP (1997) Hydrothermal evolution of auriferous shear zones, Wawa, Ontario. Econ Geol 92:325–342

Schlegel TU, Wagner T, Boyce A, Heinrich CA (2017) A magmatic source of hydrothermal sulfur for the Prominent Hill deposit and associated prospects in the Olympic iron oxide copper-gold (IOCG) province of South Australia. Ore Geol Rev 89:1058–1090

Schmitz MD, Bowring, SA (2001) U-Pb zircon titanite systematics of the Fish Canyon Tuff: an assessment of high-precision U-Pb geochronology and its application to young volcanic rocks. Geochim Cosmochim Acta 65, No. 15: 2571–2587

Seal RR (2006) Sulfur isotope geochemistry of sulfide minerals. Rev Mineral Geochem 61:633–677

Seedorff E, Dilles JH, Phoffett Jr JM, Einaudi MT, Zurcher L, Stavast WJA, Johnson DA, Barton MD (2005) Porphyry deposits: characteristics and Origin of Hypogene Features: In: Hedenquist JW, Thompson, JFH, Goldfarb, RJ, Richards JP (eds), Economic Geology One Hundredth Anniversary Volume, pp 251–298

Selvaraja V, Caruso S, Fiorentini ML, LaFlamme CK, Bui T-H (2017) Atmospheric sulfur in orogenic gold deposits of the Archean Yilgarn Craton, Australia. Geology 45(8):691–694

Sharman ER, Taylor BE, Minarik WG, Dubé B, Wing BA (2015) Sulfur isotope and trace element data from ore sulfides in the Noranda district (Abitibi, Canada): implications for volcanogenic massive sulfide deposit genesis. Mineral Deposita 50:591–606

Sibson RH (2001) Seismogenic framework for hydrothermal transport and ore deposition: in: JP Richards, RM Tosdal (eds) Structural controls on ore genesis, Reviews in Economic Geology, v 14, pp 25–50

Simon K (2001) Does δD from fluid inclusion in quartz reflect the original hydrothermal fluid? Chem Geol 177:483–495

Smith RB, Bruhn RL (1984) Interplate extensional tectonics of the eastern Basin-Range: Inferences on structural style from seismic reflection data, regional tectonics, and thermal mechanical models of brittle-ductile deformation. J Geophys Res 89:5733–5762

Stacey JC, Kramers JD (1975) Approximation of terrestrial lead isotope evolution by a two-stage model. Earth Planet Sci Lett 26(2):207–221

Storey CD, Jeffries TE, Smith M (2006) Common lead-corrected laser ablation ICP-MS U-Pb systematics and geochronology of titanite. Chem Geol 227(1–2):37–52

Stott GM, Corkery MT, Percival JA, Simard M, Goutier J (2010) A revised terrane subdivision of the Superior Province. Summary of Field Work and Other Activities 2010, Ontario Geological Survey, Open File Report 6260, pp 20–1 to 20–10

Sullivan RW, Sage RP, Card KD (1985) U-Pb zircon age of the Jubilee Stock in the Michipicoten Greenstone Belt near Wawa, Ontario. Current Research, Part B, Geological Survey of Canada Paper 85-1B, pp 361–365

Taylor HP Jr (1974) The application of oxygen and hydrogen isotope studies to problems of hydrothermal alteration and ore deposition. Econ Geol 69:843–883

Taylor HP Jr (1979) Oxygen and hydrogen isotope relationships in hydrothermal mineral deposits. In: Barnes HL (ed) Geochemistry of Hydrothermal Ore Deposits, 2nd edition, pp 236–277

Thompson JFH, Sillitoe RH, Baker T, Lang JR, Mortensen JK (1999) Intrusion-related gold deposits associated with tungsten-tin provinces. Mineral Deposita 34:323–334

Turek A, Smith PE, Van Schmus WR (1982) Rb-Sr and U-Pb ages of volcanism and granite emplacement in the Michipicoten Belt—Wawa, Ontario. Can J Earth Sci 19:1608–1626

Turek A, Smith PE, Van Schmus WR (1984) U-Pb zircon ages and the evolution of the Michipicoten plutonic-volcanic terrane of the Superior Province, Ontario. Can J Earth Sci 21:457–464

Turek A, Sage RP, Van Schmus WR (1992) Advances in the U-Pb zircon geochronology of the Michipicoten greenstone belt, Superior Province, Ontario. Can J Earth Sci 29:1154–1165

Turek A, Heather KB, Sage RP, Van Schmus WR (1996) U/Pb zircon ages for the Missanabie–Renabie area and their relation to the rest of the Michipicoten greenstone belt, Superior Province, Ontario, Canada. Precambrian Res 76:191–211

Valley JW (1986) Stable isotope geochemistry of metamorphic rocks. In: Valley JW, Taylor HP, O'Neil JR (eds) Stable isotopes in high temperature geological processes, vol 16. Rev Mineral Geochem, pp 445–490

Williams HR, Stott GM, Heather KB, Muir TL, Sage RP (1991) Wawa subprovince. In: Thurston PC, Williams HR, Sutcliffe RH, Stott GM (eds) Geology of Ontario, special volume 4 (part 1). Ministry of Northern Development and Mines, Ontario Geological Survey, Sudbury, pp 485–538

Xue Y, Campbell I, Ireland TR, Holden P, Armstrong R (2013) No mass-independent sulfur isotope fractionation in auriferous fluids supports a magmatic origin for Archean gold deposits. Geology 41:791–794

Yuguchi T, Sasao E, Ishibashi M, Nishiyama T (2015) Hydrothermal chloritization process from biotite in Toki granite, central Japan: temporal variations of the compositions of hydrothermal fluids associated with chloritization. Am Min 100:1134–1152

Zheng Y (1993) Calculation of oxygen isotope fractionation in hydroxyl-bearing silicates. Earth Plan Sci Lett 120:247–263
Acknowledgments
GoldTrain Resources Inc. is thanked for allowing access to drill core and stripped outcrops. Ryan Sharpe, with the SIMS laboratory at the University of Manitoba, is thanked for his role in the oxygen isotope analysis. We sincerely acknowledge the constructive feedback provided by Georges Beaudoin, Iain Samson, Peter Hollings, and an anonymous reviewer.
Funding
This study is financially and logistically supported by the Ontario Geological Survey. This manuscript stems from a M.Sc. thesis completed by JM at Laurentian University that was financially supported through the Ontario Geological Survey-Laurentian University Mapping School Agreement. Additional financial contributions to JM are provided by the Natural Sciences and Engineering Research Council (NSERC), the Society of Economic Geologists Foundation, and the Goodman School of Mines.
Additional information
Publisher's note
Springer Nature remains neutral with regard to jurisdictional claims in published maps and institutional affiliations.
Editorial handling: P. Hollings
Electronic supplementary material
About this article
Cite this article
McDivitt, J.A., Kontak, D.J., Lafrance, B. et al. A trace metal, stable isotope (H, O, S), and geochronological (U-Pb titanite) characterization of hybridized gold orebodies in the Missanabie-Renabie district, Wawa subprovince (Canada). Miner Deposita (2020). https://doi.org/10.1007/s00126-020-00983-9
Received:

Accepted:

Published:
Keywords
Archean gold mineralization

Wawa subprovince

Stable isotopes

Oxygen isotopes

Trace metal analysis