Abstract
Aims/hypothesis
Myeloid-derived growth factor (MYDGF), mainly secreted by bone marrow-derived cells, has been known to promote glucagon-like peptide-1 production and improve glucose/lipid metabolism in mouse models of diabetes, but little is known about the functions of MYDGF in diabetic kidney disease (DKD). Here, we investigated whether MYDGF can prevent the progression of DKD.
Methods
In vivo experiments, both loss- and gain-of-function strategies were used to evaluate the effect of MYDGF on albuminuria and pathological glomerular lesions. We used streptozotocin-treated Mydgf knockout and wild-type mice on high fat diets to induce a model of DKD. Then, albuminuria, glomerular lesions and podocyte injury were evaluated in Mydgf knockout and wild-type DKD mice treated with adeno-associated virus-mediated Mydgf gene transfer. In vitro and ex vivo experiments, the expression of slit diaphragm protein nephrin and podocyte apoptosis were evaluated in conditionally immortalised mouse podocytes and isolated glomeruli from non-diabetic wild-type mice treated with recombinant MYDGF.
Results
MYDGF deficiency caused more severe podocyte injury in DKD mice, including the disruption of slit diaphragm proteins (nephrin and podocin) and an increase in desmin expression and podocyte apoptosis, and subsequently caused more severe glomerular injury and increased albuminuria by 39.6% compared with those of wild-type DKD mice (p < 0.01). Inversely, MYDGF replenishment attenuated podocyte and glomerular injury in both wild-type and Mydgf knockout DKD mice and then decreased albuminuria by 36.7% in wild-type DKD mice (p < 0.01) and 34.9% in Mydgf knockout DKD mice (p < 0.01). Moreover, recombinant MYDGF preserved nephrin expression and inhibited podocyte apoptosis in vitro and ex vivo. Mechanistically, the renoprotection of MYDGF was attributed to the activation of the Akt/Bcl-2-associated death promoter (BAD) pathway.
Conclusions/interpretation
The study demonstrates that MYDGF protects podocytes from injury and prevents the progression of DKD, providing a novel strategy for the treatment of DKD.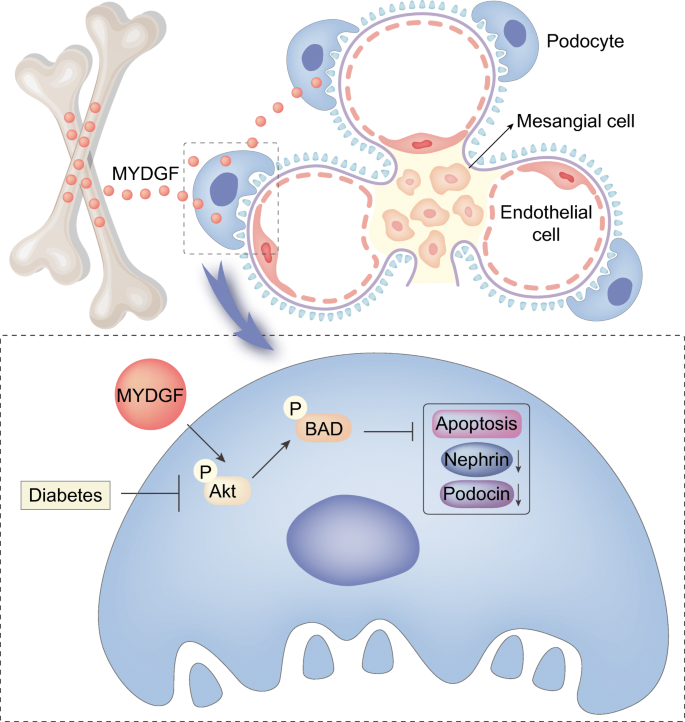 This is a preview of subscription content, log in to check access.
Access options
Buy single article
Instant access to the full article PDF.
US$ 39.95
Price includes VAT for USA
Subscribe to journal
Immediate online access to all issues from 2019. Subscription will auto renew annually.
US$ 199
This is the net price. Taxes to be calculated in checkout.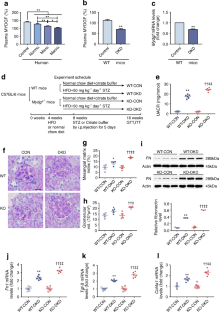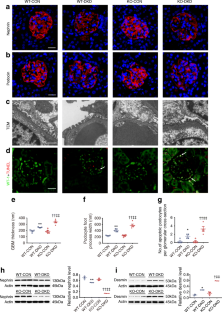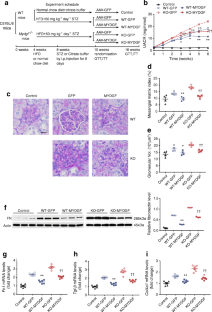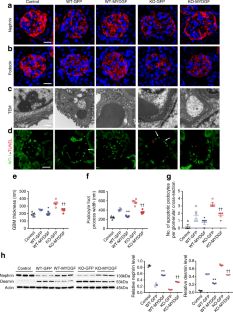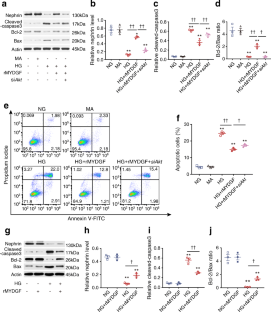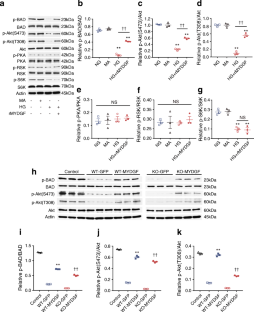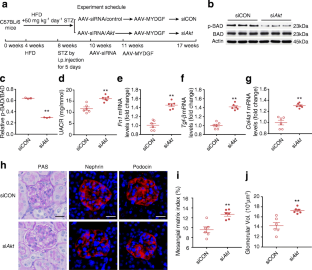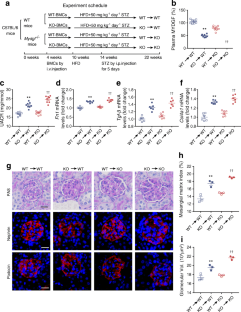 Data availability
All data generated or analysed during this study are included in this published article (and its supplementary information files).
Abbreviations
AAV:

Adeno-associated virus

BAD:

Bcl-2-associated death promoter

Bcl-2:

B-cell lymphoma 2

BMDC:

Bone marrow-derived cell

BMSC:

Bone marrow mesenchymal stem cell

BMMNC:

Bone marrow mononuclear cell

BMC:

Bone marrow cell

BUN:

Blood urea nitrogen

DKD:

Diabetic kidney disease

GBM:

Glomerular basement membrane

GLP-1:

Glucagon-like peptide-1

HFD:

High-fat diet

HG:

High glucose

KO:

Knockout

MA:

Mannitol

MYDGF:

Myeloid-derived growth factor

NG:

Normal glucose

PAS:

Periodic acid–Schiff

PKA:

Protein kinase A

rMYDGF:

Recombinant MYDGF

RSK:

p90 ribosomal S6 kinase

siRNA:

Small interfering RNA

STZ:

Streptozotocin

S6K:

p70 ribosomal S6 kinase

TEM:

Transmission electron microscopy

UACR:

Urinary albumin/creatinine ratio

WT:

Wild-type

WT-1:

Wilms' tumour 1
Authors' relationships and activities
The authors declare that there are no relationships or activities that might bias, or be perceived to bias, their work.
Funding
This work was supported by grants from the National Natural Science Foundation of China (NSFC 81870573, 81370896, 81570730), National Key Research and Development Program of China (2016YFC1305601) and Research Project of Health Commission of Hubei Province (WJ2017H0031).
Additional information
Publisher's note
Springer Nature remains neutral with regard to jurisdictional claims in published maps and institutional affiliations.
Electronic supplementary material
About this article
Cite this article
He, M., Li, Y., Wang, L. et al. MYDGF attenuates podocyte injury and proteinuria by activating Akt/BAD signal pathway in mice with diabetic kidney disease. Diabetologia (2020). https://doi.org/10.1007/s00125-020-05197-2
Received:

Accepted:

Published:
Keywords
Diabetic kidney disease

Myeloid-derived growth factor

Podocyte injury