Abstract
Key message
The Fs gene, which controls spinach fruit spines, was fine mapped to a 0.27 Mb interval encompassing four genes on chromosome 3.
Abstract
There are two types of fruit of spinach (Spinacia oleracea L.), spiny and spineless, which are visually distinguishable by the spines of fruit coat. In spinach breeding, the fruit characteristic is an important agronomic trait that have impacts on "seed" treatment and mechanized sowing. However, the gene(s) controlling the fruit spiny trait have not been characterized and the genetic mechanism of this trait remained unclear. The objectives of the study were to fine map the gene controlling fruit spines and develop molecular markers for marker-assisted selection purpose. Genetic analysis of the spiny trait in segregating populations indicated that fruit spines were controlled by a single dominant gene, designated as Fs. Using a super-BSA method and recombinants analysis in a BC1 population, Fs was mapped to a 1.9-Mb interval on chromosome 3. The Fs gene was further mapped to a 0.27-Mb interval using a recombinant inbred line (RIL) population with 120 lines. From this 0.27 Mb region, four candidate genes were identified in the reference genome. The structure and expression of the four genes were compared between the spiny and spineless parents. A co-dominant marker YC-15 was found to be co-segregating with the fruit spines trait, which produced a 129-bp fragment specific to spiny trait and a 108-bp fragment for spineless fruit. This marker can predict spiny trait with a 94.8% accuracy rate when tested with 100 diverse germplasm, suggesting that this marker would be valuable for marker-assisted selection in spinach breeding.
Access options
Buy single article
Instant access to the full article PDF.
US$ 39.95
Tax calculation will be finalised during checkout.
Subscribe to journal
Immediate online access to all issues from 2019. Subscription will auto renew annually.
US$ 119
Tax calculation will be finalised during checkout.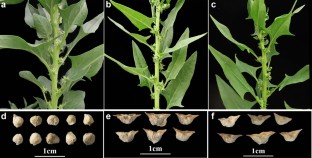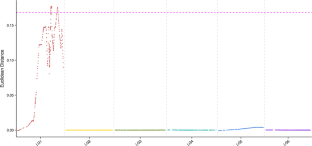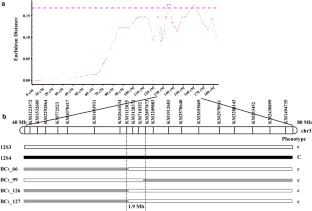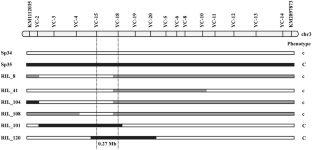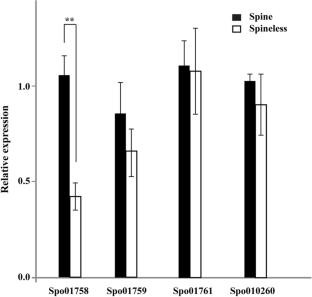 References
Andersen SB, Torp AM (2011) Wild crop relatives: genomic and breeding resources. Springer, Berlin, pp 273–276

Baird NA, Etter PD, Atwood TS, Currey MC, Shiver AL, Lewis ZA, Selker EU, Cresko WA, Johnson EA (2008) Rapid SNP discovery and genetic mapping using sequenced RAD markers. PLoS ONE 3(10):3376. https://doi.org/10.1371/journal.pone.0003376

Chai L, Zhang J, Lu K, Li H, Wu L, Wan H, Zheng B, Cui C, Jiang J, Jiang L (2019) Identification of genomic regions associated with multi-silique trait in Brassica napus. BMC Genomics 20(1):304. https://doi.org/10.1186/s12864-019-5675-4

Chen S, Zhou Y, Chen Y, Gu J (2018) Fastp: an ultra-fast all-in-one FASTQ preprocessor. Bioinformatics 34(17):884–890. https://doi.org/10.1093/bioinformatics/bty560

Davey JW, Blaxter ML (2011) RADSeq: next-generation population genetics. Brief Funct Genom 10:108. https://doi.org/10.1093/bfgp/elr007

Fujito S, Takahata S, Suzuki R, Hoshino Y, Ohmido N, Onodera Y (2015) Evidence for a common origin of homomorphic and heteromorphic sex chromosomes in distinct Spinacia species. G3 Genes Genom Genet 5(8):1663–1673. https://doi.org/10.1534/g3.115.018671

Gabrielian E, Fragman-Sapir O (2008) Flowers of the transcaucasus and adjacent areas. Gantner Verlag, Germany

Guo G, Wang S, Liu J, Pan B, Diao W, Ge W, Gao C, Snyder JC (2017) Rapid identification of QTLs underlying resistance to Cucumber mosaic virus in pepper (Capsicum frutescens). Theoretical Appl Genet 130(1):41–52. https://doi.org/10.1007/s00122-016-2790-3

Hajjar R, Hodgkin T (2007) The use of wild relatives in crop improvement: a survey of developments over the last 20 years. Euphytica 156(1–2):1–13. https://doi.org/10.1007/s10681-007-9363-0

Hallavant C, Ruas MP (2014) The first archaeobotanical evidence of Spinacia oleracea L. (spinach) in late 12th–mid 13th century ad France. Veg Hist Archaeobotany 23(2):153–165. https://doi.org/10.1007/s00334-013-0400-8

Hill JT, Demarest BL, Bisgrove BW, Gorsi B, Su YC, Yost HJ (2013) MMAPPR: mutation mapping analysis pipeline for pooled RNA-seq. Genome Res 23:687–697. https://doi.org/10.1101/gr.146936.112

Jakoby M, Weisshaar B, Dröge-Laser W, Vicente-Carbajosa J, Tiedemann J, Kroj T, Parcy F (2002) bZIP transcription factors in Arabidopsis. Trends Plant Sci 7(3):106–111. https://doi.org/10.1016/S1360-1385(01)02223-3

Jia Q, Wang J, Zhu J, Hua W, Shang Y, Yang J, Liang Z (2017) Toward identification of black lemma and pericarp gene Blp1 in barley combining bulked segregant analysis and specific-locus amplified fragment sequencing. Front Plant Sci 8:1414. https://doi.org/10.3389/fpls.2017.01414

Kawamoto N, Sasabe M, Endo M, Machida Y, Araki T (2015) Calcium-dependent protein kinases responsible for the phosphorylation of a bZIP transcription factor FD crucial for the florigen complex formation. Sci Rep 5:8341. https://doi.org/10.1038/srep08341

Khattak JZ, Torp AM, Andersen SB (2006) A genetic linkage map of Spinacia oleracea and localization of a sex determination locus. Euphytica 148(3):311–318. https://doi.org/10.1007/s10681-005-9031-1

Khattak JZ, Torp AM, Andersen SB (2007) Genic microsatellite markers for discrimination of spinach cultivars. Plant Breed 126(4):454–456. https://doi.org/10.1111/j.1439-0523.2007.01392.x

Kuwahara K, Suzuki R, Ito Y, Mikami T, Onodera Y (2014) An analysis of genetic differentiation and geographical variation of spinach germplasm using SSR markers. Plant Genet Resour 12(02):185–190. https://doi.org/10.1017/S1479262113000464

Li H, Durbin R (2009) Fast and accurate short read alignment with Burrows-Wheeler transform [J]. Bioinformatics 25(14):1754–1760. https://doi.org/10.1093/bioinformatics/btp324

Li H, Handsaker B, Wysoker A, Fennell T, Ruan J, Homer N, Marth G, Abecasis G, Durbin R (2009) The sequence alignment/map format and SAMtools. Bioinformatics 25(16):2078–2079. https://doi.org/10.1093/bioinformatics/btp352

Liu S, Yeh C-T, Tang HM, Nettleton D, Schnable PS (2012) Gene mapping via bulked segregant RNA-Seq (BSR-Seq). PLoS ONE 7(5):e36406. https://doi.org/10.1371/journal.pone.0036406

Meng S, Liu C, Xu X, Song S, Song S, Zhang Z, Liu L (2017) Comparison of morphological features of fruits and seeds for identifying two taxonomic varieties of Spinacia oleracea L. Can J Plant Sci 98(2):318–331. https://doi.org/10.1139/cjps-2017-0119

Michelmore RW, Paran I, Kesseli R (1991) Identification of markers linked to disease-resistance genes by bulked segregant analysis: a rapid method to detect markers in specific genomic regions by using segregating populations. Proc Natl Acad Sci 88(21):9828–9832. https://doi.org/10.1073/pnas.88.21.9828

Morelock TE, Correll JC (2008). Spinach. In: Vegetables I (ed). Springer, New York, NY, pp189–218.

Nguyen KL, Grondin A, Courtois B, Gantet P (2019) Next-generation sequencing accelerates crop gene discovery. Trends Plant Sci 24(3):263–274. https://doi.org/10.1016/j.tplants.2018.11.008

Pinfield-Wells H, Rylott EL, Gilday AD, Graham S, Job K, Larson TR, Graham IA (2005) Sucrose rescues seedling establishment but not germination of Arabidopsis mutants disrupted in peroxisomal fatty acid catabolism. Plant J 43(6):861–872. https://doi.org/10.1111/j.1365-313X.2005.02498.x

Porebski S, Bailey LG, Baum BR (1997) Modification of a CTAB DNA extraction protocol for plants containing high polysaccharide and polyphenol components. Plant Mole Biol Report 15(1):8–15

Qian W, Fan G, Liu D, Zhang H, Wang X, Wu J, Xu Z (2017) Construction of a high-density genetic map and the X/Y sex-determining gene mapping in spinach based on large-scale markers developed by specific-locus amplified fragment sequencing (SLAF-seq). BMC Genomics 18(1):276. https://doi.org/10.1186/s12864-017-3659-9

Ribera A, Bai Y, Wolters AA, Treuren RV, Kik C (2020) A review on the genetic resources domestication and breeding history of spinach (Spinacia oleracea L.). Euphytica 216(3):1–21

Sanguinetti CJ, Dias EN, Simpson A (1994) Rapid silver staining and recovery of PCR products separated on polyacrylamide gels. Biotechniques 17(5):914–921

She H, Qian W, Zhang H, Liu Z, Wang X, Wu J, Feng C, Correll JC, Xu Z (2018) Fine mapping and candidate gene screening of the downy mildew resistance gene RPF1 in Spinach. Theor Appl Genet 131(12):2529–2541. https://doi.org/10.1007/s00122-018-3169-4

Sneep J (1958) The breeding of hybrid varieties and the production of hybrid seed in spinach. Euphytica 7(2):119–122. https://doi.org/10.1007/BF00035724

Song WY, Choi KS, Kim DY, Geisler M, Park J, Vincenzetti V, Schellenberg M, Kim SH, Lim YP, Noh EW, Lee Y, Martinoia E (2010) Arabidopsis PCR2 is a zinc exporter involved in both zinc extrusion and long-distance zinc transport. Plant Cell 22(7):2237–2252. https://doi.org/10.1105/tpc.109.070185

Sun X, Liu D, Zhang X, Li W, Liu H, Hong W, Jiang C, Guan N, Ma C, Zeng H (2013) SLAF-seq: an efficient method of large-scale de novo SNP discovery and genotyping using high-throughput sequencing. PLoS ONE 8(3):e58700. https://doi.org/10.1371/journal.pone.0058700

Takagi H, Abe A, Yoshida K, Kosugi S, Natsume S, Mitsuoka C, Uemura A, Utsushi H, Tamiru M, Takuno S (2013) QTL-seq: rapid mapping of quantitative trait loci in rice by whole genome resequencing of DNA from two bulked populations. Plant J 74(1):174–183. https://doi.org/10.1111/tpj.12105

Van de Wouw M, Kik C, van Hintum T, van Treuren R, Visser B (2010) Genetic erosion in crops: concept, research results and challenges. Plant Genet Resour 8(1):1–15. https://doi.org/10.1017/S1479262109990062

Van Treuren R, de Groot L, Hisoriev H, Khassanov F, Farzaliyev V, Melyan G, Gabrielyan I, van Soest L, Tulmans C, Courand D (2020) Acquisition and regeneration of Spinacia turkestanica Iljin and S. tetrandra Steven ex M. Bieb. to improve a spinach gene bank collection. Genet Resour Crop Evol 67:549–559. https://doi.org/10.1007/s10722-019-00792-8

Varshney RK, Nayak SN, May GD, Jackson SA (2009) Next-generation sequencing technologies and their implications for crop genetics and breeding. Trends Biotechnol 27(9):522–530. https://doi.org/10.1016/j.tibtech.2009.05.006

Xu C, Jiao C, Sun H, Cai X, Wang X, Ge C, Zheng Y, Liu W, Sun X, Xu Y, Deng J, Zhang Z, Huang S, Dai S, Mou B, Wang Q, Fei Z, Wang Q (2017) Draft genome of spinach and transcriptome diversity of 120 Spinacia accessions. Nat Commun 8(1):15275. https://doi.org/10.1038/ncomms15275

Yang O, Popova OV, Süthoff U, Lüking I, Dietz K-J, Golldack D (2009) The Arabidopsis basic leucine zipper transcription factor AtbZIP24 regulates complex transcriptional networks involved in abiotic stress resistance. Gene. https://doi.org/10.1016/j.gene.2009.02.010

Yu QB, Zhao TT, Ye LS, Cheng L, Wu YQ, Huang C, Yang ZN (2018) PTAC10, an S1-domain-containing component of the transcriptionally active chromosome complex, is essential for plastid gene expression in Arabidopsis thaliana and is phosphorylated by chloroplast-targeted casein kinase II. Photosynth Res 137:69–83. https://doi.org/10.1007/s11120-018-0479-y

Zhang P, Zhu Y, Wang L, Chen L, Zhou S (2015) Mining candidate genes associated with powdery mildew resistance in cucumber via super-BSA by specific length amplified fragment (SLAF) sequencing. BMC Genomics 16(1):1058. https://doi.org/10.1186/s12864-015-2041-z

Zhao C, Zhao G, Geng Z, Wang Z, Wang K, Liu S, Zhang H, Guo B, Geng J (2018) Physical mapping and candidate gene prediction of fertility restorer gene of cytoplasmic male sterility in cotton. BMC Genom 19(1):6. https://doi.org/10.1186/s12864-017-4406-y

Zong W, Tang N, Yang J, Peng L, Ma S, Xu Y, Li G, Xiong L (2016) Feedback regulation of ABA signaling and biosynthesis by a bZIP transcription factor targets drought resistance related genes. Plant Physiol 171(4):2810–2825. https://doi.org/10.1104/pp.16.00469
Acknowledgements
This work was performed at the Key Laboratory of Biology and Genetic Improvement of Horticultural Crops, Ministry of Agriculture, Beijing, China and was supported by National Natural Science Foundation of China (31902008), the Chinese Academy of Agricultural Sciences Innovation Project (CAAS-ASTIP-IVFCAAS), Central Public-interest Scientific Institution Basal Research Fund (IVF-BRF2019003).
Ethics declarations
Conflict of interest
The authors declare that they have no conflict of interest.
Additional information
Publisher's Note
Springer Nature remains neutral with regard to jurisdictional claims in published maps and institutional affiliations.
Communicated by Amnon Levi.
Supplementary Information
Below is the link to the electronic supplementary material.
About this article
Cite this article
Liu, Z., Lu, T., Feng, C. et al. Fine mapping and molecular marker development of the Fs gene controlling fruit spines in spinach (Spinacia oleracea L.). Theor Appl Genet (2021). https://doi.org/10.1007/s00122-021-03772-8
Received:

Accepted:

Published: