Abstract
Key message
Identification and inactivation of hybrid lethality genes can be used to expand the available gene pool for improvement of a cultivated crop species.
Abstract
Hybrid lethality is one genetic mechanism that contributes to reproductive isolation in plants and serves as a barrier to use of diverse germplasm for improvement of cultivated species. A classic example is the seedling lethality exhibited by progeny from the Nicotiana tabacum × N. africana interspecific cross. In order to increase the body of knowledge on mechanisms of hybrid lethality in plants, and to potentially develop tools to circumvent them, we utilized a transposon tagging strategy to identify a candidate gene involved in the control of this reaction. N. tabacum gene Nt6549g30 was identified to code for a class of coiled-coil nucleotide-binding site-leucine-rich repeat (CC-NBS-LRR) proteins, the largest class of plant defense proteins. Gene editing, along with other experiments, was used to verify that Nt6549g30 is the gene at the N. tabacum Hybrid Lethality 1 (NtHL1) locus controlling the hybrid lethality reaction in crosses with N. africana. Gene editing of Nt6549g30 was also used to reverse interspecific seedling lethality in crosses between N. tabacum and eight of nine additional tested species from section Suaveolentes. Results further implicate the role of disease resistance-like genes in the evolution of plant species and demonstrate the possibility of expanding the gene pool for a crop species through gene editing.
Access options
Buy single article
Instant access to the full article PDF.
US$ 39.95
Tax calculation will be finalised during checkout.
Subscribe to journal
Immediate online access to all issues from 2019. Subscription will auto renew annually.
US$ 119
Tax calculation will be finalised during checkout.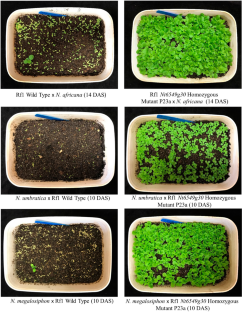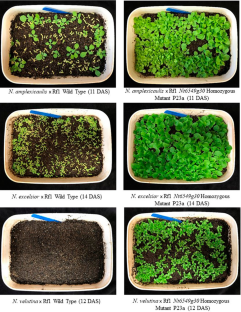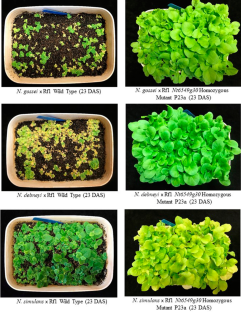 References
Afanador LK, Haley SD, Kelly JD (1993) Adoption of a mini-prep DNA extraction method for RAPD marker analysis in common bean (Phaseolus vulgaris L.). Annu Rep Bean Improv Coop 36:10–11

An G, Watson BD, Chiang CC (1986) Transformation of tobacco, tomato, potato, and Arabidopsis thaliana using a binary Ti vector system. Plant Physiol 81:301–305

Ballvora A, Ercolano MR, Weiß J, Meksem K, Bormann CA, Oberhagemann P, Salamini F, Gebhardt C (2002) The R1 gene for potato resistance to late blight (Phytophthora infestans) belongs to the leucine zipper/NBS/LRR class of plant resistance genes. Plant J 30:361–371

Bindler G, Plieske J, Bakaher N, Gunduz I, Ivanov N, Van der Hoeven R, Ganal M, Donini P (2011) A high density genetic map of tobacco (Nicotiana tabacum L.) obtained from large scale microsatellite marker development. Theor Appl Genet 123:219–230

Bomblies K, Weigel D (2007) Hybrid necrosis: autoimmunity as a potential gene-flow barrier in plant species. Nat Rev Genet 8:382–393

Brieger F (1929) Vererbung bei Artbastarden unter besonderer Berücksichtigung der Gattung Nicotiana. Zücht 1:140–152

Burk LG, Gerstel DU, Wernsman EA (1979) Maternal haploids of Nicotiana tabacum L. from seed. Science 206:585–585

Casey LW, Lavrencic P, Bentham AR, Cesari S, Ericsson DJ, Croll T, Turk D, Anderson PA, Mark AE, Dodds PN, Mobli M, Kobe B, Williams SJ (2016) The CC domain structure from the wheat stem rust resistance protein Sr33 challenges paradigms for dimerization in plant NLR proteins. Proc Natl Acad Sci USA 113:12856–12861

Cesari S, Bernoux M, Moncuquet P, Kroj T, Dodds PN (2014) A novel conserved mechanism for plant NLR protein pairs: the "integrated decoy" hypothesis. Front Plant Sci 5:606

Cesari S, Moore J, Chen C, Webb D, Periyannan S, Mago R, Bernoux M, Lagudah ES, Dodds PN (2016) Cytosolic activation of cell death and stem rust resistance by cereal MLA-family CC–NLR proteins. Proc Natl Acad Sci USA 113:10204–10209

Chae E, Bomblies K, Kim ST, Karelina D, Zaidem M, Ossowski S, Martín-Pizarro C, Laitinen RA, Rowan BA, Tenenboim H, Lechner S, Demar M, Habring-Muller A, Lanz C, Ratsch G, Weigel D (2014) Species-wide genetic incompatibility analysis identifies immune genes as hot spots of deleterious epistasis. Cell 159:1341–1351

Chen C, Lin HX (2016) Evolution and molecular control of hybrid incompatibility in plants. Front Plant Sci 7:1208

Clarkson JJ, Knapp S, Garcia VF, Olmstead RG, Leitch AR, Chase MW (2004) Phylogenetic relationships in Nicotiana (Solanaceae) inferred from multiple plastid DNA regions. Mol Phylogenet Evol 33:75–90

Deng J, Fang L, Zhu X, Zhou B, Zhang T (2019) A CC-NBS-LRR gene induces hybrid lethality in cotton. J Expt Botany. https://doi.org/10.1093/jxb/erz312

Dubey N, Singh K (2018) Role of NBS-LRR proteins in plant defense. In: Singh A, Singh K (eds) Molecular aspects of plant-pathogen interaction. Springer, Singapore, pp 115–138

Edwards K, Fernandez-Pozo N, Drake-Stowe K, Humphry M, Evans A, Bombarely A, Allen F, Hurst R, White B, Kernodle S, Bromley JR, Sanchez-Tamburrino JP, Lewis RS, Mueller LA (2017) Map-based cloning of homeologous loci implicated in nitrogen utilization efficiency enabled by an improved Nicotiana tabacum genome assembly. BMC Genom 18:448

Fitzmaurice WP, Lehman LJ, Nguyen LV, Thompson WF, Wernsman EA, Conkling MA (1992) Development and characterization of a generalized gene tagging system for higher plants using an engineered maize transposon Ac. Plant Mol Biol 20:177–198

Fitzmaurice WP, Nguyen LV, Wernsman EA, Thompson WF, Conkling M (1999) Transposon Tagging of the sulfur gene of tobacco using engineered maize Ac/Ds elements. Genetics 153:1919–1928

Gerstel DU, Burns JA, Burk LG (1979) Interspecific hybridizations with an African tobacco, Nicotiana africana Merxm. J Hered 70:342–344

Hancock WG, Kuraparthy V, Kernodle SP, Lewis RS (2015) Identification of maternal haploids of Nicotiana tabacum aided by transgenic expression of green fluorescent protein: evidence for chromosome elimination in the N. tabacum × N. africana interspecific cross. Mol Breed 35:179

Hebsgaard SM, Korning PG, Tolstrup N, Engelbrecht J, Rouzé P, Brunak S (1996) Splice site prediction in Arabidopsis thaliana pre-mRNA by combining local and global sequence information. Nucleic Acids Res 24:3439–3452

Huang X, Madan A (1999) CAP3: A DNA sequence assembly program. Genome Res 9:868–877

Iizuka T, Kuboyama T, Marubashi W, Oda M, Tezuka T (2011) Nicotiana debneyi has a single dominant gene causing hybrid lethality in crosses with N. tabacum. Euphytica 186:321–328

Tobacco J (1994) The genus Nicotiana illustrated. Japan Tobacco, Tokyo

Jones JDG, Dangl JL (2006) The plant immune system. Nature 444(7117):323

Kasmi FE, Nishimura MT (2016) Structural insights into plant NLR immune receptor function. Proc Natl Acad Sci 113:12619–12621

Knapp S, Chase MW, Clarkson JJ (2004) Nomenclatural changes and a new sectional classification in Nicotiana (Solanaceae). Taxon 53:73–82

Kuang H, Woo S-S, Meyers BC, Nevo E, Michelmore RW (2004) Multiple genetic processes result in heterogeneous rates of evolution within the major cluster disease resistance genes in lettuce. Plant Cell 16:2870–2894

Lewis RS (2019) Tobacco. In: Novak J, Bluthner, W-D (eds) Handbook of plant breeding: Vol: medicinal, aromatic, and stimulant plants. Springer, Berlin

Liu Y-G, Chen Y (2007) High-efficiency thermal asymmetric interlaced PCR for amplification of unknown flanking sequences. Biotechniques 43:649–656

Maekawa T, Cheng W, Spiridon LN, Töller A, Lukasik E, Saijo Y, Liu P, Shen Q-H, Micluta MA, Somssich IE, Takken FLW, Petrescu A-J, Chai J, Schulze-Lefert P (2011) Coiled-coil domain-dependent homodimerization of intracellular barley immune receptors defines a minimal functional module for triggering cell death. Cell Host Microbe 9:187–199

Marubashi W, Kobayashi M (2002) Temperature-dependent apoptosis detected in hybrids between Nicotiana debneyi and N. tabacum expressing lethality. Plant Biotechnology 19:267–270

Marubashi W, Yamada Y, Niwa M (1999) Apoptosis detected in hybrids between Nicotiana glutinosa and N. repanda expressing lethality. Planta 210:168–171

Orr HA (1996) Dobzhansky, Bateson, and the genetics of speciation. Genetics 144:1331–1335

Schuelke M (2000) An economic method for the fluorescent labeling of PCR fragments. Nat Biotechnol 18:233–234

Sierro N, Battey JN, Ouadi S, Bovet L, Goepfert S, Bakaher N, Peitsch MC, Ivanov NV (2013a) Reference genomes and transcriptomes of Nicotiana sylvestris and Nicotiana tomentosiformis. Genome Biol 14:R60

Sierro N, van Oeveren J, van Eijk MJT, Martin F, Stormo KE, Peitsch MC, Ivanov NV (2013b) Whole genome profiling physical map and ancestral annotation of tobacco Hicks Broadleaf. Plant J Cell Mol Biol 75:880–889

Sierro N, Battey JND, Ouadi S, Bakaher N, Bovet L, Willig A, Goepfert S, Peitsch MC, Ivanov NV (2014) The tobacco genome sequence and its comparison with those of tomato and potato. Nat Commun 5:3833

Tezuka T (2012) Hybrid lethality in the genus Nicotiana. In: Botany. IntechOpen

Tezuka T, Marubashi W (2004) Apoptotic cell death observed during the expression of hybrid lethality in interspecific hybrids between Nicotiana tabacum and N. suaveolens. Breed Sci 54:59–66

Tezuka T, Marubashi W (2006) Genomic factors lead to programmed cell death during hybrid lethality in interspecific hybrids between Nicotiana tabacum and N. debneyi. SABRAO J Breed Genet 38:9–81

Tezuka T, Kuboyama T, Matsuda T, Marubashi W (2010) Seven of eight species in Nicotiana section Suaveolentes have common factors leading to hybrid lethality in crosses with Nicotiana tabacum. Ann Bot 106:267–276

Tezuka T, Matsuo C, Iizuka T, Oda M, Marubashi W (2012) Identification of Nicotiana tabacum linkage group corresponding to the Q chromosome gene(s) involved in hybrid lethality. PLoS ONE 7:e37822

Xie K, Yang Y (2013) RNA-guided genome editing in plants using a CRISPR–Cas system. Mol Plant 6:1975–1983

Yamada T, Marubashi W, Niwa M (1999) Detection of four lethality types in interspecific crosses among Nicotiana species through the use of three rescue methods for lethality. Breed Sci 49:203–210
Ethics declarations
Conflict of interest
The authors declare that they have no conflicts of interest.
Additional information
Publisher's Note
Springer Nature remains neutral with regard to jurisdictional claims in published maps and institutional affiliations.
Communicated by P. Heslop-Harrison.
Electronic supplementary material
Below is the link to the electronic supplementary material.
Supplementary file1 (PDF 997 kb)
About this article
Cite this article
Ma, J., Hancock, W.G., Nifong, J.M. et al. Identification and editing of a hybrid lethality gene expands the range of interspecific hybridization potential in Nicotiana. Theor Appl Genet 133, 2915–2925 (2020). https://doi.org/10.1007/s00122-020-03641-w
Received:

Accepted:

Published:

Issue Date: