Abstract
Key message
GWAS identified 36 potentially new loci for wheat stem water-soluble carbohydrate (WSC) contents and 13 pleiotropic loci affecting WSC and thousand-kernel weight. Five KASP markers were developed and validated.
Abstract
Water-soluble carbohydrates (WSC) reserved in stems contribute significantly to grain yield (GY) in wheat. However, knowledge of the genetic architecture underlying stem WSC content (SWSCC) is limited. In the present study, 166 diverse wheat accessions from the Yellow and Huai Valleys Winter Wheat Zone of China and five other countries were grown in four well-watered environments. SWSCC at 10 days post-anthesis (10DPA), 20DPA and 30DPA, referred as WSC10, WSC20 and WSC30, respectively, and thousand-kernel weight (TKW) were assessed. Correlation analysis showed that TKW was significantly and positively correlated with WSC10 and WSC20. Genome-wide association study was performed on SWSCC and TKW with 373,106 markers from the wheat 660 K and 90 K SNP arrays. Totally, 62 stable loci were detected for SWSCC, with 36, 24 and 19 loci for WSC10, WSC20 and WSC30, respectively; among these, 36 are potentially new, 16 affected SWSCC at two or three time-points, and 13 showed pleiotropic effects on both SWSCC and TKW. Linear regression showed clear cumulative effects of favorable alleles for increasing SWSCC and TKW. Genetic gain analyses indicated that pyramiding favorable alleles of SWSCC had simultaneously improved TKW. Kompetitive allele-specific PCR markers for five pleiotropic loci associated with both SWSCC and TKW were developed and validated. This study provided a genome-wide landscape of the genetic architecture of SWSCC, gave a perspective for understanding the relationship between WSC and GY and explored the theoretical basis for co-improvement of WSC and GY. It also provided valuable loci and markers for future breeding.
This is a preview of subscription content, log in to check access.
Access options
Buy single article
Instant access to the full article PDF.
US$ 39.95
Price includes VAT for USA
Subscribe to journal
Immediate online access to all issues from 2019. Subscription will auto renew annually.
US$ 199
This is the net price. Taxes to be calculated in checkout.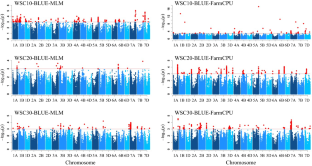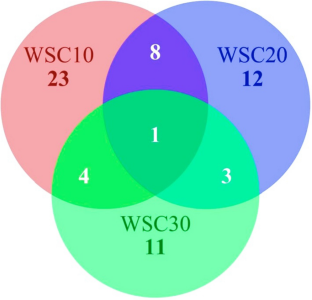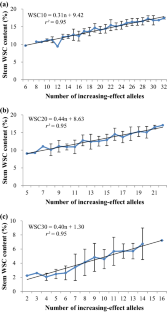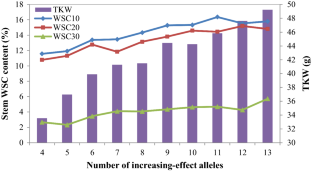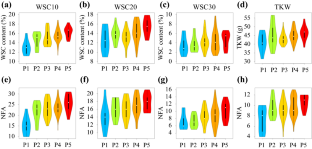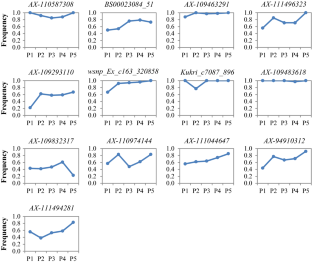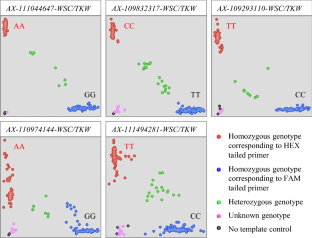 Abbreviations
BLUE:

Best linear unbiased estimation

FarmCPU:

Fixed and random model circulating probability unification

GWAS:

Genome-wide association study

GY:

Grain yield

H 2 :

Broad-sense heritability

KASP:

Kompetitive allele-specific PCR

LD:

Linkage disequilibrium

MAF:

Minor allele frequency

MAS:

Marker-assisted selection

MTA:

Marker-trait association

NIRS:

Near-infrared spectroscopy

PIC:

Polymorphism information content

QTL:

Quantitative trait locus/loci

SWSCC:

Stem water-soluble carbohydrate content

TKW:

Thousand-kernel weight

WSC:

Water-soluble carbohydrate

WSC10:

Stem WSC content at 10 days post-anthesis

WSC20:

Stem WSC content at 20 days post-anthesis

WSC30:

Stem WSC content at 30 days post-anthesis

YHVWWZ:

Yellow and Huai Valleys Winter Wheat Zone
References
Aggarwal PK, Sinha SK (1984) Effect of water stress on grain growth and assimilate partitioning in two cultivars of wheat contrasting in their yield stability in a drought-environment. Ann Bot 53:329–340

Ahmed SAS, Zhang J, Ma W, Dell B (2018) Contributions of TaSUTs to grain weight in wheat under drought. Plant Mol Biol 98:333–347

Andrade ACB, Viana JMS, Pereira HD, Pinto VB, Fonseca e Silva F (2019) Linkage disequilibrium and haplotype block patterns in popcorn populations. PLoS ONE 14:e0219417

Benjamini Y, Hochberg Y (1995) Controlling the false discovery rate: a practical and powerful approach to multiple testing. J R Stat Soc B 57:289–300

Bian Y, Gu X, Sun D, Wang Y, Yin Z, Deng D, Wang Y, Li G (2015) Mapping dynamic QTL of stalk sugar content at different growth stages in maize. Euphytica 205:85–94

Bidinger F, Musgrave RB, Fischer RA (1977) Contribution of stored pre-anthesis assimilate to grain yield in wheat and barley. Nature 270:431–433

Blum A, Sinmena B, Mayer J, Golan G, Shpiler L (1994) Stem reserve mobilisation supports wheat-grain filling under heat stress. Aust J Plant Physiol 21:771–781

Bolouri-Moghaddam MR, van den Ende W (2013) Sweet immunity in the plant circadian regulatory network. J Exp Bot 64:1439–1449

Bourne Y, Henrissat B (2001) Glycoside hydrolases and glycosyltransferases: families and functional modules. Curr Opin Struct Biol 11:593–600

Bradbury PJ, Zhang Z, Kroon DE, Casstevens TM, Ramdoss Y, Buckler ES (2007) TASSEL: software for association mapping of complex traits in diverse samples. Bioinformatics 23:2633–2635

Brenton ZW, Cooper EA, Myers MT, Boyles RE, Shakoor N, Zielinski KJ et al (2016) A genomic resource for the development, improvement, and exploitation of sorghum for bioenergy. Genetics 204:21–33

Chao S, Dubcovsky J, Dvorak J, Luo MC, Baenziger SP, Matnyazov R et al (2010) Population- and genome-specific patterns of linkage disequilibrium and SNP variation in spring and winter wheat (Triticum aestivum L.). BMC Genom 11:727

Chen X, Min D, Yasir TA, Hu YG (2012) Genetic diversity, population structure and linkage disequilibrium in elite Chinese winter wheat investigated with SSR markers. PLoS ONE 7:e44510

Cui F, Zhang N, Fan XL, Zhang W, Zhao CH, Yang LJ et al (2017) Utilization of a Wheat660K SNP array-derived high-density genetic map for high-resolution mapping of a major QTL for kernel number. Sci Rep 7:3788

del Pozo A, Yáñez A, Matus IA, Tapia G, Castillo D, Sanchez-Jardón L, Araus JL (2016) Physiological traits associated with wheat yield potential and performance under water-stress in a Mediterranean environment. Front Plant Sci 7:987

Dong Y, Liu J, Zhang Y, Geng H, Rasheed A, Xiao Y et al (2016a) Genome-wide association of stem water soluble carbohydrates in bread wheat. PLoS ONE 11:e0164293

Dong Y, Zhang Y, Xiao Y, Yan J, Liu J, Wen W et al (2016b) Cloning of TaSST genes associated with water soluble carbohydrate content in bread wheat stems and development of a functional marker. Theor Appl Genet 129:1061–1070

Ehdaie B, Alloush GA, Waines JG (2008) Genotypic variation in linear rate of grain growth and contribution of stem reserves to grain yield in wheat. Field Crops Res 106:34–43

Eom JS, Chen LQ, Sosso D, Julius BT, Lin IW, Qu XQ et al (2015) SWEETs, transporters for intracellular and intercellular sugar translocation. Curr Opin Plant Biol 25:53–62

Foulkes MJ, Scott RK, Sylvester-Bradley R (2002) The ability of wheat cultivars to withstand drought in UK conditions: formation of grain yield. J Agr Sci 138:153–169

Foulkes MJ, Sylvester-Bradley R, Weightman R, Snape JW (2007) Identifying physiological traits associated with improved drought resistance in winter wheat. Field Crops Res 103:11–24

Foulkes MJ, Slafer GA, Davies WJ, Berry PM, Sylvester-Bradley R, Martre P et al (2010) Raising yield potential of wheat. III. Optimizing partitioning to grain while maintaining lodging resistance. J Exp Bot 62:469–486

Gao F, Ma D, Yin G, Rasheed A, Dong Y, Xiao Y et al (2017) Genetic progress in grain yield and physiological traits in Chinese wheat cultivars of Southern Yellow and Huai Valley since 1950. Crop Sci 57:760–773

Goggin DE, Setter TL (2004) Fructosyltransferase activity and fructan accumulation during development in wheat exposed to terminal drought. Funct Plant Biol 31:11–21

Halford NG, Curtis TY, Muttucumaru N, Postles J, Mottram DS (2011) Sugars in crop plants. Ann Appl Biol 158:1–25

Hao C, Wang L, Ge H, Dong Y, Zhang X (2011) Genetic diversity and linkage disequilibrium in Chinese bread wheat (Triticum aestivum L.) revealed by SSR markers. PLoS ONE 6:e17279

Holland JB, Nyquist WE, Cervantes-Martínez CT (2003) Estimating and interpreting heritability for plant breeding: an update. Plant Breed Rev 22:11–112

Holm S (1979) A simple sequentially rejective multiple test procedure. Scand J Stat 6:65–70

Hou J, Huang X, Sun W, Du C, Wang C, Xie Y et al (2018) Accumulation of water-soluble carbohydrates and gene expression in wheat stems correlates with drought resistance. J Plant Physiol 231:182–191

IWGSC (2018) Shifting the limits in wheat research and breeding using a fully annotated reference genome. Science 361:eaar7191

Jiang Q, Hou J, Hao C, Wang L, Ge H, Dong Y, Zhang X (2011) The wheat (T. aestivum) sucrose synthase 2 gene (TaSus2) active in endosperm development is associated with yield traits. Funct Integr Genomics 11:49–61

Kato T (1995) Change of sucrose synthase activity in developing endosperm of rice cultivars. Crop Sci 35:827–831

Kim SA, Yoo YJ (2016) Effects of single nucleotide polymorphism marker density on haplotype block partition. Genomics Inform 14:196–204

Kobata T, Palta JA, Turner NC (1992) Rate of development of postanthesis water deficits and grain filling of spring wheat. Crop Sci 32:1238–1242

Kooiker M, Drenth J, Glassop D, McIntyre CL, Xue GP (2013) TaMYB13-1, a R2R3 MYB transcription factor, regulates the fructan synthetic pathway and contributes to enhanced fructan accumulation in bread wheat. J Exp Bot 64:3681–3696

Korte A, Farlow A (2013) The advantages and limitations of trait analysis with GWAS: a review. Plant Methods 9:29

Lao J, Oikawa A, Bromley JR, McInerney P, Suttangkakul A, Smith-Moritz AM et al (2014) The plant glycosyltransferase clone collection for functional genomics. Plant J 79:517–529

Li H, Ye G, Wang J (2007) A modified algorithm for the improvement of composite interval mapping. Genetics 175:361–374

Li W, Zhang B, Li R, Chang X, Jing R (2015) Favorable alleles for stem water-soluble carbohydrates identified by association analysis contribute to grain weight under drought stress conditions in wheat. PLoS ONE 10:e0119438

Li F, Wen W, Liu J, Zhang Y, Cao S, He Z et al (2019) Genetic architecture of grain yield in bread wheat based on genome-wide association studies. BMC Plant Biol 19:168

Liu K, Muse SV (2005) PowerMarker: an integrated analysis environment for genetic marker analysis. Bioinformatics 21:2128–2129

Liu X, Huang M, Fan B, Buckler ES, Zhang Z (2016) Iterative usage of fixed and random effect models for powerful and efficient genome-wide association studies. PLoS Genet 12:e1005767

Liu J, He Z, Rasheed A, Wen W, Yan J, Zhang P et al (2017) Genome-wide association mapping of black point reaction in common wheat (Triticum aestivum L.). BMC Plant Biol 17:220

Livingston DP, Hincha DK, Heyer AG (2009) Fructan and its relationship to abiotic stress tolerance in plants. Cell Mol Life Sci 66:2007–2023

Lopes MS, Reynolds MP, Manes Y, Singh RP, Crossa J, Braun HJ (2012) Genetic yield gains and changes in associated traits of CIMMYT spring bread wheat in a "historic" set representing 30 years of breeding. Crop Sci 52:1123–1131

McIntyre CL, Casu RE, Rattey A, Dreccer MF, Kam JW, van Herwaarden AF et al (2011) Linked gene networks involved in nitrogen and carbon metabolism and levels of water-soluble carbohydrate accumulation in wheat stems. Funct Integr Genomics 11:585–597

Muqaddasi QH, Zhao Y, Rodemann B, Plieske J, Ganal MW, Röder MS (2019) Genome-wide association mapping and prediction of adult stage Septoria tritici blotch infection in European winter wheat via high-density marker arrays. Plant Genome 12:1

Murray MG, Thompson WF (1980) Rapid isolation of high molecular weight plant DNA. Nucl Acids Res 8:4321–4326

Nagata K, Shimizu H, Terao T (2002) Quantitative trait loci for nonstructural carbohydrate accumulation in leaf sheaths and culms of rice (Oryza sativa L.) and their effects on grain filling. Breed Sci 52:275–283

Ovenden B, Milgate A, Lisle C, Wade LJ, Rebetzke GJ, Holland JB (2017) Selection for water-soluble carbohydrate accumulation and investigation of genetic × environment interactions in an elite wheat breeding population. Theor Appl Genet 130:2445–2461

Pheloung PC, Siddique KHM (1991) Contribution of stem dry matter to grain yield in wheat cultivars. Funct Plant Biol 18:53–64

Phung HD, Sugiura D, Sunohara H, Makihara D, Kondo M, Nishiuchi S, Doi K (2019) QTL analysis for carbon assimilate translocation-related traits during maturity in rice (Oryza sativa L.). Breeding Sci 69:289–296

Platten JD, Cobb JN, Zantua RE (2019) Criteria for evaluating molecular markers: comprehensive quality metrics to improve marker-assisted selection. PLoS ONE 14:e0210529

Pritchard JK, Stephens M, Donnelly P (2000) Inference of population structure using multilocus genotype data. Genetics 155:945–959

Rahimi Y, Bihamta MR, Taleei A, Alipour H, Ingvarsson PK (2019) Genome-wide association study of agronomic traits in bread wheat reveals novel putative alleles for future breeding programs. BMC Plant Biol 19:541

Rebetzke GJ, van Herwaarden AF, Jenkins C, Weiss M, Lewis D, Ruuska S et al (2008) Quantitative trait loci for water-soluble carbohydrates and associations with agronomic traits in wheat. Aust J Agr Res 59:891–905

Rolland F, Baena-Gonzalez E, Sheen J (2006) Sugar sensing and signaling in plants: conserved and novel mechanisms. Annu Rev Plant Biol 57:675–709

Ruuska SA, Rebetzke GJ, van Herwaarden AF, Richards RA, Fettell NA, Tabe L, Jenkins CL (2006) Genotypic variation in water-soluble carbohydrate accumulation in wheat. Funct Plant Biol 33:799–809

Ruuska SA, Lewis DC, Kennedy G, Furbank RT, Jenkins CL, Tabe LM (2008) Large scale transcriptome analysis of the effects of nitrogen nutrition on accumulation of stem carbohydrate reserves in reproductive stage wheat. Plant Mol Biol 66:15–32

Sadras VO, Lawson C (2011) Genetic gain in yield and associated changes in phenotype, trait plasticity and competitive ability of South Australian wheat varieties released between 1958 and 2007. Crop Pasture Sci 62:533–549

Sharma RC, Crossa J, Velu G, Huerta-Espino J, Vargas M, Payne TS, Singh RP (2012) Genetic gains for grain yield in CIMMYT spring bread wheat across international environments. Crop Sci 52:1522–1533

Shearman VJ, Sylvester-Bradley R, Scott RK, Foulkes MJ (2005) Physiological processes associated with wheat yield progress in the UK. Crop Sci 45:175–185

Snape JW, Foulkes MJ, Simmonds J, Leverington M, Fish LJ, Wang Y, Ciavarrella M (2007) Dissecting gene × environmental effects on wheat yields via QTL and physiological analysis. Euphytica 154:401–408

Teulat B, Borries C, This D (2001) New QTLs identified for plant water status, water-soluble carbohydrate and osmotic adjustment in a barley population grown in a growth-chamber under two water regimes. Theor Appl Genet 103:161–170

Thévenot C, Simond-Côte E, Reyss A, Manicacci D, Trouverie J, Le Guilloux M et al (2005) QTLs for enzyme activities and soluble carbohydrates involved in starch accumulation during grain filling in maize. J Exp Bot 56:945–958

Trouvelot S, Héloir MC, Poinssot B, Gauthier A, Paris F, Guillier C et al (2014) Carbohydrates in plant immunity and plant protection: roles and potential application as foliar sprays. Front Plant Sci 5:592

Turner LB, Cairns AJ, Armstead IP, Ashton J, Skøt K, Whittaker D, Humphreys MO (2006) Dissecting the regulation of fructan metabolism in perennial ryegrass (Lolium perenne) with quantitative trait locus mapping. New Phytol 169:45–58

Veenstra LD, Jannink JL, Sorrells ME (2017) Wheat fructans: a potential breeding target for nutritionally improved, climate-resilient varieties. Crop Sci 57:1624–1640

Wang RX, Hai L, Zhang XY, You GX, Yan CS, Xiao SH (2009) QTL mapping for grain filling rate and yield-related traits in RILs of the Chinese winter wheat population Heshangmai × Yu8679. Theor Appl Genet 118:313–325

Wang Z, Liu X, Li R, Chang X, Jing R (2011) Development of near-infrared reflectance spectroscopy models for quantitative determination of water-soluble carbohydrate content in wheat stem and glume. Anal Lett 44:2478–2490

Wang S, Wong D, Forrest K, Allen A, Chao S, Huang BE et al (2014) Characterization of polyploid wheat genomic diversity using a high-density 90000 single nucleotide polymorphism array. Plant Biotechnol J 12:787–796

Wang DR, Han R, Wolfrum EJ, McCouch SR (2017) The buffering capacity of stems: genetic architecture of nonstructural carbohydrates in cultivated Asian rice, Oryza sativa. New Phytol 215:658–671

Wardlaw IF, Willenbrink J (2000) Mobilization of fructan reserves and changes in enzyme activities in wheat stems correlate with water stress during kernel filling. New Phytol 148:413–422

Xiao YG, Qian ZG, Wu K, Liu JJ, Xia XC, Ji WQ, He ZH (2012) Genetic gains in grain yield and physiological traits of winter wheat in Shandong Province, China, from 1969 to 2006. Crop Sci 52:44–56

Xu S (2003) Theoretical basis of the Beavis effect. Genetics 165:2259–2268

Xue GP, McIntyre CL, Jenkins CLD, Glassop D, Herwaarden AF, Shorter R (2008) Molecular dissection of variation in carbohydrate metabolism related to water soluble carbohydrate accumulation in stems of wheat (Triticum aestivum L.). Plant Physiol 146:441–454

Xue GP, Kooiker M, Drenth J, McIntyre CL (2011) TaMYB13 is a transcriptional activator of fructosyltransferase genes involved in β-2,6-linked fructan synthesis in wheat. Plant J 68:857–870

Yan L, Loukoianov A, Blechl A, Tranquilli G, Ramakrishna W, SanMiguel P et al (2004) The wheat VRN2 gene is a flowering repressor down-regulated by vernalization. Science 303:1640–1644

Yáñez A, Tapia G, Guerra F, del Pozo A (2017) Stem carbohydrate dynamics and expression of genes involved in fructan accumulation and remobilization during grain growth in wheat (Triticum aestivum L.) genotypes with contrasting tolerance to water stress. PLoS ONE 12:e0177667

Yang DL, Jing RL, Chang XP, Li W (2007) Identification of quantitative trait loci and environmental interactions for accumulation and remobilization of water-soluble carbohydrates in wheat (Triticum aestivum L.) stems. Genetics 176:571–584

Yin C, Li H, Li S, Xu L, Zhao Z, Wang J (2015) Genetic dissection on rice grain shape by the two-dimensional image analysis in one japonica × indica population consisting of recombinant inbred lines. Theor Appl Genet 128:1969–1986

Yu J, Pressoir G, Briggs WH, Bi IV, Yamasaki M, Doebley JF et al (2006) A unified mixed-model method for association mapping that accounts for multiple levels of relatedness. Nat Genet 38:203–208

Yue AQ, Ang LI, Mao XG, Chang XP, Li RZ, Jing RL (2017) Single-nucleotide polymorphisms, mapping and association analysis of 1-FFT-A1 gene in wheat. J Integr Agr 16:789–799

Zhai S, Liu J, Xu D, Wen W, Yan J, Zhang P et al (2018) A Genome-wide association study reveals a rich genetic architecture of flour color-related traits in bread wheat. Front Plant Sci 9:1136

Zhang Z, Ersoz E, Lai CQ, Todhunter RJ, Tiwari HK, Gore MA et al (2010) Mixed linear model approach adapted for genome-wide association studies. Nat Genet 42:355–360

Zhang B, Li W, Chang X, Li R, Jing R (2014) Effects of favorable alleles for water-soluble carbohydrates at grain filling on grain weight under drought and heat stresses in wheat. PLoS ONE 9:e102917

Zhang J, Xu Y, Chen W, Dell B, Vergauwen R, Biddulph B et al (2015) A wheat 1-FEH w3 variant underlies enzyme activity for stem WSC remobilization to grain under drought. New Phytol 205:293–305
Acknowledgements
The authors are grateful to Prof. R. A. McIntosh, Plant Breeding Institute, University of Sydney, for review of this manuscript. This work was funded by the National Key Research and Development Programs of China (2016YFD0101804, 2016YFD0101802), National Natural Science Foundation of China (31461143021, 31671691), and CAAS Science and Technology Innovation Program.
Ethics declarations
Conflict of interest
The authors declare that they have no conflicts of interest.
Ethical standards
We declare that these experiments comply with the ethical standards in China.
Additional information
Publisher's Note
Springer Nature remains neutral with regard to jurisdictional claims in published maps and institutional affiliations.
Communicated by Jessica Rutkoski.
Electronic supplementary material
Below is the link to the electronic supplementary material.
About this article
Cite this article
Fu, L., Wu, J., Yang, S. et al. Genome-wide association analysis of stem water-soluble carbohydrate content in bread wheat. Theor Appl Genet (2020). https://doi.org/10.1007/s00122-020-03640-x
Received:

Accepted:

Published: