Abstract
Key message
We lay the foundation for further research on maize resistance to Fusarium verticillioides cob rot by identifying a candidate resistance gene.
Abstract
Fusarium verticillioides ear rot is the most common type of maize ear rot in the Huanghuaihai Plain of China. Ear rot resistance includes cob and kernel resistance. Most of the current literature concentrates on kernel resistance, and genetic studies on cob resistance are scarce. We aimed on identifying the QTLs responsible for F. verticillioides cob rot (FCR) resistance. Twenty-eight genes associated with 48 single nucleotide polymorphisms (SNPs) were identified (P < 10−4) to correlate with FCR resistance using a whole-genome association study. The major quantitative trait locus, qRcfv2, for FCR resistance was identified on chromosome 2 through linkage mapping and was validated in near-isogenic line populations. Two candidate genes associated with two SNPs were detected in the qRcfv2 region with a lower threshold (P < 10−3). Through real-time fluorescence quantitative PCR, one candidate gene was found to have no expression in the cob but the other was expressed in response to F. verticillioides. These results lay a foundation for research on the resistance mechanisms of cob and provide resources for marker-assisted selection.
This is a preview of subscription content, log in to check access.
Access options
Buy single article
Instant access to the full article PDF.
US$ 39.95
Price includes VAT for USA
Subscribe to journal
Immediate online access to all issues from 2019. Subscription will auto renew annually.
US$ 199
This is the net price. Taxes to be calculated in checkout.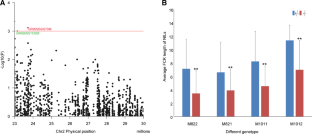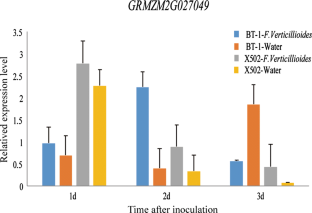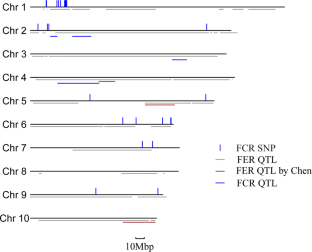 References
Ali ML, Taylor JH, Jie L, Sun G, William M, Kasha KJ, Reid LM, Pauls KP (2005) Molecular mapping of QTLs for resistance to Gibberella ear rot, in corn, caused by Fusarium graminearum. Genome 48:521–533

Bradbury PJ, Zhang Z, Kroon DE, Casstevens TM, Ramdoss Y, Buckler ES (2007) TASSEL: software for association mapping of complex traits in diverse samples. Bioinformatics 23:2633–2635

Campos-Bermudez VA, Fauguel CM, Tronconi MA, Casati P, Presello DA, Andreo CS (2013) Transcriptional and metabolic changes associated to the infection by Fusarium verticillioides in maize inbreds with contrasting ear rot resistance. PLoS ONE 8:e61580

Chen J, Ding J, Li H, Li Z, Sun X, Li J, Wang R, Dai X, Dong H, Song W (2012) Detection and verification of quantitative trait loci for resistance to Fusarium ear rot in maize. Mol Breed 30:1649–1656

Chen J, Shrestha R, Ding J, Zheng H, Mu C, Wu J, Mahuku G (2016) Genome-Wide Association Study and QTL mapping reveal genomic loci associated with fusarium ear rot resistance in tropical maize germplasm. G3 Genes|Genomes|Genetics 6:3803–3815

Desjardins AE, Maragos CM, Proctor RH (2006) Maize ear rot and moniliformin contamination by cryptic species of Fusarium subglutinans. J Agric Food Chem 54:7383–7390

Desta ZA, Ortiz R (2014) Genomic selection: genome-wide prediction in plant improvement. Trends Plant Sci 19:592–601

Ding JQ, Wang XM, Subhash C, Yan JB, Li JS (2008) QTL mapping of resistance to Fusarium ear rot using a RIL population in maize. Mol Breed 22:395–403

Dong H, Song W, Dai X, Li J, Liu C, Wu J (2006) Resistance of different tissues of maize ear to Fusarium moniliforme and Fusarium graminearum. J Maize Sci 14:141–144

Dutton MF (1996) Fumonisins, mycotoxins of increasing importance: their nature and their effects. Pharmacol Ther 70:137–161

Duvick J (2001) Prospects for reducing fumonisin contamination of maize through genetic modification. Environ Health Perspect 109:337–342

Eller MS, Holland JB, Payne GA (2008) Breeding for improved resistance to fumonisin contamination in maize. Toxin Rev 27:371–389

Elshire RJ, Glaubitz JC, Sun Q, Poland JA, Kawamoto K, Buckler ES, Mitchell SE (1932) A robust, simple genotyping-by-sequencing (GBS) approach for high diversity species. PLoS ONE 6:e19379

Ferrigo D, Raiola A, Causin R (2016) Fusarium toxins in cereals: occurrence, legislation, factors promoting the appearance and their management. Molecules 21:627

Gelderblom WCA, Jaskiewicz K, Marasas WFO, Thiel PG, Horak RM, Vleggaar R, Kriek NPJ (1988) Fumonisins-novel mycotoxins with cancer-promoting activity produced by Fusarium moniliforme. Appl Environ Microbiol 54:1806–1811

Gutiérrez-Nájera N, Muñoz-Clares RA, Palacios-Bahena S, Ramírez J, Sánchez-Nieto S, Plasencia J, Gavilanes-Ruíz M (2005) Fumonisin B1, a sphingoid toxin, is a potent inhibitor of the plasma membrane H+ -ATPase. Planta 221:589

Ho WC (1997) A simple method for obtaining single-spore isolates of fungi. Botbullacadsin 38:41–44

Kebede AZ, Woldemariam T, Reid LM, Harris LJ (2016) Quantitative trait loci mapping for Gibberella ear rot resistance and associated agronomic traits using genotyping-by-sequencing in maize. Theor Appl Genet 129:17–29

Lanubile A, Ferrarini A, Maschietto V, Delledonne M, Marocco A, Bellin D (2014) Functional genomic analysis of constitutive and inducible defense responses to Fusarium verticillioides infection in maize genotypes with contrasting ear rot resistance. BMC Genom 15:710

Li ZM, Ding JQ, Wang RX, Chen JF, Sun XD, Chen W, Song WB, Dong HF, Dai XD, Xia ZL (2011) A new QTL for resistance to Fusarium ear rot in maize. J Appl Genet 52:403–406

Li X, Zhou Z, Ding J, Wu Y, Bo Z, Wang R, Ma J, Wang S, Zhang X, Xia Z (2016) Combined linkage and association mapping reveals QTL and candidate genes for plant and ear height in maize. Front Plant Sci 7:833

Logrieco A, Mulè G, Moretti A, Bottalico A (2002) Toxigenic fusarium species and mycotoxins associated with maize ear rot in Europe. Eur J Plant Pathol 108:597–609

Marasas WF (1995) Fumonisins: their implications for human and animal health. Nat Toxins 3:193–198

Maschietto V, Colombi C, Pirona R, Strozzi F, Marocco A, Rossini L, Lanubile A (2017) QTL mapping and candidate genes for resistance to Fusarium ear rot and fumonisin contamination in maize. BMC Plant Biol 17:20

Meuwissen THE, Hayes BJ, Goddard ME (2001) Prediction of total genetic value using genome-wide dense marker maps. Genetics 157:1819–1829

Ming J, Zhou Z, Cong M, Zhang X, Gao J, Liang Y, Chen J, Wu Y, Li X, Wang S (2017) Dissecting the genetic architecture of Fusarium verticillioides seed rot resistance in maize by combining QTL mapping and genome-wide association analysis. Sci Rep 7:46446

Munkvold GP (2003) Epidemiology of fusarium diseases and their mycotoxins in maize ears. Eur J Plant Pathol 109:705–713

Munkvold GP, Mcgee DC, Carlton WM (1997) Importance of different pathways for maize kernel infection by Fusarium moniliforme. Phytopathology 87:209–217

Nagy E, Voichiţa H, Kadar R (2006) The influence of fusarium ear infection on the maize yield and quality (Transylvania-Romania). Commun Agric Appl Biol Sci 71:1147–1150

Oldenburg E, Ellner F (2015) Distribution of disease symptoms and mycotoxins in maize ears infected by Fusarium culmorum and Fusarium graminearum. Mycotoxin Res 31:1–10

Pechanova O, Pechan T, Williams WP, Luthe DS (2011) Proteomic analysis of the maize rachis: potential roles of constitutive and induced proteins in resistance to Aspergillus flavus infection and aflatoxin accumulation. Proteomics 11:114–127

Pei D, Liu C, Wu J (2011) The identification of pathogen Fusarium verticillioides causing maize ear rot in henan. J Maize Sci 19:136–138

Pérez-Brito D, Jeffers D, González-De-León D, Khairallah M, Cortés-Cruz M, Velázquez-Cardelas G, Azpíroz-Rivero S, Srinivasan G (2001) QTL mapping of fusarium moniliforme ear rot resistance in highland maize, Mexico. Publicado como ARTÍCULO en Agrociencia 35:181–196

Robertson LA, Kleinschmidt CE, White DG, Payne GA, Maragos CM, Holland JB (2006) Heritabilities and correlations of fusarium ear rot resistance and Fumonisin contamination resistance in two maize populations. Crop Sci 46:353–361

Robertsonhoyt LA, Jines MP, Balintkurti PJ, Kleinschmidt CE, White DG, Payne GA, Maragos CM, Molnár TL, Holland JB (2006) QTL mapping for Fusarium ear rot and fumonisin contamination resistance in two maize populations. Crop Sci 46:1734–1743

Robertsonhoyt LA, Kleinschmidt CE, White DG, Payne GA, Maragos CM, Holland JB (2007) Relationships of resistance to fusarium ear rot and Fumonisin contamination with agronomic performance of maize. J Autism Dev Disord 47:1770–1778

Ross PF, Rice LG, Plattner RD, Osweiler GD, Wilson TM, Owens DL, Nelson HA, Richard JL (1991) Concentrations of fumonisin B1 in feeds associated with animal health problems. Mycopathologia 114:129

Smart MG, Wicklow DT, Caldwell RW (1990) Pathogenesis in Aspergillus ear rot of maize: light microscopy of fungal spread from wounds. Phytopathology 80:1287–1294

Sun X (2009) Inheritance of resistance to Furasium moniliforme kernel and cob rot in maize. Henan Agricultural University, Henan

Wang Y, Zhou Z, Gao J, Wu Y, Xia Z, Zhang H, Wu J (2016) The mechanisms of maize resistance to Fusarium verticillioides by comprehensive analysis of RNA-seq data. Front Plant Sci 7:1654

Xiang K, Zhang ZM, Reid LM, Zhu XY, Yuan GS, Pan GT (2010) A meta-analysis of QTL associated with ear rot resistance in maize. Maydica 55:281–290

Yang Q, Zhang D, Xu M (2012) A sequential quantitative trait locus fine-mapping strategy using recombinant-derived progeny. J Integr Plant Biol 54:228–237

Yang Q, Li Z, Li W, Ku L, Wang C, Ye J, Li K, Yang N, Li Y, Zhong T (2013) CACTA-like transposable element in ZmCCT attenuated photoperiod sensitivity and accelerated the postdomestication spread of maize. Proc Natl Acad Sci USA 110:16969

Yoshizawa T, Yamashita A, Luo Y (1994) Fumonisin occurrence in corn from high- and low-risk areas for human esophageal cancer in China. Appl Environ Microbiol 60:1626–1629

Zhang F, Wan XQ, Pan GT (2007) Molecular mapping of QTL for resistance to maize ear rot caused by Fusarium moniliforme. Acta Agron Sin 33:491–496

Zila CT, Ogut F, Romay MC, Gardner CA, Buckler ES, Holland JB (2014) Genome-wide association study of Fusarium ear rot disease in the USA maize inbred line collection. BMC Plant Biol 14:372

Zuo W, Chao Q, Zhang N, Ye J, Tan G, Li B, Xing Y, Zhang B, Liu H, Fengler KA (2015) A maize wall-associated kinase confers quantitative resistance to head smut. Nat Genet 47:151–157
Funding
This study was supported by the National Natural Science Foundation of China (Grant No. 31671281), the International (Regional) Joint Research Project of the National Natural Science Foundation of China (Grant No. 31761143009) and the Co-construction State Key Laboratory of Wheat and Crop Science of China.
Ethics declarations
Conflict of interest
The authors declare that there are no conflicts of interest.
Additional information
Communicated by Beat Keller.
Electronic supplementary material
Below is the link to the electronic supplementary material.
About this article
Cite this article
Mu, C., Gao, J., Zhou, Z. et al. Genetic analysis of cob resistance to F. verticillioides: another step towards the protection of maize from ear rot. Theor Appl Genet 132, 1049–1059 (2019). https://doi.org/10.1007/s00122-018-3258-4
Received:

Accepted:

Published:

Issue Date: