Abstract
Key message
For the first time the putative NSP2 gene in chickpea has been identified using pairs of NILs differing for the Rn1 / rn1 nodulation gene that was located in LG5 of chickpea genetic map.
Abstract
An intraspecific cross between the mutant non-nodulating genotype PM233, carrying the recessive gene rn1, and the wild-type CA2139 was used to develop two pairs of near-isogenic lines (NILs) for nodulation in chickpea. These pairs of NILs were characterized using sequence tagged microsatellite site (STMS) markers distributed across different linkage groups (LGs) of the chickpea genetic map leading to the detection of polymorphic markers located in LG5. Using this information, together with the genome annotation in Medicago truncatula, a candidate gene (NSP2) known to be involved in nodulation pathway was selected for mapping in chickpea. The full length sequence obtained in chickpea wild-type (CaNSP2) was 1,503 bp. Linkage analysis in an F3 population of 118 plants derived from the cross between the pair of NILS NIL7-2A (nod) × NIL7-2B (non-nod) revealed a co-localization between CaNSP2 and Rn1 gene. These data implicate the CaNSP2 gene as a candidate for identity to Rn1, and suggest that it could act in the nodulation signaling transduction pathway similarly to that in other legumes species.
Access options
Buy single article
Instant access to the full article PDF.
US$ 39.95
Tax calculation will be finalised during checkout.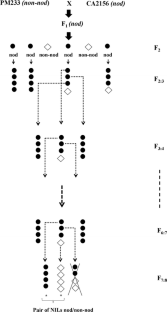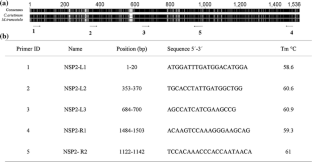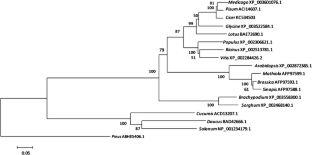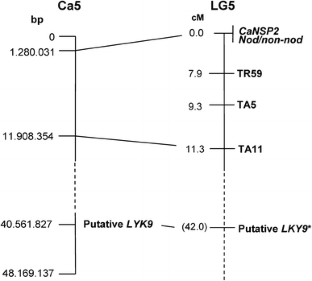 References
Arrighi JF, Barre A, Ben Amor B, Bersoult A, Soriano LC, Mirabella R, de Carvalho-Niebel F, Journet EP, Ghérardi M, Huguet T, Geurts R, Dénarié J, Rougé P, Gough C (2006) The Medicago truncatula lysine motif-receptor-like kinase gene family includes NFP and new nodule-expressed genes. J Plant Physiol 142:265–279. doi:10.1104/pp.106.084657

Asad S, Fang Y, Wycoff KL, Hirsch A (1994) Isolation and characterization of cDNA and genomic clones of MsENOD40; transcripts are detected in meristematic cells of alfalfa. Protoplasma 183:10–23. doi:10.1007/bf01276808

Aslam M, Mahmood IA, Peoples MB, Schwenke GD, Herridge DF (2003) Contribution of chickpea nitrogen fixation to increased wheat production and soil organic fertility in rain-fed cropping. Biol Fertil Soils 38:59–64. doi:10.1007/s00374-003-0630-5

Baek KH, Skinner DZ (2003) Alteration of antioxidant enzyme gene expression during cold acclimation of near-isogenic wheat lines. Plant Sci 165:1221–1227. doi:10.1016/S0168-9452(03)00329-7

Catoira R, Galera C, de Billy F, Penmetsa RV, Journet EP, Maillet F, Rosenberg C, Cook D, Gough C, Dénarié J (2000) Four genes of Medicago truncatula controlling components of a nod factor transduction pathway. Plant Cell 12:1647–1665. doi:10.1105/tpc.12.9.1647

Cook D, Dreyer D, Bonnet D, Howell M, Nony E, VandenBosch K (1995) Transient induction of a peroxidase gene in Medicago truncatula precedes infection by Rhizobium meliloti. Plant Cell 7:43–55. doi:10.1105/tpc.7.1.43

Crespi MD, Jurkevitch E, Poiret M, D'Aubenton-Carafa Y, Petrovics G, Kondorosi E, Kondorosi A (1994) Enod40, a gene expressed during nodule organogenesis, codes for a non-translatable RNA involved in plant growth. EMBO J 13:5099–5112

Davis TM (1988) Two genes that confer ineffective nodulation in chickpea (Cicer arietinum L.). J Hered 79:476–478

Davis TM, Foster KW, Phillips DA (1985) Nodulation mutants in chickpea. Crop Sci 25:345–348. doi:10.2135/cropsci1985.0011183X002500020033x

Davis TM, Foster KW, Phillips DA (1986) Inheritance and expression of three genes controlling root nodule formation in chickpea. Crop Sci 26:719–723. doi:10.2135/cropsci1986.0011183X002600040017x

Drummond AJ, Ashton B, Cheung M, Heled J, Kearse M, Moir R, Stones-Havas S, Thierer T, Wilson A (2010) Geneious v5.0. Available from http://www.geneious.com

Durrant WE, Dong X (2004) Systemic acquired resistance. Annu Rev Phytopathol 42:185–209

FAOSTAT (2013) http://faostat.fao.org. Last update January 2013

Fisher RF, Long SR (1992) Rhizobium–plant signal exchange. Nature 357:655–660

Hirsch S, Kim J, Munoz A, Heckmann AB, Downie JA, Oldroyd GED (2009) GRAS proteins form a DNA binding complex to induce gene expression during nodulation signaling in Medicago truncatula. Plant Cell 21:545–557. doi:10.1105/tpc.108.064501

Kalendar R, Lee D, Schulman AH (2009) FastPCR software for PCR primer and probe design and repeat search. Genes Genom Genomics 3:1–14

Kalo P, Gleason C, Edwards A, Marsh J, Mitra RM, Hirsch S, Jakab J, Sims S, Long SR, Rogers J, Kiss GB, Downie JA, Oldroyd GED (2005) Nodulation signaling in legumes requires NSP2, a member of the GRAS family of transcriptional regulators. Science 308:1786–1789. doi:10.1126/science.1110951

Kosambi DD (1944) The estimation of map distance from recombination values. Ann Eugen 12:172–175. doi:10.1111/j.1469-1809.1943.tb02321.x

Lichtenzveig J, Scheuring C, Dodge J, Abbo S, Zhang HB (2005) Construction of BAC and BIBAC libraries and their applications for generation of SSR markers for genome analysis of chickpea, Cicer arietinum L. Theor Appl Genet 110:492–510. doi:10.1007/s00122-004-1857-8

Long SR (1996) Rhizobium symbiosis: nod factors in perspective. Plant Cell 8:1885–1898. doi:10.1105/tpc.8.10.1885

Manickavelu A, Kawaura K, Oishi K, Shin IT, Kohara Y, Yahiaoui N, Keller B, Suzuki A, Yano K, Ogihara Y (2010) Comparative gene expression analysis of susceptible and resistant near-isogenic lines in common wheat infected by Puccinia triticina. DNA Res 17:211–222. doi:10.1093/dnares/dsq009

Matthews LJ, Davis TM (1990) Anatomical comparison of wild-type and non-nodulating mutant chickpea (Cicer arietinum). Can J Bot 68:1201–1207. doi:10.1139/b90-152

Millan T, Winter P, Jüngling R, Gil J, Rubio J, Cho S, Cobos MJ, Iruela M, Rajesh PN, Tekeoglu M, Kahl G, Muehlbauer FJ (2010) A consensus genetic map of chickpea (Cicer arietinum L.) based on 10 mapping populations. Euphytica 175:175–189. doi:10.1007/s10681-010-0157-4

Murakami Y, Miwa H, Imaizumi-Anraku H, Kouchi H, Downie JA, Kawaguchi M, Kawasaki S (2007) Positional cloning identifies Lotus japonicus NSP2, a putative transcription factor of the GRAS family, required for NIN and ENOD40 gene expression in nodule initiation. DNA Res 13:255–265. doi:10.1093/dnares/dsl017

Nayak S, Zhu H, Varghese N, Datta S, Choi H-K, Horres R, Jüngling R, Singh J, Kavi Kishor PB, Sivaramakrishnan S, Hoisington D, Kahl G, Winter P, Cook D, Varshney R (2010) Integration of novel SSR and gene-based SNP marker loci in the chickpea genetic map and establishment of new anchor points with Medicago truncatula genome. Theor Appl Genet 120:1415–1441. doi:10.1007/s00122-010-1265-1

Oh JM, Balkunde S, Yang P, Yoon DB, Ahn SN (2011) Fine mapping of grain weight QTL, tgw11 using near isogenic lines from a cross between Oryza sativa and O. grandiglumis. Genes Genom 33:259–265. doi:10.1007/s13258-011-0038-9

Oldroyd GED, Long SR (2003) Identification and characterization of nodulation-signaling pathway 2, a gene of Medicago truncatula involved in nod factor signaling. J Plant Physiol 131:1027–1032. doi:10.1104/pp.102.010710

Paruvangada V, Davis T (1999) A dominant, host plant mutation conferring ineffective nodulation in the chickpea–Rhizobium symbiosis. J Hered 90:297–299. doi:10.1093/jhered/90.2.297

Pichon M, Journet EP, Dedieu A, de Billy F, Truchet G, Barker DG (1992) Rhizobium meliloti elicits transient expression of the early nodulin gene ENOD12 in the differentiating root epidermis of transgenic alfalfa. Plant Cell 4:1199–1211. doi:10.1105/tpc.4.10.1199

Rajesh P, Tullu A, Gil J, Gupta V, Ranjekar P, Muehlbauer F (2002) Identification of an STMS marker for the double-podding gene in chickpea. Theor Appl Genet 105:604–607. doi:10.1007/s00122-002-0930-4

Rozen S, Skaletsky H (1999) Bioinformatics methods and protocols. Methods in molecular biology™. In: Misener S, Krawetz S (eds) Primer3 on the WWW for general users and for biologist programmers, vol 132. Humana Press, New York, pp 365–386. doi:10.1385/1-59259-192-2:365

Sabatini S, Heidstra R, Wildwater M, Scheres B (2003) SCARECROW is involved in positioning the stem cell niche in the Arabidopsis root meristem. Genes Dev 17:354–358

Saitou N, Nei M (1987) The neighbor-joining method: a new method for reconstructing phylogenetic trees. Mol Biol Evol 4:406–425

Seres A, Deák G, Tóth G, Aubert G, Burstin J, Ellis N, Kiss GB (2007) Comparative mapping. In: Mathesius U, Journet EP, Sumner LW (eds) The Medicago truncatula handbook. ISBN 0-9754303-1-9. http://www.noble.org/MedicagoHandbook/

Singh O, Rheenen HAV, Rupela OP (1992) Inheritance of a new nonnodulation gene in chickpea. Crop Sci 32:41–43. doi:10.2135/cropsci1992.0011183X003200010009x

Štajner N, Bohanec B, Javornik B (2002) Genetic variability of economically important Asparagus species as revealed by genome size analysis and rDNA ITS polymorphisms. Plant Sci 162:931–937. doi:10.1016/S0168-9452(02)00039-0

Tamura K, Dudley J, Nei M, Kumar S (2007) MEGA4: molecular evolutionary genetics analysis (MEGA) software version 4.0. Mol Biol Evol 24:1596–1599. doi:10.1093/molbev/msm092

Van Ooijen JW (2006) MAPQIL® 5, software for the mapping of quantitative trait loci in experimental populations. Plant Research International, Wagenningen

Varshney RK, Song C, Saxena RK, Azam S et al (2013) Draft genome sequence of chickpea (Cicer arietinum) provides a resource for trait improvement. Nat Biotechnol. http://www.nature.com/nbt/journal/vaop/ncurrent/abs/nbt.2491.html#supplementary-information

Vernoud V, Journet EP, Barker DG (1999) MtENOD20, a nod factor-inducible molecular marker for root cortical cell activation. Mol Plant Microbe Interact 12:604–614

Winter P, Pfaff T, Udupa SM, Hüttel B, Sharma PC, Sahi S, Arreguin-Espinoza R, Weigand F, Muehlbauer FJ, Kahl G (1999) Characterization and mapping of sequence-tagged microsatellite sites in the chickpea (Cicer arietinum L.) genome. Mol Gen Genet 262:90–101. doi:10.1007/s004380051063

Zuckercandl E, Pauling L (1965) Evolutionary divergence and convergence in proteins. In: Bryson V, Vogel HJ (eds) Evolving genes and proteins. Academic Press, USA, pp 97–165 (article-id:2345322)
Acknowledgments
This work has been supported by the project INIA contract RTA2010-00059, co-financed by EU funds (FEDER). We are also indebted to Dr. F. Temprano (IFAPA, Spain) for his support with Rhizobium inoculations. Ali L acknowledges PhD fellowship from Syrian Ministry of High Education and ICRISAT for supporting 6 months stay at the Center of Excellence in Genomics, ICRISAT, Patancheru, India (http://www.icrisat.org/ceg).
Conflict of interest
The authors declare that they have no conflict of interest.
Additional information
Communicated by A. E. Melchinger.
About this article
Cite this article
Ali, L., Madrid, E., Varshney, R.K. et al. Mapping and identification of a Cicer arietinum NSP2 gene involved in nodulation pathway. Theor Appl Genet 127, 481–488 (2014). https://doi.org/10.1007/s00122-013-2233-3
Received:

Accepted:

Published:

Issue Date:
Keywords
Cicer Arietinum

Nodulation Pathway

Chickpea Genome

Nodulin Gene

GRAS Domain